PGA Tour vs. LIV Golf
This tour pro is tired of LIV golfers denigrating the PGA Tour: 'It's so false'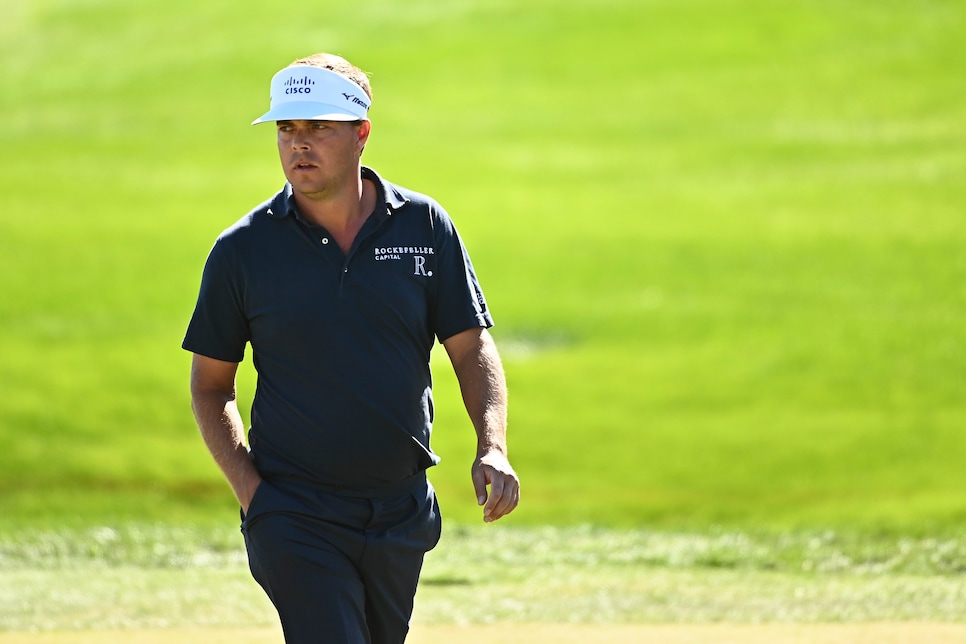 The men at the crux of the LIV Golf-PGA Tour saga are just as sick of hearing about it as the rest of us. That doesn't mean it's not constantly still on their minds.
"I wake up thinking about it, I go to bed thinking about it—it's legitimately all I think about," says Keith Mitchell, No. 54 in the World Ranking. Mitchell, 30, considers himself firmly in the PGA Tour's corner for the battle that has fractured the elite level of the men's game. He's in Scotland for this week's Genesis Scottish Open before playing the Open Championship at St. Andrews.
LIV Golf held its second event of its inaugural season last week in Portland, Ore., with Branden Grace winning the individual title and its $4 million grand prize. Grace is among the LIV golfers who won a stay in British court Monday and thus also will play at the Scottish Open despite bans from both the PGA and DP World Tour, which are co-hosting the event at Renaissance Golf Club this week.
On Tuesday, Billy Horschel spoke passionately against LIV golfers who have made the leap—because, according to many, they want to play fewer events and spend more time with their families—but now want to sue their former tours in an attempt to play wherever they want.
"I believe they made their bed," Horschel said. "They decided to go play on a tour, and they should go play that tour. They shouldn't be coming back over here to play the DP World Tour or the PGA Tour. To say that they wanted to also support this tour or the DP or PGA Tour going forward, while playing the LIV tour, is completely asinine in my opinion. … So it's unfortunate that those guys made their bed and that's what they want to do. Leave us alone, honestly.
"At the same time, I am one of the 200-plus members of the PGA Tour. I am the PGA Tour. So when you take shots at the PGA Tour, you're taking shots at us."
Mitchell feels the same way—that while professionals inititally seemed united in their openness and curiosity to see how LIV Golf would shape out, now there is a more noticeable split among the best players in the world. Part of that is due to the expectation of legal action, but there's the realization that LIV's 14-event schedule in 2023 and beyond could negatively impact PGA Tour prize funds.
"These guys going over are taking money away from golf," Mitchell says. "If they have 14 events, they're gonna go against the 14 weakest fields on the PGA Tour. Why would sponsors of the PGA Tour keep funneling all this money if they're going to have trash fields? I think it could hurt sponsors, it could hurt overall income of the game. More money going to less players.
"The more this drags out, the more people are picking sides. Before this was all going down, everyone just kind of talked about it. What's the format? Who's going to go? It was honestly a naive rumor that guys were interested in. It piqued their curiosity. And now the clearer it gets, the more guys are picking sides.
"The worst part about it is, I had one of my biggest sponsors call me on the phone and tell me he heard I got $61 million. I asked him what his source was, and it was actually pretty good. Reputable sources are saying these complete fabrications. An exact number and years. I've never even talked to the guys."
Mitchell also shares Horschel's frustration over the grumblings of some former PGA Tour players who have lobbed significant criticism at Ponte Vedra on their way out. At the LIV Portland event, Patrick Reed accused the tour of not listening to its players, while Pat Perez took it a step further and called out commissioner Jay Monahan.
"He doesn't listen to the players," Perez said in Portland. "Somehow the (PGA Tour) keep talking about, oh, yeah, we work for you, we work for the players, we work for the players. It's the opposite. Seems like we work for them. We don't have a say in anything."
That kind of talk has made its way through PGA Tour circles–so much so that Mitchell, who has a keen interest in business and financial matters, sought out a conversation with a player director on the PGA Tour's policy board to see if Perez and Co. are on to something. He came away with a different view.
"I asked him all these questions," Mitchell says, "and he told me he walked into being a board member thinking the tour was holding out on us. Two and a half years later, he left knowing the tour does everything in their power to grow the business to make us more money. I'm not in the board meetings. None of those guys over at LIV are in the board meetings. I can promise you they didn't call the board of the PGA Tour.
"What really makes me mad is that the whole narrative started with independent contractor stuff with the PGA Tour. They wanted to play wherever they want because they are independent contractors. But now these guys aren't even close to that at LIV. They're employees. It's dumb. I agree that the PGA Tour might not be a perfect independent contractor model but don't go acting like that's the reason you left, because you're way more in an employee mode now.
"The guys who go have been like, what if I get in a car wreck? What if I lose my swing? They never talked that way prior to this. LIV's pitch is fear-based. Except to Pat Perez. And Pat Perez looked me in the eye the week of Memorial and said 'I cannot beat you 20-year-olds and young 30-year-olds anymore. I can't do it. I want to go if they can cover all my expenses.' He was right and he was honest. That's the only person whose explanation I respect over there right now."
It is widely expected that this week's court proceedings are but the first in a lengthy legal battle to come. LIV has assured its players that the Saudi-backed organization will cover all costs incurred from lawsuits against the respective tours, and all relevant parties have sought outside legal counsel to guide them through the process. Both the PGA Tour and LIV Golf feel the law is on their side—no matter who is correct, the optics of the lawsuits are clearly peeving those who decided to stay on the PGA Tour.
"The LIV guys talk about these things coexisting—fine, sure, they can coexist. Play your events, but don't try to play ours. You can't cherry pick the best parts of the PGA Tour when we're not allowed to cherry pick yours. You're just finding the holes in the PGA Tour system, exploiting them, and acting like the PGA Tour is the big bad devil that did you so wrong. And that is just so false.
"If a guy sues the PGA Tour, he is suing all of us, including Tiger Woods, because they believe they were mistreated … so they can then play more events, which is the whole reason they left? Come on."