Genesis Scottish Open
Billy Horschel doesn't hold back in blasting LIV Golf 'hypocrites'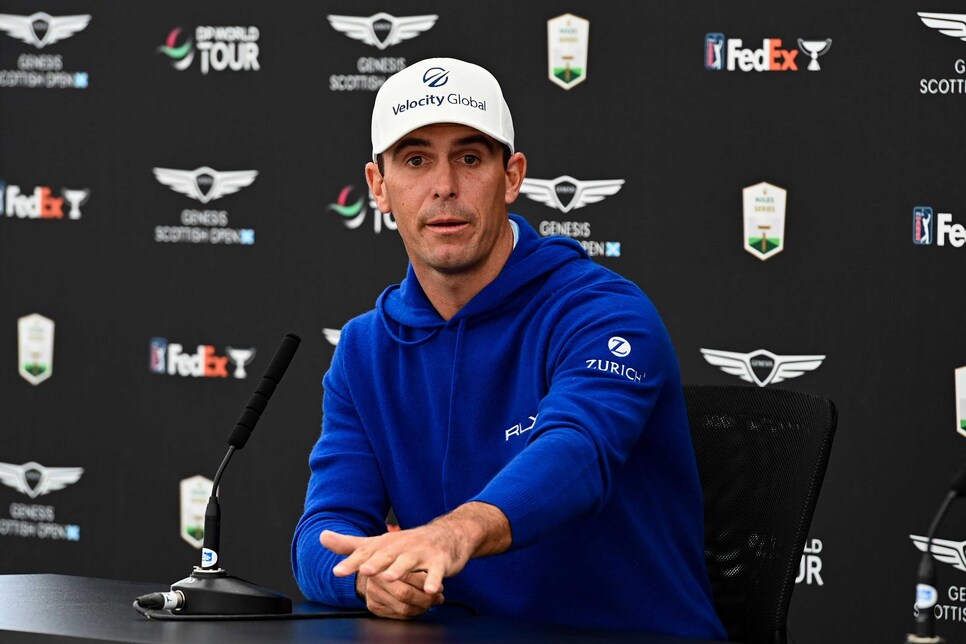 Billy Horschel speaks to the media ahead of this week's Genesis Scottish Open.
Paul Devlin - SNS Group
GULLANE, Scotland — At least according to the World Ranking, there are only 14 golfers in the world better than Billy Horschel. The 37-year-old Floridian, a seven-time PGA Tour winner and former FedEx Cup champion, can clearly play. And boy, can he talk too. Armed with the ammunition provided by the on-going dispute between LIV Golf and the combined might of the PGA and DP World Tours, Horschel was off and running during his Tuesday press conference ahead of the Genesis Scottish Open at the Renaissance Club.
Following the usual preliminaries involving current form and other pleasantries, the first American since Arnold Palmer in 1975 to win the DP World's flagship event, the BMW PGA Championship got into full flow with a meandering 892-word response to a query as to his thoughts on the inter-tour conflict that has been dominating golf's headlines for weeks now.
"To play the PGA Tour, you've got to play 15 events," he said. "And the LIV schedule is 14 events next year. So to say players to say they are going to play 29 events a year and still hold membership of the PGA Tour is ridiculous. You only have to play four on the DP World Tour outside of the majors and the WGCs.
"Just coming over to play the big events on the DP World Tour helps, but that's not supporting the tour," he continued. "Go play something that's not a Rolex Series event. Go play something that's not in the Middle East. That's more important to the DP World Tour and its growth of the tour. They [the LIV players] keep talking about how PGA Tour doesn't listen to them. But a lot of guys are hypocrites. They are not telling the truth and lying about some things. I just can't stand to sit here anymore and be diplomatic as I have been in the past.
"I don't fault anyone for going to play the LIV Tour. I don't have any ill will towards anyone going to play the LIV Tour. I don't feel ill will about the comments they make. But Jay Monahan and everyone at PGA Tour headquarters work tirelessly to give us financial rewards and all the opportunities that we have."
He wasn't done yet. Not by a long way.
"Yes, we are independent contractors; we do sign a contract to meet certain requirements of the PGA Tour," said Horschel. "But we have the opportunity to make our schedules. To say that we have to play X amount of events and then don't have time off, no one makes you. I'm on the road for five weeks. I have not seen my family for three weeks. That's what my wife and I decided, when we laid our schedule out, it just worked that way. I made that decision to not see my wife and kids for five weeks. Am I crying about it? No. I understand. I'm living my dream trying to play golf professionally and support my family financially.
"So I'm just tired of these comments," he went on. "Go play the LIV Tour and forget about the PGA Tour. Maybe they don't want to support the PGA Tour going forward. Don't tell me you're going to play LIV and then go play 15 events on the PGA Tour. That's not a small schedule, that's not playing less."
There was a bit more about his caddie's green card travails. How he has been fined more than once by the PGA Tour came up. And there were some closing remarks aimed at Ian Poulter and one or two other leading LIV advocates.
"Ian Poulter has been a friend for many years," Horschel said. "And I've known Justin Harding since college days. Adrian Otaegui, I've played with a couple of times. I have no problem with these guys. Poulter is very English and very blunt and very straightforward. I have two guys that are English on my team and I'm very blunt myself. I haven't taken a shot at anyone personally. I'm just taking shots at some of the comments they have made. I have great relationships with most of those guys and that's still going to be the same."
Well, maybe not quite the same. Not after today.