LIV Golf
The LIV Golf strategy is clear: Roll out the red carpet now, worry about the reckoning later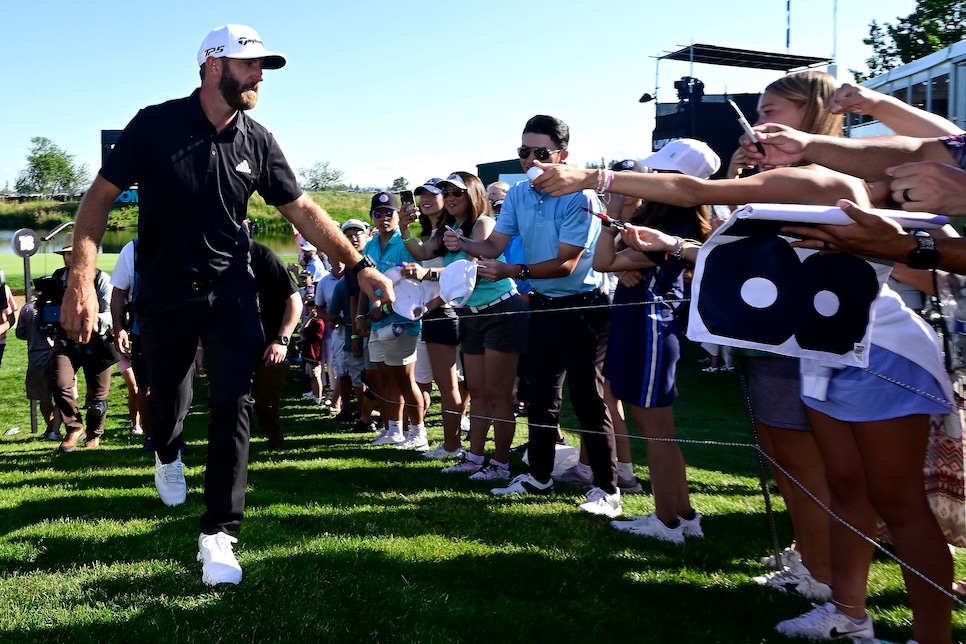 Dustin Johnson fist bumps fans as he walks off the 18th hole during day two of the LIV Golf Invitational Portland.
Charles Laberge
NORTH PLAINS, Ore. — As I perused the driving range ahead of Thursday's shotgun start, one particularly flushed 3-wood stopped me in my tracks.
"Yeah, that'll work," I muttered to one of 48 LIVers at Pumpkin Ridge this week.
"Yep, it will," he replied. He then nudged another ball from the pile into hitting position and turned around again. "But, who the f--k cares if it doesn't?"
He's got a point. LIV Golf covers travel and accommodations for all 48 players, their caddies, agents and coaches. With no cut, you can shoot eight over par each round and still net $120,000 for the week. Andy Ogletree literally did that. Winning the tournament does no more for your World Ranking than finishing middle of the pack. (No points, and no points.) There is, of course, more money to be made for high finishes. But the "worst possible" scenario is not bad. There's only upside.
It should be noted that not every pro's feeling so willy-nilly. Says Abraham Ancer: "I'm way too competitive to let myself get worse at golf. I feel like I will be doing everything possible to stay competitive and get better at what I do." And Bryson DeChambeau's unwavering perfectionism had him closing down the driving range on Thursday evening. New tour, same Bryson.
There has been, however, a remarkably stress-free atmosphere all week. Golf-wise, the stakes simply aren't high, and players feel free reign to do almost anything they want. DeChambeau's full content creation team, Regecy, has been inside the ropes all week, walking in the fairway behind him to shoot content for his YouTube Channel. That would never fly on the PGA Tour. "It's literally the opposite of the PGA Tour," says one of his cameramen. "You can't do shit out there. Here, they're encouraging us to do stuff." LIV already aired a promotional piece produced by DeChambeau's crew, and there have been discussions about further collaborations. Players' families cruised inside the ropes throughout the practice rounds. Almost anything goes.
"It's as if the answer to every single question is yes," says one agent. "A total and complete five-star experience."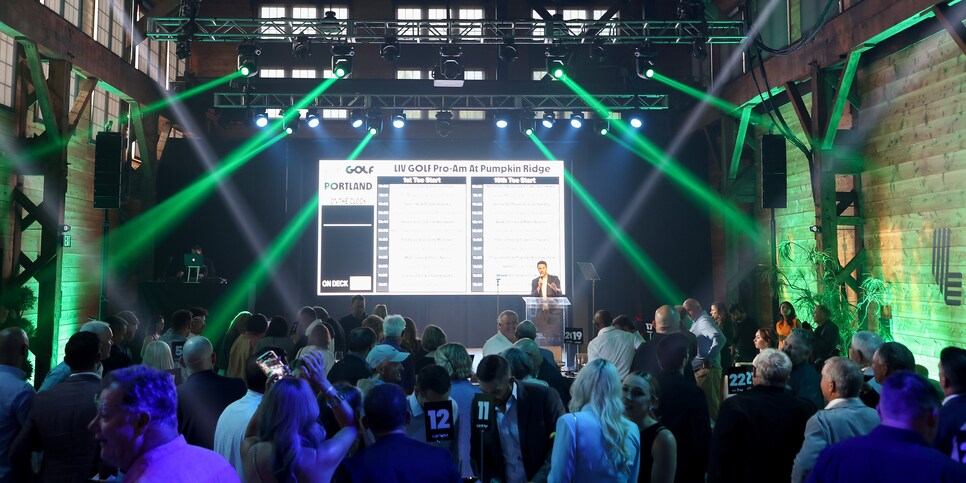 LIV Golf is throwing elaborate parties ahead of each tournament.
Joe Scarnici/LIV Golf
It's a limited field, but the staff LIV has hired could easily service a 156-man event. There seems to be a person in a LIVGOLF shirt ready to serve as a player's personal concierge at every turn. Black SUVs wait four-deep by the clubhouse to take golfers and anyone associated with them wherever they please. The caddies, too. LIV has gone out of its way to roll out the red carpet for the loopers, giving them gifts upon arrival, putting them up in five-star hotel for free, pimping out the caddie lounge and dining area.
"It's been phenomenal with the caddies," says Ancer, making his LIV debut this week. "It's pretty unbelievable how happy they are. The accommodations, the travel, is a big part of that. They're pumped about getting everything taken care of."
The fan experience has been excellent as well. There aren't many spectators on-site—LIV wouldn't confirm the number, but they capped attendance largely due to safety concerns given the radioactivity that follows this tour—so there's never any issues getting right up on the rope. There are far more concession stands and food trucks than are necessary.
"It's such a great event," says Jennifer Martin, born and raised in Portland. "We can walk wherever. It's not stuffed with people. The food is good. It's just really nice out here."
Not one of the 48 players will say a negative word about LIV—of course, that's largely because they're on the payroll of the Saudi-backed group. But it's also because they've been treated like royalty.
LIV can afford to treat the players, agents, coaches, caddies and fans with white gloves because, well, they can afford it. Not forever, but for right now. LIV is believed to be willing to spend $2 billion to get this upstart tour off the ground—that's a ton of cash, and they have a very long runway before they need to start making a profit. But officials maintain that neither the runway nor the cash is endless, and that LIV will only succeed if it becomes profitable.
Officials for LIV relish the opportunity to tell you that the Saudis' Public Investment Fund is actively trying to grow and diversify its assets beyond simply oil, which, while seemingly endless, is indeed a finite resource. They believe the Saudis view sport, this sport, as a means toward that end. They brush aside accusations of sportswashing by insisting this is about profit. But that's not the concern right now.
LIV needs to grow. It simply has to. It needs to sign up better players. It needs to somehow build identities and fan bases for the 12 teams, which it fully intends to sell. That's a crucial part of the business model. LIV needs to sell corporate sponsorships. This is a long-term plan—one LIV official described the PIF's vision as "multiple decades"—but it's not an endless spending spree.
This is also far from a finished product. Any conversation with LIV employees inevitably gets to "not yet," or, "just wait." There are a bunch of really good and really famous golfers here, but it's not enough to turn a profit. Not even close. LIV is, to put it bluntly, burning through cash. There is not a single corporate logo anywhere on the grounds. The money for the concert stage, for the two "CLUB 54" hospitality tents, for all those hotel rooms, for the logo on Patrick Reed's hat, for the players' guaranteed deals, and for the prize money—it's all coming from LIV Golf.
The No. 1 goal right now is recruiting—players, fans and sponsors. LIV Golf CEO Greg Norman likes to call this quaint little Saudi-backed venture a "startup," so we'll play ball and dip into business parlance. All this money is, essentially, the cost of customer acquisition. (The golfers, fans and sponsors are the customers in this scenario. It's not a perfect analogy.) The way they plan to do this is to provide the golfers, their caddies, their teams, their families, executives and fans a baller experience and hope they tell their friends. It's a rather simple word-of-mouth strategy, and it's already worked on some people.
Kenny Harms, caddie for Kevin Na, has been constantly flex-posting about all the perks of LIV: complimentary rides on private jets, swanky parties, neat gifts. Word of the first-class treatment—and, assuming the standard 8-percent deal, a minimum check of $9,600 at the end of the week—is surely spreading through the famously gossipy caddie community. The coaches are loving it, too. One on-site this week called one of his PGA Tour players with a clear message: If you don't get out here, you're f----in nuts! Brooks Koepka said hearing from initial LIVers helped spark his about-face away from the PGA Tour.
"Talking to guys—everybody that came back that I spoke to, [Dustin Johnson], my brother, Phil [Mickelson], everybody had nothing but great things to say. So I took it from their word," Koepka said.
To continue our startup theme: LIV is in the pre-revenue, pre-profit, honeymoon phase. It will not last forever. Startups have to spend a bunch of cash up-front to get off the ground. But eventually, they have to start making money. The only way for LIV to do that is to convince people other than professional golfers and their entourages that LIV Golf is worthwhile.
The path to a TV deal for LIV, which is viewed as critical for long-term viability, is to grow so popular that a network or streaming service is willing to stomach the PR ramifications. And they're starting from scratch—LIV's tournaments do not have history nor identity to build off. There is no precedent for this team concept in professional golf. It's a not-small mountain to climb. LIV hopes to spend its way to the top.