Scottish Open
'A little uncomfortable': LIV golfer Justin Harding finds his way on to the Scottish Open leaderboard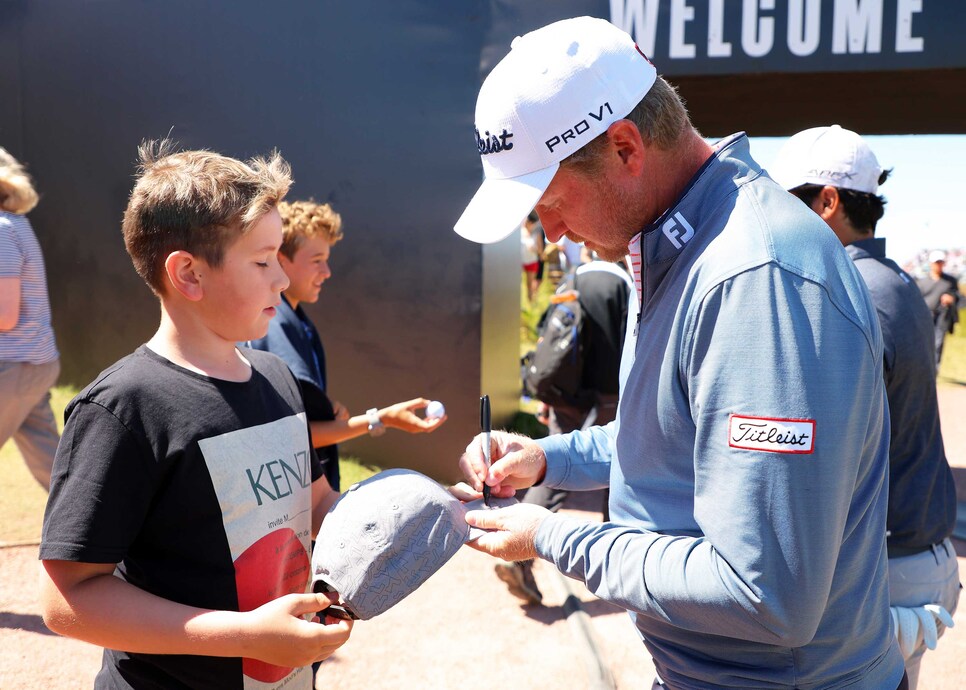 Justin Harding signs an autograph on Thursday at the Genesis Scottish Open. Harding is one of four golfers who took legal action to get into the field after being suspended by the DP World Tour for playing in a LIV Golf event.
Kevin C. Cox
GULLANE, Scotland — On the DP World Tour, there is a post-round routine when a player shoots an especially good score. The player in question talks first to the television broadcasters, then the tour's in-house social-media team and any stray radio interviewers before he arrives in front of those representing the print media.
But there are exceptions apparently.
In the wake of his bogey-free five-under 65 in the opening round of the Horizon Scottish Open at the Renaissance Club that left him four off the lead, Justin Harding wasn't asked to speak to Sky Sports. The guy from the DP World Tour website asked only two questions. And the radio guys were left to fend for themselves amongst the writers.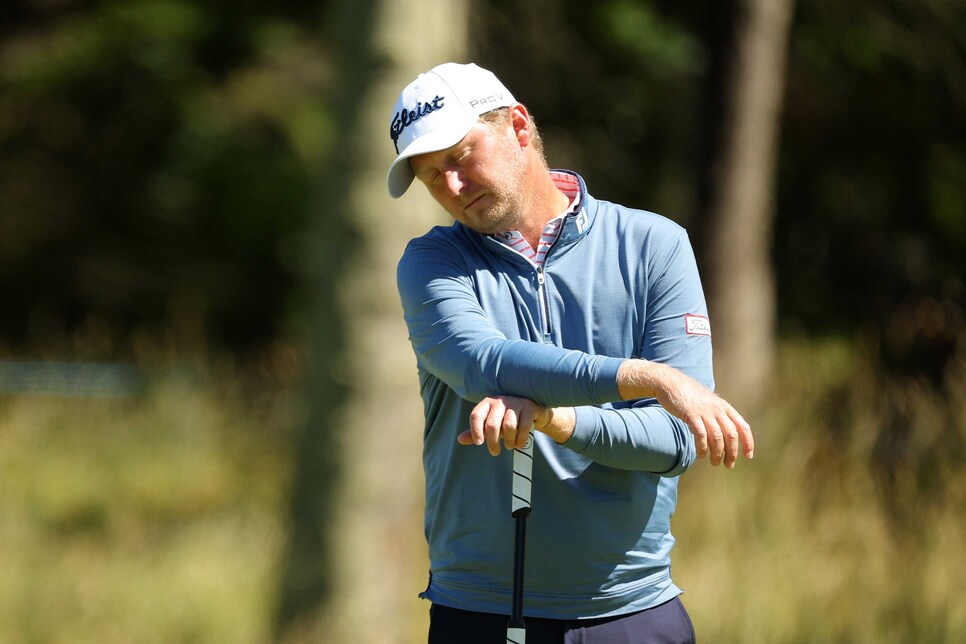 Justin Harding reacts on the 17th en route to his opening 65 at the Renaissance Club.
Kevin C. Cox
Which is not to say that Harding was too clear on exactly how he got himself involved in a verdict that fell in his favor. Just about the only thing the 36-year-old from South Africa did reveal to the journalists with any certainty was that he was only made aware of the result on Monday evening. He refused to comment when asked if he had employed lawyers to argue his case and pleaded a mixture of confusion and ignorance when pressed on exactly how he, Ian Poulter, Branden Grace and Adrian Otaegui found themselves "re-eligible" for DP World Tour events starting this week.
"I actually have no idea, that surprised me," said Harding, who easily finished best of the four LIV players in Scotland on Day 1. "I felt like I wanted to give it a shot and play and support the European Tour when I can. Ultimately, I have a winners category so it felt like I was entitled to play. I was a little bit upset when I was told I couldn't."
What is for sure is that Harding has played in both LIV events so far. A T-10 finish in the first at the Centurion Club earned him $516,666. And when he pulled up T-8 at Pumpkin Ridge last week he made another $602,500. Not bad for 108 holes of relatively stress-free, no-cut competitive golf, but money that has inevitably provoked a storm of bad feeling on both the PGA and DP World tours. Few are willing to say so publicly, but not many players gathered in East Lothian this week are happy to see Harding playing.
Asked if he had encountered any ill-feeling either on or off the course this week, Harding at first proceeded with caution.
"I haven't had too many issues," he said. "There are times when it's a little uncomfortable. The European Tour guys have been fine, but the PGA Tour guys are in a different boat. I don't want to get into the specifics of all of that. I am trying my best just to play golf. I'm not confrontational at the best of times. But it's an awkward situation to be in."
Harding went on to claim that he hasn't "gone to LIV" and hasn't "signed any contracts or deals." All he has done is participate in a couple of events. But in the absence of a contractual relationship with LIV, how did he actually get into their events?
"I've played the ones I have got into either by Order of Merit or World Ranking," he went on. "They opened up a few spots for those. And I don't really know if I am into the next one. I only knew I was into Portland on the Thursday evening. I am in a different situation, there is a lot going on. I have nothing against anyone. This is a prestigious event and I'm trying to make the best of it."
While that might be the plan, thinking he is going to play away under the radar—especially if he gets himself into contention—is fanciful at best.
"I assure you, I'm well aware of that," Harding conceded. "Look, at the end of the day it [LIV] was an event, it was an invitational, it was worth a bucketload of money. It felt like I could play in it. I felt I was entitled to play in the event, and I chose to do so. Whether or not I have made the right decision, we'll have to wait and see what happens. I always thought it would be a bit tricky, but I didn't realize it would get blown up as much as this, I have to be honest. But ultimately all I am worried about is my golf."
Going forward, will that mean more LIV events, or more Asian Tour events, where Harding is already exempt?
"I have no idea," he said. "I have had two successful weeks at Portland and Centurion. But I wouldn't be able to answer that question. I have no idea at this moment in time if I am in the field at Bedminster [for the third LIV event] or not. If I am, I'll have something to think about. At the end of the day, I have played all over the world in just about every event possible and to be honest the LIV ones didn't feel too different."