Takeaways
New-look Scottie Scheffler bounces back, Patrick Reed sums up golf and JT (understandably) struggles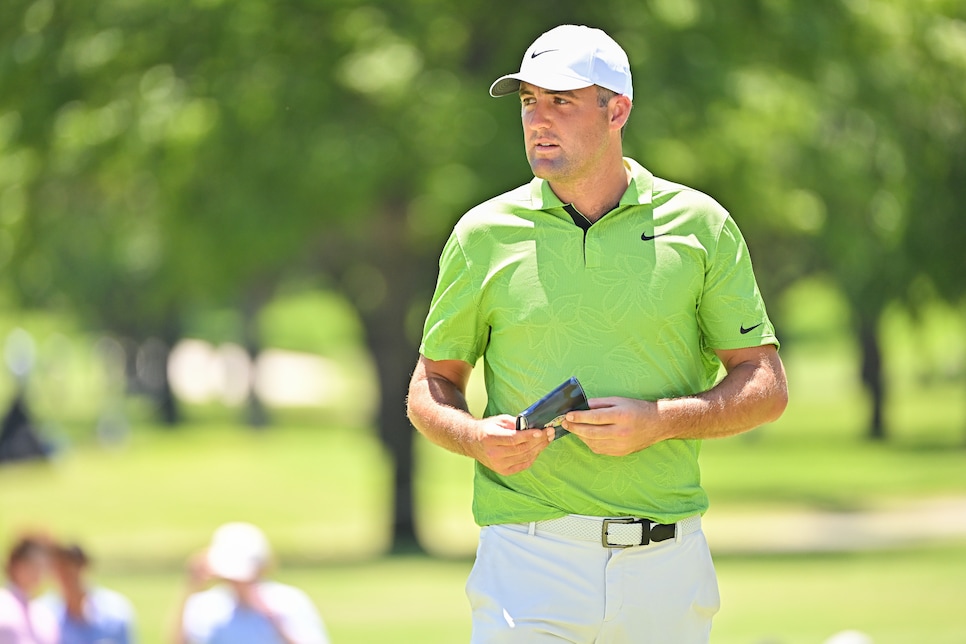 Scottie Scheffler's uncharacteristic missed cut a week ago in the PGA Championship at Southern Hills, among his favorite courses, was just that—an uncharacteristic missed cut. No need to go back to the proverbial drawing board. No need to dig it out of the dirt (though that mantra seemed to work for Will Zalatoris after missing the cut at the Byron Nelson before getting into a playoff at the PGA).
But you know what never hurts? A haircut, which is exactly what Scheffler got prior to this week's Charles Schwab Challenge. Missed cut, fresh cut. It never fails.
It certainly did not fail the World No. 1 Thursday at Colonial, where he shot an opening-round 66 to position himself inside the top five, where he's been living most of 2022. Take out the PGA and the weather-affected Players Championship, and you'll see that Scheffler is on a historic tear, finishing T-25 or better in 11 of his last 14 starts, eight of those instances inside the top seven.
There's no reason not to expect more of the same this week in Fort Worth, where Scheffler is playing his third pseudo-home game in his last five starts.
"I think I enjoy it," Scheffler said of playing in his home state. "It's a lot of fun, definitely, to have people cheering for you versus against you, so it's definitely good to have some fans out here now. But I love being here at home."
Scheffler was most proud of his round being bogey-free on Thursday, no easy task on a tight layout like Colonial, where the wind picked up as the day wore on. Bogeys were unavoidable last week, though he knows he still made a few too many.
"I was very frustrated obviously with how last week ended," he said. "You never want to miss a cut. I hadn't missed a cut in a while up to that point, so I think it makes it even more frustrating just knowing that I was playing really good golf and I just didn't have it that week. That stuff happens. If I didn't like bad draws or making crazy mistakes and stuff like that, I would have played a different sport. A lot of weird stuff happens in golf."
Very weird stuff happens in golf, like the World No. 1 missing the cut at his favorite course, then getting a nice buzz at the barbershop and shooting 66 six days later.
Patrick Reed sums up golf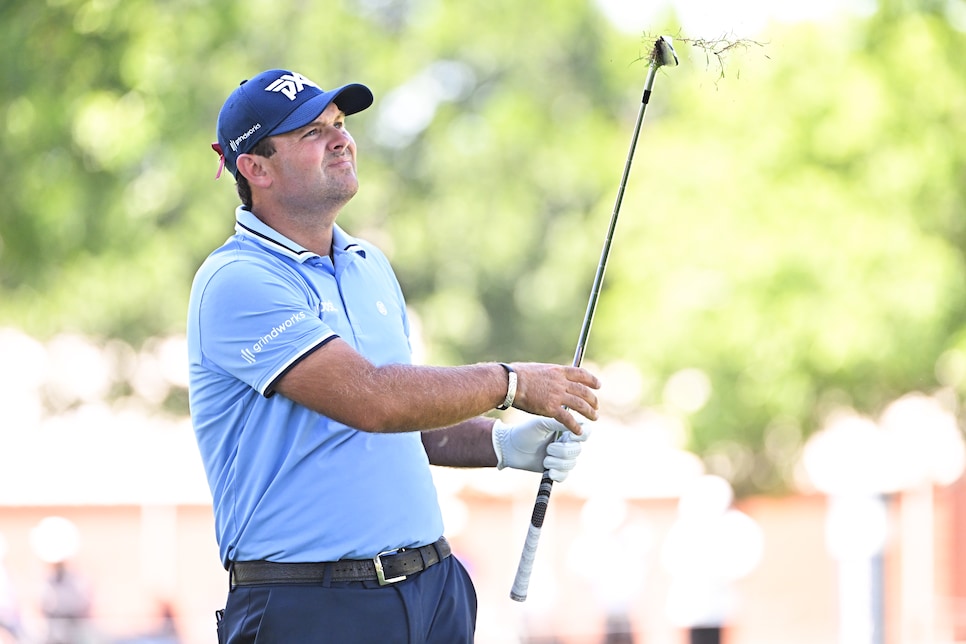 Unlike Scheffler, Patrick Reed's season has been anything but historic. It's been downright ugly, very un-Patrick Reed like. The former Masters winner has become known for putting together some of the better and beefier campaigns in golf over the last handful of years, but in 2022 his best finish (non-Sentry TOC division) is a ... wait for it ... T-26?
Yes, T-26, which, believe it or not, came in that brutal Players Championship. Reed's been bad, but the unable-to-put-four-rounds-together type bad. There are flashes, but they've been fleeting. On Thursday, we saw another flash, with Reed matching Scheffler's 66, his only bogey coming on his final hole, the par-4 ninth. He's hoping this flash is not one of those fleeting ones.
"It feels good to get a number out of it," Reed said, adding, "Honestly I feel like there's been too many days that I've done a lot of things really well, just the number hasn't really reflected it."
The good news is, there is plenty of season left, especially for Reed, who will play as many tournaments as it takes to play his way out of his funk. Though he doesn't see it as that.
"If I just keep doing what we're doing and stick to our game plan, the game is going to come around. Honestly, I feel like the game is where it needs to be, I just need the ball to go in the hole a little quicker."
Justin Thomas, fellow PGA contenders have quiet Thursday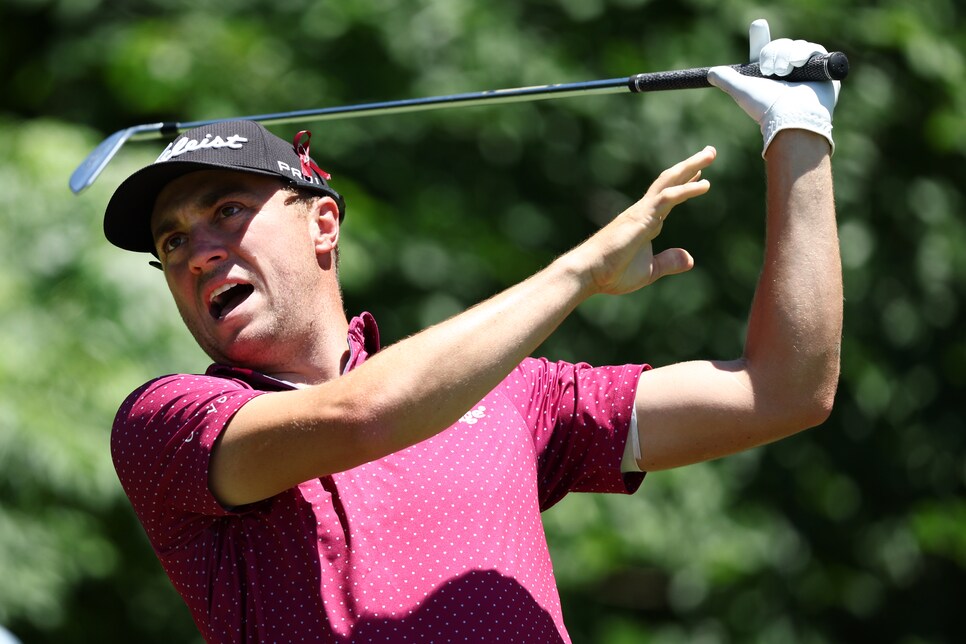 Through three holes Justin Thomas had picked up right where he left off Sunday, making birdie at Colonial's par-4 12th, his third hole of the day. Boom. Never losing again.
Then ... WHAM, double bogey at the par-3 13th, where JT rinsed his tee shot and failed to get up and down from the drop zone. To his credit, he managed to play the rest of the day in even par, finishing with a one-over 71. Honestly, not all that bad considering the conditions in the opening round, and nothing he can quickly bounce back from. That said, would anyone blame him if he, um, took a dive on Friday?
Ditto that for Mito Pereira and Will Zalatoris, who, like Thomas, had quiet starts to their Charles Schwab Challenge. Pereira fought for an even-par 70, while Zalatoris stumbled to a two-over 72. Respect to all three of these PGA contenders for showing up this week. That in itself earns them a nice tip of the cap.
Jordan Spieth's season (and career) summed up in 17 seconds
The highest highs and the lowest lows. Just another ride on the Jordy express. All kidding aside though, these short putts are becoming obscene. He knows it. We know it. Do you realize he is 203rd on the PGA Tour in putts from three feet or less? And that he's 186th in putts from five feet or less? The magic wand in his bag has become an agent of absolute chaos, and we can only hope it doesn't fail him at an inopportune time (gulp ... in a major). Then again, he's already proven once this year he can still win a golf tournament despite missing a potentially tournament-altering lip-out. No one would be surprised if he did that again.