A few months ago, Lauren Stephenson quietly took a shot at a dream she has had since seeing Brittany Lincicome compete at the PGA Tour's Barbasol Championship in 2018. The 24-year-old South Carolina native, still searching for her first LPGA win in four years on tour, wrote a letter to tournament director Steve Wilmot at the RBC Heritage requesting a sponsor's exemption into the PGA Tour event she attended in her youth at Harbour Town Golf Links on Hilton Head Island.
"I grew up playing high school boys golf. I'm used to playing long yardages because I had to play from the same tees as them," Stephenson said in explaining why she would have been well suited to become just the seventh woman to compete in a PGA Tour event. "I think it'd be really cool because I'm from South Carolina. It's an invite-only tournament. It's a tournament I grew up going to. I know a lot of people from around the area. Why not at least ask?"
Indeed, the worst the tournament could say was no, which it did when it respectfully declined her request, noting interestingly she was not the first woman to try to get into the field.
News of Stephenson's bid to play in a PGA Tour event leaves unanswered the following questions: When will a woman again tee it up with the men? And who might it be?
When thinking of such a feat, and with the PGA Tour at Colonial Country Club this week in Fort Worth, what immediately comes to mind is Annika Sorenstam memorably joining the field at the then Bank of America Colonial. It's was 19 years ago that Sorenstam was paired with Dean Wilson and Aaron Barber for the opening two rounds, missing the cut by four shots but making news and shinning a spotlight on women's professional golf.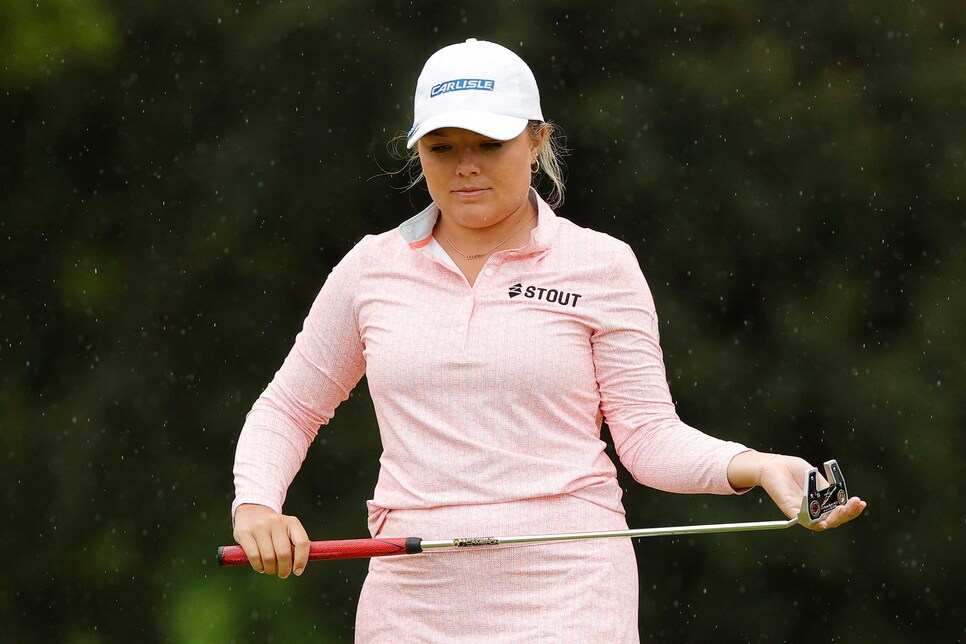 Lauren Stephenson hoped being a South Carolina native might make her appealing for a sponsor's exemption into the RBC Heritage at Harbour Town.
Sarah Stier
Only one woman has made a cut in a PGA Tour event, and that happened before the LPGA had officially formed. Babe Didrikson Zaharias, who first played in a PGA Tour event at the 1935 Cascades Open, made three 36-hole cuts in 1945: first at the Los Angeles Open (a third-round 81 kept her from making the field for the final 18 holes), a 33rd place at the Phoenix Open and 42nd at the Tucson Open.
Along with Zaharias, Sorenstam and Lincicome, Michelle Wie competed in eight PGA Tour starts from 2004 to 2008 and the late LPGA founder Shirley Spork finished 105th at the no-cut 1952 Northern California-Reno Open. Additionally, Suzy Whaley earned a start in the 2003 Greater Hartford Open after winning the Connecticut PGA Section Championship the previous fall.
Sorenstam had remained a substantial figure in the women's game, running her Annika Foundation and serving as a mentor to multiple players. Interestingly, trying to make a start on the PGA Tour is not a common topic when her pupils ask for advice. "I'm really not surprised [six women have played on the PGA]," Sorenstam said via email expressing that, "it is hard to do. You have to be at the top of your game, and then you need to get the invite and then have the courage to go through with it. It's easier said than done."
Like Sorenstam, Lincicome says no players have asked for advice on trying to make it into a tour field and what the experience felt like.
"It is kind of crazy," Lincicome said about the fact she remains the last to have played. "I think it's just a distance thing. Those guys hit it 320 [yards], 330 consistently or even fly it that far. The golf courses are just so long. As long hitters on the LPGA, our bread and butter are the par 5s you can get to in two and try to make some eagles on. Obviously, playing in a men's event, there aren't many opportunities to do that."
A two-time major champion, Lincicome pointed out that for players to have a chance to make the cut in a PGA Tour event, not only would they need to average around 280 yards off the tee, but they would likely need to flip their practice regimen. Instead of focusing on short irons, as Lincicome does for her approach practice, they'd need to dedicate themselves to working on long irons into greens for a potential PGA start.
"Lexi [Thompson] could definitely go do it," Lincicome said, noting the 11-time LPGA winner's impressive length. "Ariya Jutanugarn, if she ever were to hit a driver, she hits it plenty far enough, she could definitely do it. We don't normally talk about it."
WOMEN WHO HAVE COMPETED IN PGA TOUR EVENTS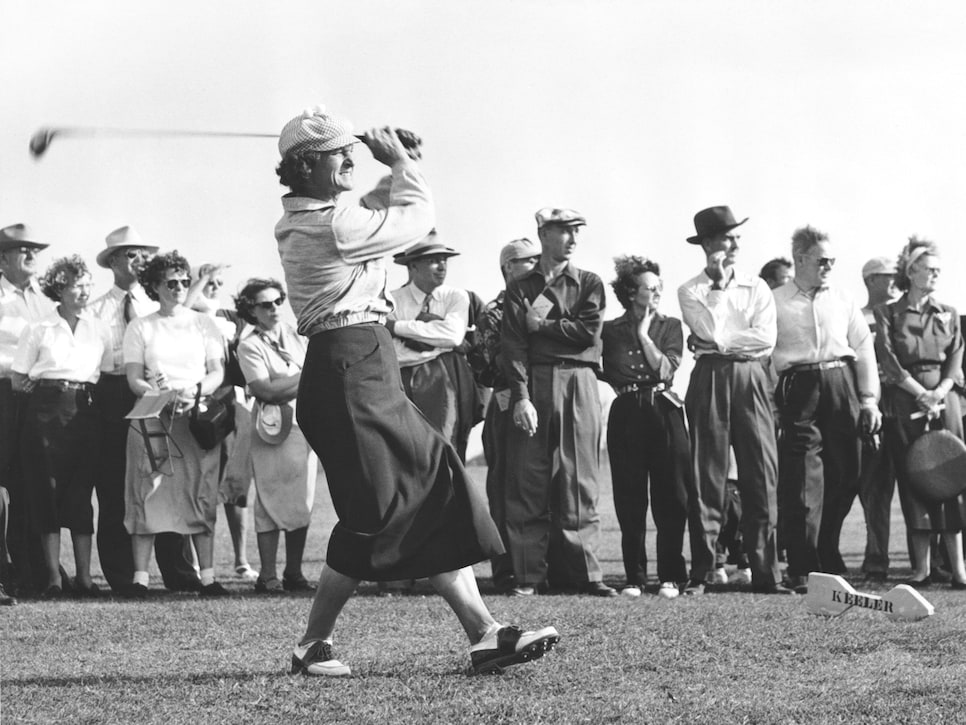 Babe Didrikson, Multiple events from 1935 to 1946
Underwood Archives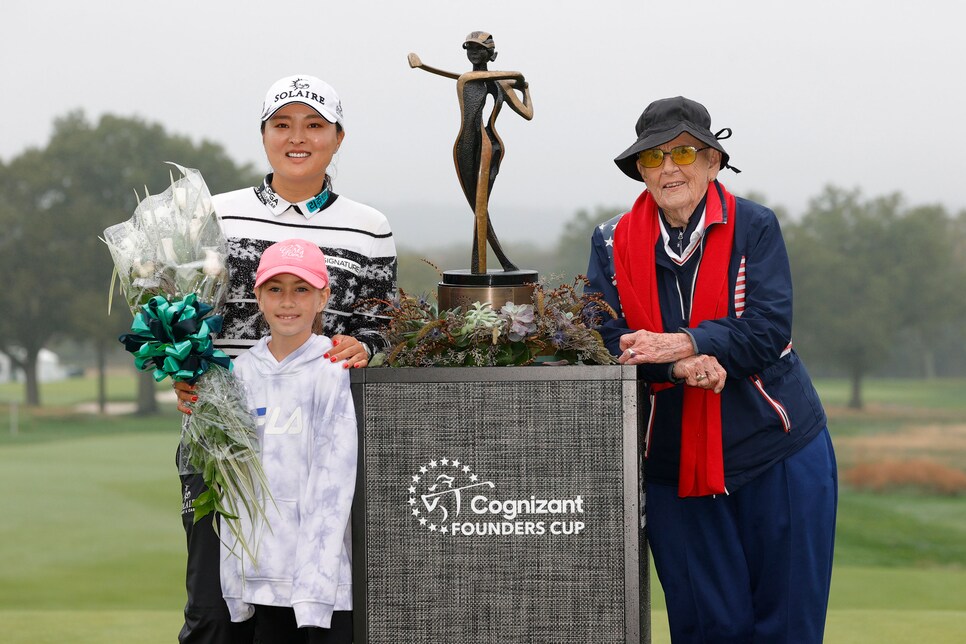 Shirley Spork (right): 1952 Northern California-Reno Open
Sarah Stier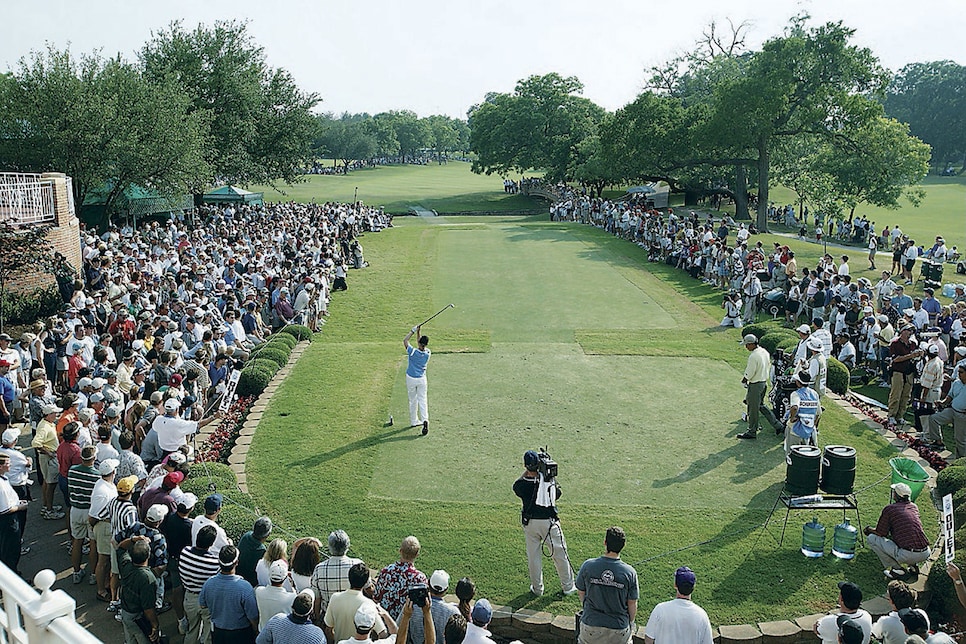 Annika Sorenstam: 2003 Bank of America Colonial
Robert Beck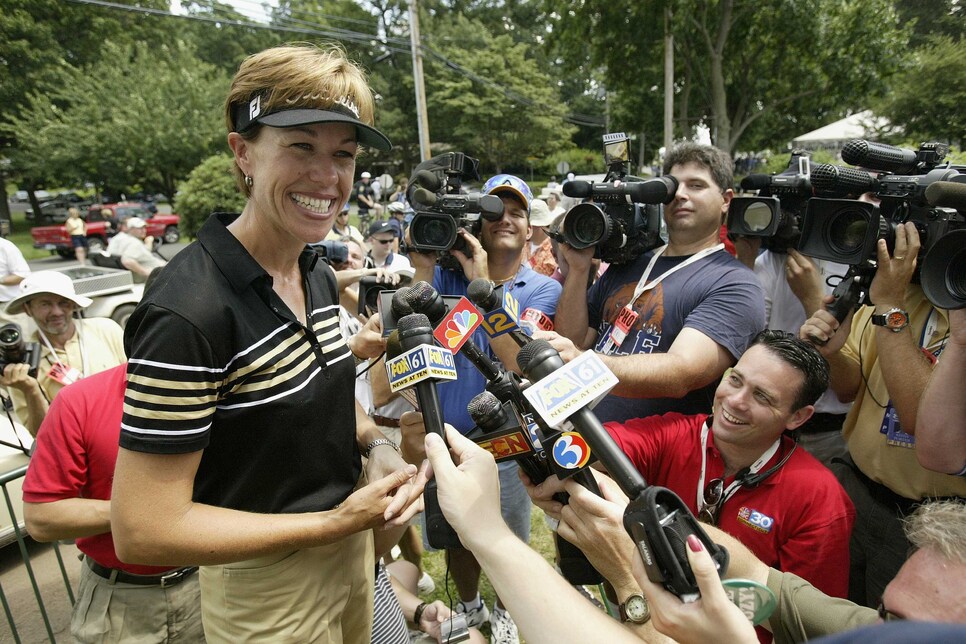 Suzy Whaley: 2003 Greater Hartford Open
Elsa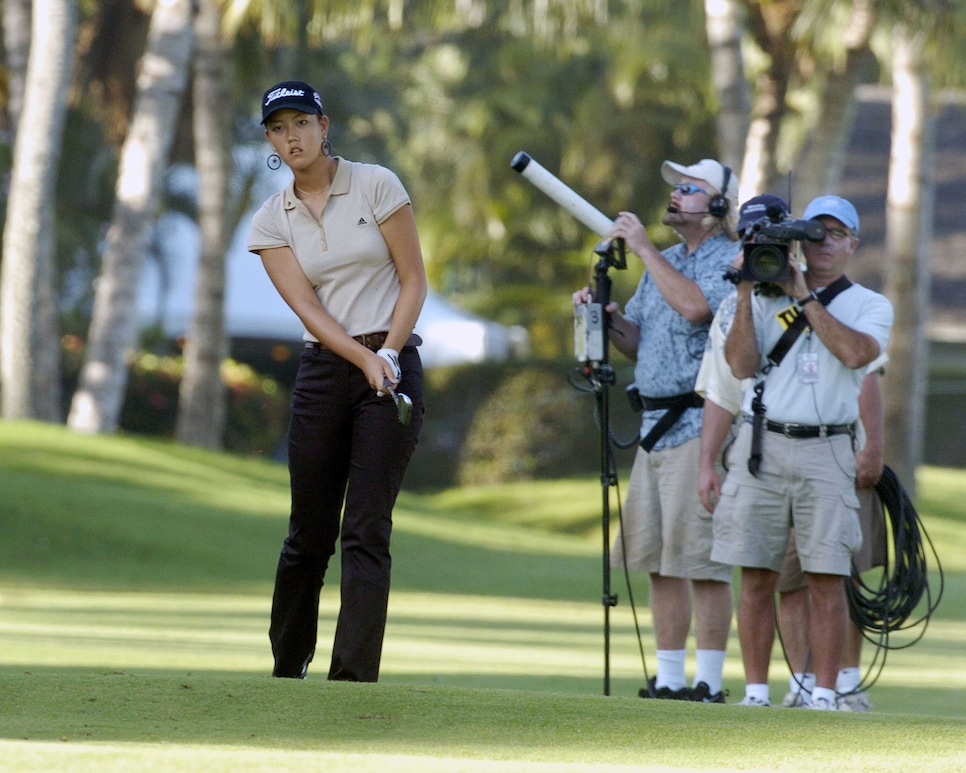 Michelle Wie: eight starts between 2004 and 2008
Al Messerschmidt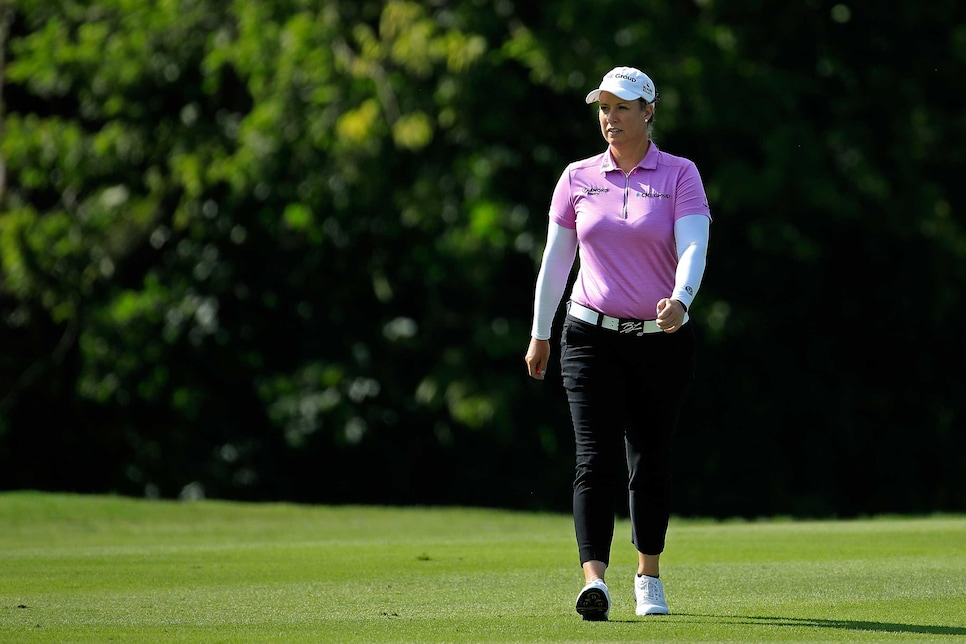 Brittany Lincicome: 2018 Barbasol Championship
Andy Lyons
Jutanugarn actually contemplated making a run at a PGA Tour start when she was World No. 1 in 2018. She won three times that year, including the U.S. Women's Open for her second major title. and joked about the possibility with her caddie as she felt her game was in a good place. One of the first stories her parents told her about playing professional golf was Annika's start at Colonial when Jutanugarn was 7.
The challenge of following through would be the pressure, as Jutanugarn imagines playing on the PGA Tour would come with more nerves than competing as the No. 1 in the Rolex Rankings on the LPGA, a spot she held for 23 weeks in her career. Even averaging 262 yards off the tee so far in the 2022 season without using a driver, she's unsure she'd hit the ball far enough.
"I think about it," Jutanugarn said. "It's always too big. I don't know how to deal with all the spectators, the pressure, so I end up with stop thinking about it."
Danielle Kang noted she has a couple of prerequisites before ever considering a PGA start. First, the six-time LPGA winner would want to become the No. 1 player in the Rolex Women's World Golf Rankings. She nearly accomplished that in 2020, climbing as high as second after winning the LPGA Drive On Championship at Inverness Club in 2020 and then winning the Marathon LPGA Classic the following week. Now 11th in the Rolex Rankings, Kang also would need to find a tournament where she could compete with her 251-yard driving average.
"I'd be very careful on what golf courses to pick, where I can go low, how I can play to my advantage," Kang said. "Maybe the straightness would help. It'd be really hard to compete on a 7,000-yard golf course when I don't even hit it as far as [PGA players] hit a 4-iron."
While some of the shorter PGA Tour setups hover around 7,000 yards, with the Sony Open (7,022 yards), RBC Heritage (7,121 yards) and the Colonial (7,209 yards), Hannah Green won the 2019 KPMG Women's Championship at Hazeltine National Golf Club that played at 6,807 yards. Since then, the Australian added 17 yards in driving distance off the tee, averaging 255 in 2019 to 272 this season.
POTENTIAL CANDIDATES FOR A FUTURE PGA TOUR START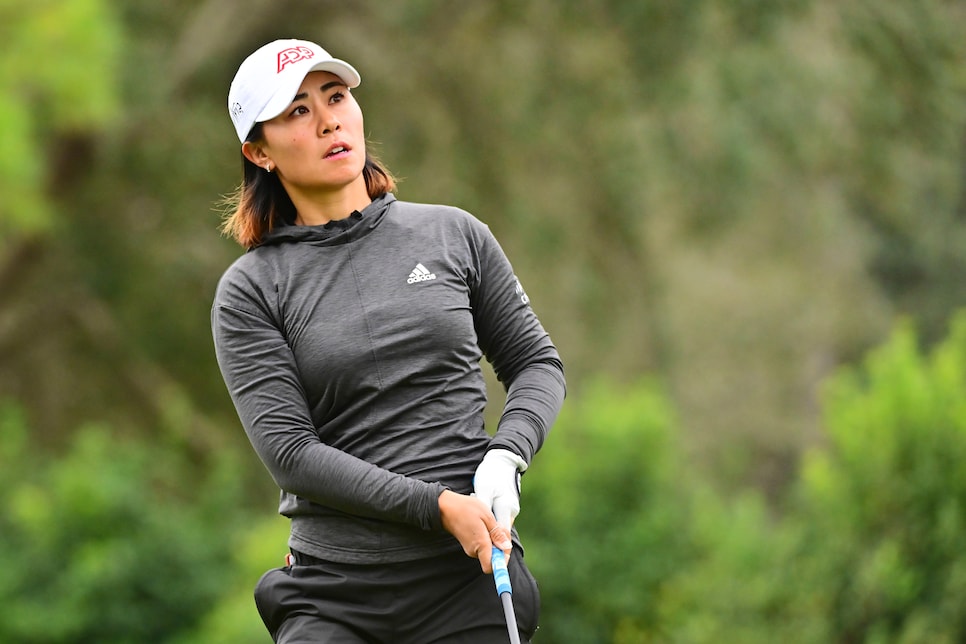 Danielle Kang said she'd be interested in playing in a PGA Tour event, with some stipulations.
Julio Aguilar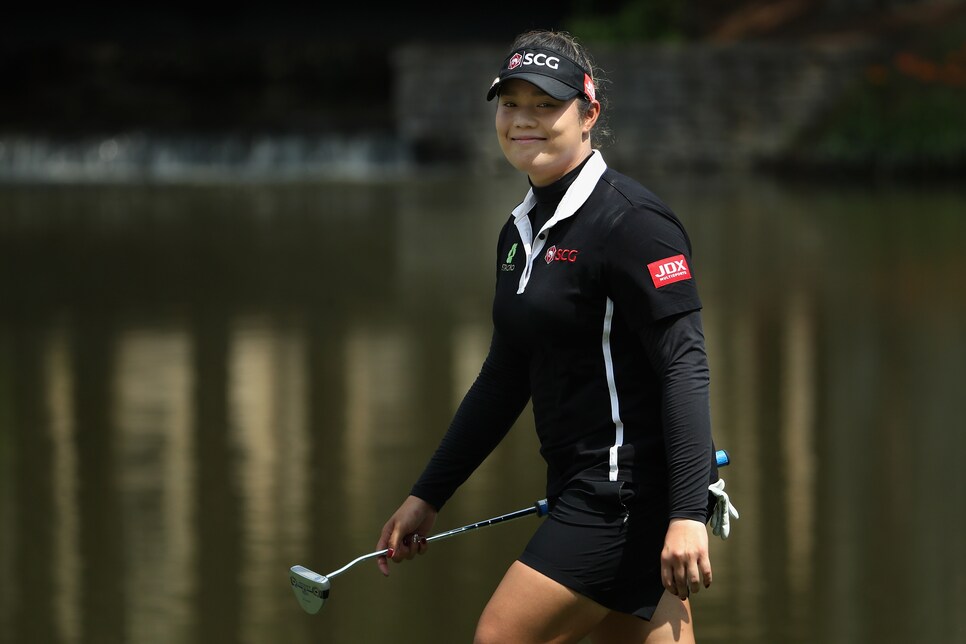 Ariya Jutanugarn at the 2018 U.S. Womens Open during the final round at Shoal Creek.
Christian Petersen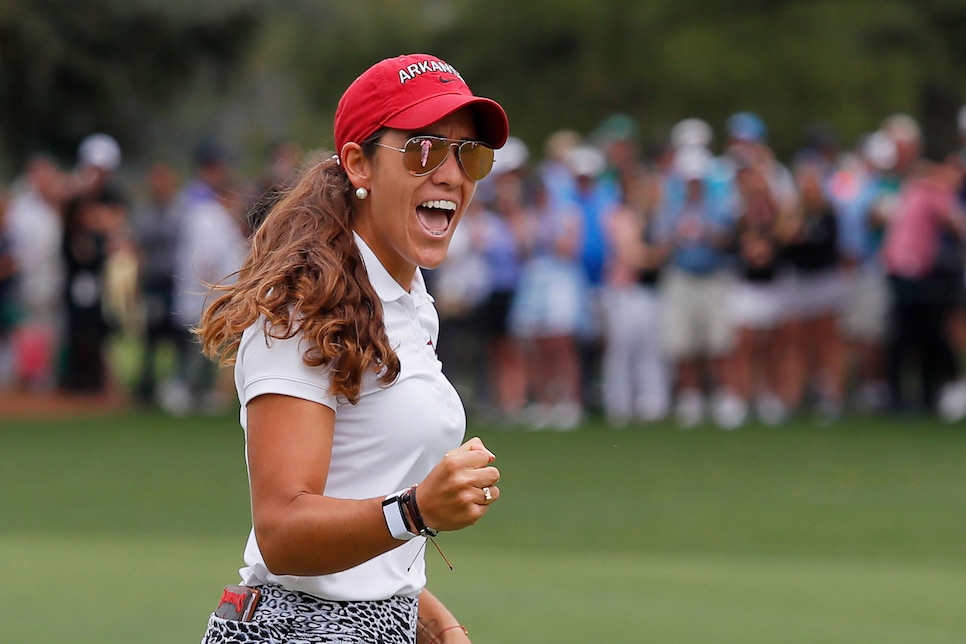 Maria Fassi of Mexico en route during the 2019 Augusta National Women's Amateur.
Kevin C. Cox/Getty Images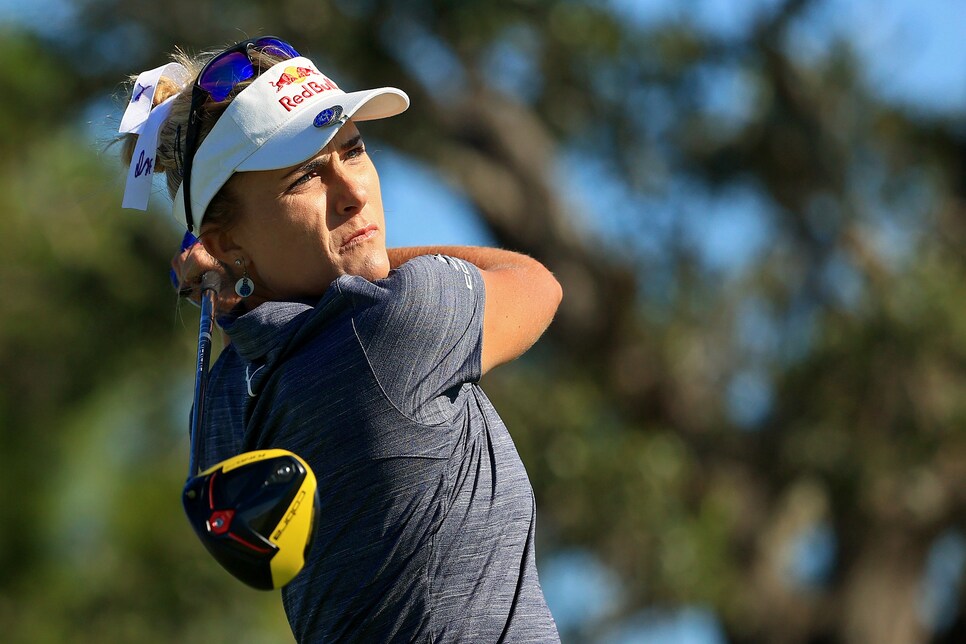 Lexi Thompson is someone her peers suggest has the distance to be able to compete in a PGA Tour event.
Mike Ehrmann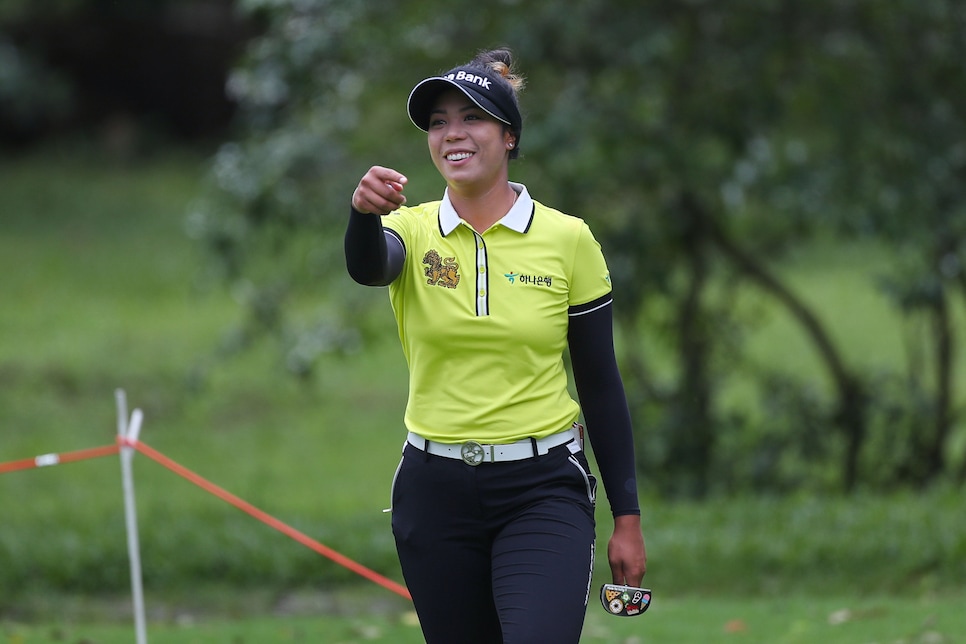 Patty Tavatanakit practices with several male tour pros and said playing a PGA Tour event is "something I could put on my list for sure."
Thananuwat Srirasant
Green has had success competing against men as well. In February, she became the first woman to win a 72-hole mixed men's and women's professional event at the TPS Murray River in Australia. However, even with the résumé and length to hold her own, she hasn't attended a PGA event. Once Green's coach Rickie Smith watched Scottie Scheffler win the WGC-Dell Technologies Match play event and mentioned how good the skill level was, Green put away any potential thought of competing on the PGA.
"After he said that, I don't think I could compete against them," Green quipped.
Mel Reid competes against Jupiter, Fla., neighbor Brooks Koepka in money matches, but that's as far as she plans to go towards a potential PGA Tour start. The 34-year-old remembered watching Sorenstam at Colonial, and Vijay Singh's comments that he'd withdraw if paired with the Swede. The Englishwoman understands the challenge of someone trying to overcome a seven-club difference between drivers, with some of the longer PGA Tour players hitting it 370, nearly 100 yards further than the longest on the LPGA.
Reid believes that to take that step and tee it up on the PGA Tour, a player needs to showcase herself as a preeminent star on the LPGA over an extended period. After all, Sorenstam won 43 times on the LPGA before teeing it up in Fort Worth.
"I totally get why Annika did it," Reid said. "She completed dominated, won all these majors, and didn't miss cuts, and was winning all the time. I think somebody like Nelly [Korda] and Jin Young [Ko] definitely could [make a PGA cut], but I think that's in the future and definitely not right now."
Like Reid, Patty Tavatanakit plays with PGA Tour members for practice. Her 323-yard average off the tee at her 2021 ANA Inspiration victory, albeit in Palm Springs desert conditions, optimal for the ball to run out, puts her in a category to have the necessary distance to compete on the PGA.
Tavatanakit brought the thought of trying to make a PGA start to her coach, former PGA Tour pro Grant Waite, as she enjoys going up against fellow Thai native Kiradech Aphibarnrat and Korn Ferry Tour members Curtis Luck and Ryan Ruffels in money games in Florida. However, making history didn't occur to her until being asked about it.
"I've never thought about that [being the first LPGA member to make a PGA cut] actually," Tavatanakit said, "I just come out here [the LPGA] to try to win tournaments, try to win majors.
"That's something I could put on my list for sure."
Others too are worthy of consideration: Maria Fassi tried her hand competing against men on the Moonlight Tour in Florida during the LPGA's COVID-19 pause in May 2020. She missed the cut at Champions Gate, which played around 7,300 yards during the week. But the experience fueled her appetite for more, as she's been in touch with the Mexican tour, trying to line up dates for a start there. The 2019 NCAA individual champion viewed the mini-tour experience as more of a mental challenge than physical, aiming to stay within her 274-yard driving average and not swing out of her shoes. She'd enjoy the challenge of taking a run to be the first woman to make the cut on the PGA Tour in the LPGA's lifetime.
"Anytime you get a chance to be part of history … I would be lying if I'd say that's not tempting," Fassi said when asked about a future attempt from the Mexican native. "The more that we see women doing different things, it's also going to attract different people to the game, and that's only going to help me and everybody else on the LPGA Tour. One hundred percent that would be something that drives me to want to do it."
Other players Golf Digest talked with generally echoed Fassi's thought that the accomplishment could help validate the LPGA's talent on a larger stage and potentially grow the game to PGA fans who otherwise don't watch. Notably, it was Kang who holds reservations given the stark contrast in playing styles between the LPGA and PGA.
"It's just something where they're two completely different games, two completely different tours," Kang said. "I can't really compare the two and what it would mean. I don't know if it'd grow the women's game in a sense/not grow the women's game in a sense. It shouldn't really matter whether someone makes the cut or not. I think if they want to try it, they can try it.
"With that being said, Annika did it after she was World No. 1, she has made her name, and she has dominated on this tour and excelled at every level. I think that's pretty respectable she gave it a go at a 7,000-plus yard golf course. It's just a challenge, a different challenge."
While the next woman may not become the first to make a PGA weekend in the modern era, Sorenstam confidently believes someone else will eventually accomplish the challenge she set for herself at the Colonial.
"I think it would be great, and I'm sure it will happen one day."