News
The Round That Changed Everything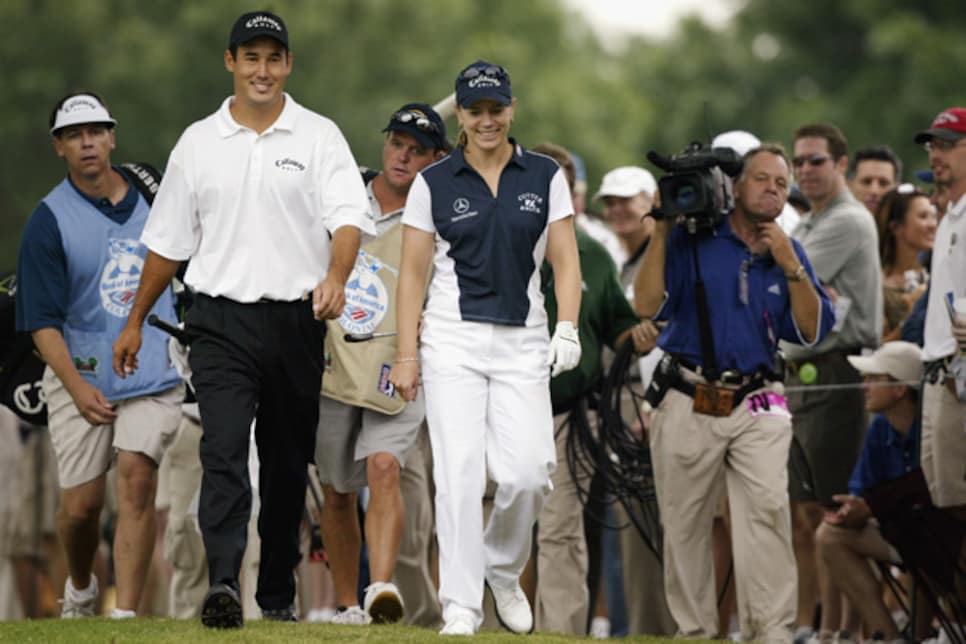 Annika Sorenstam walks with Dean Wilson at the 2003 Colonial.
FORT WORTH, Texas -- Ten years ago, as I stood near the 10th tee at Colonial Country Club waiting for Annika Sorenstam to hit her first shot in the Bank of America Colonial, an incredible jolt surged through my body.
I realized for the first time that I had absolutely no idea what to expect. I had become so used to watching Annika succeed, the idea that she might fail never crossed my mind -- until those terrifying few minutes before she hit that drive.
The first time I watched Annika play was at the 1996 U.S. Women's Open where all she did was hit 51 of 56 fairways at Pine Needles on her way to a six-stroke victory and her second consecutive Open title. Masterful.
Over the next five years she got better and began a workout program that made that skinny Swede stronger and longer off the tee. She began in 2001 what I came to think of as her Sandy Koufax years. Domination.
In the six-year stretch from 2001 through 2006, Sorenstam won 46 of 124 LPGA events, finished in the top 10 102 times and took home eight major championships. Virtually unbeatable.
Early in that period, I played with Sorenstam in the pro-am at the 2002 Ping Banner Health at Moon Valley in Phoenix. She hit every iron shot within 15 feet of the hole and pin high in a breathtaking display of distance control. We shot 17 under par.
I called Golf World's editor-in-chief at the time, Geoff Russell, and said I thought Annika had something special in store for us. Geoff said to stick with her as long as she was winning. It was a good call by both of us. Sorenstam won 11 times in 2002.
In fact, I ended up staying with Annika the rest of her career. I was there when she won her last U.S. Women's Open (and, fittingly, her last major since it was also her first) at Newport Country Club in 2006.
I was with her when she won her last LPGA event, a record-setting performance at the 2008 Michelob ULTRA Open at Kingsmill. That Sunday night we shared a tearful interview alone as she told me that in two days she was going to announce she was retiring at the end of the year.
I was with her when she played her last LPGA event at the ADT Championships and more tears flowed during our long hug behind the 18th green at Trump International in Florida.
But most intensely I will remember 2003. Sorenstam won the LPGA Championship and completed the career Grand Slam at the Weetabix Women's British Open at Royal Lytham & St Annes.
She also missed the single-season Grand Slam by just a couple of swings, finishing second at the Kraft Nabisco Championship to Patricia Meunier-Lebouc by one stroke and missing the three-way playoff at the U.S. Women's Open won by Hilary Lunke by one stroke, making bogey on the par-5 18th.
In September, Sorenstam led Europe to victory in the Solheim Cup, played before record crowds at Barseback, Sweden -- a fitting homecoming for the game's undisputed queen.
Later that fall, Annika capped off her remarkable year by being inducted into the World Golf Hall of Fame where she ended her speech by saying words that still give me goose bumps:
"After I played Colonial, Ron Sirak, a golf writer and a friend said, 'Annika can no longer be looked at as a female golfer, now she is simply a golfer.' Truly, that is all I ever aspired to be."
The atmosphere at Colonial in 2003 was awesome, larger crowds, more media and more excitement than Annika had ever played in front of. When she walked onto the tee box, Sorenstam and her caddie, Terry McNamara, moved to the right side and stood just feet from me.
I could see the muscle in her neck twitching with tension. Her coach, Pia Nilsson, later told me that when she wished her well on the way to the tee, Annika could not make words come out.
Annika later told me she had two thoughts: "Whatever I shoot today, Nelson (her cat) will still love me. And wherever the first drive goes, and it can go anywhere, I am going to find it and then hit it again."
And then she absolutely ripped her tee shot with the same gloriously smooth tempo I had been witnessing for years, sending her 4-wood -- which she normally hits about 225 yards -- about 255 yards. When she feigned falling over afterward, Sorenstam won the gallery over.
Annika's goal was to shoot par on the 7,080-yard layout and she finished with a one-over 71 that was so much better than the score indicated. She missed only one fairway -- No. 5, a brutally difficult tee shot.
The stats say she hit 14 of 18 greens but in fact she putted for birdie on every hole, using the putter 36 times, including from the fringe as she made one birdie and two bogeys.
That she missed the cut the next day, shooting 74 while playing on an emotionally empty gas tank, is of little consequence. What she did on that one day proved what she wanted to find out: If she could handle the magnitude of the moment. She passed that test.
As much as Colonial meant to Annika as a golfer -- she won the next two LPGA events she played,including the McDonald's LPGA Championship -- it meant even more to her as a person.
In my opinion, Sorenstam left Colonial being comfortable with her position as a superstar for the first time in her career.
The shy kid who deliberately finished second in junior golf so she wouldn't have to give a victory speech and who took a month off after winning the 1995 U.S. Women's Open in order to avoid the media had emerged from her first PGA Tour event as no longer Annika Sorenstam but simply Annika.
There is a word in Swedish "logom" that means "just enough." When Vikings passed around beer they muttered "logom, logom" which meant take just enough and leave some for the next guy.
There is also a Swedish saying: "Enough is as good as a feast." Coming from a culture obsessed with fairness, Annika struggled to accept that she was better than the rest -- that she was, in fact, the best of her time and one of the best ever.
She left Colonial 10 years ago moved by the affection and appreciation she felt from a gallery the Dallas Morning News said "rivaled those of Tiger Woods" when he played Colonial in 1997.
I always thought Annika's greatest strength, along with mind-boggling physical and emotional balance, was her ability to commit 100 percent to a decision. When she picked a club and a shot, she had no second thoughts. None.
When I asked her after she played Colonial if she would ever play another men's event, she told me: "No. I play golf for one reason, to have a chance to win on Sunday. I can't do that out here so why should I play? I proved I could handle it. That's all I wanted."
True to her word, she never tried to cash in by accepting the lucrative offers that were out there to play another men's event. She knew Woodstock only happens once.
About two weeks after Annika gave birth to her first child, Ava, on Sept. 1, 2009, I spoke with her on the phone. She used words I had never heard her use before, like "joy" and "bliss." I knew she and her husband, Mike McGee, were in a special place.
When people asked me if Annika would return to the tour after settling in with Ava I said no way. I heard it in her voice. Annika was as committed to being a mom and a businesswoman as she was to being a champion golf.
Everything Annika does is for a purpose and that purpose is to be the best. The shy Swede who, when I first interviewed her 17 years ago was such a bad quote I had to talk to her caddie to get something I could use, is now a TV personality, and damn good at it.
What Annika is today began that day 10 years ago at Colonial. She entered the Bank of America Colonial as a female golfer and left it as a golfer. She entered it as a reluctant superstar and left it as a one-word celebrity.
I had no idea what to expect that day. Why would she risk her reputation and the image of women's golf? What if she shot 87? How damaging would that be? But she didn't. She held her own while the world stopped and watched.
Perhaps the answer to it all is in words Annika said to me much later. "I knew," she told me about playing Colonial, "that the worst that could happen is that I learn something." Wow, that's advice for all of us.
Annika did learn something that day, and the world learned something: She is a champion by every possible definition of the word. She walked away from Colonial a changed woman, and I left with the memory of the single-most exciting day I have ever spent on a golf course.