Gambling
This strange gambling theory about dads portends big things for Rory McIlroy—and apparently has Bryson DeChambeau's attention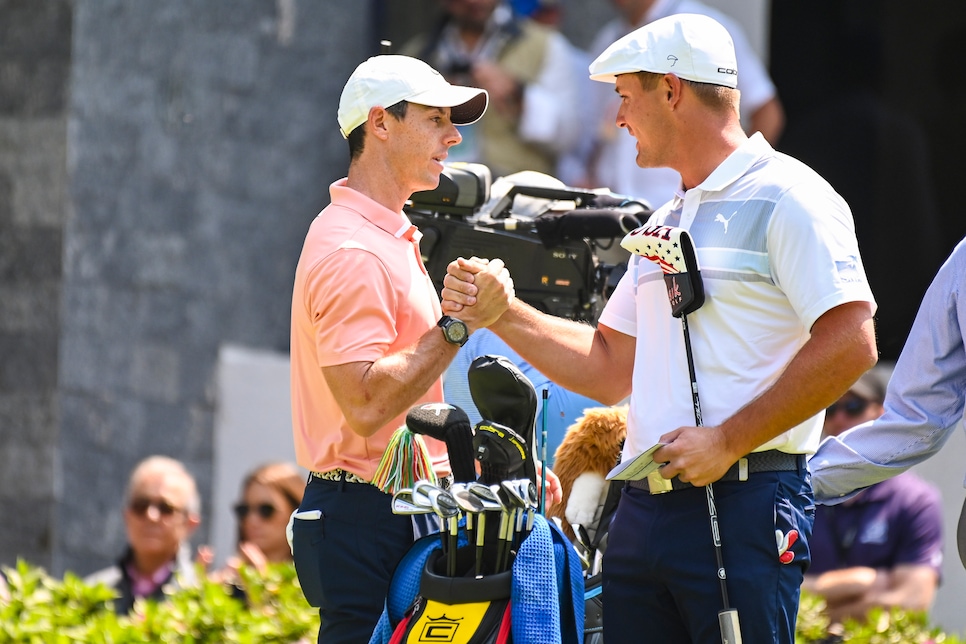 Pro golfers, watch out! Rory McIlroy's wife just had the couple's first baby and that means he's about to start winning majors again!
If you think that's a joke, it's not. At least, not according to one British economist and golf betting analyst. Keith Elliott is quite serious about what he calls, "The Nappy Factor." Elliott first wrote about this strange gambling theory—a "nappy," by the way, is a diaper—in his "The Golf Form Book 1996." And he still stands behind it.
"Over the years, I've been told in a whole range of sports that the Nappy Factor works," Elliott told The Telegraph's James Corrigan. "I'm not sure why, but it's most potent with sons as the first child and with the second child as a first son. I am sure it will work for Rory given his personality."
Elliott's theory is backed by stats—he is an economist after all. When he first wrote about it, he listed Jack Nicklaus, Arnold Palmer, Greg Norman, and Nick Price as some of the notables whose play had benefitted from becoming a father, specifically, a new father.
In the case of McIlroy, whose daughter, Poppy, was born Aug. 31, the timing couldn't be better. The 31-year-old who hasn't won a major since 2014 is defending his title at the Tour Championship this week before playing in two major championships—the U.S. Open and the Masters—in the next couple months.
As Corrigan points out, Danny Willett won the Masters in 2016 just days after his wife gave birth to their first child. Of course, the Willetts added a second child in 2018 and the Englishman has yet to add another major. That being said, he has had quite the resurgence since an awful post-green jacket slump. . . Hmm. . .
And while we think about the viability of this theory, apparently another golfer has already been doing some, um, calculations of his own. We'll give you one guess. . . Yep, Bryson DeChambeau.
"I no longer keep the figures but I know from two different sources that DeChambeau disclosed recently to fellow pro Andrew Landry that he's worked out the percentage win-rate of new fathers and it's abnormally high," Elliott told The Telegraph.
Sounds like the 26-year-old bachelor might have his next long-term project picked out.