Gambling
Tour Championship 2020 picks: Our experts are ALL IN on these two players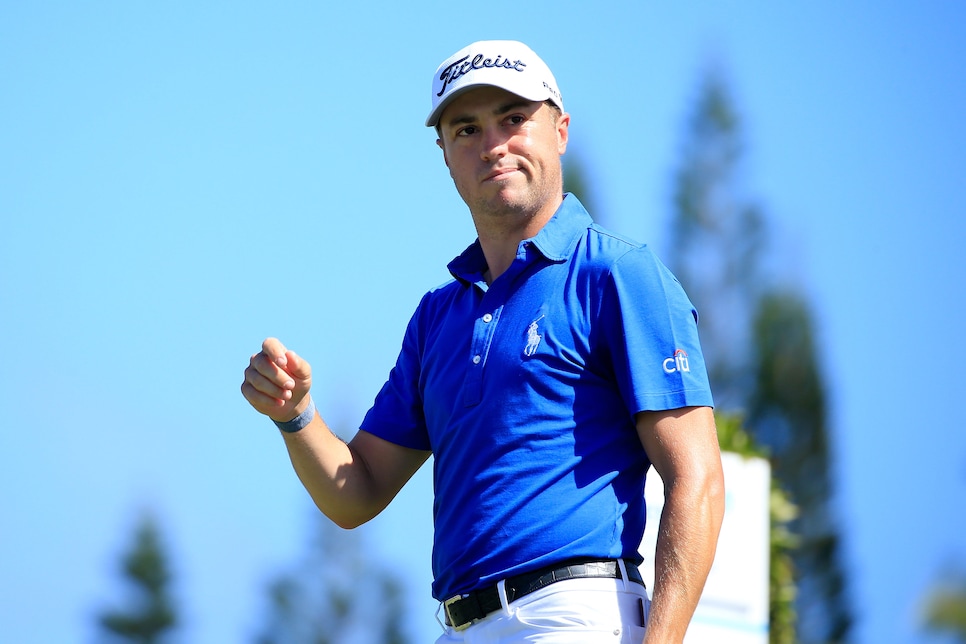 The good news for golf fans: The fun doesn't stop this week. Eleven more weeks of golf, running into a November Masters, follow this one. And if you're trying to predict the action, you're in the right place. Golf Digest's expert panel has predicted 14 of the winners on the PGA Tour this season, including seven of the past 14 tournaments. Collectively including everyone's outright wins, top-10 bets and matchups, we're up a staggering 231.80 units (the equivalent of being up $2,318 on $10 bets).

Tour Championship 2020 Picks To Win (Odds from DraftKings)
Anonymous Caddie Picker of the week: Justin Thomas (5-1, or low 72-hole score: 8-1) — It's tough to pick against Dustin Johnson and Jon Rahm, but the odds just aren't worth it. JT is as motivated as anyone to keep adding wins, and having won the FedEx Cup at East Lake before, he'll have the confidence knowing he can pocket some huge cash.
Pat Mayo, DraftKings/Fantasy National, Mayo Media Network analyst: Webb Simpson (10-1, or low 72-hole score: 11-1) — Webb starts just four back of Dustin Johnson's lead even after skipping the BMW. I like him being well-rested; it was smart to skip a taxing venue like Olympia Fields. East Lake sets up much better for him. Webb dominates par-70 layouts and any course with Bermudagrass greens. In 2020, Simpson has played five Bermuda courses. His results? Win, win, third, third and 12th. Though others have won a bunch, this really feels like Webb's year, and a FedEx Cup would be the perfect cap.
Brandon Gdula, FanDuel/numberFire managing editor: Justin Thomas (5-1, or low 72-hole score: 8-1) — Thomas has nine no-cut wins to his name, and last year, he entered the Tour Championship with that leading 10-under score but couldn't convert it into a win. Among the field, he ranks fourth in strokes gained/tee to green average at East Lake, via FantasyNational.com, and is a plus Bermuda putter. Obvious value is hard to find with the stroke format, but JT is the best bet among the favorites.
Rick Gehman, data scientist and RickRunGood.com founder: Webb Simpson (10-1, or low 72-hole score: 11-1) — I was certainly skeptical when Simpson opted to skip last week's BMW Championship. Truth be told, the result couldn't have been any better for him. Like Mayo said, Webb only lost one stroke per the FedEx Cup standings and is well within striking distance of the lead. He's been phenomenal this season and has thrived at East Lake Golf Club. He has three top-five finishes in his past six starts. This is where the value is.
Stephen Hennessey, Golf Digest dep. managing editor: Rory McIlroy (25-1, or low 72-hole score: 11-1) — The prevailing wisdom in the industry is to fade Rory this week after the news surfaced about his wife's pregnancy. There's an inherent risk in betting Rory … he could WD if his wife goes into labor. But guess what: That same risk existed last week, and Rory was the 36-hole leader. Golfers do well when they can deflect blame, and that's what Rory has done by getting the news out there. He's freed himself up to freewheel it and shoot a low score at one of his favorite playgrounds. Webb will be getting my money, but I do like Rory, particularly to have the low 72-hole score.
Christopher Powers, Golf Digest assistant editor: Justin Thomas (5-1, or low 72-hole score: 8-1) — Hard to call anyone with +525 odds to win a golf tournament a "value play," but JT is the best you'll do in terms of value this week. Three shots is a deficit these players can make up in one round. Thomas has four rounds to do it at a course he has feasted on (third last year, seventh in '18, second in '17, sixth in '16). All that's missing from his Tour Championship resume is a W, though he did win the FedEx Cup in 2017. Don't be afraid to parlay him with, say, the Raptors money line, the Yankees money line and the Jazz-Nuggets over (just kidding … do NOT do this. It will not end well for us).
Lee Alldrick, FanShare Sports: Webb Simpson (10-1, or low 72-hole score: 11-1)— I'm joining the Webb love. He ranks seventh in strokes gained/putting on Bermuda and his tidy ball-striking make him a juggernaut on these par-70 courses with good irons and driving required.
Results from this season: Our tour caddie predicted his third victory of the season, calling Jon Rahm's win at the BMW Championship last weekend. Golf Digest's betting panel continues to be the hottest golf betting panel in the industry: Our experts have now picked 14 winners correctly this season, including seven of the past 14 events. Collectively on outright winners, top-10 bets and matchups won and lost, we are up 231.80 units (the equivalent of being up $2,318 if you wagered $10 on all of our bets).
Tour Championship 2020 picks: Sleepers/Dark Horses (odds from DraftKings)
Caddie: Brendon Todd (150-1, or low 72-hole score: 8-1) — Todd has been consistent all season, and as we've seen, his game translates to tough courses. The pressure isn't there after such a successful year: This week is all gravy for him. When a player is that loose … watch out.
Mayo: Tyrrell Hatton (35-1, low 72-hole score) — Hatton's ball-striking has been on point in each of past three events—now he just needs the putter to flip. First-timers at the Tour Championship have won in the past, and while that may not be likely starting at two under, shooting the low 72-hole score at these odds is absolutely doable with his iron play.
Gdula: Sungjae Im (110-1, or low 72-hole score: 70-1) — I don't really love Im's game right now, but he starts at four under, higher than a lot of the field, and is being treated like an afterthought. I'm really starting to like him on Bermuda grass. He gained a field-best 7.1 strokes putting here last year, and a lot of his top finishes—including the Honda win—were on Bermuda.
Gehman: Mackenzie Hughes (500-1) — Do I really think that Hughes can win this golf tournament starting 10 shots back? Of course not. Do I think he can be the one guy to break from that pack and fly up the leaderboard? Absolutely. Hughes is incredibly volatile, but when he plays well, he finds himself on the first page of the leaderboard. I'm also impressed with where he finds his success. He has top-10 finishes at Olympia Fields, Muirfield Village and PGA National this season. Those are three of the most difficult courses on the PGA Tour and very much in line with what we can expect at East Lake this week. Realistically, anything in the top 15 for Hughes would be a massive jump and should be commended.
Hennessey, Golf Digest: Abraham Ancer (300-1, or low 72-hole score: 70-1) — The numbers way down the board get silly. But it's worth a couple bucks on fliers (or is it?). I'll take a shot with the iron play of Ancer to get hot again.
Powers, Golf Digest: Sungjae Im (110-1, or low 72-hole score: 70-1) — Am I missing something? Im is 110-1 at four under to start the tournament, while Hideki Matsuyama is tied with him but has 33-1 odds? And Rory McIlroy and Xander Schauffele are both 22-1, one-stroke behind? This is a ridiculous number for Sungjae, who thrives on Bermudagrass. He won Honda (Bermuda), finished third at Bay Hill (Bermuda) and picked up a ninth at Sedgefield in the Wyndham (Bermuda!). I'll also be betting him top three at 20-1 and top 5 at 9-1. Sungjae all day this week.
Alldrick, FanShare Sports: Harris English (70-1, or low 72-hole score: 35-1) — English's stats from the past month or so are still some of the best on tour despite not doing much last week. He's 10th in strokes gained/off-the-tee in the past month, per FantasyNational.com, and he's second in the field in strokes gained/putting on Bermuda.
Tour Championship 2020: Players to Fade This Week (who will disappoint)
Caddie: Bryson DeChambeau (13-1) — Bryson's game is tailing off toward the end of the year. He still needs to figure out his irons before the U.S. Open, and he knows that. Length isn't an overwhelming advantage at East Lake, so I'd be surprised to see Bryson in the top five.
Mayo: Dustin Johnson (+195) — It's probably a fair price given the two-strokes advantage DJ will have over everyone, but I can bet an underdog head to head at similar prices. I just don't see who this wager is appealing to.
Gdula: Dustin Johnson (+195) — Betting Johnson in a 30-man field at the same odds we can get on an NBA playoff moneyline just doesn't make sense to me. He's really not even that overpriced, but the return is too low to make the investment. Rahm (+280) is at least a better value. I like JT at +550, and even Webb (+1000) makes plenty of sense at short odds.
Gehman: Rory McIlroy (25-1) — It's difficult to fade the defending champion, two-time winner of the Tour Championship, and every other accolade we could throw on Rory McIlroy. However, he has not been that Rory McIlroy since the restart. He's been candid that without fans and with the impending birth of his first child that his mind has wandered at times, and it's been difficult for him to focus on the course. At 22-1, you are paying for a golfer who can make a legitimate move from 3-under to find himself in contention this week. I've run the numbers and per the RickRunGood.com projections for this week, McIlroy would need a 95th-percentile performance to even have a chance of winning the Tour Championship. That would be akin to his 2011 performance at Congressional, where he won the U.S. Open by eight shots.
Hennessey, Golf Digest: Dustin Johnson (+200) — This is the cop-out pick, but to quote Sebastian Maniscalco … "why would you do that?"
Powers, Golf Digest: Rory McIlroy (25-1) — His head and his heart are both (understandably) not in it right now. There's a chance he either A. doesn't even tee it up or B. leaves mid-tourney. It'd be glorious to see Rory make a charge and come from seven back to win, but I wouldn't bet real American currency on it. Complete stay away.
Alldrick, FanShare Sports: Bryson DeChambeau (13-1) — DeChambeau has not been playing very well at all over the last month. He ranks 29th this week for SGT2G over the last month and ranks in the middle of the pack in our course-suitability ranking.
Tour Championship 2020 picks: Matchups
Caddie: Dustin Johnson (-106) over Jon Rahm (BetMGM) — An emotional playoff loss like DJ endured would hurt most players. DJ is not like most players. Like we saw after the PGA Championship in winning his next start, he's unfazed. You're getting good odds on someone playing consistently great golf over the past five-six weeks.
Mayo: Harris English (+120) over Hideki Matsuyama (DraftKings) — Hideki was a lot of smoke and mirrors at the BMW Championship, chipping his way up the leaderboard. English is riskier, sure, but this is a perfect layout for him, especially on Bermuda greens where Hideki tends to struggle.
Gdula: Collin Morikawa (-115) over Rory McIlroy (FanDuel) — They're on the same planet statistically right now, and we know that McIlroy has other things on his mind with his wife nearing birth. Rory could leave the tournament, and Morikawa has a two-stroke start on him.
Gehman: Mackenzie Hughes (-120) over Cameron Champ (DraftKings) — I would prefer a safer option than Hughes when picking matchups, but being able to simultaneously pick on Cameron Champ was too enticing. Champ entered the BMW Championship right on the top-30 bubble with his fate squarely in his own hands. He responded by losing more than seven strokes to the field, finishing T-65 in a field of 69 golfers. Everything but his driver was horrendous. While he was still able to sneak into the Tour Championship, it will be a struggle around East Lake if his play doesn't improve.
Hennessey: Scottie Scheffler (-105) over Hideki Matsuyama (William Hill) — I think I've pinned down when Scottie Scheffler plays well: When he has room off the tee to move it either way. That was not the case last week at Olympia Fields. East Lake should be more open for the young Texan, and he'll be motivated to finish high to wrap up Player of the Year honors over Viktor Hovland. Matsuyama, meanwhile, gained more than six strokes around the greens last week, and less than 0.5 strokes over four rounds on approaches, both of which don't bode well to success this week.
Powers: Marc Leishman (+115) over Cameron Smith (DraftKings) — It might seem silly/downright dumb to bet a guy who just went 30 over to beat anybody, but you could argue Leish is due for a big bounce back. He loves Bermuda and has nowhere to go but up right now. Take him over his fellow countryman Smith, who has had back-to-back top 20s despite some awful putting. And Smith is playing on his least favorite putting surface this week.
Alldrick, FanShare Sports: Billy Horschel (-110) over Viktor Hovland (Bet365) — I'm high on Billy Horschel for all the reasons I like him for a top-10 bet (below). But it's also a play against Viktor Hovland. The rookie's tee-to-green game has fallen off, as he ranks 28th in SG/tee-to-green in the past month per FantasyNational.com, and he's also 25nd in strokes gained/putting on Bermuda.
Matchup Results from the BMW Championship: Powers: 1 for 1 (Tiger Woods (+100) over Jason Day); Alldrick: 1 for 1 (Justin Thomas (-115) over Bryson DeChambeau); Gdula: 1 for 1 (Daniel Berger (-122) over Jason Day); Tour caddie: 0 for 1; Mayo: 0 for 1; Gehman: 0 for 1; Hennessey: 0 for 1
Matchup Results this season: Powers: 13-7-1 (+6.57 units); Hennessey: 12-8 (+4.87 units); Tour caddie: 16-11-1 (+4.11 units); Alldrick: 18-11-2 (+2.87 units); Gdula: 13-15-2 (-1.71 units); Gehman: 5-7 (-2.49 units); Mayo: 12-19 (-6.81 units)
Tour Championship 2020 picks: Top 10 (odds from FanDuel Sportsbook)
Caddie: Lanto Griffin (+700) — Same as my Brendon Todd sleeper analysis: Lanto Griffin's game has translated to every type of course in 2019-'20. And there's a reason: He's proficient from tee-to-green, so he hangs around the top 15 on most weeks. With a hot putter, a top-10 at great odds is a good bet.
Mayo: Sebastian Munoz (+430) — He's already beginning in a tie for 11th, so that's a bonus. But what's most encouraging is that his ball-striking has quietly returned during the playoffs. Munoz can get hot with the putter in spurts, and this would be the most valuable time to do it.
Gdula: Tyrrell Hatton (+250) — Hatton's a great Bermuda putter and is top-five in strokes gained/approach over the past 50 rounds, via FantasyNational. He's starting T-16 at 2-under, but he has the ability to make enough birdies to shift up some spots into the top 10.
Gehman: Joaquin Niemann (+300) — Niemann start the week in a tie for 16th. Based on his play last week, he's candidate to fly up the leaderboard like we've seen him do a few times this year. His run at Olympia Fields, tying for the lead at one point, was reminiscent of his run at the RBC Heritage as he went bonkers on the weekend to threaten the leaders before running out of holes. Even more impressively, the way he does it is incredible. He led the field in Strokes Gained: Tee-to-Green last week and is developing into one of the better ball-strikers on tour.
Hennessey, Golf Digest: Kevin Kisner (+300) — Kiz was riding a third- and a fourth-place finish before last week. Even still, he gained strokes on his approaches for a fourth straight week. His strokes gained/putting stats in the four weeks before last week weren't really sustainable: gaining over five strokes on the field before that. But when you're as good of a putter as Kiz, that's data you can actually rely on. Kiz has experience at East Lake, and that should help you cash a top-10 bet.
Powers, Golf Digest: Tony Finau (+138) — Finau should be able to freewheel it from the jump this week. He's had two top 7s in his last three Tour Championships, including last year's, when he started seven back. This year he's starting eight back, so there's a ton of ground to make up. But all he needs is a crazy low number in the opening round to get right in the mix. Considering he's eighth on tour in first-round scoring average, I like his chances of making an early move.
Alldrick, FanShare Sports: Billy Horschel (+450) — This has serious value. Horschel ranks first in our course-suitability ranking this week, thanks to his past performances on corollary courses his ranking fourth in the field for strokes gained/putting on Bermuda. He should absolutely be able to make up the four-shot difference over four rounds to clinch a top 10.
Top 10 results from the BMW Championship: Powers: 1 for 1 (Tony Finau: +350); Everybody else: 0 for 1.
Top 10 results from this season: Mayo: 5 for 29 (+17.5 units); Hennessey: 5 for 20 (+7.75); Alldrick: 6 for 30 (+5 units); Gehman: 2 for 12 (+2 units); Gdula: 5 for 31 (+1.2 units); Powers: 3 for 20 (-2.8 units); Tour caddie: 4 for 38 (-8.4 units)
Courtesy of Rick Gehman of RickRunGood.com:
1.68 — The average strokes gained per round for both Webb Simpson and Jon Rahm since the restart. That ranks third behind only Daniel Berger and Dustin Johnson.
1.93 — The average strokes gained per round for Xander Schauffele in 12 rounds at the Tour Championship. That's the most of any golfer over the last five years.
6 & 3 — The number of strokes that Xander Schauffele and Brooks Koepka made up (respectively) to catch Justin Thomas for the lead after the first round last year. Thomas began at 10-under and was in a three-way tie for first after 18 holes.
30 percent — The percentage of the field that will be making their Tour Championship debut. That's nine out of 30 golfers. The list includes Cameron Champ, Lanto Griffin, Tyrrell Hatton, Viktor Hovland, Mackenzie Hughes, Collin Morikawa, Sebastian Munoz, Joaquin Niemann and Scottie Scheffler.
Pat Mayo is an award-winning video host and producer of long and short-form content, owner of the Mayo Media Network and host of The Pat Mayo Experience. (Subscribe for video or audio. Mayo (@ThePME) won the 2020 Fantasy Sports Writing Association Daily Fantasy Writer of the Year and Golf Writer of the Year awards, along with the Fantasy Sports Trade Association Best Sports Betting Analyst award, and was finalist for four FSWA Awards in 2020 (Best Podcast, Best Video, Daily Fantasy Writer of the Year, Golf Writer of the Year). His 21 FSWA nominations lead all writers this decade and are third-most all-time. Mayo is on the board of governors at www.fantasynational.com.
Brandon Gdula, managing editor and analyst for NumberFire, a FanDuel daily-fantasy analysis company, recently won the 2018 fantasy sports-writers association Golf Writer of the Year *(congrats, Brandon!)*. Gdula also co-hosts the DFS Heat Check podcast.
Rick Gehman is the founder of RickRunGood.com and the RickRunGood YouTube Channel, is one of the industry's leading experts on golf DFS and gambling. Gehman is co-host of the First Cut Podcast and appears regularly on the Pat Mayo Experience golf podcasts. Follow him on Twitter: @RickRunGood.
Lee Alldrick of FanShare Sports started out writing an article highlighting the best bargain plays for fantasy golf under his twitter handle @DKGolfBargains. His success at this prompted FanShare Sports to enlist him as a guest writer, which evolved into him writing the weekly Under The Radar article. As a U.K.-based expert, Alldrick's insight into European Tour regulars and low priced, low owned plays has provided an invaluable edge for readers when it comes to DFS GPPs.