Gambling
Tour Championship 2020 DFS picks: The value plays you need to consider in this format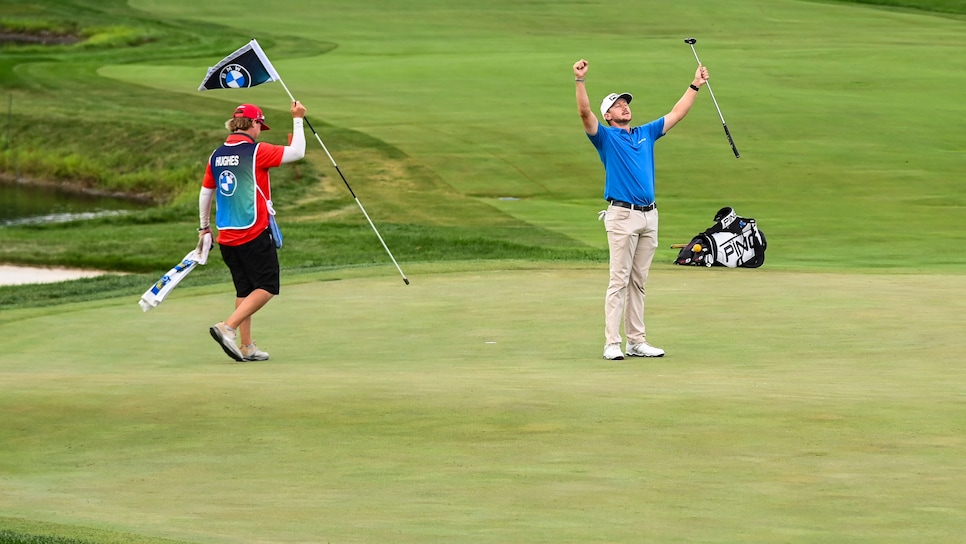 This is no ordinary week. The FedEx Cup is down to the final 30 golfers, and each will already start with a score based on their position in the standings. That means Dustin Johnson will start at 10-under and Billy Horschel will start at even par. The DFS sites have responded by proving pricing that is much different than what you'd expect to see. The tiers below have been altered accordingly, so this is an especially important week to scout for some value.
Also note that each golfer you roster will start with finishing position points. Dustin Johnson will tee off on Friday morning (yes, it's a Friday start with the Labor Day Monday finish) with "First Place Bonus Points." Those are not locked in and will change throughout the week as his position on the leaderboard changes. Here's how I assess the Tour Championship for your DFS/fantasy lineups and pools this week.
Tour Championship 2020 DFS picks:
High Upside: Dustin Johnson ($15,200 DraftKings | $14,400 FanDuel)
Dustin Johnson has been, by far, the hottest player on the planet for a month, and there's not much evidence to show him slowing down. There's a chance that DJ continues his torrid run and wins the Tour Championship. Now, the price is steep and if you're paying for Johnson only for the two-stroke lead, you're doing it wrong. A two-stroke lead can disappear in an instant. If you're rostering Johnson it's because he has the highest ceiling of any golfer on tour.
Safest Option: Webb Simpson ($11,000 DraftKings | $11,200 FanDuel)
Simpson is certainly well-rested as he is the only golfer who skipped the BMW Championship. He cost himself only one shot in the staggered start, and he will begin this tournament at 6-under. Only Dustin Johnson and Daniel Berger have gained more strokes per round than Simpson in the restart. He also finished fourth here in 2018, the last time this event was held without the staggered start.
Most Likely To Disappoint: Rory McIlroy ($9,700 DraftKings | $10,200 FanDuel)
The news of McIlroy's impending baby girl was confirmed last week, and McIlroy is waiting on that phone call to come at any moment. I'm certainly not going to try and predict when his child will be born, leading to a presumptive withdraw, but I will look at his salary for the week. You're paying for a McIlroy that has won the Tour Championship twice, including last year in the staggered start era. The problem is that he's starting at 3-under, seven shots off the lead. He would need to have a full "ceiling" week for him to gain enough strokes on the field to surpass the golfers who will begin ahead of him on the leaderboard. I think it's fair to trust the math and save McIlroy for next season.
Pick To Win: Jon Rahm ($12,700 DraftKings | $12,500 FanDuel)
Speaking of math, it's heavily in Jon Rahm's favor for this week. Per the RickRunGood.com database, if all 30 players play to their average for four days, Jon Rahm will win the Tour Championship. He would make up his two-shot deficit to Dustin Johnson and hoist the trophy on Sunday evening. Now, I certainly don't expect everyone to play exactly to their average, but that illustrates the upside and position that Rahm possesses. He's $2,500 cheaper than Dustin Johnson and is coming off a spectacular win at Olympia Fields last week.
High Upside: Patrick Reed ($8,500 DraftKings | $9,200 FanDuel)
Reed can be dangerous in a no-cut event when he's starting seven shots off the lead. He's going to be able to freewheel it from his first tee shot on Friday morning. Reed was playing well entering the playoffs, but two finishes out of the top 40 didn't do much to improve his standing. His ball-striking has been holding him back, but that's not really uncommon for Reed. He's had a handful of stretches this season where the irons just flip on for a week, seemingly out of nowhere, to propel him onto the first page of the leaderboard.
Safest Option: Harris English ($8,700 DraftKings | $9,800 FanDuel)
Not only does English gain strokes in all four major categories, but his T-40 last week was his worst finish in his last seven starts. Per the RickRunGood.com database, English is averaging 1.59 strokes gained per round since the restart. That's the sixth-best average on tour, and he's the 11th-most expensive golfer on DraftKings.
Most Likely To Disappoint: Sungjae Im ($7,300 DraftKings |$9,600 FanDuel)
The end of a season might be what Im needs to reset and get back to his play before the tour shutdown. Since the restart, Im has averaged only 0.09 strokes gained per round. That's as close to tour average as you can get and only Cameron Smith and Marc Leishman have been worse in this field. Im is priced a few thousand dollars more expensive than those two but with similar prospects on the week.
Pick To Win: Xander Schauffele ($8,900 DraftKings | $9,500 FanDuel)
There's a reason that Schauffele has been dubbed the "No-Cut King." Of his four PGA Tour wins, three of them have come in small-field, no-cut events. One of them includes the 2017 Tour Championship, an event that Schauffele has really dominated in his three trips. In fact, Schauffele has averaged 1.93 strokes gained per round at the Tour Championship, the most of any golfer in the field dating back five years.
High Upside: Joaquin Niemann ($6,300 DraftKings | $8,400 FanDuel)
"Upside" is the perfect word for Niemann, who flashed it again last week at the BMW Championship. He touched the lead on the back nine on Sunday before finishing third. When you add that to his T-5 at the RBC Heritage and his win at the Greenbrier this season, Niemann certainly has top-end upside. Also, I love the way he does it. He led the field in Strokes Gained: Tee-to-Green last week, which is one of the most important stat categories on tour.
Safest Option: Kevin Kisner ($6,800 DraftKings | $7,100 FanDuel)
Kisner has piled up five straight top-25 finishes including two top-five finishes at the Northern Trust and the Wyndham Championship. Kisner is a grinder who won't be phased by the four guaranteed rounds at East Lake. He's played here plenty, finished third in 2017 and ninth last year. Those are his two most recent trips. He'll start at 1-under so if he can move himself up into the top 15, that would be a big win at this price point.
Most Likely To Disappoint: Cameron Champ ($5,300 DraftKings | $7,000 FanDuel)
Champ had his own destiny in his hands last week and while he punched his ticket to East Lake, it was really no thanks to his own play. He finished T-65 in a field of 69 while losing 7.74 strokes to the field in the process. As expected, he only gained strokes off-the-tee, but the rest of his game was lacking. He gave away strokes on and around the greens, and East Lake will not offer much of an opportunity this week if he continues playing this way.
Pick To Win: Mackenzie Hughes ($5,200 DraftKings | $7,000 FanDuel)
Last year, Chez Reavie was the key to DFS success. He began the week at 1-under in a tie for 20th. He was able to fly up the leaderboard and finish eighth as a very cheap option. That's what you're looking for out of this group of golfers, and it's what Mackenzie Hughes can offer. Not only does he have five top-15 finishes in his last 10 starts, but look at where he's having his success. He finished T-10 at Olympia Fields, T-6 at Muirfield Village and second at PGA National. Those are three of the most difficult courses the tour has played this season. East Lake will be a similar test as it was the 14th most difficult course out of 49 on tour last year.