News
Rahm's cold-blooded weekend, Tiger's season closes and who's in, who's out at the Tour Championship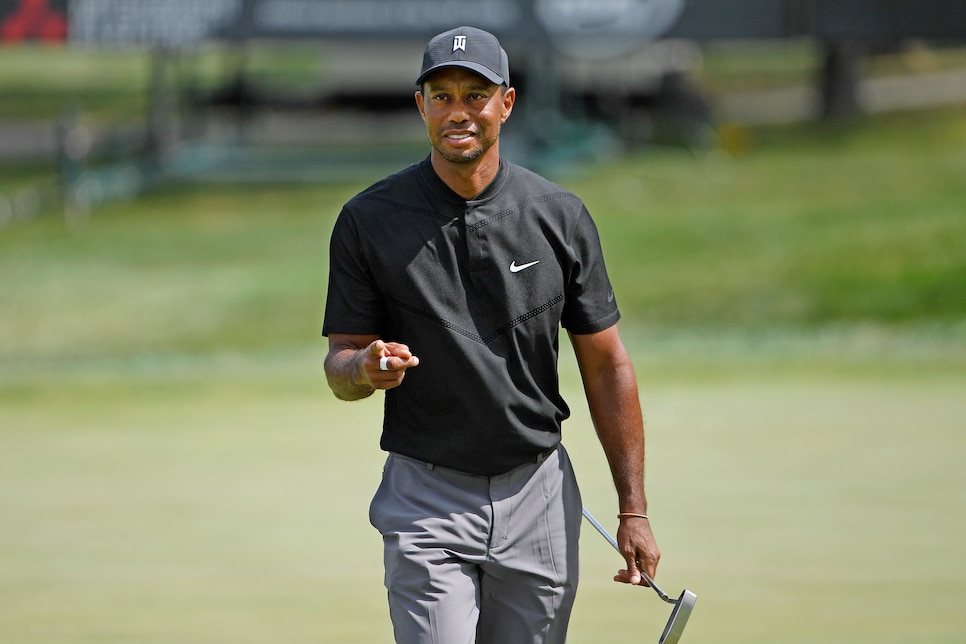 Dustin Johnson pointed upwards. If the raised finger left any doubt, he punctuated it with an undercut. Gunslingers are reserved by nature; for Johnson, this was the personal equivalent of Hulk Hogan ripping his shirt in the middle of the ring. But the moment called for such an outburst, Johnson dropping a 45-foot, double-breaker, how'd-he-do-THAT putt on the 18th hole at Olympia Fields to force a playoff with Jon Rahm. Set up by an equally miraculous approach from a buried lie, it was one of the sequences of the season, seemingly cemented after Johnson's wayward opening drive in sudden death ricocheted into the fairway.
Here are four takeaways from the dramatic conclusion of the BMW Championship.
Rahm, Spanish for "cold-blooded"
It's apropos that the man goes by "Rahmbo." Because while DJ drew first blood, it was the 22-year-old Spaniard that was left standing.
Rahm overcame Johnson's heroics with daring of his own, riding the lightning from 66 feet on the first green of sudden death to win the BMW Championship.
"I still can't believe what just happened, what happened the last hour of play," Rahm said. "You know, especially from my 15th hole on, making birdie on that hole with a 6-iron with my third shot, and then birdied the par-3 and have chances on the last two. That stretch of waiting for DJ, him making the putt, going in the playoff, me making the putt, then trying to stay mentally in it just in case he made the last putt, it's been a roller coaster but so much fun."
Rahm's win will be remembered by his final putt, but his weekend can't be fully appreciated by one stroke. Tied for 39th after the first two days, Rahm overcame a brain-cramp penalty in Round 3 to turn in a 66 (the low round of the tournament at that point), then followed suit with a 64 on Sunday highlighted by four birdies on the back nine. "I think the best way I can explain it is it was just a lot of joy on the golf course for me," Rahm said. "Not because I played good but because that's what I set out to do."
The win is Rahm's second of the tour season and 11th worldwide victory of his career. The Chicago conquest moves Rahm to second in the FedEx Cup heading into the season finale at East Lake, and allows Rahm to retake the World No. 1 throne after Johnson unseated him last week.
(Also, well aware that not every understood that this section's lede. But there's only so many times a golf writer gets to work in a Sly Stallone reference without forcing the issue.)
Hughes' pressure-packed finish
Rahm and Johnson stole the show Sunday. Perhaps the most meaningful performance, however, belonged to Mackenzie Hughes.
The 29-year-old entered the second stage of the FedEx Cup Playoffs 36th in the FEC standings, needing a strong week at Olympia Fields to advance to the Tour Championship. That's an expected destination for guys like Rahm and Johnson, but for players outside the superstar strata, it can be a life-altering accomplishment. Along with a guaranteed pay day, an East Lake visit bestows invites to majors, WGCs, and next year's Tournament of Champions. Through three days that aspiration was in reach for Hughes, who played steady golf in demanding conditions to stand in a tie for third heading into the final round at the BMW. But the Canadian bogeyed the 14th and 17th to drop to T-10, and he short-sided himself at the 18th, his approach bouncing right and short into a bunker. The issue was very much in doubt. And it wasn't just Hughes' fate that stood in the balance, as a bogey bouncing him out of the FEC top 30 would bring Adam Long in.
However, Hughes answered, and answered with vigor. After putting his shot from the beach to five feet, Hughes converted the knee-jerker, his arms going up and his ball went down. For the first time in his career his ticket to Atlanta, and the bounty that comes with it, secured.
"Yeah, that was some of the most pressure I've felt in a long time. You know, I've contended to win some tournaments this summer, and that kind of felt like the same kind of intensity on that putt," Hughes said. "Didn't have my good stuff at all, and somehow found a way to grind it out. I made it pretty hard there down the stretch, but just really thankful and relieved to get it done."
Who's in, who's out at East Lake
Hughes was one of only two players outside the pre-week FEC top 30 to work their way to Tour Championship. The other was Joaquin Niemann, whose T-3 pushed him from No. 31 to No. 18 in the standings, the biggest standings jump at the BMW.
The two unfortunate souls that went south were Long (No. 27 to No. 31 after finishing T-56 at Olympia Fields) and Chicago native Kevin Streelman (No. 28 to No. 32 after T-51). Tony Finau's 65 on Sunday equated to a fifth place finish and a move off the bubble (No. 29 to No. 20).
Notable names that saw their season come to a close include Patrick Cantlay, Matthew Wolff, Matthew Fitzpatrick, Adam Scott, Paul Casey and Tiger Woods (more on him in a moment). For the second year, the Tour Championship will be conducted with an adjusted scoring system, staggered off the FedEx Cup standings. Here are the starting positions at East Lake:
4 under: Daniel Berger, Harris English, Bryson DeChambeau, Sungjae Im, Hideki Matsuyama
3 under: Brendon Todd, Rory McIlroy, Patrick Reed, Xander Schauffele, Sebastian Munoz
2 under: Lanto Griffin, Scottie Scheffler, Joaquin Niemann, Tyrrell Hatton, Tony Finau
1 under: Kevin Kisner, Abraham Ancer, Ryan Palmer, Kevin Na, Marc Leishman
Even par: Cameron Smith, Viktor Hovland, Mac Hughes, Cameron Champ, Billy Horschel
Tiger's awkward season comes to end
Tiger Woods' 2020 came to an unceremonious end on Sunday. Luckily for golf fans, he won't be gone for long.
For just the third time in his career, Woods was over par in all four rounds of a non-major event, his 11-over score translating to a T-51 finish. In itself, nothing to be ashamed of; just seven players finished even or better for the week. Conversely, the field is not held to the same standard as Woods, and it wasn't exactly an aesthetically-pleasing 11-over. Woods struggled with his drives, ranking 62nd in strokes gained/off-the-tee out of the 69 players. His short game, which has plagued him all year, remained shaky (63rd in sg/putting).
"It's me missing the ball in the wrong spots," Woods said. "When I missed in the correct spots I was able to advance in the correct spots, make putts, but if I missed them in bad spots, this golf course will certainly punish you."
Missing the Tour Championship means Woods played in just seven official events this season, and though his win at the Zozo Championship is included in that stretch, Woods failed to crack the top 35 in four starts in the tour's restart. If there's any consolation, the challenge presented by Olympia Fields served as a preparation of sorts for the second major of 2020, which begins in three weeks at Winged Foot.
"This golf course was basically a U.S. Open, with the rough being as high as it is and fairways a little bit narrow," Woods said. "Look at the scores, and I don't think that we've seen scores like this in a non-major in a very long time. This was a great ramp-up for me for the U.S. Open. I wish I was playing next week, but I've got a couple weeks off."