The Loop
Sergio Garcia's eye-closing win, John Daly's barefoot hole-in-one, and the best beer trophy in golf
Welcome to another edition of The Grind where we will have a lot on our plates this offseason. Literally. Gaining weight like Bryson DeChambeau is, of course, all the rage these days, but now I need to start practicing putting with my eyes closed in addition to getting in golf shape by actually exercising and stretching. (Really, this is FINALLY going to be the year!) So I've got a lot of work ahead of me these next few months. Well, let's start with the weight gaining and go from there. In the meantime, here's what else has us talking from another wild week in golf.
Sergio Garcia: After falling out of the top 50 in the Official World Golf Ranking for the first time in nearly a decade, Garcia won the Sanderson Farms Championship for his first PGA Tour title since the 2017 Masters. While hoisting the coveted rooster trophy isn't quite as big of a deal as slipping into a green jacket, the Spanish star's victory was huge for the fall tournament itself. And with Garcia closing his eyes on the greens, the win also served as proof (yet again) that when it comes to putting methods, there is no step too drastic.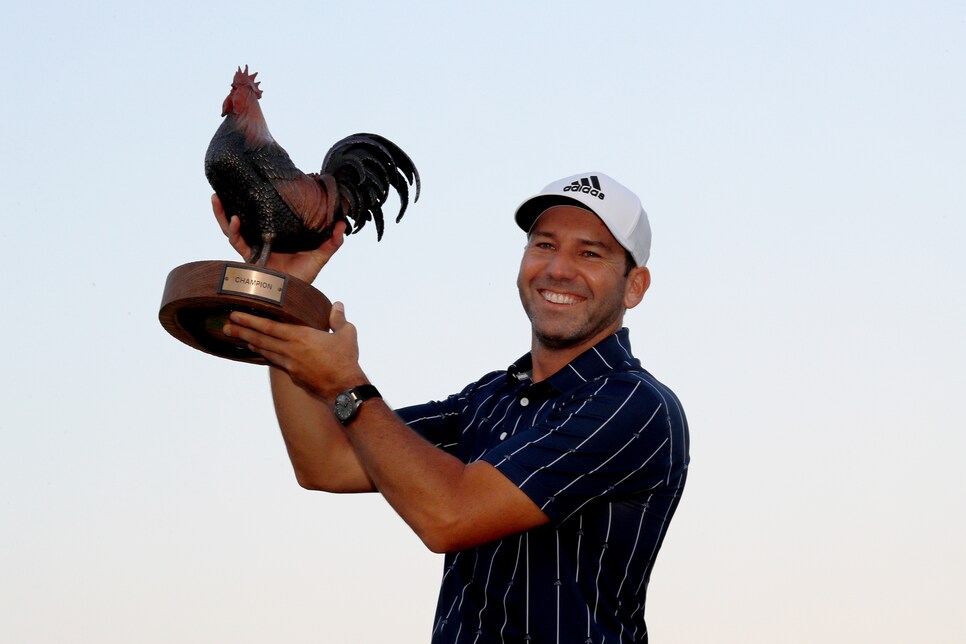 But Sergio was watching—and walking after—this brilliant approach shot that set up the winning birdie:
Majestic. Not quite the running after the shot we saw at Medinah in 1999, but the 40-year-old still has plenty of life in him.
Mel Reid's celebration: The popular pro finally got her first win on the LPGA Tour at the ShopRite LPGA Classic, although, before all the Europeans get mad, I must point out she had previously won six times on the Ladies European Tour and had been on three Solheim Cup squads. So she's clearly a player! Please, don't hurt me! And apparently, the 33-year-old is also the life of the party:
Great quote. And a little later, she had that big, beautiful trophy filled with beer:
And a little later after that, she did, well, whatever the heck this is:
Seems like she was pretty stoked to win in America, … Also, that has to be the best beer trophy in golf, no? I didn't think anything could top the Wanamaker Trophy, but this is prettier—and a little easier to hold.
Augusta National's maintenance staff: With the Masters looming next month, this was Augusta National one week ago:
And this is Augusta National now:
How in the … Oh, right. It's Augusta National. What a magical place.
Tommy Fleetwood's bad weather attitude: Those competing at the European Tour's Scottish Open dealt with (particularly) bad Scottish weather, but it didn't seem to bother Fleetwood in the least. "I loved every minute of it," Fleetwood said after a Saturday 69 put him just two back. "It's golf isn't it? I'll play in that every day." Great point, Tommy. I wish I could handle tough conditions like that, but I'm out of sorts if the temp is below 75, the wind is above 5 miles per hour or there's even the slightest drizzle. That being said …
Tommy Fleetwood's closing ability: The Brit let another chance at victory get away by losing in a playoff to Aaron Rai. He is quickly becoming Euro Rickie Fowler right down to the friendly demeanor and long hair. Perhaps people wouldn't have cringed so much at Paul Azinger's comments back in the spring if he had just focused on how many times Fleetwood has won instead of where he has won. Anyway, Tommy turns 30 in January and he is stuck on five European Tour wins much like the 31-year-old Fowler is stuck on five PGA Tour wins. Of course, 99.9 percent of tour pros would sign up for such a record, but both have to be disappointed they haven't hoisted more trophies on either side of the Atlantic. Ugh, I'm not going to be allowed to travel to the U.K. anymore, am I?
Aaron Rai's iron covers: Unfortunately, Rai is drawing more attention for something in his golf bag than for winning his second career European Tour title. But he deserves to be mocked a bit for having iron head covers. I honestly didn't think these things existed anymore, but here's one of the best golfers in the world using them:
And he can get free equipment whenever he wants! It makes no sense. But then again, he always wears two golf gloves when he's playing a full shot, so he's an interesting dude. Anyway, with those two quirks, he's certainly not hard to spot on the course.
Superstition deniers: Sometimes you've got to go with what's working. Even if that means wearing the exact same outfit two days in a row. At least, that's the excuse I give myself for basically not changing since being out on paternity leave. But in Evan Harmeling's case, it actually worked as he won his first Korn Ferry Tour title at the Savannah Championship:
I'm guessing he actually washed his clothes in between wearing them, but either way, well done. By the way, this guy went to Princeton. And he believes in superstitions. So, yeah, it's science.
The PGA Tour heads to Las Vegas for the Shriners Hospitals for Children Open, AKA that event where we joke about the week's winner gambling away all his prize money. But seriously, there's always a good chance of that happening in Sin City. The players would be better off if The Strip was still closed down.
Random tournament fact: Tiger Woods won his first PGA Tour title at this event—then called the Las Vegas Invitational—in 1996.
I love his reaction to Andy North's question, "Did you ever dream this could happen this fast?" "Umm … kinda?" GOAT!
RANDOM PROP BETS OF THE WEEK
—Augusta National won't look amazing come November: 1 MILLION-to-1 odds
—Bryson DeChambeau will win in Las Vegas: 6-to-1 odds (Actual odds, favorite)
—Bryson DeChambeau will try putting with his eyes closed at some point: LOCK
This is also the ESPN College GameDay sign of the week:
A.) Because Tiger(!), and B.) Because, seriously, Georgia, can you win a championship? You are right up there with Michigan and Tennessee as the most overly cocky fan bases. At least those two schools have won in the past quarter century. Barely.
John Daly made a hole-in-one. Barefoot.
Has there ever been anything more on-brand than that?
THIS WEEK IN TOUR PRO PUBLIC DISPLAYS OF AFFECTION
Rickie Fowler and Allison Stokke both took a look back at their beach wedding a year ago:
Good stuff, guys. The couple that Instagrams together, stays together.
THIS WEEK IN PHIL BEING PHIL
When Bunkered Magazine tweeted about two unexploded bombs found at Royal Troon, Mickelson had quite the response, alluding to his duel with Henrik Stenson there at the 2016 Open:
Ba dum tss … Mickelson dropped a little bomb—and some advice—on Alex Rodriguez as well:
I'm surprised he didn't just tell him to drink some of his coffee concoction.
THIS WEEK IN CELEBRITY GOLFERS (NOT NAMED A-ROD)
Kudos to former NFL running back/fantasy PPR sleeper Danny Woodhead and partner Mike Wilhelm for qualifying for the 2021 U.S. Amateur Four-Ball at Chambers Bay:
Very humble interview. His former coach Bill Belichick approves.
Coming off a Korn Ferry Tour runner-up, Kevin Dougherty is getting married this week after not seeing his fiancée for two months. Guess that's one way to avoid a shotgun wedding. … Augusta National announced the cancelation of the 2021 Latin America Amateur Championship. Guess that's one way to keep the field size down at the Masters. … Rory McIlroy posted that he hit 190-mph ball speed for the first time ever during a recent practice session. See what you started, Bryson? … And, finally, I've mentioned my love of Sonny's BBQ before so it should come as no surprise that this is one of the greatest shipments I've ever received: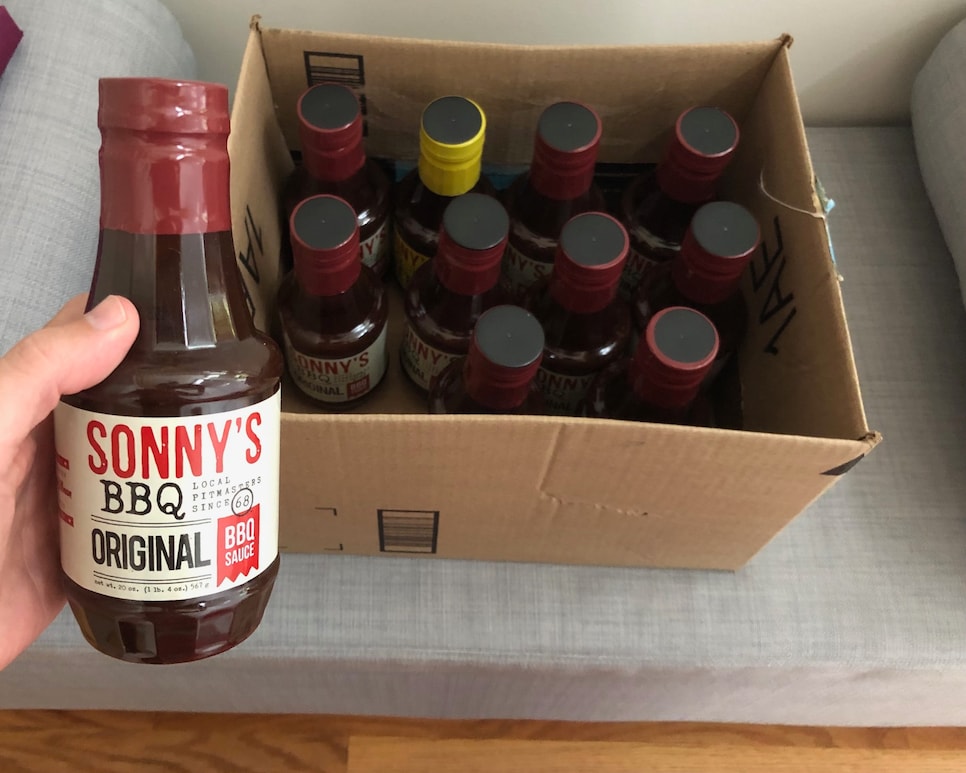 I just wish I'd gotten it before quarantine started.
RANDOM QUESTIONS TO PONDER
How many more majors would Tiger have wearing red every day?
Can someone from Augusta National help me with my lawn?
Can BBQ sauce make you a better putter?