News
Sergio Garcia found a way to win again, even if he had to close his eyes to see it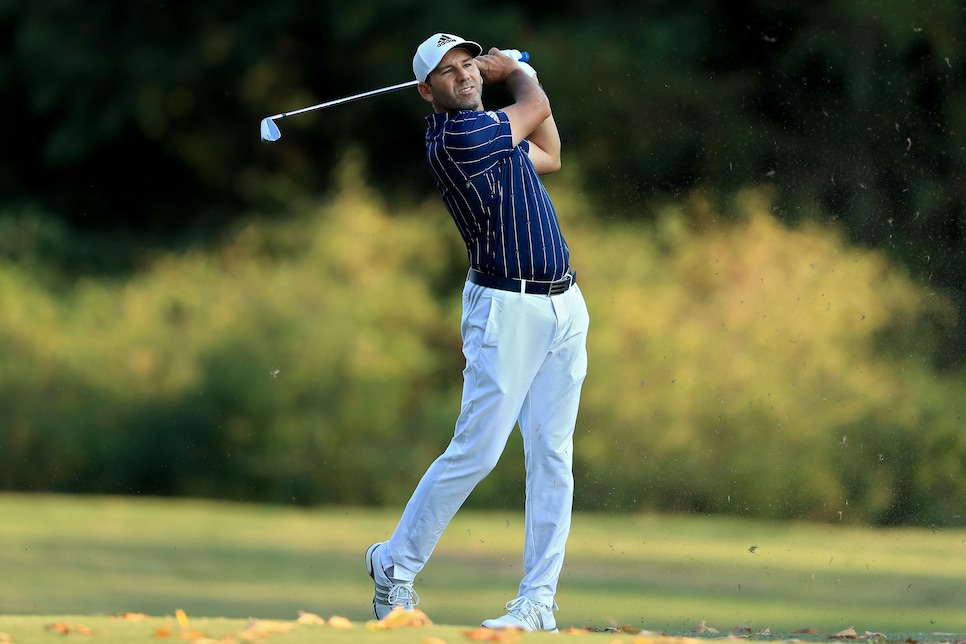 While Bryson DeChambeau is in the midst of perhaps changing the metrics of golf through evermore distance, Sergio Garcia is making a case for the mystical properties of darkness. Garcia, apparently, has seen the light by playing tournament golf with his eyes wide shut and lending credence to the philosophy of that sage golfer of yesteryear, Ty Webb.
"There's a force in the universe that makes things happen," the master, while blindfolded, said in his instructional video released 40 years ago, "and all you have to do is get in touch with it. Stop thinking. Let things happen. And be the ball."
Garcia didn't compete in the Sanderson Farms Championship in Jackson, Miss., blindfolded, though many times in his career he has looked like a man who was enjoying the game about as much as a guy who's been offered a blindfold and cigarette. But on Sunday at the Country Club of Jackson, the mercurial Spaniard smoked a few shots at just the right time and putted throughout with his eyes closed and captured his first victory in America since the 2017 Masters.
That Masters, we just have learned, also was won employing the no-look method, which, on those sinister greens, has to be either one of the gutsiest moves in a major championship or the actions of one desperate desperado.
But who are we to judge? It worked then and it worked all week in Mississippi, where Garcia sank a 2½-foot birdie putt on the 72nd hole to edge upstart Peter Malnati by a stroke. With a final-round five-under 67, Garcia finished with a 19-under 269 total to claim his 11th PGA Tour title and extend to six the streak of winners making their first appearance in this event.
In the end, what transpired was a case of the blind leading the grind.
"I think that the great thing about it is my mind was very clear throughout the whole week," said Garcia, 40, who was playing his first tournament since 2011 being ranked outside the top 50 in the world, having slipped to 51st. "I knew what I wanted to do pretty much every single shot I hit. … I was very confident throughout the whole week. I was believing in myself the whole week."
For Sergio, at least on the greens, not seeing is believing.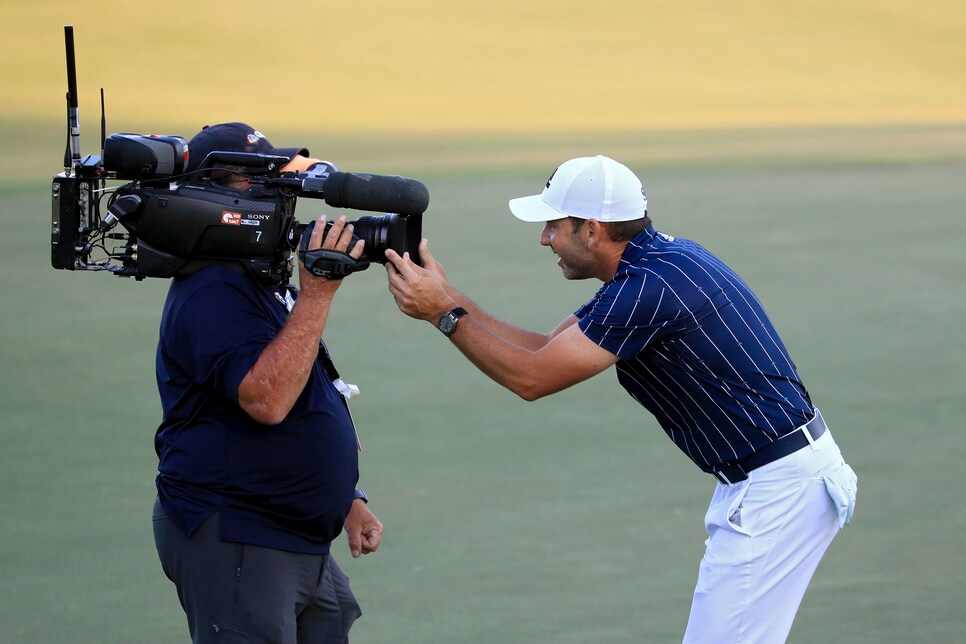 Sergio Garcia speaks to viewers at home after winning the Sanderson Farms Championship.
Sam Greenwood
Timeout for a little reflection here. A core fundamental of sports is being challenged. Hand-eye coordination is about as basic as it gets when it comes to athletic execution, and Garcia is making us second-guess that whole notion. Who are you going to believe, Sergio or your lying eyes?
Then again, we are highly dubious of the efficacy of the Garcia method in the application of other athletic pursuits. The Giant Slalom and the Tour de France come to mind.
Garcia doesn't remember how or why he began the practice, but he's not the first to take his eyes off the ball and climb onto the winner's podium. Down the stretch at the 1987 AT&T Pebble Beach Pro-Am, Johnny Miller, in an attempt to overcome the yips, rallied past the late Payne Stewart with a surge of blind ambition.
"I don't know why it's such a big deal," Garcia said on Saturday after claiming a share of the 54-hole lead with Cameron Smith and J.T. Poston. "I don't see anywhere in the book of Rules of Golf where it says that you can't do it. At the end of the day we're all trying to find ways to be better, to be more consistent, and that's what works for me. I've done it for quite a while now in practice and obviously in most of my tournaments. It's just a personal thing that I feel like it helps me, and that's why I do it."
The reason it helps, he said, is that it allows him "to feel the stroke … and just let my natural ability kind of take over."
About that natural ability. Garcia is one of the game's elite ball strikers, and while he putted quite well—he ranked 28th for the week in strokes gained/putting—it was still his full-swing prowess that made the difference. The winning stroke was set up by crushing his tee ball with an exquisite draw 314 yards into the left fairway followed by a near-perfect 8-iron.
And that opportunity at ending the affair in regulation was the product of your basic, ahem, seeing-eye fairway metal from 260 yards out at the par-5 14th. The ball settled 3½ feet from the cup, and Garcia proceeded to guide it in to tie Malnati, the 2015 winner of this event who closed with a career-low 63.
"The great thing for me is that when I'm feeling it, I don't feel like I even have to putt too well to have a chance at winning, or to win," said Garcia, who, perhaps not surprisingly, led the field in strokes gained-tee to green. "With an average or just above average kind of putting week, if I'm playing the way I played this week, I can give myself a chance of winning almost every week.
"Obviously it's not easy to play the way I played this week every single week because there's some weeks that you feel a little bit better, some weeks you feel a little bit worse. But my long game, it's always been a strength, and everyone knows that, and that's what I rely on."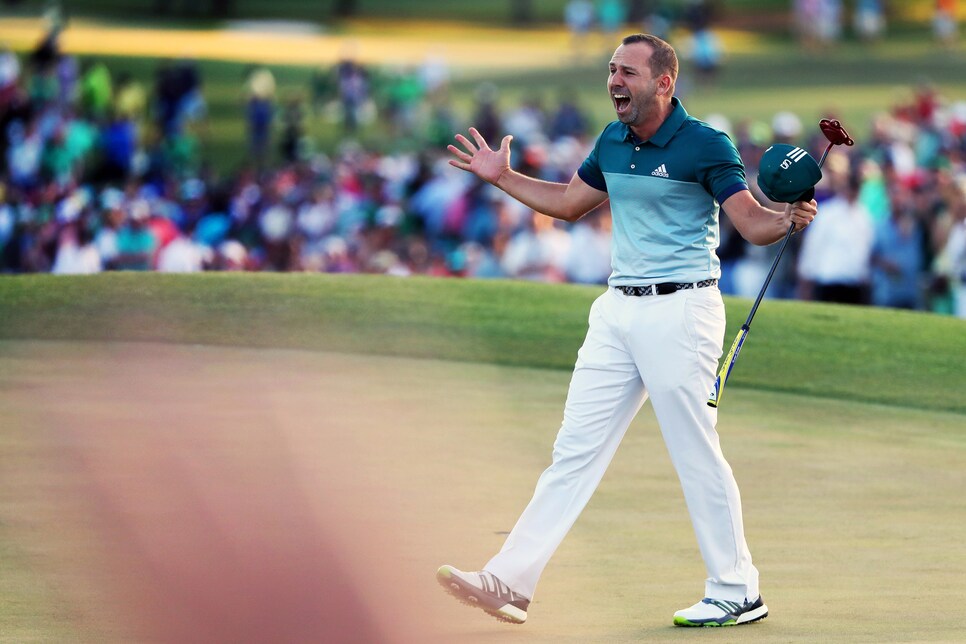 Sergio's last win is no longer the 2017 Masters.
Ben Walton
Because of the ongoing coronavirus pandemic, Garcia chose to remain in the U.S. this fall instead of venturing to Europe, and the victory comes after two straight missed cuts to begin the season, including at the U.S. Open at Winged Foot. But he couldn't entirely celebrate what on the surface seemed like a fortuitous set of circumstances.
Back home there was tragic news; he has lost two uncles to COVID-19, the second just a week ago Saturday. They were his father's brothers, and in the immediate aftermath, speaking to Golf Channel, his eyes welled with tears.
"I wanted to win this for them," he said.
That's not to say he didn't want to win it badly for himself either, having gone more than a year since his victory in the KLM Open on the European Tour. As he exited the putting green just moments after the winning putt dropped, Garcia let out a loud primal grunt.
"It's pretty sweet, there's no doubt," he said. "Obviously, the perfect ending to an amazing week."