AT&T Byron Nelson
Scottie Scheffler stalls (then rebounds) after scorching start, Adam Scott is in attack mode and Marty Dou feels at home at TPC Craig Ranch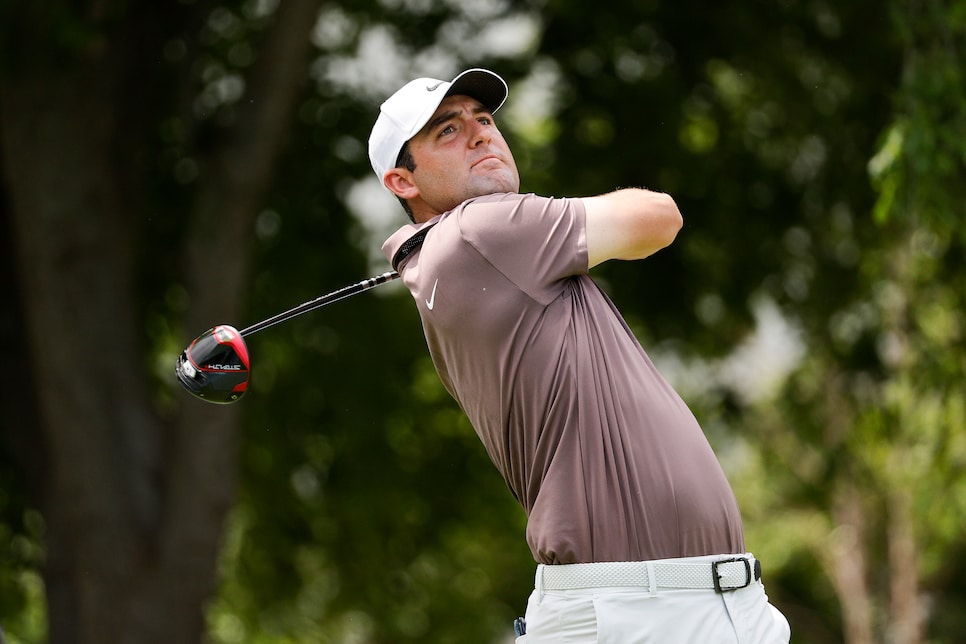 Say what you will about the non-designated events, but they have had enough star power to be interesting and enough storylines to be compelling. And when Scottie Scheffler started out six under after his first six holes, well, it looked like Seung-Yul Noh's 60 in the morning wave might not be the low round of the day. All of which would be plenty fine with the crowds in Dallas, where Scheffler resides.
The world No. 2 got off well in his first start since the RBC Heritage with a 30-footer at the first at TPC Craig Ranch then ran off a string of birdies on Nos. 3 through 5. At the short par-4 sixth, Scheffler bombed one 319 yards, leaving a delicate pitch of 25 yards over a bunker fronting the green—a terrifying shot for the weekend warrior, but one right in Scheffler's wheelhouse—and commentator Craig Perks knew it.
"It would not surprise me to see him make this," Perks predicted moments before the strike, which went high, landed soft and rolled gently into the hole. Forget announcing. Get that man on the next plane to Vegas or at least a Draft Kings account.
"It's kind of a nice amphitheater around that green," Scheffler said. "You have the stands there in the back, and there was a lot of people on the right side. My chip landed in a really good spot, and then you could kind of hear the crowd going … their volume raising as the ball got towards the hole and then they all celebrated when it went in. So that's always fun."
But we digress. Scheffler was on a heater and the 59 Watch was on. Unfortunately, the 2022 Masters champion stalled with a three-jack bogey from 55 feet at the par-3 seventh then suffered back-to-back bogeys at 12 the 13, the former after failing to make par from the fringe.
Scheffler got them all back and then some, however. After a red-ass drive at the 321-yard, par-4 14th flew all the way to the green leading to a birdie he then rolled in a 17-footer for birdie at the par-3 15th. At the par-5 finisher, Scheffler smoked a fairway wood from 261 yards to 15 feet, leading to a finishing eagle.
"I was pretty frustrated mid round," Scheffler said. "I didn't feel like I was doing anything wrong, I just kind of got on the wrong end of a few things, and the putts definitely weren't falling middle of the round, but the beginning and the end everything was going in."
A seven-under 64 and a tie for fourth place is pretty good. Luckily for the rest of the field, it could have been even better.
Adam Scott is in attack mode
Adam Scott has accomplished a lot in his career. A Masters title, 14 PGA Tour wins and more than $60 million in PGA Tour earnings. However, instead of the green jacket propelling him to greater heights, Scott has been very good as opposed to great since then, winning just five times in the ensuing decade, the last in 2020.
Another victory, however, might not be far away. After a T-5 at last week's Wells Fargo Championship, Scott continued the good play with an opening-round 63 at the AT&T Byron Nelson, leaving him three behind first-round leader Seung-Yul Noh, and giving him his best opening round since 2014.
Known for having one of the best driver swings in the game, Scott used the big stick as a trusted weapon at TPC Craig Ranch, driving it long (324.3-yard average, boosted by a 352-yarder) and straight (11 of 14 fairways) that had him leading the field in strokes gained/off the tee.
"It's probably the best I've driven it in forever," said Scott. "That was a nice way to start every hole. Took advantage of that nicely, certainly out of the gates on some of the long par-4s, birdieing three of the first four holes on that side is a nice way to start."
Scott made it four of five with a tasty tee shot on the short, 321-yard, par-4 14th, it coming to rest 28 feet from the hole leading to an easy two-putt birdie. He made five birdies over the final 10 holes, narrowly missing an eagle on his final hole, when his second shot on the par 5 stopped inside 10 feet.
"The game was feeling really good there last week, and getting a result is always good for the confidence, too," said Scott, who didn't have a top-10 on the year until last week in Charlotte and sits a suprising 105th in the FedEx Cup standings. "Coming here on a course that's going to throw a lot of birdies out there, getting in that attack mindset was key, and take advantage of the good swings."
Good swings were something Scott had in abundance on Thursday.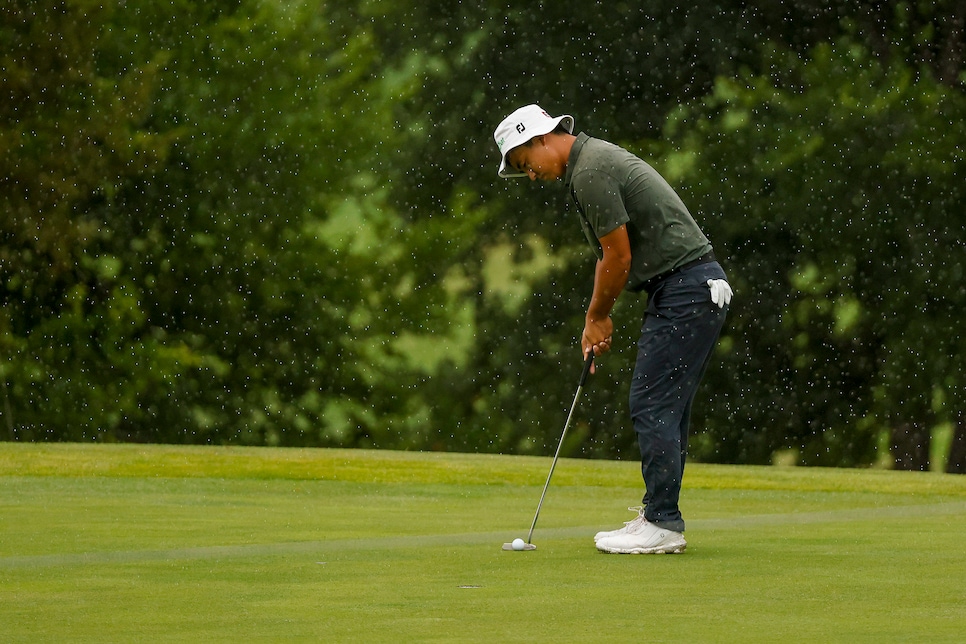 Marty Dou hasn't had much luck on the PGA Tour since he became the first Chinese player to gain tour membership in 2017. The ledger reads 44 starts, only 17 cuts made and no top-10s. This week, however, gave Duo reason to be optimistic.
"This is my home course," Dou said of TPC Craig Ranch. "I practice here. I live like seven minutes from here. It's comfortable playing here because it's somewhere you're always on, even on the driving range. It feels like you're at home. I think that's a big thing for me to play good."
Play good is downplaying his round. After starting with a bogey Dou ripped off nine birdies over the remaining 17 holes. Although he made a 28-footer at the 12th and a 18-footer at 16, the other seven birdies were all from inside 10 feet. For the day he ranked third in strokes gained/tee to green.
Asked how he was going to keep the good play rolling, Dou simply wants to go back to the well. "I don't want to fill myself with too much thoughts in my mind," he said. "Just kind of play as today, hit good drives, hit good iron shots and make some putts. I think I'll accept anything with the score if I can do that."
The oddsmakers aren't worried about the score, either, having him at +4000 despite being tied for second just three shots behind the leader, Seung-Yul Noh. No matter. Dou is in his comfort zone.
"Just being at home, you just feel everything is smooth," he said. "Like there's no rush at anything, and the drive is always like come here and practice, same road I take. It doesn't really feel like a tournament, actually. It just feels like you're playing a practice round on your weekend days or something, like your off-season days."
Let's see if he feels that way if he's in contention come Sunday.