Rules of Golf
The rules quirk behind why a damaged driver needs to be REALLY damaged to be replaced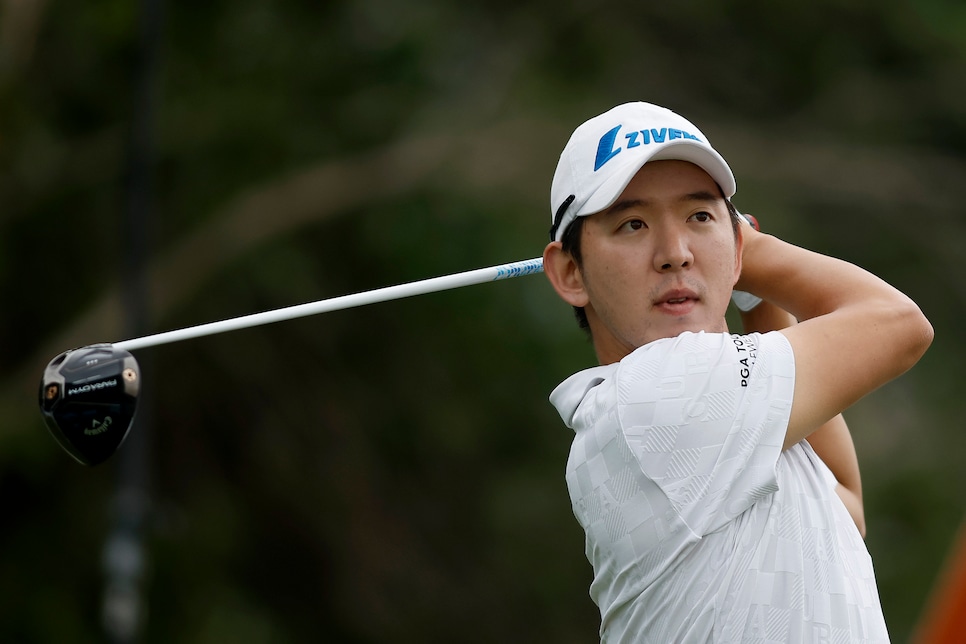 After a wayward drive on the 12th hole at TPC Craig Ranch (which the South Korean felt was actually a solid strike), Noh called for a ruling upon noticing the face of his Callaway Pardym Triple Diamond driver had a hairline crack. When an official took a look, the crack was deemed not sufficient enough to warrant replacing.
PGA Tour rules official John Mutch offered some clarification: "Under Model Local Rule G-9, a club is not replaceable solely because of a crack. He wanted to know if he could replace the club. The answer to that was no. There needed to be some more subsequent damage other than just a hairline crack."
Weird as that seems, the damage came on the next swing with the club on the 13th tee. Noh opted to use the driver despite the defect because a 3-wood would leave him with a long iron or even a 5-wood into the par 4. His drive subsequently went way left, but he scrambled for a par and, perhaps better, did enough damage to be able to take the club out of play.
"After he hit it on 13, it became significant damage," Mutch said. "There was definitely separation in the metal on the face, and there was clear concavity in the face. Concavity renders a club face non-conforming. So the club at that point was unfit for play."
Interestingly the MLR has other quirks as well. If the replacement head had been in his bag, it could not have been used, but one from his locker or car or any other place could. In fact, if he didn't have a backup, he could have borrowed a head from a player that had already finished his round. Luckily for Noh, he had one with him on the property; it was retrieved and brought out to him on the 15th tee. He was able to attach it to the shaft and he had his replacement. He went on to make two more birdies on the last three holes to post the course-record-tying score and take the early lead by three shots.
Yet, that's where another oddity in the rule occurs. The local rule allowed for Noh to use the same shaft (no big deal) but also allowed, according to Mutch, for Noh to configure the adjustable settings in any manner he chose, even if it was a different setting than what he started with. Although it would be odd to do so, if a player was fighting a miss to one side that could prove to be helpful. The only condition being that once you set it and use it, that's the setting you go with the rest of the round.
Unless, of course, you break the driver again.