Career Round
Seung-Yul Noh's wild round includes a cracked driver and laying up on 18 with a chance to shoot 59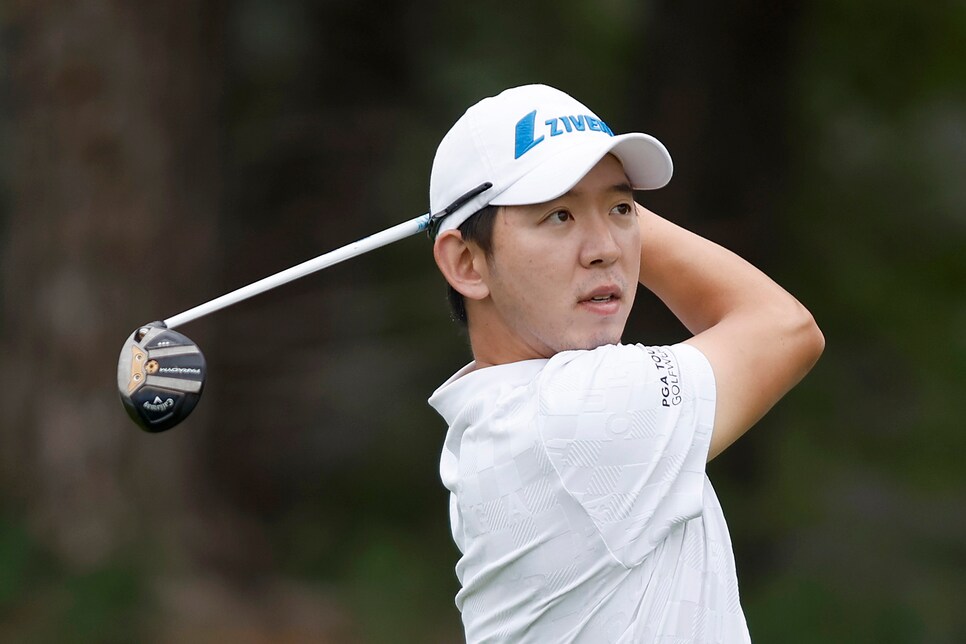 OK, raise your hand if you saw a 60 coming from Seung-Yul Noh in the opening round of the AT&T Byron Nelson.
In the first group out on the front nine, Noh started his round with back-to-back brides and was off and running to the lowest round of his PGA Tour career—one that was temporarily stalled by two years of military service in South Korea in 2018-19.
Noh rode a scorching putter all round, which was not a total shock as he came in the Nelson north of a 150 ranking in strokes gained/off the tee, approach the green and around the green but was 40th in putting. But even with that, holing 181 feet, 7 inches of putts is next-level stuff, aided by three bombs—a 40-footer for birdie at 11, a 27-footer for par on 16 and a 34-footer at the next for birdie. On the day he needed a meager 21 putts and averaged an other-worldly 1.231 putts per green in regulation, leading to an unimaginable 6.507 strokes gained/putting for the round.
Speaking of unimaginable, two other things from Noh's round stood out.
Right in the middle of his run his Callaway driver cracked on No. 12 but he was told the damage didn't warrant a replacement. But after another errant tee shot on 13, the damage was such that a replacement was allowed, requiring him to play a couple of holes without it before a backup head could be brought out to him. Noh said it was the first time he ever cracked a driver head.
"I was hitting the driver well but on 12 I was trying to hit a draw and hit it solid but the ball went 70 yards right and I was like, 'Where did this come from?' I looked at my driver and it was cracked," said Noh. "They said during the practice swing, during the shot, if it damaged the club, we can't replace it. … So I'm hitting one more driver on 13, and then finally like it's gone, like my driver head. That's why after the 13th he got the replacement."
Then came the curious decision to not go for the green in two at the par-5 finishing hole from 257 yards when an eagle would lead to a 59. Instead, Noh, not the longest of hitters, opted to lay up, eschewing a shot at history for another birdie opportunity that he promptly cashed in on.
"So my 3-wood going off the ground [is] like 265 off the ground, but it's like just under 260 without the wind," explained Noh. "It's like borderline." Asked if he even thought about going for it, Noh was firm. "Today is going … everything going good. Even wedge game and putting, everything going good. I'm just trying to make birdie, just forget about the eagle [for] 59."
Noh, who led Adam Scott by three shots after the morning wave, turned pro at age 16 and has had some modest success, including a win at the 2014 Zurich Classic of New Orleans but his play has been spotty in 2023, with only one round as low as 67, which helps explain his world ranking of 536. His 11-under 60 at TPC Craig Ranch, however, while made as part of the first group out might go a long way to making him last to tee off come Sunday.