To the Moon
Saint Peter's over Kentucky was one of the most astounding financial upsets in March Madness history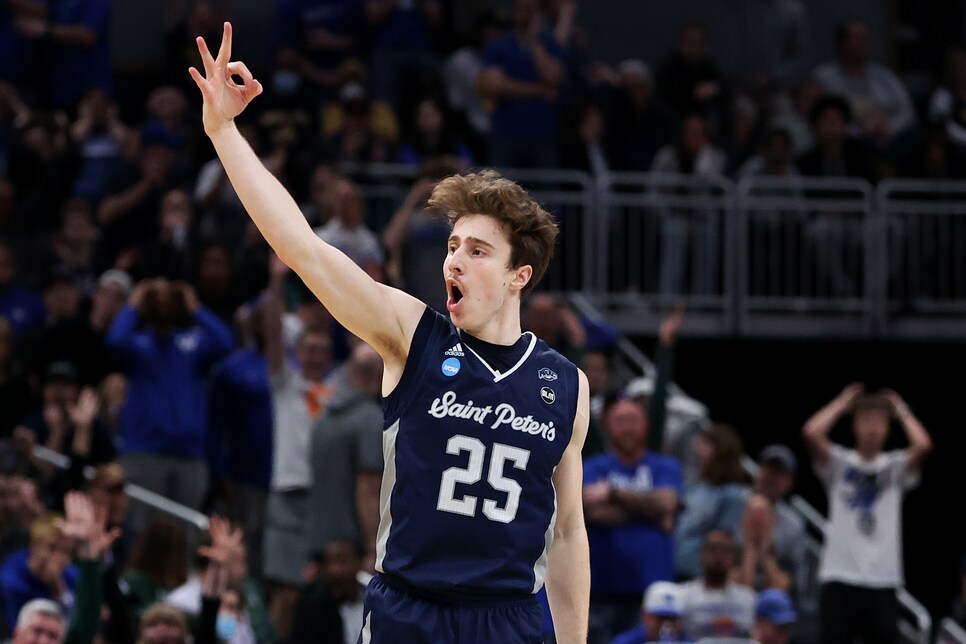 The sun is just now rising on the second day of the 2022 NCAA Tournament, and we've already seen one of the most paradigm rattlin' upsets in NCAA Tournament history. On Thursday night, 16-seed Saint Peter's—a private school of little acclaim from Jersey City, New Jersey—took down second-seeded Kentucky—a college basketball monolith if there ever were one—in overtime. The Peacocks' win busted brackets and materialized dreams, but the biggest upset didn't come on the floor. It came in the checkbooks of the respective schools, which are not even in the same stratosphere.
Truly remarkable. Often in cases like this, intangibles get all credit. Heart. Drive. Belief. So on and so forth. When you look at tangible factors like money, however, the Cinderella story becomes even harder to believe. In 2022, the University of Kentucky spent nearly twelve times, a total $16.7 million dollars, more on basketball than Saint Peter's. That's disparity made it the biggest financial upset, irrespective of seeding, in the NCAA Tournament since 2007 (and possibly of all time).
Obviously a huge chunk of that budget gap is the pay of coaching staffs. It's no secret that Kentucky pays John Calipari a king's ransom, but when compared to the salary of his opposite number, Saint Peter's Shaheen Holloway, it's almost embarrassing … for Calipari that is.
In fact, the annual salaries of some of Kentucky's top assistant coaches are believed to be more than three times Holloway's, a head coach.
AND (!) all of that is just the money spent. The money earned speaks for itself.
That said, if Saint Peter's gets by Murray State and clinches their spot in the Sweet Sixteen, that arrow will be well and truly pointing up. Peacocks to the moon? At this point, you wouldn't bet against it.