hero worship
Ryder Cup 2021: Seve Ballesteros made a beautiful gesture to stoke Sergio Garcia's love of playing for Europe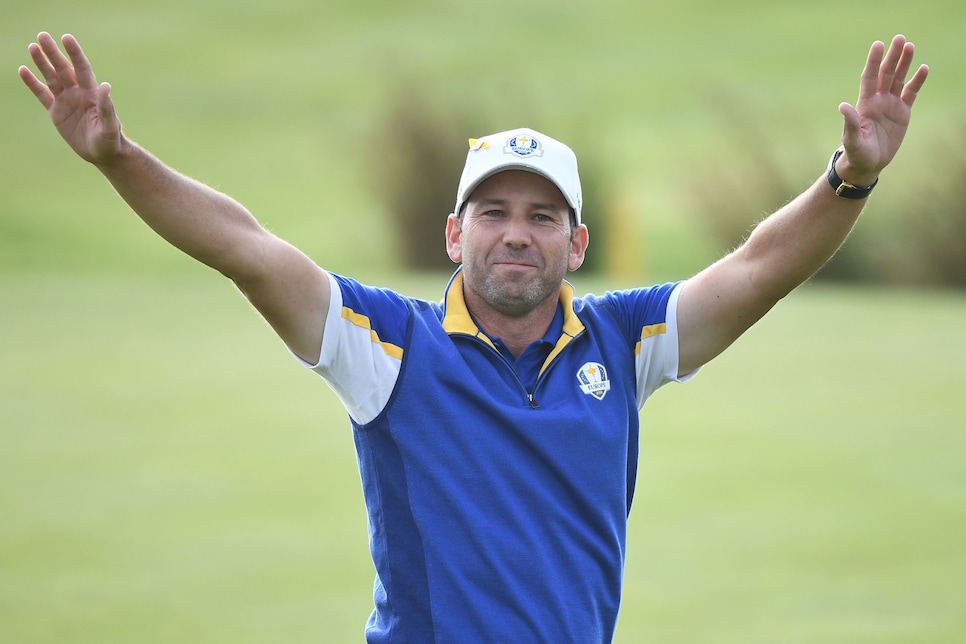 Sergio Garcia celebates Europe's win in the 2018 Ryder Cup.
FRANCK FIFE
HAVEN, Wis.—If those precious few minutes didn't change Sergio Garcia's life, they absolutely set him up for a lifetime of loving the Ryder Cup.
The year was 1995 and the biennial matches were being played at Oak Hill in Rochester, N.Y. Garcia was a 15-year-old who played earlier that week in the Junior Ryder Cup. Standing at the ropes, Garcia watched Spain's greatest golfing idol, Seve Ballesteros, play a practice round. He even remembers what hole he was on—No. 12. And then came the moment when Ballesteros invited the kid to duck under the ropes and walk along.
"We were talking a little bit and he was explaining things to me," Garcia recalled on Tuesday ahead of the Ryder Cup that begins on Friday at Whistling Straits. "So that was obviously amazing. Took a picture and stuff.
"Then I remember walking to the international pavilion and saw some of the European crowds just singing, and the energy that I felt—I remember as a 15-year-old, I was there, and I was, like, 'I have to be a part of this at some point in my life."
Little did the Spaniard know that he would become arguably bigger than Ballesteros in his contributions to a run of strong play by the Europeans. Garcia, 41, will play in his 10th match this week, and no one has scored more points (25 1/2) for Europe. His squads have won five times, and Garcia's overall record is 22-12-7.
There is this nugget, too, for Garcia: His record in team play against Tiger Woods is 4-1-2—though, sadly, they never faced off in Sunday singles.
Garcia had a huge week three years ago in Paris in Europe's rout of the U.S. He was 2-1 in team play, including partnering with Alex Noren in a 5-and-4 rout of Phil Mickelson and Bryson DeChambeau in Friday foursomes. Garcia also clearly enjoyed beating Rickie Fowler 2 and 1 in singles.
The 2017 Masters champion is quick to praise his partners through the years—11 of them and counting. Might we see the Spaniard paired with another cheeky vet, Lee Westwood, this week? They've already played seven times together.
"Chemistry, how you feel," Garcia said of the frequent play with Westwood. "We've had some good matches that we've won and then we've had some ones that maybe we haven't played as well. It just comes down to how you feel that week, and more than anything, just kind of being there for your partner, enjoying your time with him, and the good and the bad and the ugly.
"Just enjoy it; it's simple as that."
Few, if any, can say they enjoy it more.
MORE RYDER CUP PREVIEW STORIES FROM GOLF DIGEST