Keeping things straight
Struggling to keep up with all the different 'Cup' team competitions? Here's a cheat sheet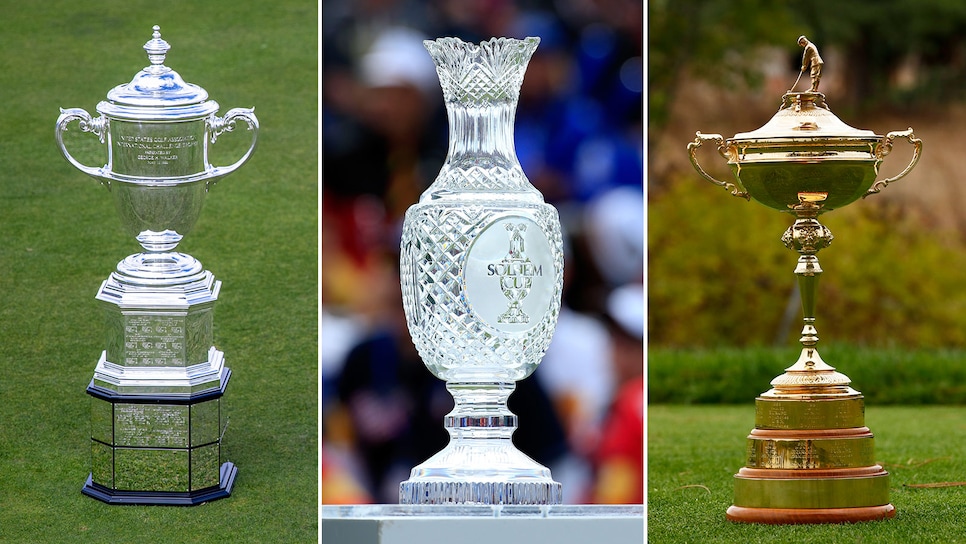 In the month of September, golf's cups runneth over. Not literally, mind you, but figuratively. And confusingly, perhaps.
Casual golf fans are likely to know that the Ryder Cup—which pits the top men's professionals from the U.S. against the top from Europe—is taking place at the end of September in Italy. More informed golf fans are aware that the Solheim Cup, the women's version of the Ryder Cup, is being held a week earlier in Spain. And passionate golf fans are planning to be up early on Saturday and Sunday to catch the Walker Cup—the men's amateur equivalent, with the exception of the U.S. facing only Great Britain & Ireland—that will be held for the first time in 48 years at the Old Course at St. Andrews.
For the past few weeks, captains from each of the different competitions have been making picks and rounding out rosters in preparation for these biennial match-play events. And trying to keep everything straight as to who is playing for what has gotten a little complicated for the uninitiated. To help keep track of everything, we have this handy cheat sheet so that no matter what level of golf fan you are, you're in the know during the next month.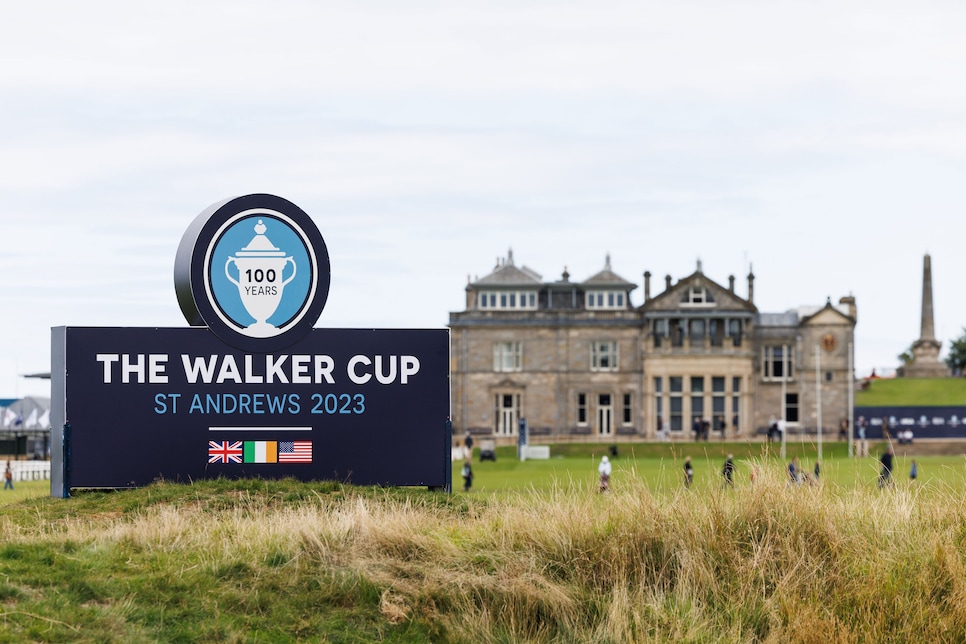 Place: Old Course, St. Andrews, Scotland
Format: Foursomes Saturday and Sunday morning, singles Saturday and Sunday afternoon
Skinny: The Americans are starting to turn this event back into the Walk-over Cup as they aim for a fourth straight win. That length of dominance hasn't happened since the 1980s.
Nick Dunlap, 19, Huntsville, Ala. (World Amateur Golf Ranking: (5)
David Ford, 20, Peachtree Corners, Ga. (4)
Nick Gabrelcik, 21, Trinity, Fla. (9)
Austin Greaser, 21, Vandalia, Ohio (10)
Stewart Hagestad, 32, Newport Beach, Calif. (19)
Ben James, 19, Milford, Conn. (7)
Dylan Menante, 22, Carlsbad, Calif. (6)
Gordon Sargent, 20, Birmingham, Ala. (1)
Preston Summerhays, 21, Scottsdale, Ariz. (13)
Caleb Surratt, 19, Indian Trail, N.C. (8)
Great Britain & Ireland team
James Ashfield, 22, Wales (69)
Jack Bigham, 19, England (87)
Barclay Brown, 22, England (26)
John Gough, 24, England (14)
Connor Graham, 16, Scotland (214)
Alex Maguire, 22, Ireland (143)
Matthew McClean, 30, Ireland (54)
Liam Nolan, 23, Ireland (150)
Mark Power, 23, Ireland (98)
Calum Scott, 20, Scotland (31)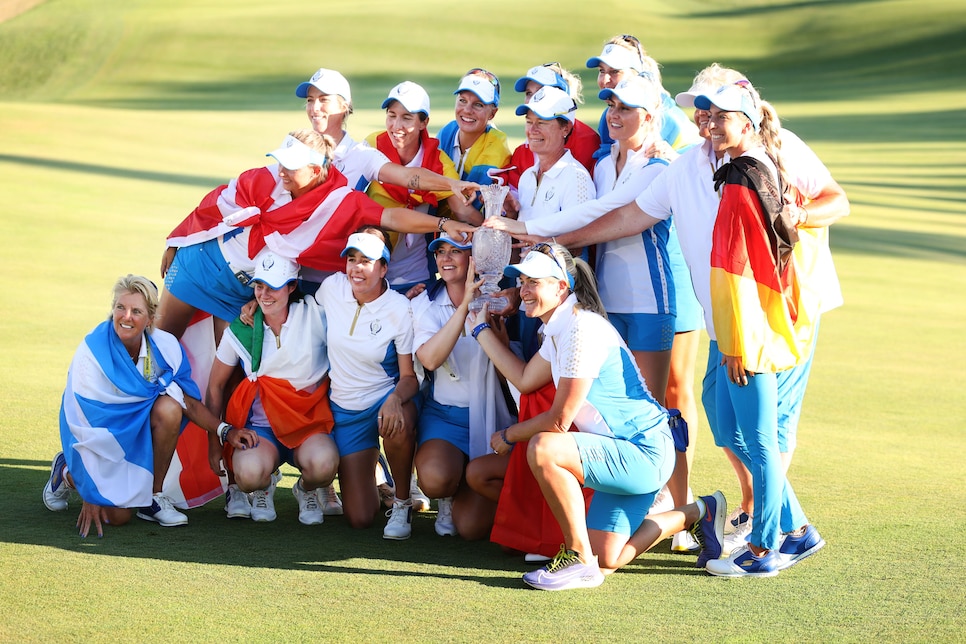 Place: Finca Cortesin, Anadulcia, Spain
Format: Foursomes and four-balls Friday and Saturday, singles Sunday
Defending champ: Europe won in 2021 at Inverness Club, 15-13
Skinny: The Americans have lost four of the last six matches, including two straight. Stopping that slide is even more important when you consider they'll be playing again next year as the schedule adjusts to return to an even-numbered year target.
Lilia Vu (Rolex Ranking: 1)
Captain: Suzann Pettersen
Emily Kristine Pedersen (117)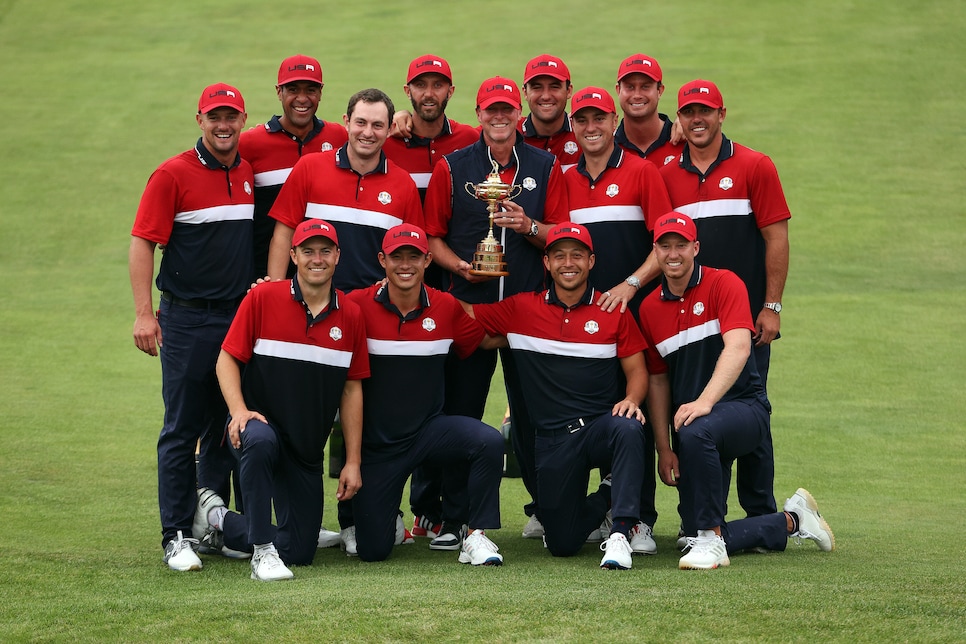 Maddie Meyer/PGA of America
Place: Marco Simone, Rome, Italy
Format: Foursomes and four-balls Friday and Saturday, singles Sunday
Skinny: It didn't take that long for the Europeans to go from a home dog to a sneaky favorite as Viktor Hovland takes his rightful recognition among the tops of the men's game.
Scottie Scheffler (Official World Golf Ranking: 1)
Automatic qualifers: Six players will earn spots on the team from two points lists after the end of the Omega European Masters this weekend.
Captain's picks: Donald will pick six more players to join the team on Monday (Sept. 4)