Amateurs
An expected U.S. win at the Walker Cup comes in the most unexpected of ways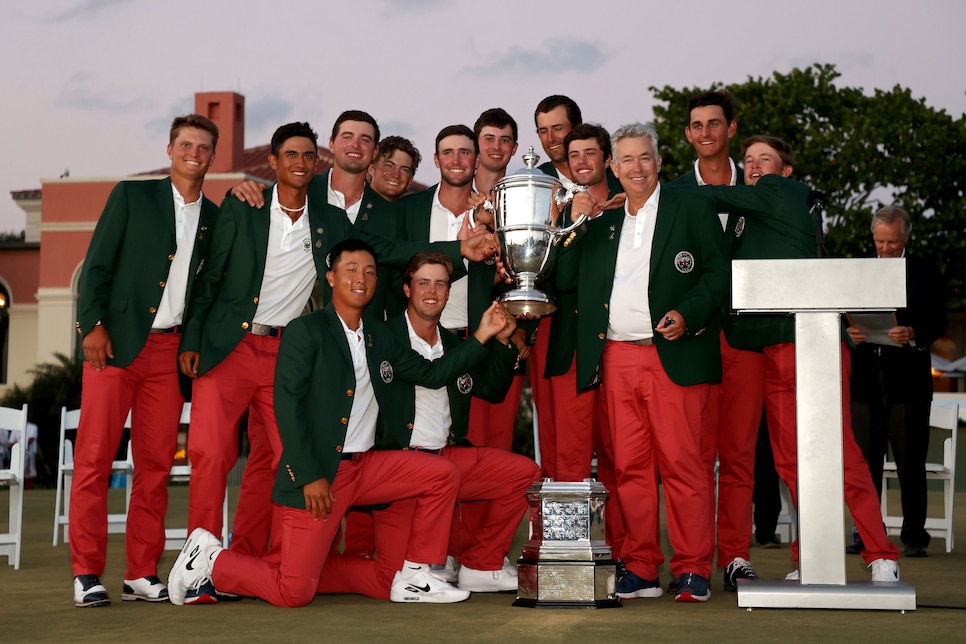 JUNO BEACH, Fla. — They were all smiles huddled in the gloaming on Sunday, the 12 men representing the United States mugging for the cameras around their handsome prize outside the distinct pink stucco clubhouse at Seminole Golf Club. When you look at the pictures of the celebration five or 10 years from now, you'll have no idea from their expressions just how difficult it was for this group to take possession of the Walker Cup, what the means to this end truly involved. That, instead, will be something they can tell their friends and family over beers.
The short version will go something like this: The heavily favored Americans hung on for a 14-12 victory in the 48th playing of the biennial competition against their rivals from Great Britain & Ireland, the outright win not secured until in the 26th and final match. Entering Sunday singles with a surprisingly slim one-point lead, the U.S. team scratched out 5½ points, securing a third straight victory in the matches and the seventh in the last nine contests when 30-year-old Stewart Hagestad, the oldest competitor on either team, defeated Ben Jones, 4 and 2.
To do so, however, required a gut-check, literally. In the run-up to the two-day sprint, seven of the 12 Americans (including the team's alternates) were hit with a stomach bug that also took out seven players on the GB&I side. No one dreams of their Walker Cup experience including a visit to a local hospital to receive IV fluids, but that will be one of the unusual memories for several of the victorious Americans.
"It was such a bizarre week for so many reasons," U.S. captain Nathanial Crosby, who also caught the stomach bug, said on Saturday.
It got so bad that officials with the USGA and R&A agreed to change their terms of competition to allow alternates to be used as regular members of the teams and let players move in and out of the lineup to replace sick players at any time before a match began.
Come Sunday evening, Crosby's voice was dripping with happiness after pulling out a second win as American captain. But listen closely and you'll hear a dash of relief, too.
"It was a relief for me to know that all of our team and all the players on our team will have a positive look back on their Walker Cup experience, " Crosby said. "It wasn't that I made a Walker Cup team. It's not that I played in the Walker Cup team. It's that they were part of a winning Walker Cup team and they got to do pictures with the trophy."
Indeed, the Americans arrived in South Florida expected to make quick work of the visiting side, GB&I captain Stuart Wilson already facing a massive challenge. Consider that the average World Ranking of his starting 10 for the GB&I was 67.6, with only one player (Alex Fitzpatrick at No. 12) inside the top 20. By comparison, the Americans average ranking was 12, with nine of the 10 inside the top 20.
Then there was the fact that matches were being played in May (a first for a Walker Cup contested in the U.S., in order to be able to host the event at Seminole for the first time), offering very little time for GB&I players who weren't part of college golf teams in the U.S. to knock off any winter rust, which was seemingly extra thick after COVID-19 wiped out most of the 2020 amateur golf schedule.
Still Wilson—who wasn't spared his own bout with the Seminole bug—wouldn't let his guys think like underdogs. Never mind upset stomachs; he wanted his players to be thinking upset.
And they obliged, splitting the Saturday morning foursomes 2-2, and then finishing afternoon singles on Day 1 trailing only 7-5. When they won the Sunday morning foursomes sessions 2½-1½, you wondered whether the craziness of the week had become a rallying cry.
For sure, there were moments during Sunday singles where an American victory looked to be in doubt. While Austin Eckroat and Pierceson Coody grabbed two early points for Team USA in the first two matches, GB&I suddenly started to own the final holes at Seminole, a course that played wickedly difficult thanks to buffering winds drying out already notoriously slick greens. Joe Long, the British Amateur champion who was too sick to play in the first three sessions, won his match with John Pak, 2 up. Then Matty Lamb pulled out a 2-up win over Davis Thompson and Barclay Brown claimed a half point in a tied match with Quade Cummins.
But then the man of the match for the Americans, Ricky Castillo, stepped up once more. Already a winner in his first three matches, the 20-year-old sophomore at Florida, one of the few not to get sick during the week, maintained his confidence and momentum. Facing John Murphy, Castillo jumped to a lead on the first hole, stretched it to as much as 3 up and never let up, winning 2 and 1 to be come the only player on either team to have a perfect 4-0 record.
"It was just a lot of fun being out there," Castillo said. "I didn't know really [how things stood], but I knew that I wanted to win my point and I needed to win my point, and that's literally all I was trying to do."
Shortly after Castillo's win, Cole Hammer, who played on the winning U.S. team at Royal Liverpool in 2019, closed out his match with Ben Schmidt, 4 and 3, capping a 3-0-1 experience. It's no coincidence that Hammer, too, stayed healthy all week.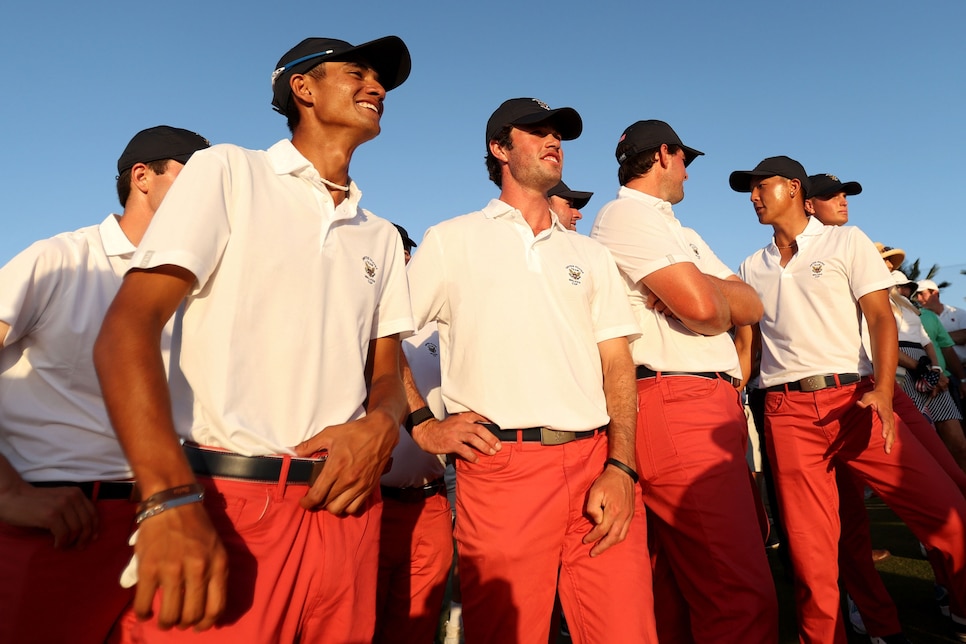 Ricky Castillo (left) and Cole Hammer were two of the lucky five Americans who never got sick this week. Not so coincidentally, they went 4-0 and 3-0-1, respectively.
Cliff Hawkins
Then came Hagestad, a three-time Walker Cup participant, delivering the knockout blow, just as he did at LACC, his home club, in 2017.
In the end, the visitors had to ponder how the results might have been different had Fitzpatrick, the only GB&I player with previous Walker Cup experience, not gone 0-4 on the week. Or if Long had been able to play before Sunday singles.
Still, Wilson wouldn't hear any of it, or of any moral victories for coming close to winning. "Well, the history books tells us it's always going to be difficult to come in and do well out in America," Wilson said, "and I think we would obviously love to have walked away with the win, and at one point now this afternoon after a good session this morning, the guys had enough points on the board to make that happen.
"Obviously 14-12, it's a respectable result coming out here without a doubt. But yeah, we would have loved to have been 14-12 the other way with it."
All week long, Crosby tried to keep the mood light for the Americans, cracking one liners ("It was like Mr. Toad's wild ride out there.") Given the circumstance, it was probably the best way to keep his team from feeling the pressure that comes with being the heavy favorite, not to mention emotions he was feeling given his close ties to Seminole.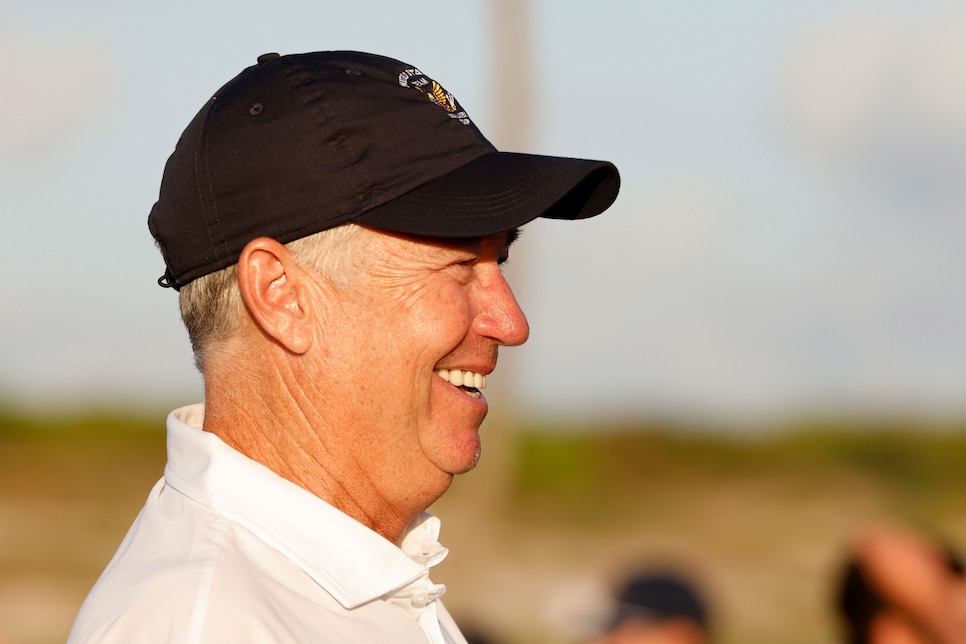 Crosby made it two-for-two as Walker Cup captain, this week's victory extra sweet with it coming at Seminole, where he's a member.
Cliff Hawkins
But with the win secured, and the Cup in the Americans possession, Crosby could speak with a little more reflection on what it meant to him personally, his connection dating back to being a 14-year-old playing it for the first time in 1976.
"I've been a member here since 1992," he said, "and to be a Walker Cup captain at my home course and to have a close victory like we did today and to have the special friendships that I've had with each and every team member that allowed us to win, is too good to be true."
Indeed, a week at Seminole, in sickness and in health, has produced a lifetime of memories.