Strictly speaking, Mike Whan knew what the Walker Cup was all about before attending the biennial match for the first time in May 2021. It wasn't, however, until experiencing it in person that week at Seminole Golf Club, less than two months before officially taking over as USGA CEO, that he came to appreciate what the competition has become: a prideful celebration of amateur golf that connects generations and creates lifelong memories.
"The importance of it, the relevance of it, it really caught me a little off guard," said Whan of the 101-year-old team event pitting the best male American amateurs against their peers from Great Britain & Ireland. "I'd spent so much time with so many people that were so moved by it. … It's just pretty special."
The same held true after gaining a first-hand look at the Curtis Cup, the women's counterpart with a vibrant 91-year history that he'd heard much about as LPGA commissioner.
Whan's love-at-first-sight response to the competitions was hardly fleeting. Shortly after joining the governing body, he spoke with the USGA Executive Committee about what could be done to make sure the two events—each costing between $1 million to $1.5 million to run but with little ability to generate their own revenue—would never find themselves in jeopardy should tough financial times require tough financial decisions.
In turn, the conversation inspired a first-of-its-kind program for the USGA: a capital campaign to endow both matches that, if successful, could serve as a model for how the USGA funds future amateur championships.
Since last May, with little overt publicity, the USGA has been working to find 20 donors willing to give $500,000 each to become the "Keepers of the Cups." The USGA would match the $10 million raised from this group with money from its strategic investment fund to create a $20 million nest egg keeping the events going in perpetuity.
To date, 11 donors have committed to the program, leaving Whan "zero doubt" that their original two-year goal to raise the funds can be met. Optimistically, he sees the potential for the final donors to be in place as soon as September, when the 49th Walker Cup is held at the Old Course at St. Andrews.
"Professional championships find their own way to get funding no matter what it is, TV deals, corporate partners, commercials," says Whan, who will reference the "Keepers of the Cup" program as one of three BBLs—big, bold leadership initiatives—the USGA is pursuing during his State of the Association speech at the USGA Annual Meeting in Napa, Calif., on Saturday. "But these require goodwill."
Truth be told, the idea of endowing USGA events actually had been discussed a few years prior to Whan's arrival. In part it's why Whan's predecessor, Mike Davis, hired Charlie Pagnam in 2019 as the USGA's first chief philanthropy officer. Pagnam had spent his career fundraising at Yale and UMass before coming to the USGA with the goal of exploring charitable giving as a revenue stream to diversify the governing body's income.
"To think that I was joining a non-profit that was celebrating its 125th anniversary and didn't have one endowment in 2019, that would be hard to find another non-profit with that record," Pagnam said. "Particularly when there are things we do that are unique to the organization and deserve the security of endowment to fund it."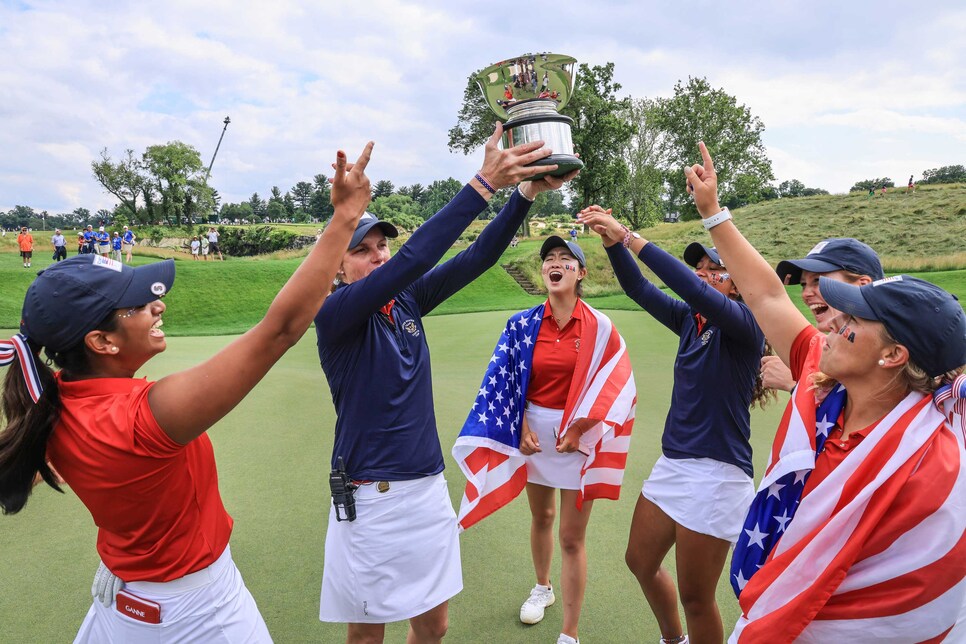 The Curtis Cup costs roughly $1 million to put on, according to the USGA. The new "Keepers of the Cups" program will allow it to be paid for in perpetuity without coming from USGA's annual budget.
David Cannon
Pagnam says the average yearly expenses on the Walker Cup and Curtis Cup are about $800,000—it's more in the two years when each are hosted in the U.S. and then accounting for travel and other expenses in the years when the American teams travel across the Atlanticl (The endowment would cover all expenses for the U.S. side, with the R&A still handling GB&I's costs.) With endowments taking a 4-percent spend from principle, according to Pagnam, this is how they got to the $20 million figure.
To find the donors, Pagnam has a five-person team of major gift officers assigned geographic territories. They have enlisted Whan to speak on behalf of the program at dozens of functions in various U.S. cities, although Pagnam says that word of mouth is the best way to "stumble into the $500,000 person."
So how has it gone in Pagnam's mind?
"The general response is that people don't understand what the USGA does," Pagnam says. "There is not an awareness of what we do that impacts the game of golf. Obviously, the U.S. Open and the other Open championships get a lot of focus, but after that there is just not a sense of awareness. And people, in most cases, after we've made them aware of this have been receptive and we've had further conversations. And that's up to us then to keep kind of moving the ball down the line a little bit. Specifically, for the Walker/Curtis Cup, I was surprised—happily surprised—with the results from the first year."
Donors have ranged in age from 40s to 60s and from all over the country. Whan says he wouldn't call them a "USGA MVP list" of past champions but rather golfers who have a passion for the game and for keeping its history alive.
The latest has been perhaps the most notable: Outgoing USGA President Stu Francis became the 11th donor at the end of 2022. "I wanted to put my money where my mouth was," Francis joked. "I did want to show people that I really did care about it and was prepared to care and invest in it."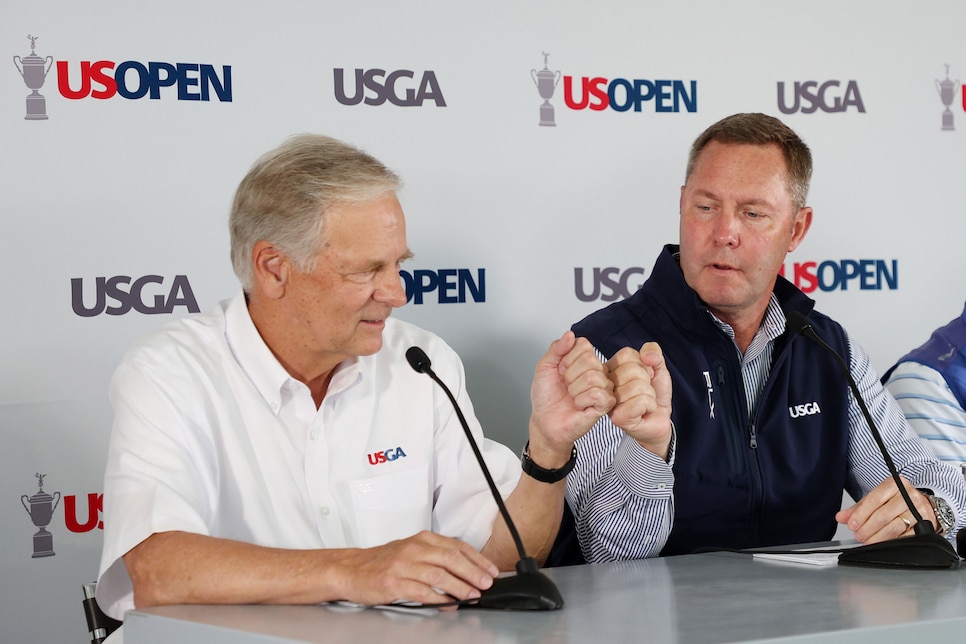 USGA outgoing president Stu Francis (left), with USGA CEO Mike Whan at the 2022 U.S. Open, is among the 11 donors the USGA has locked in to date to help endow the Walker and Curtis Cups.
Rob Carr
Francis played in the first of three U.S. Amateur Championships in 1974, but never competed in the Walker Cup. He has attended five of six, along with four or five Curtis Cups, and became close with the American teams that have competed under his watch at USGA president in 2021 and 2022.
"I think the real interest level and commitment level to having a thriving Walker Cup and Curtis Cup is a pretty deep feeling within the golf community," he said.
The Keepers will travel to the events and be given behind the scenes access to the captains and players. Each will be a golf bag with a specially designed logo for their office or home.
If anybody doubted the motivation behind the cause, they need only listen to those who experienced the event as players and captains to understand its significance.
"Once I made my first Curtis Cup team, I wanted to make more and more. It is so meaningful to the players who participate," World Golf Hall of Famer Carol Semple Thompson, a 12-time Curtis Cup participant and two-time captain, told Golf Digest a few years ago. "It's a lifelong honor for those players and leads to so many lasting friendships."
"Being a part of the Walker Cup, it's one of the experiences I cherish most in what I've been able to do in this game," said Maverick McNealy, who played on the U.S. team in 2015 at Royal Lytham and 2017 at L.A. Country Club. "Those Walker Cup summers were incredible, the preparation and the excitement to be a part of something. You don't get the team aspect out here, that camaraderie, it's something special that sticks with you, it's a real bonding moment that hopefully lasts a lifetime."
With a proof of concept falling into place with the Keepers of the Cups endowment plan, both Whan and Pagnam acknowledge the potential to do something similar for other amateur events. Pagnam estimated the yearly expense of all the amateur events at between $25 million and $30 million (the total for all USGA championships, including Opens, is around $200 million). Nothing specific has been finalized yet—"let's move this rock before we start building boulders" said Whan—but there's a feeling that this could become a future BBL for the USGA.
"I think the amateur championships speak volumes to what our mission is," Pagnam said. "So in 15 years if [we] have got an endowment that covers 75 percent of the operating budget of those championships, I think that's wonderful for the organization, and more importantly it's wonderful for golf."