PINEHURST, N.C. — If you were lucky enough to be on the grounds at Pinehurst No. 6, or saw the quick blurbs on Golf Channel for three days this week, it was impossible not to find somebody to root for in the first U.S. Adaptive Open.
Maybe you picked out Brian Bemis, a one-legged golfer who uses two crutches to move around and then tosses them aside to balance on one foot before he swings. Or Jake Olson, the former USC football snapper who was the only fully blind athlete in the field. To watch him two-putt a 40-foot double break is a marvel. Or the numerous veterans left paralyzed in wars, swiveling in carts to slot a swing. Or the entertaining trick-shot artist Dennis Walters, who at 72 years old proved he can still put together a score by winning the seated division. The World Golf Hall of Famer was joined every yard of the journey by his fluffy and eminently patient service dog Gussie, who deserves the copper medal around her neck and a tasty T-bone for riding around for six hours a day.
The point is, there were 96 players in the inaugural Adaptive Open, and each of them arrived with extraordinary backgrounds and equally unique swings. Go to a tour event and every guy seems to look like a robot; watch these golfers, with their seeming robot parts, and every swing is flawed in such a beautifully useful way.
All week, while the participants talked about how grateful they were for such a grand opportunity, everyone else gawked in amazement at their ability while genuinely feeling fortunate to be in their presence. Among the admiring "normies" was Mike Whan, the USGA CEO who was on hand for much of the play and walked in the sandhills country's stifling heat and humidity in long pants and fitted dress shirts. In those moments when Whan soaked in the competitors' funky swings, their effort, their determination, their good nature, he said it "grounded" him.
"I'll be honest," Whan told me. "I've come off a year of LIV questions and purse increases and TV deals, and you realize when you're out here … how much more this is really what golf is, and that other stuff is just that other stuff. You've got to do it; it's part of the business. But I think a lot of times we get so caught up in one percent, we forget about the real people who make up this game."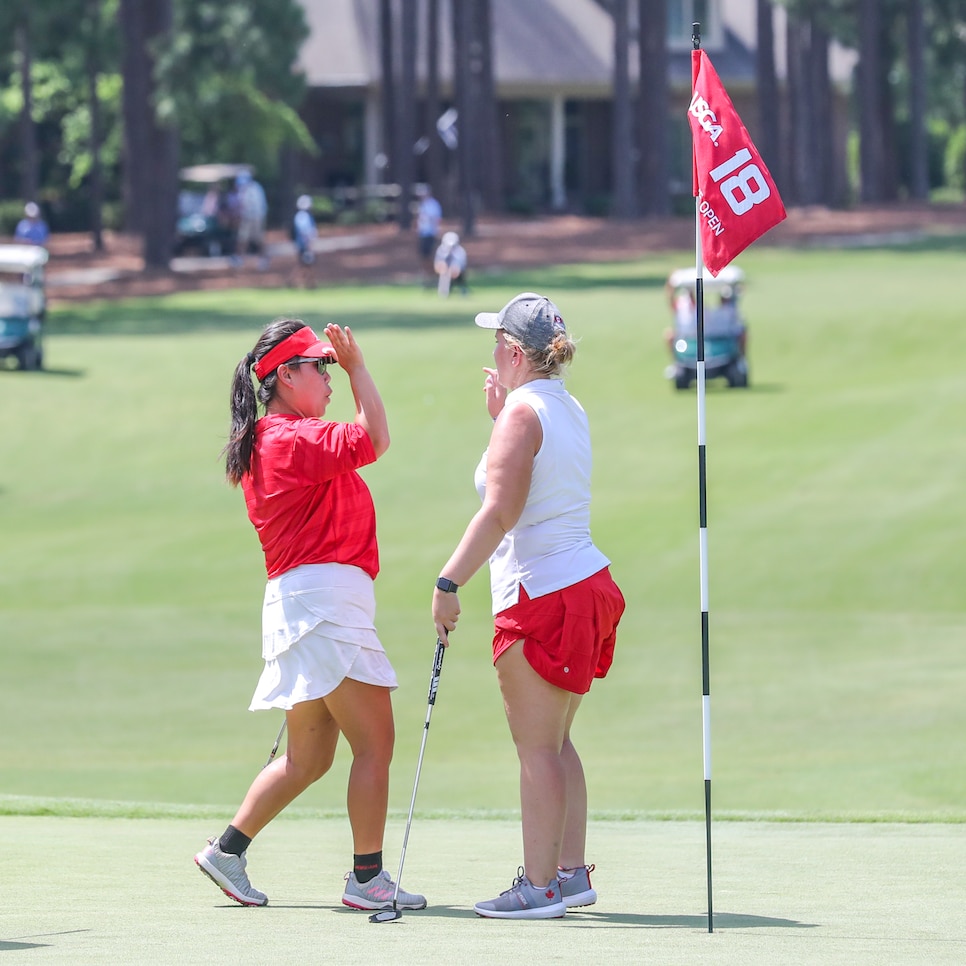 Amanda Cunha, left, high-fives Natasha Stasiuk after the final round of the 2022 U.S. Adaptive Open.
Jeff Haynes
On the grounds, Whan expected to find enthusiasm from the players, fans, volunteers and media. What blew him away: the reaction from his own staff. "I've had 20 to 30 staff members say this the most important thing they've ever been a part of," he said. "You don't get too many opportunities to change the way employees feel about the logo on their shirt. This changed the way they feel about the logo on their shirt."
When the competition was over on Wednesday, the golfers almost universally praised the experience. Among the most complimentary was five-time PGA Tour winner Ken Green, a leg amputee who finished solo second in his division at 11 over. He called it the most important event he's ever played in.
"I can't tell you how happy I am that the USGA created this event," Green said. "I got to meet so many new people that I hadn't met yet. To watch their joy and their desire … that they had a legit national championship. I know it sounds weird, but this is their coup de coup de coup. This is as good as it gets."
Mandy Sedlak, a lower-leg amputee, came to Pinehurst from Nebraska with her husband/caddie Jim, and they were floored by the experience as soon as they got on property. Back home, their friends and family didn't seem to understand the magnitude of the championship, and then they started following scores online and seeing highlights on TV. The reaction from a cousin and her kids was, "They're eating this [stuff] up."
Then Mandy knew it was truly big when her father, who's not one to make a fuss over most things, got a bit emotional in asking her if she had an extra glove to autograph. He wanted to put it in his scrapbook.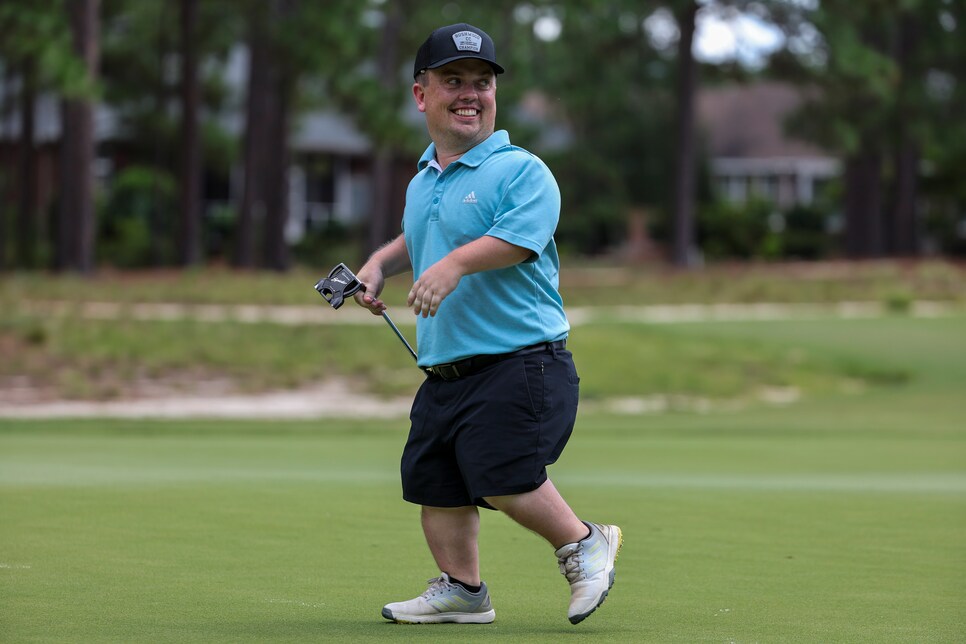 Conor Ennis smiles after making a par on the 17th hole during the second round at the 2022 U.S. Adaptive Open.
Jeff Haynes
With an event of this magnitude there were bound to be some glitches. Carts were a valuable commodity in general, and Stephanie Parel, the USGA's director for the championship, said it was a scramble to have enough. Some of the carts for the seated players had battery problems and had to be replaced mid-round.
From a competitive standpoint, the biggest concern expressed by some players was that the yardages played too long, especially one-armed men who were put at the 6,500-yard tees rather than 6,000 they believed had been decided on well before the event.
"It becomes demeaning at some point. It beats you down," said Steven Shipuleski, 51, an arm impairment golfer whose three-day total was 65 over. There may be a need for flights within divisions, he added, considering the top player in the arm group, Conor Stone, shot 14 over for the tournament.
Among some of the other players suggestions was possibly eliminating bunker play for seated players who had to take a one-stroke penalty for dropping out of the sand, and a further assessment of various impairment differences within the categories. Some suggest the variances are too large to make them "fair" for a single division.
Parel, who said "I feel like the luckiest person in the world that I got to do this," noted that player surveys will be taken, and Whan says there is room to make changes.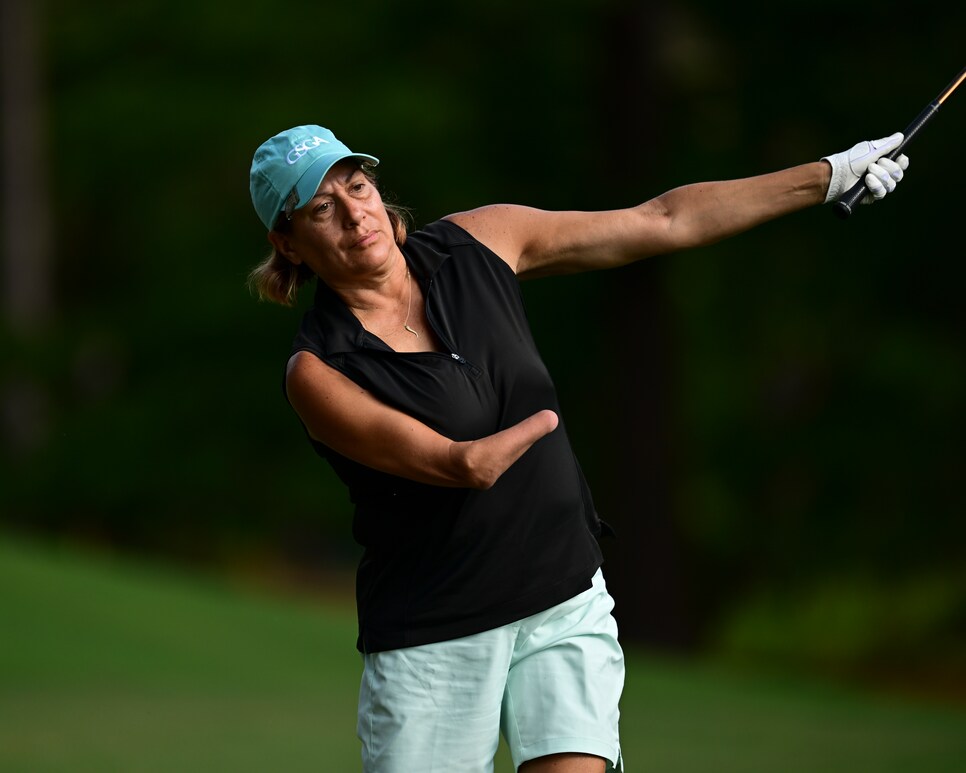 Cathy Walch hits her drive on the second tee during the second round at the 2022 U.S. Adaptive Open.
Robert Beck
The most important development in the USGA offices is that the association pulled off its first sanctioned adaptive event with the hope that many more will come in all forms around the U.S. and the world. Whan said getting golf into the Paralympics is certainly on the radar. And by action, the challenge has been made to other golf associations to consider doing more with adaptive golf. The USGA would certainly like more to jump on board.
"The fact that we're saying adaptive golf is an important part of our mission," Whan said. "Those who want to work with us and benefit from us will want to work with us on adaptive golf as well."