USGA history
Amputee makes historic hole-in-one at U.S. Adaptive Open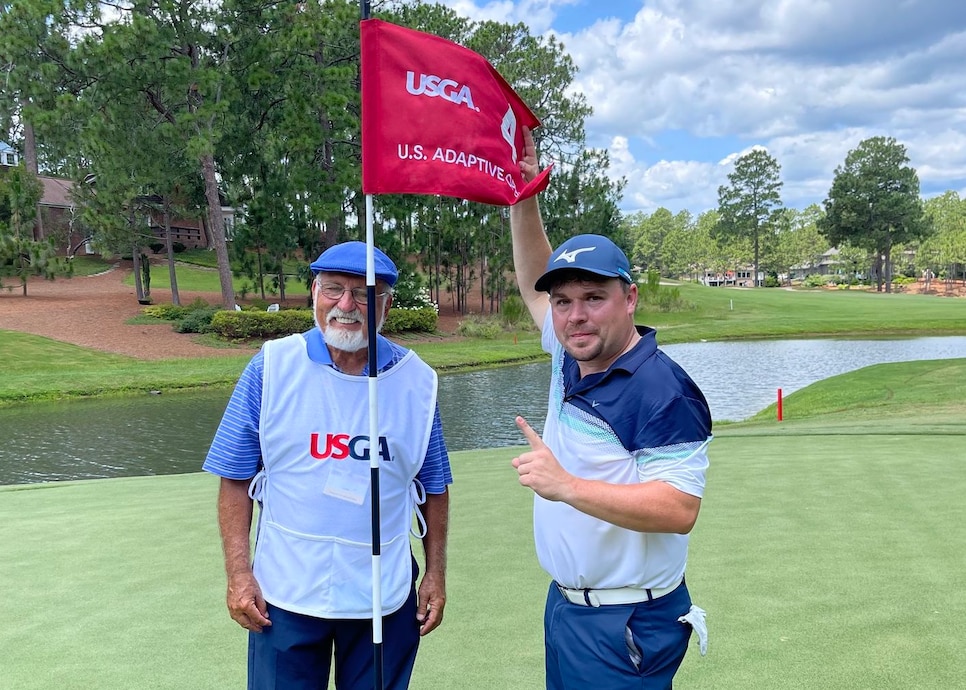 Jeremy Bittner (right) poses after making an ace on the par-3 fourth hole at Pinehurst No. 6 in the second round of the U.S. Adaptive Open.
PINEHURST, N.C. — If you're a golfer in a USGA event and Hilary Cronheim gets her precious gloves out, you know you've done something special. Cronheim is the director of the USGA Museum, and you may have seen her on TV during the recent U.S. Open showing off the clubs used by Francis Ouimet in his 1913 win at The Country Club in Brookline, Mass.
On Tuesday, it was Jeremy Bittner's time to get the white glove treatment. The golfer from Moore Township, Pa., will go down as the first person to make a hole-in-one in the U.S. Adaptive Open, which is being played for the first time this year at Pinehurst No. 6. A below-the-knee amputee who lost his leg in a lawnmower accident when he was 4 years old, Bittner used a 6-iron on the 187-yard fourth hole.
When his round of six-over-par 78 was over, Bittner was asked by USGA officials if they could have the ball to take it back to the Golf Museum in Liberty Corner, N.J., where it will be displayed with other memorabilia from this historic event. Bittner obliged, of course, and Cronheim was on-site to take over the ball with gloves on hands.
"Honestly, [the fourth hole] has been one of my favorite holes this week," Bittner said. "It's just a picturesque, visually pleasing hole. The number we had was 187 playing downhill into the wind. I took a little bit off the 6-iron and off the club it was pretty good. It was going to the flag. It was my first hole-in-one and I had never seen one go in before. When it disappeared, I was like, 'Oh no, what happened?' And then everybody started screaming.
"For the next 10 minutes, I was shaking. That was a lot of high fives and jumping around."
In the USGA's video of the ace, Bittner looks far more calm while reaching into the cup to retrieve his ball. He raises it slightly in celebration. Not big deal. Just USGA history.