U.S. Adaptive Open
South Korean pro, college coach win overall titles in first U.S. Adaptive Open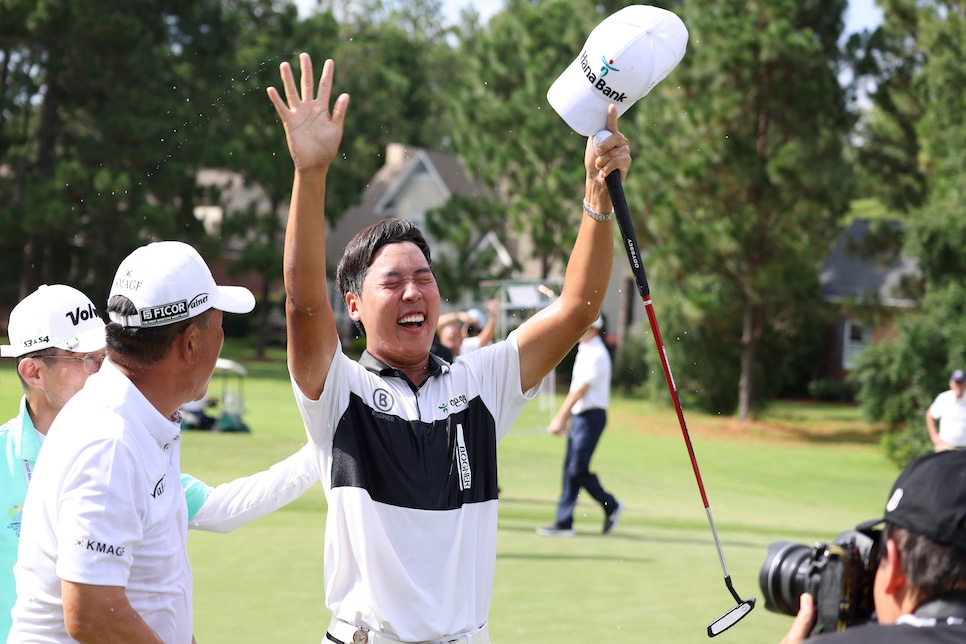 Simon Lee celebrates winning the overall men's title in the 2022 U.S. Adaptive Open.
John Mummert
PINEHURST, N.C. — Simon Lee rarely speaks in complete sentences. Diagnosed as being on the autistic spectrum at 3 years old, he has a difficult time making eye contact, and for reporters who interviewed him during the week at the inaugural U.S. Adaptive Open, he often turned to this mother and coach for encouragement before tepidly providing a smile and an answer.
It was no different on Wednesday after the 24-year-old South Korean captured the men's overall title on Pinehurst No. 6. He shot a third straight one-under 71 and then prevailed by two shots in a two-hole aggregate playoff over Sweden's Felix Norrman, another intellectually impaired player.
As the first man to hold the shiny trophy in his lap, Lee was asked how it sounded to be called the Adaptive Open champion. He fidgeted for a few seconds, looked over at his proud entourage and struggled to find the words. Then, his eyes brightened, he grinned, and the sentence came out with crystal clarity: "It feels like I'm dreaming."
In a week that likely forever changed the image of adaptive golfers, that sentiment was palpable among the couple hundred people, many of them competitors, who gathered around the 18th green to watch what became a dramatic finish among the men. It seemed as if they all were all living out their own dreams.
There were two golfers among the 96 entrants who hoisted trophies—Lee and amputee Kim Moore, 41, of Portage, Mich., who earned the women's overall title—and 15 players total won copper medals for being the top finishers in their division. Nearly the entire field stayed for hours afterward to bask in their personal accomplishments.
"This," said well-known amputee golfer Chad Pfeifer, "is what everybody is going to be striving for."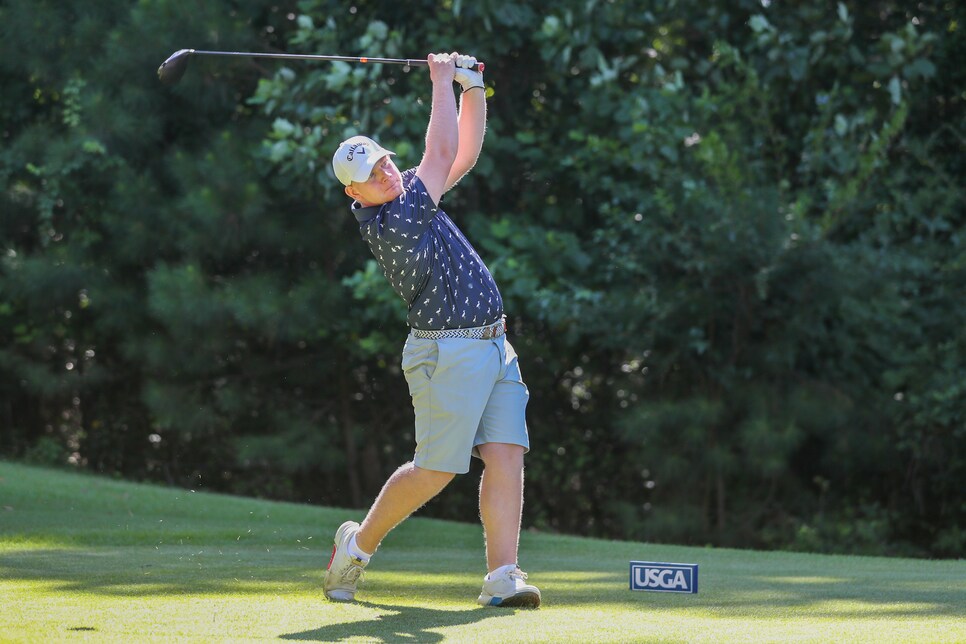 Felix Norrman hits his tee shot on the first hole during the final round at the 2022 U.S. Adaptive Open.
Jeff Haynes
There were impairment categories of arm, leg, multiple limbs, neurological, vision and people short of stature, and the men's competition happened to come down to two young men who have intellectual difficulties.
Norrman, 25, has tuberous sclerosis, a rare genetic disease that produces non-cancerous tumors that can grow in the brain, kidneys, heart, eyes, lungs and skin. It can also cause seizures, autism and behavioral issues. Just a couple of years ago, Norrman had to undergo brain surgery, and he returned to the golf course only a few weeks later. At other times, he has tiny black spots in his vision.
He is, however, an extremely accomplished golfer in Europe who entered the U.S. Adaptive Open as the 25th-ranked male player in the World Rankings for Golfers with a Disability. And Norrman was impressive at Pinehurst, coming back from an opening 75 to score back-to-back 69s on a course that played at 6,581 yards.
But Lee is even more seasoned. He has competed in numerous events as a pro on the Korean PGA Tour, making the cut once this year, and he entered Pinehurst with the best index in the entire field with a plus 3.6.
Lee birdied the first two holes on Wednesday and was tied for the lead with Norrman until he dropped a shot on the 13th. But Normann went bogey-birdie-bogey at 14-16, and they were tied heading into 18. Playing in the same group, Pfeifer made a furious charge, birdieing the 18th to shoot the week's best score of 68, but came up two shots short in solo third.
The top two parred the finisher to send the playoff to the 17th and 18th holes. Lee birdied first one, a par 4, from 20 feet and routinely parred 18, while Normann parred and bogeyed.
In a rare show of emotion, Lee pumped his fists in celebration, and then when he was doused with water by his friends and family, he let out long yelps of joy.
"Today was very hot, the weather," Lee said of the temperatures that hovered near 100 with the heat index. "I got cool, yeah, at least, with the water on me."
Lee has come a long way from starting to play golf in elementary school after first trying hockey. He is the son of a South Korean diplomat who served stints in Washington, D.C., and New York, but it was in South Korea where Lee honed his game.
The biggest challenges, said his mother, Jaiae Pahk, came early on. "With his autism, there is constant repetition," she said through an interpreter. "He would learn something and then forget it. So, they would have to continue to remind him until it became concrete in his memory."
Asked what she would tell other parents whose child is autistic, Pahk said, "Find what they love and continue to work on that. It may seem that it will be hard at first, but if you know that they love it, continue to push and don't give up. And you'll see that it's not just something you're feeding them, a hobby, it changes their character and personality overall."
Simon Lee found his love in golf, and his dreams didn't end on a July Wednesday in Pinehurst.
"Maybe one day I'll go to the Masters," he said, pausing slightly. "And I want to step on the 18th hole, Augusta National, in the final round."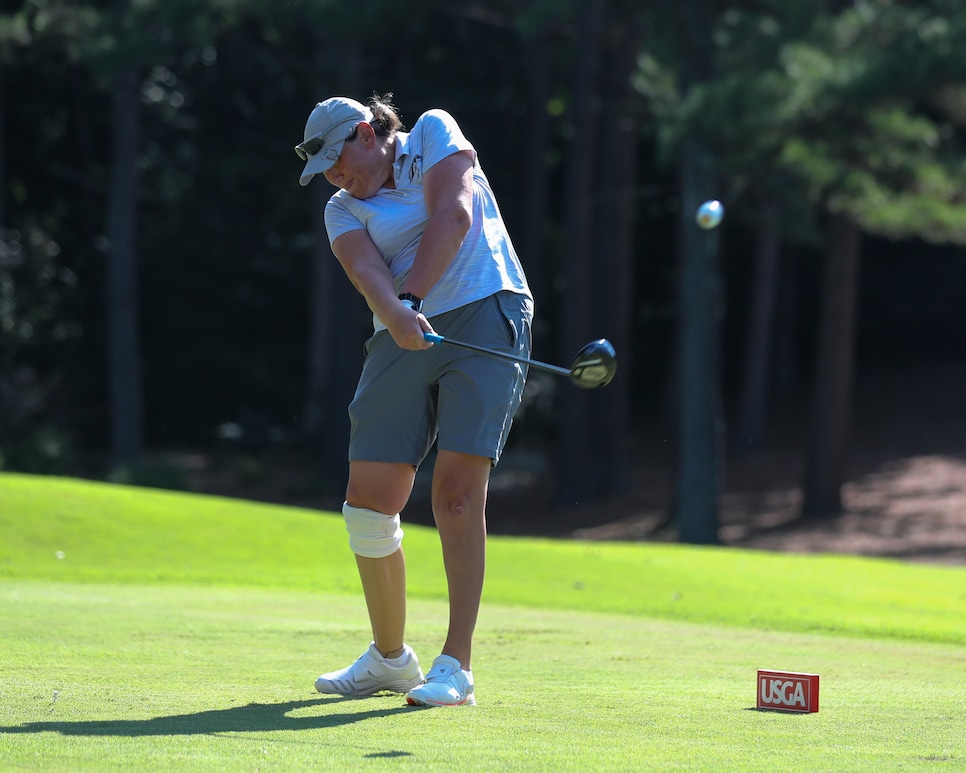 Kim Moore hits her drive on the first hole during the final round at the 2022 U.S. Adaptive Open.
Jeff Haynes
In capturing the women's title, Moore shot rounds of 76-80-76 to finish at 16 over and beat Ryanne Jackson (neurological impairment) by eight strokes. Moore is the Western Michigan women's golf coach and was born without a lower right leg.
The other women's category medalists were: Cathy Walch (arm), Grace Anne Braxton (intellectual), Cindy Lawrence (multiple limb), Annie Hayes (seated) and Amanda Cunha (vision).
The men's category medalists: Pfeifer (leg), Conor Stone (arm), Jordan Thomas (multiple limb), Kipp Popert (neurological), Dennis Walters (seated), Kurtis Barkely (short stature), Kiefer Jones (vision).