Countdown to Whistling Straits
Ryder Cup watch: The case for Will Zalatoris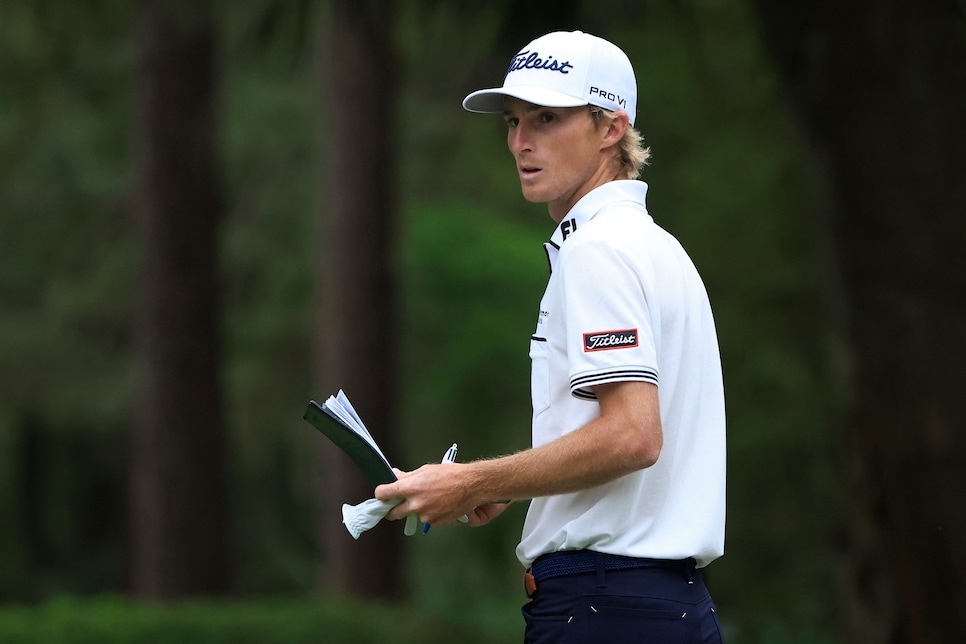 TV networks seem intent on framing the men's golf season through "marquee events," or something along those lines. It begins with—their words, not mine—the Players Championship, meanders around the four majors (with a pit-stop at the Olympics), runs through the FedEx Cup playoffs and, finally, finishes with the Ryder Cup.
By that metric, we are just two-sevenths through the year. By another metric—total PGA Tour events—we are already into the second half of the 2020-21 wraparound season. That is a lot of calendar talk, all of which is to say: the Masters is now in the rearview mirror and the golf season is, as always, racing by.
With that in mind, and with this being Zurich Classic week—a semi-breather amid the madness, albeit one that does employ both fourball and foursomes—now feels an appropriate time to take stock of the Ryder Cup picture.
Like, the first tee of a Ryder Cup.
After playing in the final group on Saturday, he said he thought he'd be more nervous than he was. And, having been in the room when he said that, you couldn't help but believe him. The kid has that kind of juice.
The general golf public may have just become familiar with Willy Z—that's a thing, by the way—but he's been rubbing shoulders with golfing elites since he was a kid. When he was 6, he got a lesson from Ken Venturi. As a teenager, he got tips from Lanny Wadkins. He trains with Jordan Spieth, plays money games with Tony Romo. He was born in San Francisco and bred in Dallas, but doesn't it seem like he has a bit of Hollywood in him? That, of course, is a good thing in a lights-camera-action event like the Ryder Cup.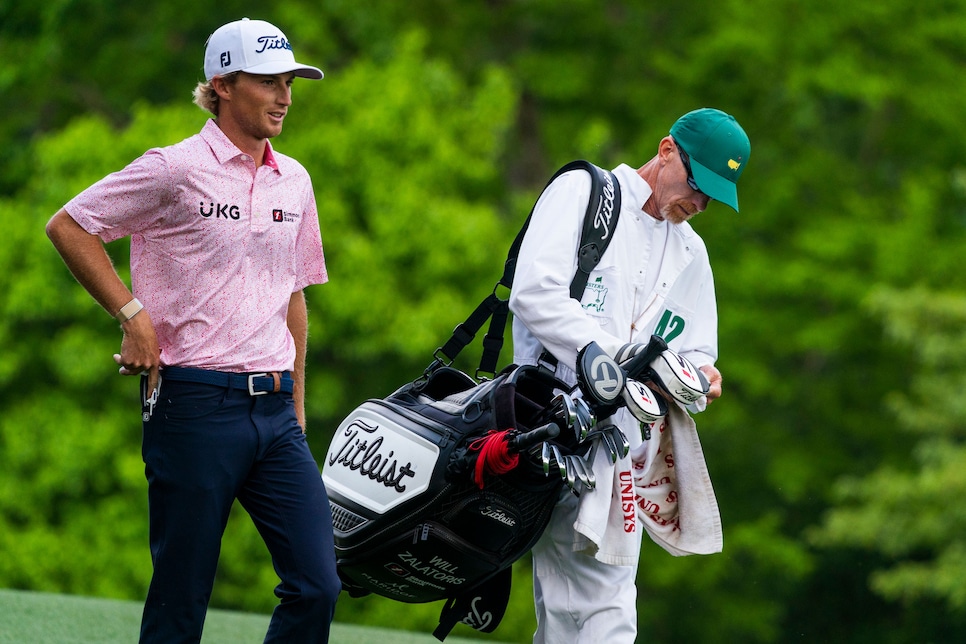 Will Zalatoris' impressive runner-up finish at the Masters, after a top-10 finish at last year's U.S. Open, suggests the 24-year-old can handle pressure moments.
JD Cuban
And despite being six months older than Collin Morikawa (wrap your head around that), Zalatoris has rookie energy, another key component in the perfect team-room potion. Now, will he continue on this heater that has taken him from the Korn Ferry Tour to No. 27 in the world in the span of seven months? Golf greatness is fleeting. Players get hot and players get freezing cold. But if the Ryder Cup were today, it's hard to imagine him not being on the team, even if he's only 18th in the latest standings. Which is absolutely, completely and totally wild when you consider where he was in his golf career this time last year.
So let's take a peek at who might join him—or, put differently, who he might join—at Whistling Straits. A reminder that the U.S. team will have six automatic qualifiers and six captain's picks, while Europe will go with eight autos and four captain's selections.
U.S. Points Standings (top six automatically qualify)
LOCKS: Johnson, DeChambeau, Thomas, Morikawa, Schauffele, Finau
No change here among the locks, though do we dare suggest a certain JS may be getting close? More on that in a second. Johnson's clearly working through some issues with his game, and he'll have been bitterly disappointed (at least by DJ standards) to have missed the cut in his Masters title defense, but nice to see him play some solid golf at the Heritage last week (T-13 finish). … Morikawa's putting is a topic for another time, but a concerning one nonetheless. After finishing T-18 the Masters, he came in T-7 at the Heritage while losing 2.5 strokes putting again. If he putted at a tour average level ever week, he might already be World No. 1. … The Masters was near-miss in a huge spot for Schauffele, but he deserves credit for mounting a late Sunday charge, and he now has eight top-10s in 15 major starts. … Finau now has top-10s in eight of the past 12 majors after a quiet T-10 at the Masters
STOCK UP: Stewart Cink, Will Zalatoris, Jordan Spieth, Brian Harman
How did it take us this long to acknowledge the drippy faucet on my Stewie Stewie Cink? (For our younger, and older, audiences: that's a Golf Boys reference).
The 47-year-old became just the fourth player ever—ever!—to be at least 47 and win multiple times in a PGA Tour season. And yet he's still just 24th in the point standings, so he's facing a steeply uphill climb to qualify automatically. Sports fans are prisoners of the moment as a general rule, and there's a good chance the Stewart Cink-Ryder Cup talk looks rather silly in a few months. But the only other guy with multiple wins this season is DeChambeau, so Mr. Drippy Faucet absolutely deserves a mention. … Spieth is playing like a top-five player in the world at the moment, and he's going to be on the team unless he falls back into … actually, we're just not going to go there. … Harman has continued his heater—following up his T-3 at the Players with a T-5 at the WGC-Dell Match Play, then a T-12 at the Masters and a T-13 at the RBC Heritage—but he's going to need to qualify on points if he has any chance, and he's behind Cink.
STOCK DOWN: Patrick Cantlay, Kevin Kisner, Brooks Koepka, Matthew Wolff
Cantlay was once again a trendy pick going into the Masters, but he looked awful in shooting 79-73, then missed the cut again at the Heritage. … We said in the last Ryder Cup column that Kisner deserves a crack based on his match-play medal (and the brutal U.S. record when going chalk with its captain's picks) but he's missed the cut in each of his last three events. … Koepka showed some serious toughness in being ready for the Masters just weeks after knee surgery, but he looked in real pain, missed the cut, and who knows when he'll play next. … It seems Wolff is going through something non-physical, and he was DQ'd from the Masters after signing an incorrect scorecard.
IF SELECTIONS WERE TODAY, TEAM PREDICTIONS: Johnson, DeChambeau, Thomas, Morikawa, Schauffele, Finau, Spieth, Reed, Simpson, Zalatoris, Scheffler, Cantlay
Euro points standings (top four auto qualify)
World points standings (top five not qualified off Euro points)
LOCKS: Hatton, Rahm, McIlroy, Casey, Hovland, Fitzpatrick
Only change among the locks is Sergio Garcia is out, and Fitzpatrick is in. With his T-4 at the RBC Heritage, the Englishman has finished in the top-11 in five of his last seven starts and now sits an ultra-impressive seventh in strokes gained overall on the PGA Tour. … McIlroy's game is in disarray right, and the missed cut at the Masters felt like a low point, but he's Rory McIlroy. … Hatton finally made a cut in a major after missing the weekend in his last three. … Rahm shot up the Masters board with his 66 on Sunday, but we're still waiting for him to contend for a major.
Fitzpatrick is in the midst of a hot streak in PGA Tour events.
Harry How
STOCK UP: Robert MacIntyre, Justin Rose, Shane Lowry
MacIntyre eeked out a T-12 in his first Masters, just enough to guarantee a return ticket in 2021. … Rose hung around the top of the board for most of the weekend at Augusta thanks to his opening-round 65, but it was his first start after a back injury and it was still a top 10 in a major. … Lowry got a raw deal with the Ryder Cup not happening last year, as his '19 Open Championship win would have all but guaranteed him a spot, but he's got two top-10s in his last five starts and is seeing his game come back around.
STOCK DOWN: Garcia, Fleetwood, McIlroy
Yet another missed cut for Garcia at a major—he's now missed the weekend in 10 of his last 12 major starts, a horrific stat, and he followed it up with another MC at the Heritage. … Fleetwood still doesn't have a top-10 in a stroke place event since the Honda Classic last February, and he went T-46/MC at Augusta and Harbour Town. … If McIlroy doesn't figure it out by Whistling Straits, Pete Cowen will have some explaining to do.
IF SELECTIONS WERE TODAY, TEAM PREDICTIONS: Rahm, McIlroy, Hatton, Hovland, Fitzpatrick, Casey, Garcia, Fleetwood, Westwood, Perez, Lowry, MacIntyre