Countdown to Whistling Straits
Ryder Cup stock watch: Is it time to pencil Kevin Kisner on the U.S. team?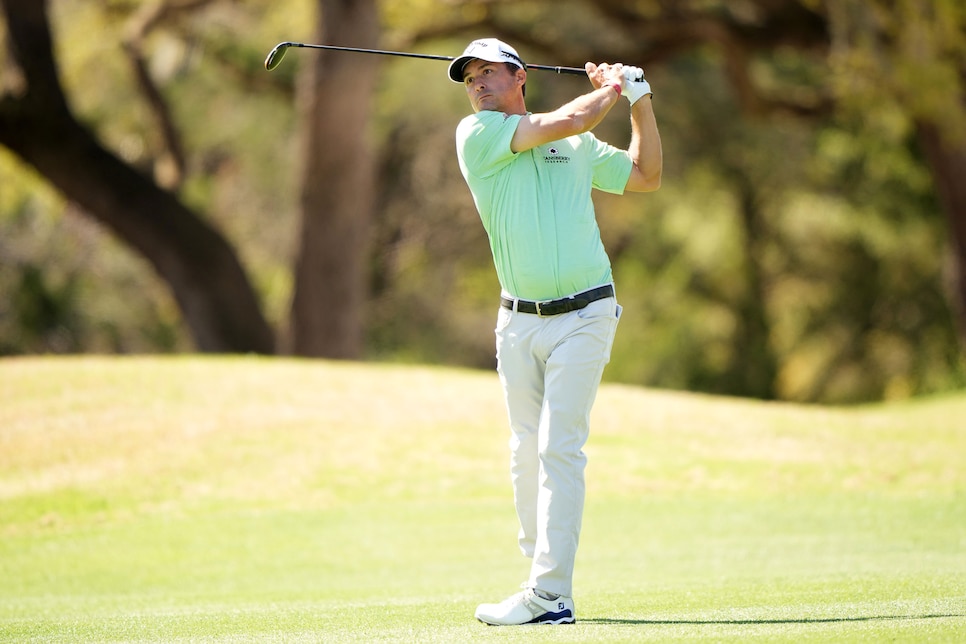 Welcome to the first edition of the Ryder Cup stock watch, where we'll periodically take a look at how the U.S. and European teams are shaping up heading into this year's match at Whistling Straits:
The snow is melting and baseball is starting, which usually means one thing: the attention of the golf world is turning to a certain upcoming golf tournament in Georgia.
Yes, we're just 10 days away from the first round of the Masters. But a week of head-to-head combat at Austin Country Club has our attention on another massive event on the golf calendar, albeit one that does not begin for nearly six months.
In September, Wisconsin native Steve Stricker will captain the United States side in his home state as the Americans try to take back the Ryder Cup from Europe, led by Padraig Harrington, at Whistling Straits. Billy Horschel put together quite the audition tape to make that team this past week at the Pete Dye layout (note: Whistling Straits is a Dye course, too), where he went 6-1-0 en route to the WGC-Dell Technologies Match Play title.
The question, then, is just how much weight should we put into the lone match-play event we'll see between now and the matches in September? Will Horschel's victory—and, for that matter, the strong showings from runner-up Scottie Scheffler and third-place finisher Matt Kuchar—make a lasting impact on Stricker, or will it fade from memory with each passing month?
This all speaks to a larger dynamic at play: Whether Stricker and Harrington will prioritize match-play prowess—assuming, of course, that is a real thing—or current form. The two captains for the last Ryder Cup, the 2018 shellacking at Le Golf National, provide an interesting case study in divergent captain's pick strategies.
Jim Furyk went the "hot hand" route with the Americans. Back then, he had four picks—Stricker will have six at his disposal this time—and Furyk essentially took the four best players who didn't qualify on points: Bryson DeChambeau, Phil Mickelson, Tiger Woods and Tony Finau. They finished ninth, 10th, 11th and 15th in points, respectively. DeChambeau had just won the first FedEx Cup playoff event. Tiger had contended in the year's final two majors and had re-established himself as one of the five best players in the world. Mickelson had won a WGC earlier that year and sat inside the top 25 in the World Ranking. And Finau went runner-up/T-4/T-8 in the first three playoff events to secure the fourth and final captain's pick.
At the time, there wasn't much blowback after the selections, because they made the most sense on paper. Furyk essentially ignored any match-play history or course fit—Le Golf National was tight as hell with extra-penal rough, and neither of those four are particularly straight hitters—and stuck with his guns.
It, uh, didn't work out. The four captain's picks combined to go 2-10-0 with only Finau winning a match, and the Americans were blown out 17½-10½.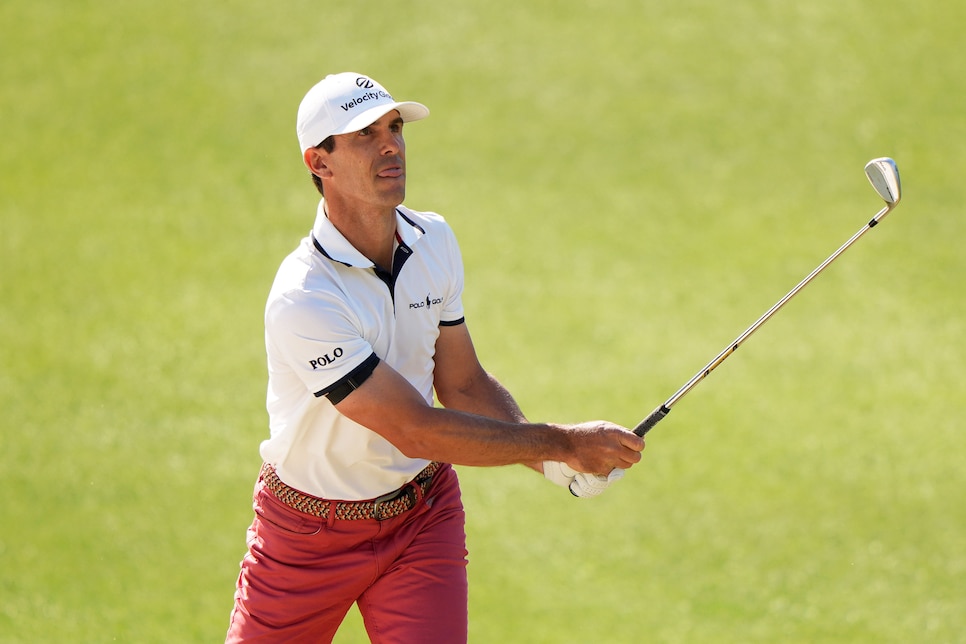 Despite his win at the WGC-Dell Match Play, Horschel is only 11th in the Ryder Cup points standings with the top six earning automatic spots.
Darren Carroll
Contrast that with how the European captain, Thomas Bjorn, approached his picks. Instead of going with younger, higher-ranked players like Matt Fitzpatrick or Matt Wallace, Bjorn went back to the old guard and picked four guys with heaps of Ryder Cup experience and games well-suited to the venue: Paul Casey, Sergio Garcia, Ian Poulter and Henrik Stenson. These four combined to go 9-4-1 as the Euros cruised to victory.
Of course, that sample size is extraordinarily small. But those results, coupled with a week where 19 of the top 20 seeds just failed to get out of group play in Austin, makes one thing clear: Going straight off rankings when picking a team that's about to compete in match play does not seem to be a particularly smart strategy. Furyk was essentially counting on stroke-play form carrying over, whereas Bjorn banked on the notion that match-play golf is an entirely different undertaking—that leader boards for a 72-hole stroke-play event in Boston would have little to no impact on the Ryder Cup in France.
All this to say, it will be fascinating to see how Stricker handles his six picks this time around. The semis in Austin featured three Americans who are well outside the six automatic qualifying spots: Horschel, Kuchar and Scheffler. There's also Kevin Kisner, who went 2-1 in group play to improve to 16-6-1 at the Match Play, and went unbeaten in his only Team USA start at the 2017 Presidents Cup. Kevin Na showed some (rather petty) fire in calling out Dustin Johnson and then birdieing three of his final four holes to win the match. Brian Harman made the quarterfinals and looks like the type to relish the mano-a-mano dynamic. Ryan Palmer is surging.
By the end of the Tour Championship in September, when Stricker makes his six picks, there are likely to be roughly 10 Americans who don't qualify on points who will be inside the top 25 in the World Rankings. So will Strick go chalk? Or will he heed the lesson from 2018 and stop treating a match-play competition like a DFS lineup for a stroke-play event?
With that in mind, here's a look at the current Ryder Cup pictures for both squads.
U.S. Points Standings (top six automatically qualify)
LOCKS: Johnson, DeChambeau, Thomas, Morikawa, Schauffele, Finau
Incredibly, these are the only six who seem all but assured a spot. And we're not saying that they'll necessarily qualify automatically—there's an enormous amount of golf left between now and August, and six auto-qualifying spots is not very many. But we'd be shocked if they're not in Wisconsin one way or the other. DJ remains the No. 1 player in the world and will undoubtedly snap out of this semi-funk. DeChambeau, despite his putrid 1-9 match-play record, is going to make it on points because he's going to win probably twice more before August. Schauffele is a top-10 machine and will likely qualify on points as well. JT was one of the few bright spots for the U.S. in France and, well, he's JT. Morikawa is a tentpole for the future, starting this year. And Finau is too consistent and makes too many birdies to overlook.
That leaves six open spots for every American not listed above.
STOCK UP: Billy Horschel, Matt Kuchar, Kevin Kisner, Scottie Scheffler, Brian Harman, Will Zalatoris, Jordan Spieth
The first five had great showings in the match play, and Harman finished T-3 at the Players in his start prior. Kuchar is a particularly intriguing candidate—he doesn't have a top-10 finish in stroke play on the PGA Tour in more than a year. But he's 34-11-4 in the WGC-Match Play and he's played on four Ryder Cup teams and double but he's a combined 1-7-1 in singles matches in Ryder Cups and Presidents Cups. If Kisner doesn't get a crack at this Ryder Cup, given his match-play chops and team-room vibe and the Americans' putrid recent record, something is wrong with the system. The Zalatoris train, which started on the Korn Ferry Tour last summer, continues to push ahead full-steam, as he just played his way into the Masters by being inside the top 50 in the World Ranking. Spieth is fully back and the oddsmakers have him listed among the five favorites at the Masters, which is a little bit much but not that much given how he's looked in his last five starts.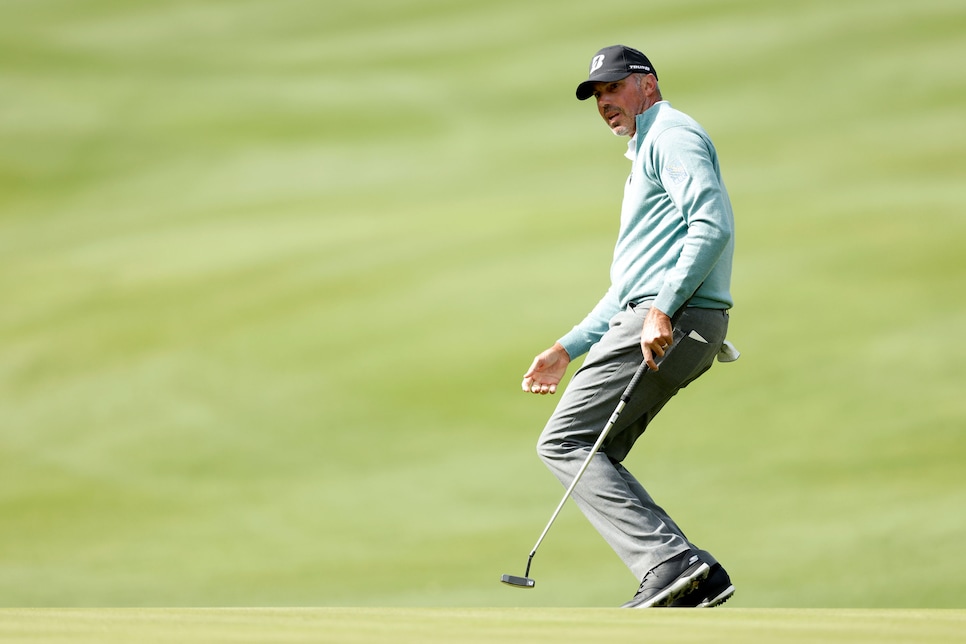 Kuchar's record at the WGC-Dell Match Play makes him a hard player for captain Steve Stricker to ignore.
Michael Reaves
STOCK DOWN: Brooks Koepka, Matthew Wolff, Patrick Reed
Depending on how much stock you want to put into which tweets, Koepka is either on track to play the Masters or dealing with a months-long injury. Time will tell. It was great to see Wolff back in action this week after he missed the Players, but he's struggling with a pretty wild two-way miss and seems to be a bit lost at the minute. Reed's status as a match-play killer is on life support—he put up a stinker in a must-win match against Joaquin Niemann in group-play on Friday, and he went 1-2 at the last Ryder Cup and 1-3 at the last Presidents Cup. It should be noted, though, that the wins both came in singles.
IF SELECTIONS WERE DUE TODAY, TEAM PREDICTIONS: DJ, DeChambeau, Thomas, Morikawa, Schauffele, Finau, Spieth, Kisner, Reed, Simpson, Scheffler, Cantlay
Euro points standings (top four auto qualify)
World points standings (top five not qualified off Euro points)
LOCKS: Hatton, Rahm, McIlroy, Casey, Hovland, Garcia
Hatton has a bit of a big-tournament problem going—he missed the cut in the PGA Championship, U.S. Open, Masters and Players Championship, and he looked listless this week. Rahm was the only top-20 seed to advance to the knockout rounds last week. Casey has a win already on the year and posted three top-10s in Florida. McIlroy's swing is very much a work-in-progress, as he's turned to Pete Cowen to help him out of what can now be called a slump. Hovland profiles as a match-play killer, even though he didn't have it this week. Garcia wouldn't have been a lock just a week ago, but he showed again at the match play that he's nowhere close to finished, and he's the all-time Ryder Cup points leader. He's a lock.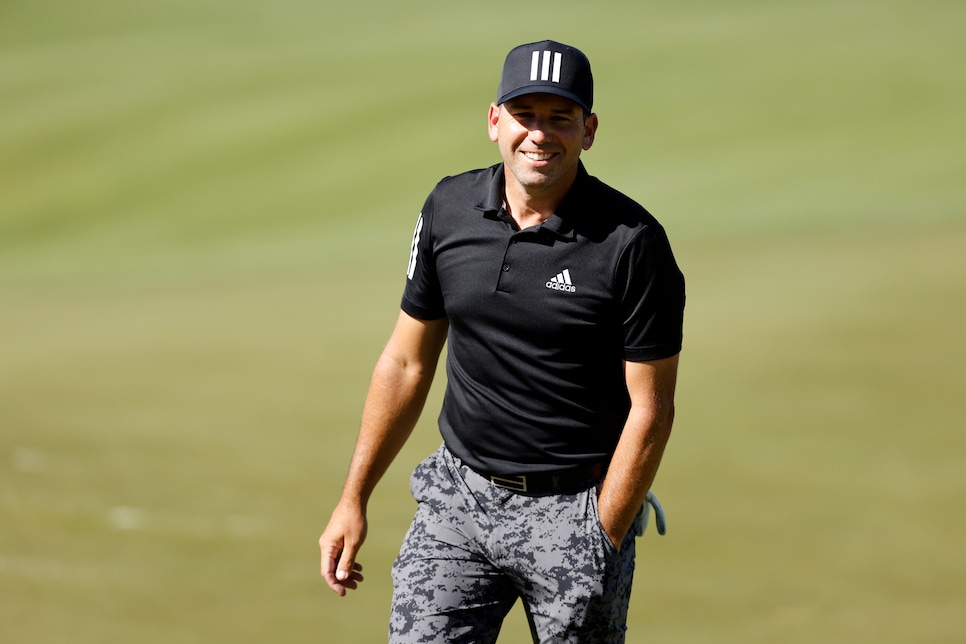 Garcia's career Ryder Cup record mkes him too hard to overlook, even if he doesn't automatically qualify for the European team.
Michael Reaves
Stock up: Westwood, Fitzpatrick, Perez, Poulter
Westwood held 54-hole leads in back-to-back weeks and finished solo second both times, an incredible accomplishment for a man turning 48 next month. Fitzpatrick has five straight finishes of T-18 or better and won two of his three matches last week. Perez showed well getting to the semis, and he has a good chance to automatically qualify. Poulter was one of two players to go 3-0-0 in the group stage, and while he lost in the round of 16, he showed he can still (and will) be an absolute thorn in the side of whoever he's playing against.
Stock down: Hatton, McIlroy, MacIntyre, Wiesberger, Rose, Stenson
Hatton and McIlroy are going to be in the team, but they're struggling a bit at the minute. MacIntyre did get out of his group and into the knockout rounds, but he did so by winning only one match and was promptly dusted, 5 and 4, by Perez in the Round of 16. His four stroke-play starts on the PGA Tour this season have resulted in T-56, T-61, T-36 and MC, and he's yet to show he can contend in world-class fields. And Wiesberger put himself in great position points-wise due to a strong 2019, but he continues to slide down the world rankings and, thus, the points list. Justin Rose has been struggling with a back injury and has not played since withdrawing from the Arnold Palmer Invitational. Stenson is in free-fall, having missed nine of his last 12 cuts and sitting at world No. 109.
IF SELECTIONS WERE DUE TODAY, TEAM PREDICTIONS: Rahm, McIlroy, Hatton, Hovland, Casey, Garcia, Fleetwood, Westwood, Fitzpatrick, Perez, Poulter, MacIntyre