Ryder Cup
Ryder Cup 2023 updates: Europe closes out 16½-11½ win at Marco Simone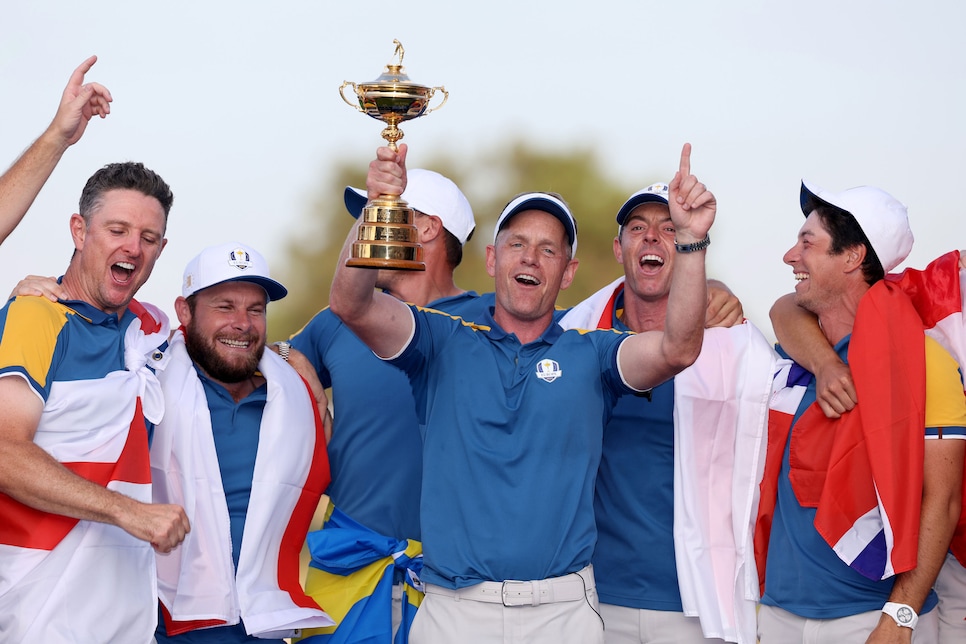 The task at hand on Sunday at the 2023 Ryder Cup is straightforward. For Luke Donald and his European team, which holds a 10½-5½ lead entering Sunday play, all that has to happen is win 4½ points in the 12 singles to claim the Ryder Cup. Similarly, the United States team knows what it must do—win 8½ points to retain the Cup and nine points to overcome its deficit and pull off the victory.
The issue for the Americans, however, is that no team has ever rallied from that big a deficit to actually pull out a Sunday win since the match's inception in 1927. Miracle? That might be extreme, but historic performance is a very accurate description of what Zach Johnson and his squad must pull off for the 30-year road victory drought to finally come to an end.
It will all play out amid the drama that closed Saturday's action and had golf fans buzzing. On the final hole in the final match of foursomes play, Patrick Cantlay pulled out an impressive win with a clutch birdie (his third straight), then unloaded a day's worth of pent-up frustration toward the constant heckling he was receiving from the crowds as a reaction to a report on why he wasn't wearing a hat. But when Joe LaCava, Cantlay's caddie joined in, it touched off a series of emotional exchanges—including a fiery video of Rory McIlroy needing to be held back by fellow teammates—that instant infused the otherwise lopsided affair with buzz.
As was the case then the previous two days, Day 3 of the 44th playing of the biennial event comes packed with its own intrigue and drama. Below you'll find everything you need to know to follow Sunday's opening play in sunny and warm Italy. Check back throughout the day for updates and insight as golf's most compelling event continues.
WHERE THINGS STOOD STARTING THE DAY
Europe started Sunday's play with a five-point lead, 10½-5½. No team with this large a lead entering singles play had ever failed to win the Ryder Cup. A total of 28 matches (points) were on the line this week, with the U.S. needing to win 14 to retain the Cup (having won it last time) and Europe needing 14½ to win it back.
SUNDAY SINGLES TEE TIMES (all times EDT)
5:35 a.m.: Scottie Scheffler (U.S.) vs. Jon Rahm
5:47 a.m.: Collin Morikawa (U.S.) vs. Viktor Hovland
5:59 a.m.: Patrick Cantlay (U.S.) vs. Justin Rose
6:11 a.m.: Sam Burns (U.S.) vs. Rory McIlroy
6:23 a.m.: Max Homa (U.S.) vs. Matt Fitzpatrick
6:35 a.m.: Brian Harman (U.S.) vs. Tyrrell Hatton
6:47 a.m.: Brooks Koepka (U.S.) vs. Ludvig Aberg
6:59 a.m.: Justin Thomas (U.S.) vs. Sepp Straka
7:11 a.m.: Xander Schauffele (U.S.) vs. Nicolai Hojgaard
7:23 a.m.: Jordan Spieth (U.S.) vs. Shane Lowry
7:35 a.m.: Rickie Fowler (U.S.) vs. Tommy Fleetwood
7:47 a.m.: Wyndham Clark (U.S.) vs. Robert MacIntyre
For our instant analysis of the pairings, click here.
It's tricky to get a real sense of how the session would play out too early, but after all the matches got through at least five holes, some clarity appeared. Europe needed four points, and got one early when Hovland beat Morikawa, 4 and 3.
Meanwhile, McIlroy was in control in his match with Burns, so Europe's point there seemed assured—and was locked in when McIlroy closed out the match on the 17th, winning 3 and 1.
That meant the first match off between Rahm and Scheffler, a repeat of their singles clash in 2021 (won by Scheffler), turned pivotal in terms of the comfort level for either team as the remainder of Sunday played out. It was a see-saw affair throughout, Rahm going 2 up after five holes but Scheffler fighting back to take a lead after 11, then Rahm coming back, then Scheffler coming back to take a 1-up lead through 15 holes with this birdie.
They tied the drivable par-4 16th hole with birdies and the par-3 17th with pars.
On the par-5 18th, Scheffler missed the green right with his second shot while Rahm hit the green in two, 90 feet from the hole. Scheffler, however, hit his chip over the green, while Rahm nearly holed his eagle try. When Scheffler failed to hole his birdie pitch, Rahm won the hole, tied the match … and grabbed a half-point.
For American fans, there were positives coming. Specifically in the play of Cantlay, who continued the momentum he built on Saturday to close out Rose with a 2-and-1 win (Rose making things sort of interesting on the back nine after being 3 down through 11 holes).
At this point (10:01 a.m. Eastern), Europe was leading 13-7, needing 1½ points for the win. The question was where would they come from. Hatton eventually got one, winning his match over Harman, 3 and 2, to claim his first ever Ryder Cup singles win.
So then the attention went to the Homa-Fitzpatrick match, Homa 1 up with one hole to play. If Fitzpatrick could win the 18th hole, that's the half-point needed to clinch the Cup for Europe. And it became a much bigger possibility when Homa's second shot on the par-5 home hole ended up in a crazy spot next to the greenside bunker, forcing him to take an unplayable lie.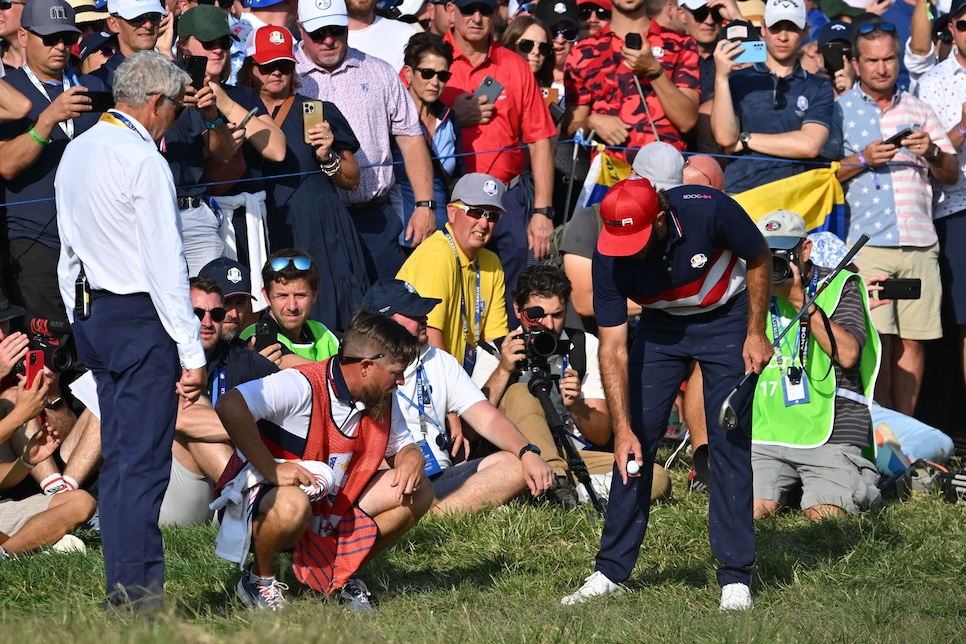 To Homa's credit he played a solid flop shot leaving himself eight feet to save par. Fitzpatrick had a birdie try from 15 feet to win the hole, tie the match and win the Cup, but missed. So then Homa had to make the par putt to keep the European win from happening. And, well, just as he had all week, he came up clutch.
OK ... now where would the last half-point for Europe come from? The Americans grabbed two more points with wins by Koepka and Schuaffele to get the score to 14-10. The remaining four matches were all tight. And if the U.S. somehow pulled out them all out for wins? Well, that would mean a 14-14 tie and the U.S. would retain the Cup.
But that possibility ended on the 16th hole when Fowler, 1 down to Fleetwood, hit his tee shot on the drivable par-4 hole into the water. When Fleetwood drove the green, he was able to win the hole—with a surprising concession from Fowler—and guarantee a tied match with the American. That guaranteed that last half point for Europe …
... which became a full point when Fleetwood closed out the match on the 17th hole, 3 and 1.
Thomas gave the U.S. its 11th point when he closed out his match with Straka on the 18th hole, 2 up. And Europe got another full point in McIntyre's win over Clark. When Lowry and Spieth tied the last match, the final result was in.
Europe is the winner, 16½-11½.
Luke Donald was pressed into service a little more than a year ago to be a replacement captain for Europe when Henrik Stenson jumped to the LIV Golf League. Needless to say, Donald proved a more than capable leader, organizing an efficient structure with his vice captains and then allowing his 12 players to thrive at Marco Simone. Not surprisingly, then, his players appreciated what Donald did for them to succeed, and offered this show of support for a possible second captaincy in 2025 at Bethpage Black.
The question on Sunday morning was whether the drama of Saturday night would carry over. If you listen to the reports on NBC, however, the vitriol has simmered. Steve Sands reported that on Saturday night Joe LaCava was in touch with Rory McIlroy and his camp via text to try to work things out. According to Sands, LaCava asked to meet with McIlroy face-to-face on Sunday morning, and after that meeting, the powderkeg had been defused.
The problem? McIlroy after winning his match with Sam Burns, 3 and 1, told NBC's Cara Banks that he DID NOT meet with LaCava in the morning.
We'll see too if the crowds allow this storyline to become reunited. Their support for McIlroy was evident on the first tee Sunday as he prepared to play Sam Burns.
Whether a sign of solidarity with Patrick Cantlay or not, Collin Morikawa decided not to wear a hat during his Sunday singles match with Viktor Hovland.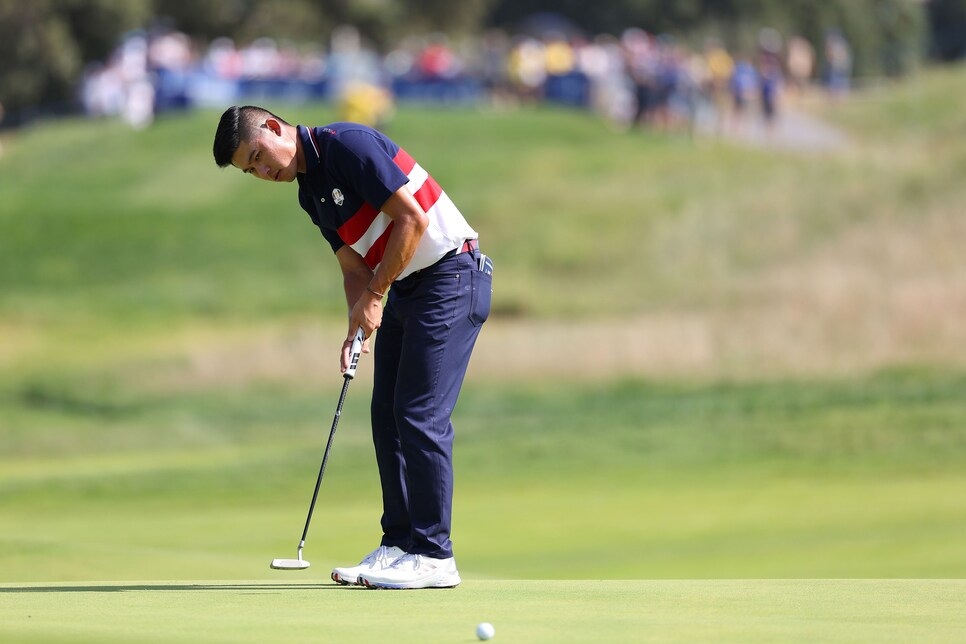 And Justin Thomas didn't have his cap when he teed off in his match with Sepp Straka.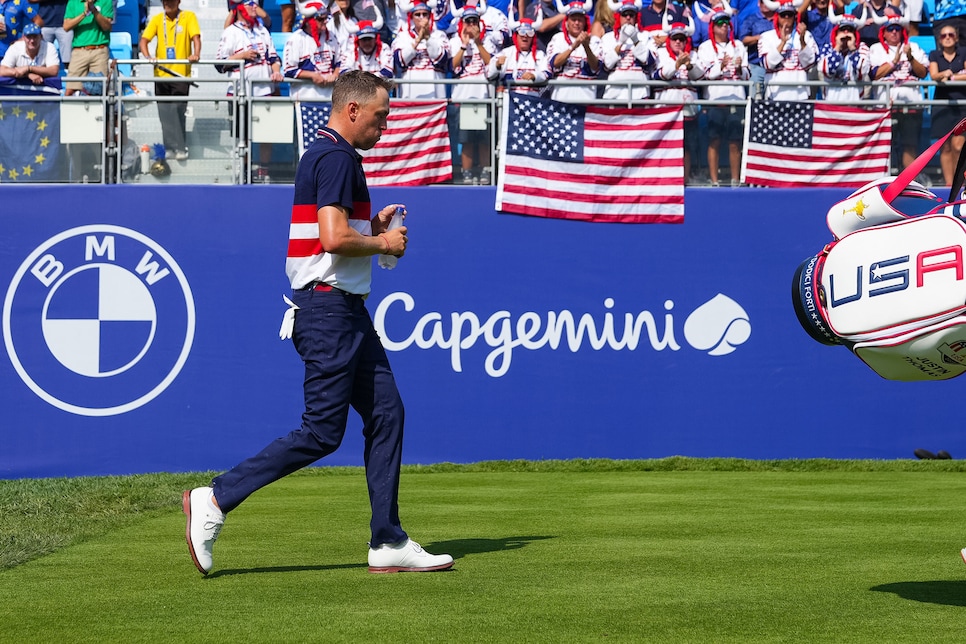 Darren Carroll/PGA of America
RECAPPING STORIES FROM SATURDAY
OK, here's the catch-up from Saturday:
• Joel Beall with the scoop on Patrick Cantlay's day, the reaction to a report gone viral, his denial of any Ryder Cup boycott and locker-room fracture.