Ryder Cup
Ryder Cup 2023: Patrick Cantlay denies report of Ryder Cup protest and locker room fracture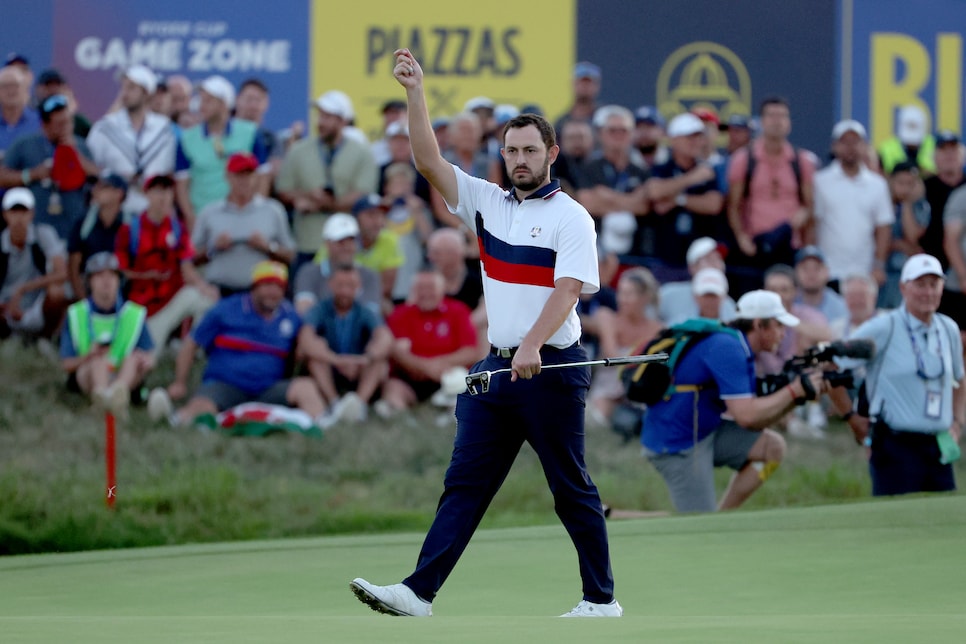 Patrick Cantlay gestures in celebration of winning match 1-up during the Saturday afternoon fourball matches.
Jamie Squire
ROME — If the United States pulls off the unthinkable Sunday at the Ryder Cup, they may have a possibly manufactured controversy to thank.
On Saturday, as the Americans again struggled during foursomes against the Europeans at Marco Simone, a report emerged from Sky Sports that claimed the U.S. locker room was "fractured," with Patrick Cantlay the cause of the split. Sky Sports also reported that Cantlay was not wearing a hat during the matches out of protest, believing players should be paid for their participation in the Ryder Cup, and that Cantlay had his own space in the locker room separate from the rest of the team.
Multiple sources close to the United States team and with Cantlay's camp told Golf Digest the report is false. It's also worth noting this is not the first time Cantlay has gone hatless at a U.S. team event, with Cantlay playing without a cap at the 2021 Ryder Cup at Whistling Straits.
However, news of the report spread across the Marco Simone property Saturday, to the point that fans were taking their hats off and waving them in Cantlay's direction on the back nine. Cantlay responded by winning the final two holes of his match against Rory McIlroy and Matt Fitzpatrick, and after dropping a long birdie on the 18th Cantlay mimed a cap-tip to the crowd while his teammates took their hats off in appreciation.
After the round, Cantlay was asked about the reports and explained he was hatless for a simple reason.
"The hat doesn't fit," Cantlay said. "It didn't fit at Whistling Straits, and didn't fit this week. Everyone knows that." When a follow-up asked why he wasn't wearing the hat in a team photo, Cantlay responded, "I was going to go no hat all week regardless, so I figured would I keep it consistent." When Cantlay was asked if players should be paid for Ryder Cup week, Cantlay said, "It's not about that. It's just about Team USA and representing our country. That's all I've got to say about that."
Cantlay later added about the supposed protest, "Not at all. This is the first I heard of it right when I got off the green. That's the furthest thing from the truth."
Cantlay did acknowledge, however, he was having fun going back and forth with the crowd about his lack of hat.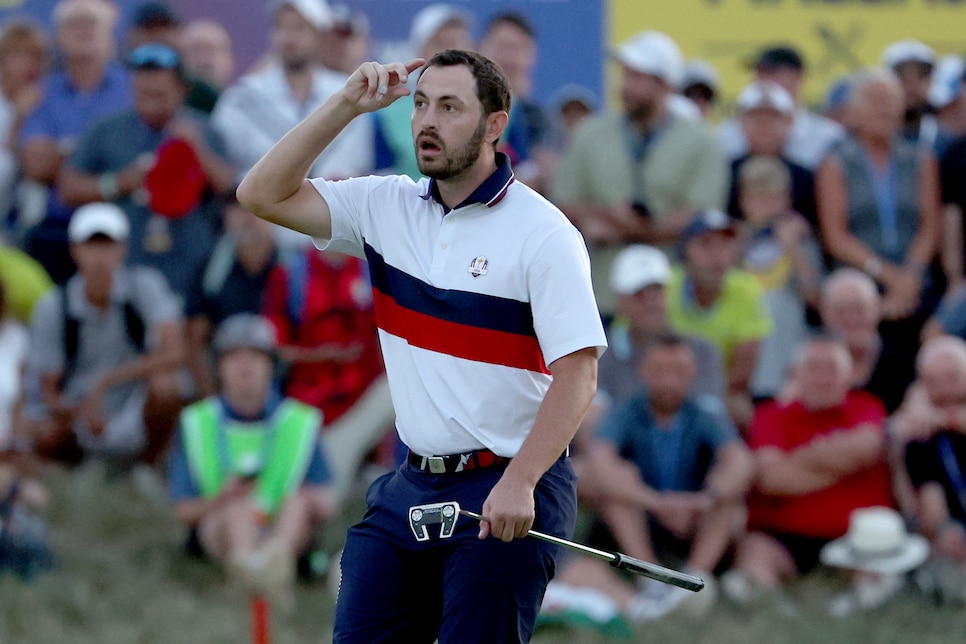 As for reports of team discord, multiple U.S. players refuted the report of any fracture within the club at a press conference.
"Y'all just don't quit, do ya," Brian Harman said. "We love each other, man. It's been the most fun getting to hang out with these boys. Whatever happens tomorrow, I mean, love you boys."
"Think you're putting too much into the hat," Wyndham Clark added.
"They said it on Twitter, though, so it has to be," Harman said, with Cantlay adding, "If it's on Twitter, it's true. Verified."
When players were then asked about Zach Johnson's Friday comments that the team was feeling under the weather, Max Homa replied, "I think we are all just sick of Pat not wearing a hat." Homa then added, "I've just been really enjoying my time with my teammates. It's been a blast. Win or lose, I think you do need to soak in how fun this week is. It's obviously a lot more fun when you're not getting beaten.
"But I've had a really enjoyable time. I feel like everybody I played with has let me just go be me, and I've been fortunate to hole some putts when I needed to. But yeah, obviously you can only do so much of your—in your control. As Brian taught me this morning, we are just going to focus on left foot, right foot. We might be a bit behind, but we can take that "one shot at a time" cliché.
"So it's been enjoyable to be out there and staying in the moment. And there's been more blue than red, but I really do believe that this team is very unified in their goal to just kind of take it one shot at a time, trust how good you are and the person next to you is.
"So it's been cool to see everybody bond over that."
After facing a 9½-2½ deficit after three sessions, the Americans won Saturday's afternoon fourballs session 3-1, giving them a chance for a historic comeback Sunday.
"We've been on a mission all week," Cantlay said. "We are going to be on a mission tomorrow."
MORE FROM GOLF DIGEST @ THE RYDER CUP