ROME — You could argue that a report card should come after an event is actually over, but as with Whistling Straits two years ago, we find ourselves in a position where the event is tipping toward a conclusion before anyone hits a shot in Sunday singles. This time it's the Europeans who have run the metaphorical thresher through the American wheat stalks (sorry, we're running out of ways to describe a blowout), falling only a half point short of the record-tying 11-5 margin at Whistling Straits on Saturday night. If not for Patrick Cantlay, it could have been even worse.
And so, with another potentially irrelevant Sunday looming, we decided we may as well press forward with our grades. Let's take the measure of all 24 players, starting with the dominant Europeans and going in alphabetical order.
The biggest thing Aberg had to do this Ryder Cup was handle the pressure. Luke Donald knew he had the game to compete, but to justify his confidence, the Swedish rookie had to prove he could stand the spotlight. He performed admirably after a shaky first nine Friday morning, and collected two wins with Viktor Hovland before tiring out Saturday afternoon. He's known for his driver, but his putter was equally strong, and he looks like an asset for Europe for years to come.
Matt Fitzpatrick (1-1-0): B+
On one hand, Fitzpatrick was a fire-breathing demon in his first fourball match with Rory McIlroy, finally ending his longstanding Ryder Cup curse and earning an easy (and big) win. He was, in fact, the best player of the entire session by the stats. So why is he a B+? Because, in the final match of Saturday, he somehow left a putt short that basically could have won the Ryder Cup for Europe. They're still fine, and I wouldn't knock Fitzpatrick if he had missed, but to leave it short? That's an inexcusable moment.
Tommy Fleetwood (2-1-1): A-
Fleetwood's analytics weren't off the charts, but it seemed like every time you looked up, especially during his foursomes matches with McIlroy, he was holing a chip or draining a long putt or being clutch in some specific way. The two morning wins not only helped his team, but jumpstarted Rory in the wake of his ugly performance at Whistling Straits. That's almost as important as anything else; in many ways, Fleetwood delivered.
Tyrrell Hatton (2-0-1): B+
This was an incredibly solid Ryder Cup for Hatton, who had the good fortune of teaming up with Europe's two best players—Rahm and Hovland—but played well alongside them and contributed more than his share, including a huge putt on 16 to maintain a lead with Rahm on Saturday morning. This is already the first time in three tries that Hatton has won more than one match in a single Ryder Cup.
Nicolai Hojgaard (0-1-1): C+
Hojgaard came out on fire in his first fourball match Friday with Jon Rahm, making a ton of early birdies to stake his team to an early lead. He faded late under some intense pressure, but he had the wherewithal to tell Rahm to "do it for Seve" just before his huge eagle putt. All in all, he acquitted himself decently for a rookie who slipped into the last captain's pick.
Viktor Hovland (2-1-1): A-
From the first hole of the Ryder Cup, when Hovland chipped in to send the crowd into hysterics, he proved he was ready to turn his Ryder Cup career around after a disappointing 0-3-2 effort at Whistling Straits. Not only did he bring his own game, but he played guide to rookie Ludvig Aberg, the rookie with quite a bit of pressure on him. Hovland finished second only to Rahm in stokes gained, was phenomenal tee to green, and only tired out at the end with a tough loss to Burns and Morikawa.
Lowry gets some credit for shepherding rookie Sepp Straka to a win on Friday morning, and playing his part in Europe's 4-0 thrashing that set the tone for the entire Cup. He also clearly contributes some of that famous European team spirit on the sidelines—nobody cheers like Lowry cheers. As far as the golf, though...oof. The iron play is the only bright spot for Europe's second-worst player by strokes gained metrics and the eye test (hit a few good ones early on Friday). Otherwise, he didn't do much on the course to justify Donald's semi-controversial captain's pick.
Robert MacIntyre (1-0-1): C-
OK, let's be honest, the guy was extremely off form and wasn't much help to Justin Rose in either of his matches. But hey, he kept a smile on his face, and he made a huge birdie on 13 on Saturday afternoon to help take down Spieth and Thomas. By strokes gained, he was Europe's worst player, but I can't find it in my heart to give him worse than a C- after earning 1.5 points.
This is the performance Europe has wanted from Rory for years. Until what we can accurately call a fluky loss in the last session, he was a perfect 3-0, and his ball striking was good to excellent for all four sessions. His putter left just a little bit to be desired, and he would have loved to close out the final match, but he was clutch when it mattered in almost every way. They needed him to step up, and he did.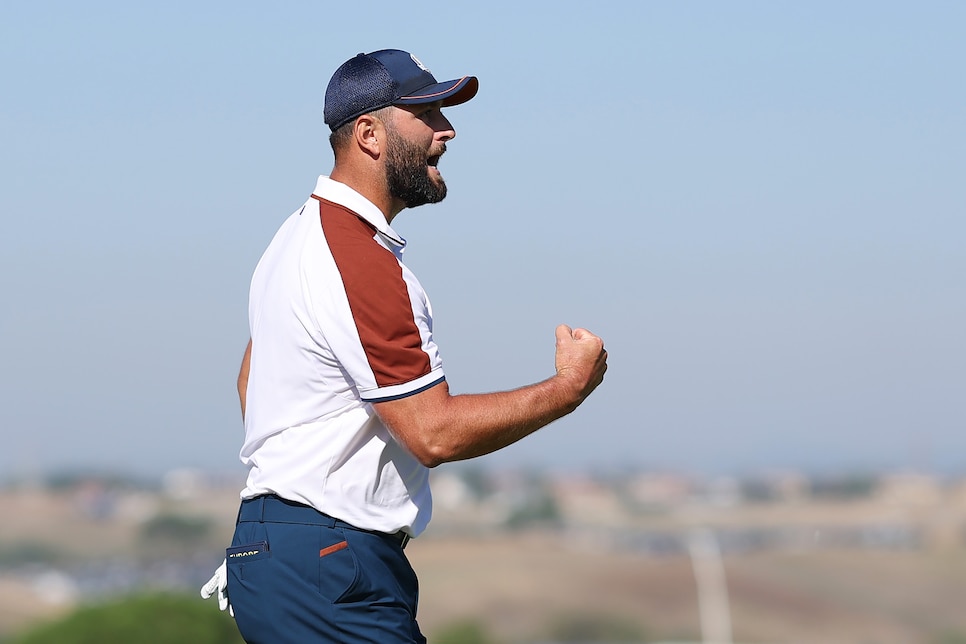 Nitpick Rahm to your own detriment. The headline here is just how clutch he was, from his eagle putt on 18 on Friday afternoon to his tee shot on 17 to secure the win on Saturday morning. His sense of the moment and tenacity are each astounding, and to top it off, he finished as the strokes gained lead on either team heading into singles. The king stay the king.
How can you give this guy anything but an A? He's 43, he was given a specific role of shepherding an extremely off-form Robert MacIntyre through two fourball matches (despite the fact that Rose has historically been best at foursomes), got very, very little help from his charge, yet somehow got points from both matches...including a late rally on Friday night and a winning putt that sent the Europeans into the night triumphant. He was spectacular.
In his rookie campaign, the Austrian teamed with Shane Lowry to go 1-1 in two foursomes sessions, but was clearly the better player in that particular duo. Despite the rapport the two shared, it wasn't exactly easy to get a point alongside Lowry, and for Straka to take a point was huge for Europe. More to the point, they'll have faith in him in 2025 at Bethpage if he's in the mix to make the team.
Burns' irons let him down in his first match with Scottie Scheffler, and seemed to reduce Zach Johnson's confidence to the point that he sat the next two sessions. Then he came out with a struggling Collin Morikawa against the 2-0 team of Hovland and Aberg, it seemed like a disaster in the making, and he caught fire, making four birdies in the first six holes to blow the Euros out of the water and lead the U.S. to a huge win. It was a terrific bounce back for a controversial captain's pick that must have had Zach Johnson breathing a huge sigh of relief.
Patrick Cantlay (1-2): A-
Cantlay seriously struggled in his opening match with Schauffele, then played well Saturday morning in the reprise but still lost. He's an A- because what came next was spectacular—a great statistical performance in fourball gave way to an unbelievable three-hole stretch capped off by a 43-foot putt that at the very least gave America an inkling of hope. It was the best moment of the entire Ryder Cup for the U.S., and entirely a one-man effort.
Wyndham Clark (1-0-1): B-
Boy, seems like Wyndham Clark really should have played a bit more, right? He was the second-best player on Friday afternoon by strokes grained, with particular strength off the tee and on the green, and to some extent he carried Max Homa at the end of his match and would have won America's first point if not for some late Rose heroics ... and, to be fair, his own disastrous approach on 18. Saturday p.m., he made huge birdies to support Cantlay, even though his overall performance was a bit subpar. The one regret will be some lackluster pressure play. All in all, solid from the rookie.
Rickie Fowler (0-1-0): D-
Fowler is the one player on the U.S. side who played just a single match over the first two pairs sessions, and that may have had something to do with the illness going around the team room. Still, we have to judge him on results, and the truth is that he and Collin Morikawa handed a point to Lowry/Straka, which wasn't the strongest team Europe had to offer. Fowler mustered almost nothing, then sat until Sunday...a disappointing end to a rebound year.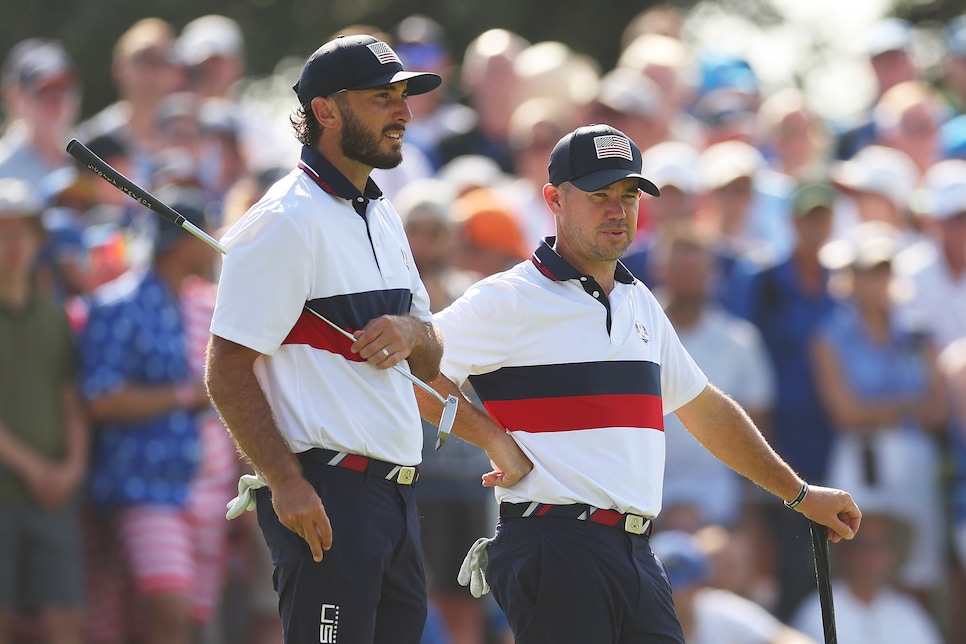 Maddie Meyer/PGA of America
Harman was unfortunately just a bit dreadful with the putter in his first ever Ryder Cup match Friday morning, and was a small part of putting the U.S. in a massive hole. But as he showed in Hoylake, Harman is resilient, and he came back Saturday to win twice with some much better golf. Granted, Harman was slightly better in their fourball match in the afternoon, but in the end even the numbers show that Harman was one of America's best performers.
Homa was one of the few bright spots for the Americans, and it's particularly impressive considering how he rebounded after a disappointing, almost lackluster match on Friday morning. He'll rue his final two holes Saturday afternoon, letting Rose and MacIntyre steal a half point, but he came back to win twice with Harman on Saturday and at least give his team some positive news amid the rout. In the afternoon, the stats show he was the best player on the course.
Koepka showed some fire on Friday afternoon with Scheffler, but let a crucial point slip away late, then proceeded to bash Jon Rahm about hitting a board—a move that made him look petulant. He followed that trash talk by getting massacred by an historical margin Friday morning, and finished in the bottom four of SG, with huge trouble off the tee. This will not go down as a banner Cup for Koepka, who also struggled in Paris with a 1-2-1 mark.
Collin Morikawa (1-2-0): C+
It was a dreadful Friday for Morikawa, who finished the day with the second worst strokes gained numbers on either team, ahead of only Jordan Spieth, and he was quite literally the worst player on the course statistically Friday morning. He was routed on Friday afternoon, but then, when things looked lost, he contributed a huge point with three back nine birdies to beat the European juggernauts of Hovland and Aberg on Saturday. It was a partial rescue of a rough two days.
Xander Schauffele (0-3-0): D
Schauffele's analytics were just slightly less dismal than others on this list thanks to a competent first session (that he still lost), but the worst part of his game was his putting, and in three straight losses, he seemed to miss every big putt he attempted—including more than a few that weren't very long. The Schauffele/Cantlay duo was incredibly important as the U.S. attempted the tall task of winning on the road, and they came away with nothing in two attempts. Add an ill-fated fourball partnership with Collin Morikawa Friday afternoon, and it was a nightmare weekend for Schauffele.
Scottie Scheffler (0-2-1): D+
The U.S. has a long history of its top players getting steamrolled at the Ryder Cup, and that history has a new chapter in Scheffler. His tears at the end of his Saturday morning foursomes session, when he and Koepka suffered a humiliating 9-and-7 loss, said it all—this was not at all how he drew it up. When Scottie struggles, we usually focus on his putting, but here even his ball-striking was relatively poor by comparison. His one bright spot, making what looked like a match-winning birdie on 17 Friday afternoon, was negated by Rahm's subsequent eagle.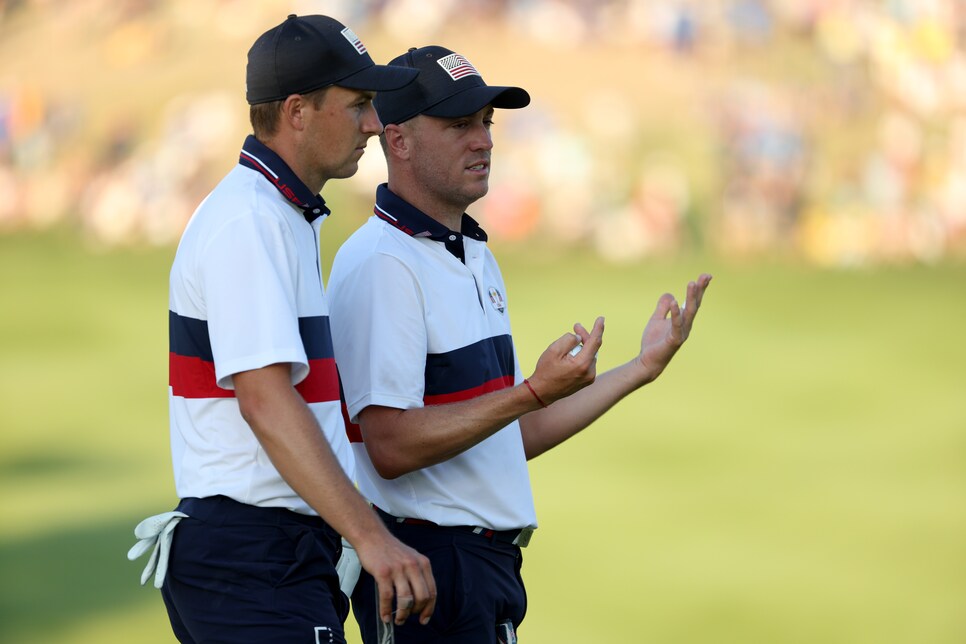 We don't have to get too complicated here; he was the worst player on the course for either team. Even in his halved match on Friday afternoon, he completely abandoned Justin Thomas late in the match and was rarely in a hole. It's a match the Americans should have won, but Thomas couldn't do it himself, and the same was true on Saturday afternoon in a match the U.S. absolutely needed; Spieth vanished. He finished with the lowest SG of anyone, and his ball-striking was abysmal.
Thomas is one of the hardest players to rate, because in all three sessions he was saddled with Spieth, the guy who was almost inarguably the worst player in the Ryder Cup. Along with the pressure of vindicating Zach Johnson's faith in him, having to carry his partner proved an extremely tall task. He did his best, almost beating Hovland and Hatton by himself Friday afternoon, and fighting gamely in both Saturday matches. But the numbers don't lie; even considering his burden, he did not resemble the match player killer he's been in events past, and his putter was the worst of it.