Ryder Cup
Ryder Cup 2023: Once dogged with questions about his temper, Jon Rahm is golf's voice of reason amid controversy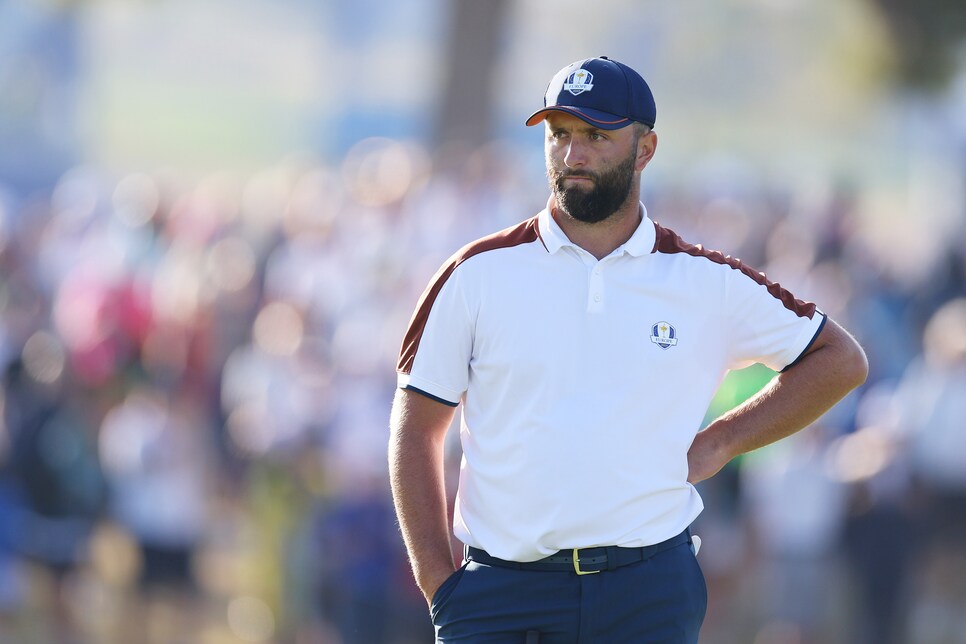 Jon Rahm looks on during the Saturday morning foursomes.
Richard Heathcote
ROME — Jon Rahm knew the questions were coming. It had been more than 16 hours since Brooks Koepka had accused him of "acting like a child" for whacking a sign in frustration at the Ryder Cup. The Spaniard is not on social media, but his friends had sent him articles of Koepka's comments.
"I wish they hadn't, to be honest," he said Saturday afternoon in his first press conference since he and Nicolai Hojgaard stole a frustrating half point from Kopeka and Scottie Scheffler.
If the golf world was looking for a fight—and let's be honest, with the Ryder Cup lopsided through three sessions, it was—the reigning Masters champion wasn't going to throw his hat in the ring. With honesty, introspection and self-deprecation, Rahm swatted away questions about Koepka like flies. There was his reaction to Koepka's accusation: "I'm not going to stand here and say I'm a perfect example on what to do on a golf course; had I seen somebody make the putt on 18 the way I did, I would not have been the happiest of people either," he said.
There was one asking the World No. 3 had a history with Koepka: "I've never had any issues with Brooks; we're both straight-up people and there's always been a mutual respect.
Truth is, the 11-time PGA Tour winner has been the voice of reason in golf for some time now, and few would have predicted it six years ago when he first joined the PGA Tour and developed a reputation for a fiery temper on course. Like at the 2017 U.S. Open at Erin Hills, where Rahm flung his wedge to the ground and kicked it. He also threw a bunker rake in the same round. It got to a point where reporters frequently asked about his demeanor. Sometimes he bristled, other times he agreed. "A lot of times I feel horrible for what I do, and I just need to learn and keep getting better," Rahm said in 2018.
He did get better, inside and outside the ropes, to the point where he has joined Rory McIlroy as the leading voices in the game, with Rahm surprisingly being a deft diplomat.
There are plenty of examples.
At the 2021 Memorial Tournament, Rahm was informed he had tested positive for Covid-19, and would have to withdraw mid-round while he was leading the tournament by six shots. His reaction was shown on national TV. But after quarantining, he showed up at the U.S. Open at Torrey Pines with the perspective of a life coach when he could have thrown the PGA Tour under the bus for their handling of the situation. "To all the people criticizing the PGA Tour, they shouldn't," Rahm said. "We are in a pandemic … [they] did what they had to do." Days later, Rahm went out and captured his first major.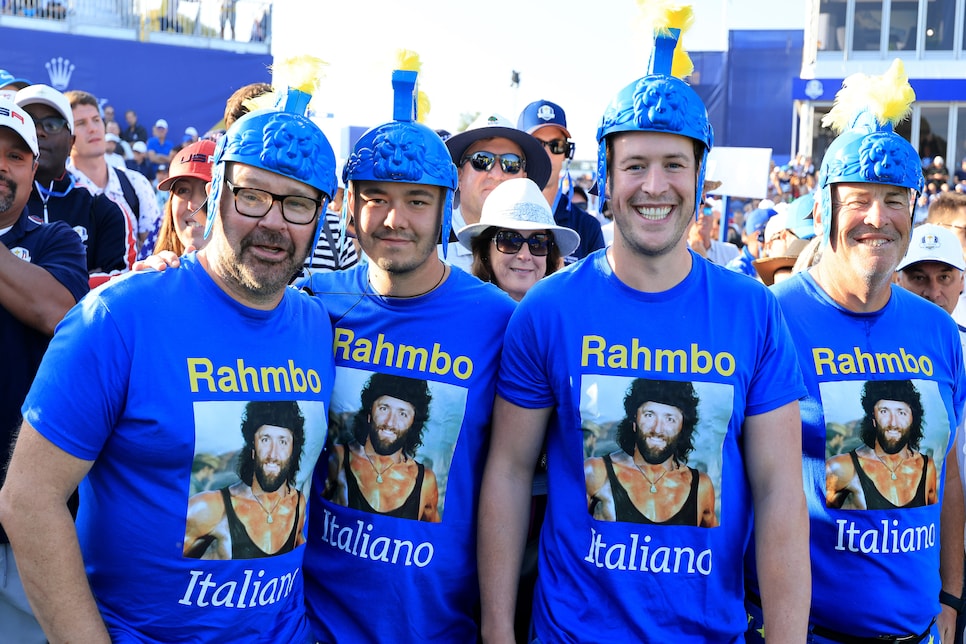 European fans of Jon Rahm at Marco Simone.
David Cannon
One of Rahm's next tests came during the PGA Tour's feud with LIV Golf. He stayed on the PGA Tour but had close friends, such as Sergio Garcia and Ian Poulter, who left for the Saudi-funded league. Rahm was often asked about the legacy of Garcia, the 2017 Masters winner and Ryder Cup record points scorer for Europe, given he'd gone to LIV. "It still shouldn't change what he's done in the game," Rahm said in 2022.
Rather than joining in the bagging of LIV and its 54-hole tournaments and shotgun starts, Rahm acknowledged structural changes to the PGA Tour and its designated events "would [not] have happened if LIV wasn't in the picture" and that players "should be thankful." His cool position meant that when a framework deal between the PGA Tour and LIV Golf's financier, Saudi Public Investment Fund, was announced in June, Rahm had not burned any bridges.
So when Rahm arrived at Marco Simone this week for his third appearance at the Ryder Cup, he was prepared. Poulter and Garcia were notable European absences due to playing on LIV, but Rahm said their legacies warranted phone calls to both for advice. "To hear them talk about what they thought and what they felt is obviously invaluable information," he said.
Rahm still runs hot on the course, and he knows it. "That [whacking a sign on Friday] doesn't even register to a low level of Jon anger on the golf course," Rahm said. But few in golf have a cooler head than Rahm, at least outside the ropes.
Rahm is playing the role of mature statesman, controversy be damned.
MORE FROM GOLF DIGEST @ THE RYDER CUP