Saturday rewind
Ryder Cup 2023: Recapping everything from Saturday at Marco Simone, from 'Hat Gate' to momentum switches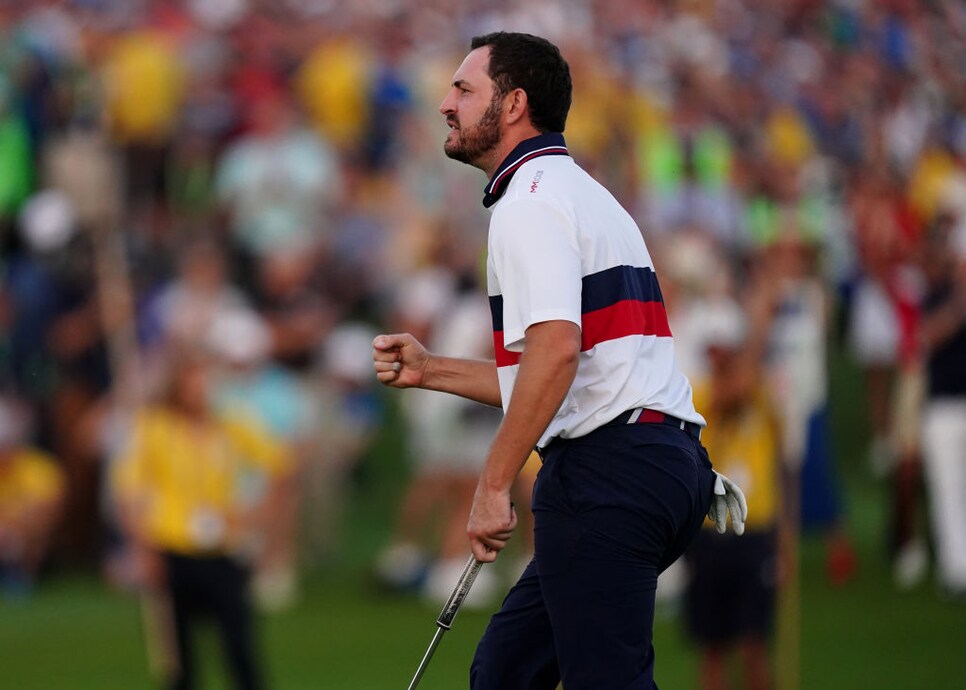 ROME — Saturday was an up-and-down day for both teams at the Ryder Cup. Not the morning the U.S. team wanted—or needed—but some impressive signs of grit during the afternoon session leaves the American, trailing Europe 10½-5½, with a small chance to make an enormous comeback.
Yet the best place to start recapping Day 2 at Marco Simone is with what happened off the golf course. About halfway through the day, a report circulated on social media that Patrick Cantlay believes players participating in the Ryder Cup should get paid and was refusing to wear a team hat as a subtle form of protest.
It was a story that became known as Hat Gate, and after his round, Cantlay flatly denied the hat portion of the story ("the hat doesn't fit" was his explanation for not wearing one) and when asked if players should get paid, responded:
"It's not about that. It's just about Team USA and representing our country. That's all I've got to say about that."
Before Cantlay spoke, however, the report began circulating through the grounds at Marco Simone, leading European fans to taunt Cantlay by waving their hats at him during his fourballs match alongside Wyndham Clark. It spurred Cantlay to birdie the final three holes and turn what looked like a loss into a 1-up win over Rory McIlroy and Matt Fitzpatrick. In the ensuing celebration on the 18th hole, Cantlay's caddie Joe LaCava waved his hat and reportedly took a long time to move, according to European Captain Luke Donald, despite McIlroy's request as he was still had yet to attempt his putt that could have tied the match. That lead to tension between the two teams, which appeared to boil over as McIlroy was leaving the grounds when he was spotted getting into a heated exchange.
As for what happened on the course during Day 2? Let's break it all down.
1. Max Homa's chip-in was America's best shot of the morning
At first I thought Homa whipping his hat off before the ball was done rolling was a little swaggy for a team losing by so much, but the more I thought about it, the more I realized that was a bad take. This is the energy road teams need more of at the Ryder Cup.
2. Homa's (other) chip-in was the best shot of the afternoon
There's a spicy little edge to Homa when he gets cooking. I like it.
3. Rory's roaring putt was Europe's best shot of the morning
There's nothing better than watching Rory making putts and getting fully ramped-up, and it's at the Ryder Cup where we tend to see it most.
4. Tommy Fleetwood's saucy chip-in was Europe's best shot of the afternoon
He thumps the clubhead into the ball, then watches it pop out softly and roll hot. A masterclass of a shot.
5. Stone cold Patrick Cantlay's putt was the best shot of the day
To birdie 16 and 17, then drop such an unbelievably clutch putt on 18 after an so-so chip, showed some serious mental fortitude, and a spark for his team that won't be easy for Europe to put out.
6. Homa could be America's Fleetwood
Homa was the hero of the U.S. team on Saturday and was unlucky not to earn a point on Friday. He's the kind player who occupies the top half of Ryder Cup teams that are so often the "swing vote" in who wins or loses a Cup.
7. McIlroy-Fleetwood is a foursomes partnership with years ahead of it
It works on paper, and it works personality wise. In Fleetwood, McIlroy has found his perfect foursomes partner for years to come.
8. That 9-and-7 loss will linger
It's hard to understand what, exactly, happened to Scottie Scheffler and Brooks Koepka en route to their drubbing in morning foursomes—the largest pair loss in Ryder Cup history. A loss that big will take time to recover from, I suspect.
9. Playing Robert MacIntyre again was a show of faith
It's a bit of an understatement to say Bobby Mac wasn't at his best Friday, and many thought Luke Donald would sit him until Sunday singles. Trotting him out alongside Justin Rose again on Saturday showed the kind of trust that players thrive off.
10. Saturday afternoon was Europe's run-out-of-steam session
I suspected it would happen at some point, and it came during Saturday's fourball. Key European players fought hard, but looked gassed. Time to rest and reboot for Sunday singles.
11. Five weeks off was probably too many for U.S. players
Most U.S. players hadn't played since last month's Tour Championship prior to Marco Simone. Justin Thomas and Max Homa were the only two PGA Tour players with competitive starts and I don't think it's a coincidence they played so well.
12. Jon Rahm handled Brooks Koepka's comments perfectly
Rahm admitted he's not a perfect person and took the sting out of Brooks' remarks by shrugging off the comments as general frustration. Rahm didn't pick that fight, but came out of it the bigger person.
13. How much should we care about successful past Ryder Cup pairings?
The more I think about it, the more I wonder if the true art is just in pairing the right players together in the first place, but knowing when to move on from them.
14. Making people work for their wins is important
Viktor Hovland and Ludvig Aberg were 6 down with six holes to play and won two of those closing holes. Fleetwood-Nicolai Hojgaard were 4 down with five to play, and won two of those. Both European pairings lost, but forcing their opponents to earn their wins boosted their team.
15. Momentum windows open and close quickly at Ryder Cups
Sometimes, they only last for an hour during one session. The Ryder Cup winners are the team that eats when the going gets good—and stops the bleeding when the wave is against you.