No matter where the DP World Tour roams across planet golf, the subject of the Ryder Cup is never far from the hearts and minds of those who call the Old World circuit home. Even last week, as the Masters claimed center stage and Sports Resolution UK provided further distraction by announcing the much-anticipated climax of its DP World vs. LIV Golf deliberations, the biennial contest managed to elbow its 96-year-old way into the frame.
"To be honest, I just don't want to think about the Ryder Cup," said Adrian Meronk, who missed the cut last week at Augusta National in his Masters debut, and the first appearance for a Polish golfer in the event. "I just want to play my game. If I play like I did last year I think that should be enough. But I have a lot more opportunities this year playing all the majors, all the big tournaments. So, it's also new for me, but I don't want to get ahead of myself. I'll focus on my game each day and if it's enough, it's enough. If not, I'll keep trying."
Easier said than done, especially when, in the wake of the DP World Tour's resounding victory in the aforementioned arbitration, thoughts inevitably turned to the wider implications of a verdict seen first as a huge blow to LIV Golf's hopes of acceptance and assimilation into the professional game.
By extension, wondered many, what does confirmation of the DP World Tour's right to make its own rules mean for the 44th playing of the Ryder Cup in Italy later this year? Will the tour's soon-to-be decided punishment plan make it all but impossible for European LIV players such as Lee Westwood, Ian Poulter, Paul Casey, Sergio Garcia, Sam Horsfield, Richard Bland, Laurie Canter, Thomas Pieters, Martin Kaymer, Graeme McDowell, Henrik Stenson and Bernd Wiesberger to qualify? Will their only route into the 12-man side be via the six captain's invitations available to European skipper Luke Donald?
While nothing is impossible, the prospect of any LIV golfer making the side that will tee-up at the Marco Simone Golf & Country Club outside Rome might best be labelled "slim."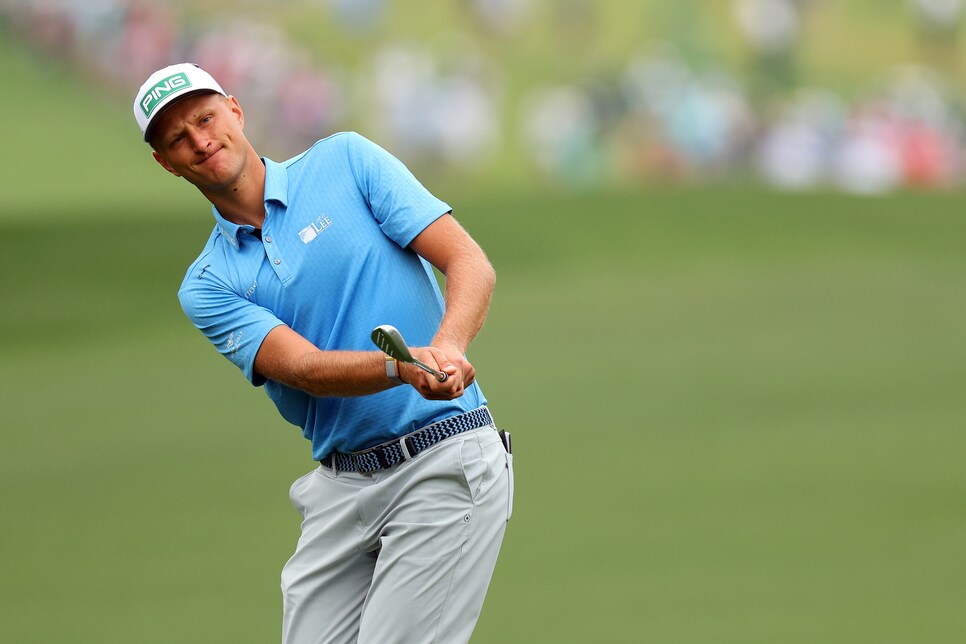 Poland's Adrian Meronk is trying not to think about what his prospects are for the Ryder Cup.
Andrew Redington
"It will be more difficult for them [LIV players] depending on what other sanctions that we impose on them to qualify for the Ryder Cup," says DP World Tour chief executive Keith Pelley, noting that his team will be spending the next few weeks accessing exactly what those are. "More importantly, the commitments they have to play in events that are against DP World Tour qualifying events will also make it more difficult for them to qualify."
Indeed, that is the reality, even as Pelley was noticeably careful to avoid absolutes in his response. Besides, with the certain exception of Pieters—definitely one of Europe's 12 best golfers—and the possible exception of Wiesberger (a member of the 2021 European team at Whistling Straits) none of the other 10 LIV mercenaries were likely to feature even in more normal times.
"To be honest, the Ryder Cup won't really be part of the DP World Tour's dealings with the LIV players," said Irishman Paul McGinley, three times a Ryder Cup player and a winning captain at Gleneagles in 2014. "Not this year. It's really too late. Relationships between those who went to LIV and tour loyalists are not going to mend in three or four months. Which is not to say that, technically at least, Luke won't be allowed to make any decision he wants. He won't be forced to pick someone or not pick someone. But I also know that, if he did blend LIV players into the team or as part of his back-room squad, a new dynamic would be created, one that would be very difficult to manage. Luke has enough on his hands with the strength of the American team and the changing of our old guard to one largely new, without trying to manage relationships within the camp."
Still, even amidst his well-argued skepticism, McGinley came up with one contradictory scenario.
"Nothing will be ruled out, of course," continued the four-time DP World Tour winner. "If, say, Martin Kaymer was to win two major championships this year, he would have to be considered. Unlike, say, Ian Poulter or Lee Westwood, he hasn't created a lot of anti-tour noise. He's a nice guy. If anyone could be blended in, assuming he was also playing unbelievably well, it is him. So, of course, Luke will keep his options open."
As for Donald himself, the Englishman is understandably unconcerned by the events of last week. Not even the unexpectedly early exit of Rory McIlroy from the year's first major was ruffling Donald's familiar equilibrium.
"I don't think much has changed, as far as my role is concerned," he said. "The guys from LIV can still stay on the DP World Tour. They can still play in the majors if they are eligible and so earn points. We know that 14 times during the year they are contracted to events that don't carry points. Then I'll have to wait and see what the tour decides to do with any penalties they want to impose. And then how the LIV players react to those.
"All in all, it's obviously going to be much more difficult for them to qualify automatically. But they still could. The bottom line is that I am free to go my own way on any and all of this. My job is simple: I have to pick what I think is the team with the best chance of winning."
On that, at least, there is no confusion.