Legal
What's next after the DP World Tour wins arbitration case over LIV Golf? The future is still unclear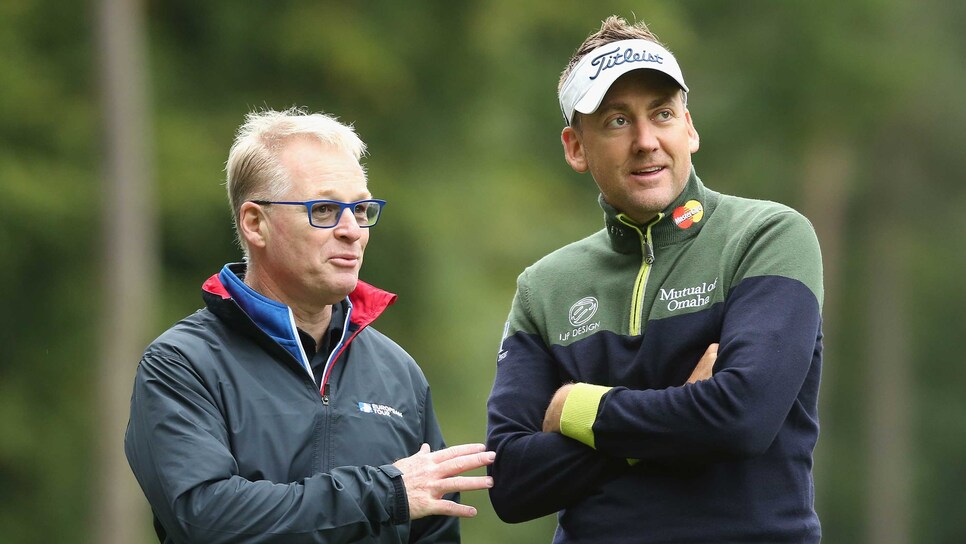 Keith Pelley and Ian Poulter chat during less fracious times in 2015.
Andrew Redington
In a decision officially revealed on Thursday that "delighted" chief executive Keith Pelley, Sports Resolution UK upheld the old world circuit's conflicting tournament release regulation and its ability to sanction members who breached it. Furthermore, appeals brought by those members who played in LIV's inaugural event last June without a proper release—12, including Ian Poulter and Lee Westwood—in the wake of their suspension (and £100,000 fines) from last year's Scottish Open have been dismissed.
The decision follows an arbitration hearing that took place before an independent three-person panel, chaired by His Honour Judge Phillip Sycamore CBE, in February.
Perhaps most fundamentally, the panel found that membership of a tour or tours comes with obligations.
"Individual players have to accept some limitation on their freedoms inherent in tour membership, should they choose [if qualified] to join one or more," the report stated. "Indeed, none of the Appellants suggested that he had given up his independence by signing up to onerous [albeit remunerative] obligations to LIV, to play in a full season of LIV events, and it is clear that membership of the PGA Tour carries serious limitations on the freedom of a player. The freedom claimed was in effect one of choosing with which set of restraints to comply."
In further summary, the Sport Resolutions panel found that:
Pelley "acted entirely reasonably in refusing releases" of DP World Tour members to compete in LIV Golf events.
"The regulations cannot be said to go beyond what is necessary and proportionate to the DP World Tour's continued operation as a professional tour" and the DP World Tour has a "legitimate and justifiable interest in protecting the rights of its membership."
The sanctioned members "committed serious breaches of the Code of Behavior of the DP World Tour Regulations by playing in [LIV Golf events] despite their release requests having been refused."
"All of the players' challenges therefore failed, their appeals are dismissed in their entirety, and the £100,000 fines originally imposed must now be paid within 30 days."
"The Panel has no hesitation in imposing a £100,000 fine for the serious breach of the regulations committed by each Appellant by playing in a LIV event without having secured the necessary Release," read the judgement. "It was explained that the level of £100,000 had been chosen as it represented a sum just lower than the prize money available to the last-placed participant in the LIV event with which the DPWT event in question conflicted, although that does not seem to us to be a necessary yardstick. It is appropriate for the financial sanction to be set at a dissuasive level. In the context of a player incentivized to sign up for a rival event backed by the resources available to LIV, a fine in the order of £12,000 would seem trivial."
Indeed, Pelley's actions throughout received the backing of the arbitration panel:
"In our view, nothing that Mr. Pelley said or wrote suggests an anti-competitive intent. … It is one of the paradoxes of competition that the aim of it is to damage, or at least to beat, rivals and that has to be regarded as pro-competitive, at least within limits. LIV undoubtedly aims to damage the hitherto almost unchallenged position of the PGA Tour and the DPWT, and is a disrupter – but that is competition in action and there can be no objection to it. Mr Pelley clearly recognized that he could not prevent LIV from entering but was determined to do what he could to prevent LIV from attracting his best player members. It is no part of competition law to require incumbents to offer no resistance—they are entitled to react and to retaliate, even if dominant."
So it is that, in almost every way imaginable, this was a comprehensive victory for the DP World Tour.
"We welcome the decision made today by Sports Resolution," Pelley said on Thursday. "We're delighted that they understand the responsibility we have to administer our rules and regulations. They are rules and regulations that were put in place by our member for our members, who have all signed up to them. I'm incredibly pleased by the decision, one that provides clarity for our stakeholders, our members and our staff. Overall, it's very positive. Hopefully now we can move on.
"As a members organization, our rules are created for the membership and to protect the membership," Pelley continued. "It's critical that we have the ability to administer those rules. This is a landmark decision, one that doesn't only affect the DP World Tour. Sports organizations must be able to have rules and regulations and members must abide by those rules. That's why this is such an important day for all sorts of organizations."
Not surprisingly, officials with LIV Golf were disappointed with the decision.
"We disagree with the procedural opinion from the Dp World Tour's arbitral body, which failed to address in reasonable substance what competitive forces must be upheld," said Matthew Schwartz, an attorney with Gibson Dunn, counsel representing LIV Golf. "By punishing players for playing golf, the DPWT is seeking to unreasonably control players and it is the sort and fans that suffer. There are no winners. This is a sacred week in the global sports calendar and the on-course competition is what matters. LIV remains focused on its decades-long vision to enhance the game and is looking forward to its upcoming tournament in Australia in front of 70,000 fans."
What happens next remains to be seen. And is complicated. Pelley estimated that the next "30-45 days" of his working life will be devoted to every aspect of a decision that so comprehensively vindicated the tour's position. How, for example, will those players who have played in multiple LIV events be punished? Will the penalty be £100,000 for every event played? Will LIV golfers be prohibited from playing future DP World Tour events and from being able to compete in the Ryder Cup?
All are among many questions for the DP World Tour CEO and the tour's lawyers, to sort through in the coming weeks.