Letter from Europe
What does 'winning the peace' look like after DP World Tour's arbitration victory over LIV Golf?
The Old World circuit might still leave open the door for LIV golfers to compete on tour, but under its terms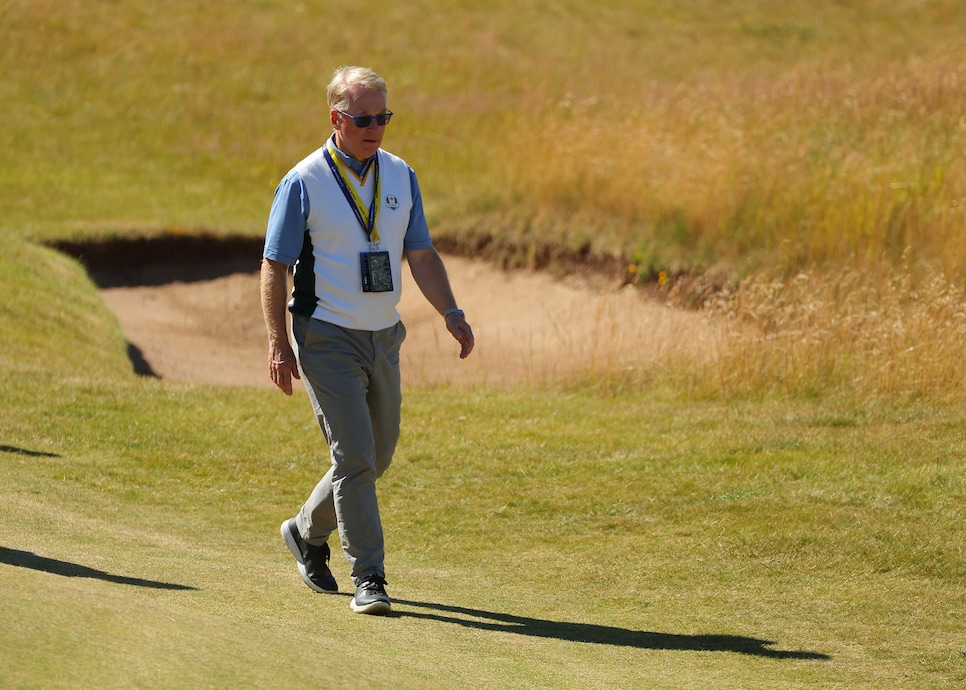 At least at first glance, golf historians will surely recognize April 6, 2023 as simply the day the 87th Masters Tournament began. But it is a date that will also be recalled with great fondness by many located 4,120 miles east of Augusta, Ga. That morning in London, two months on from the original hearings, Sport Resolutions UK announced its verdict in the case between the establishment body, the DP World Tour, and the renegade LIV Golf. And an emphatic verdict it was too. In soccer terms, the final score was akin to DP World Tour 10, LIV Golf 0, with LIV lucky to get 0.
In a 90-page document, the (binding) arbitration body upheld the DPWT's inherent right to enforce its conflicting-release regulations and so sanction players who violate those policies. For chief executive Keith Pelley, this represented complete vindication of rules "put in place by our members for our members." But, Pelley was quick to emphasize, this was a result that can only be a starting block from which to build momentum.
So it was that—forgetting the opening round of the Masters—Pelley headed back to tour headquarters at Wentworth without delay. There, his plan was to spend "the next 30-45 days" considering every aspect of their newly strengthened position along with the tour board and the hugely influential tournament players committee.
Truth be told, the list of questions needing answers is lengthy. As ever, the DPWT is a circuit not without problems. Its season featured too wide a range of events: A string of nondescript tournaments follows the lucrative Middle East Swing in January/February. Not until after the U.S. Open in June do things pick up around the Open Championship. But thereafter torpor largely resumes, broken only by the prestigious BMW PGA Championship at Wentworth in September and, every two years, the Ryder Cup.
"The idea the tour won the arbitration is suddenly greater than the reality that they need to look at their product," says one tour insider. "The DPWT is weaker than at any stage in its history. Too many 'nothing' events. Too many 'nothing players' competing for close to nothing, with close to nobody watching in person or on TV. It's a dire state of affairs. They need to escape the clutches of the PGA Tour. That needs to be priority one. I just don't see any benefit to that other than to the PGA Tour."
Indeed, even those of a less cynical nature have pointed to the lack of a European presence on the list of "designated events" that have become a feature of the PGA Tour in response to the millions on offer elsewhere from LIV Golf and its Saudi benefactors. In turn, that has led some to conclude that the PGA Tour investment in the DPWT, the self-described "strategic alliance," was nothing more than a pay-off designed to keep what was the European Tour out of Saudi clutches.
That, however, is far from a view shared by all. As part of the new relationship between the two biggest tours on the planet, PGA Tour commissioner Jay Monahan sits on the DPWT board, a fact former Ryder Cup captain Paul McGinley calls "important."
"Jay is fully invested and consulted when big decisions are made," says McGinley, a DP World Tour board member until last month. "The PGA Tour has invested millions in the DPWT. So we have money. There is long-term security. And the PGA Tour now has a vested commercial interest in the DP World Tour. They want us to succeed because of commercial reasons. They cannot walk away from such a sizeable investment. The PGA Tour wants us to succeed. If we win, they win."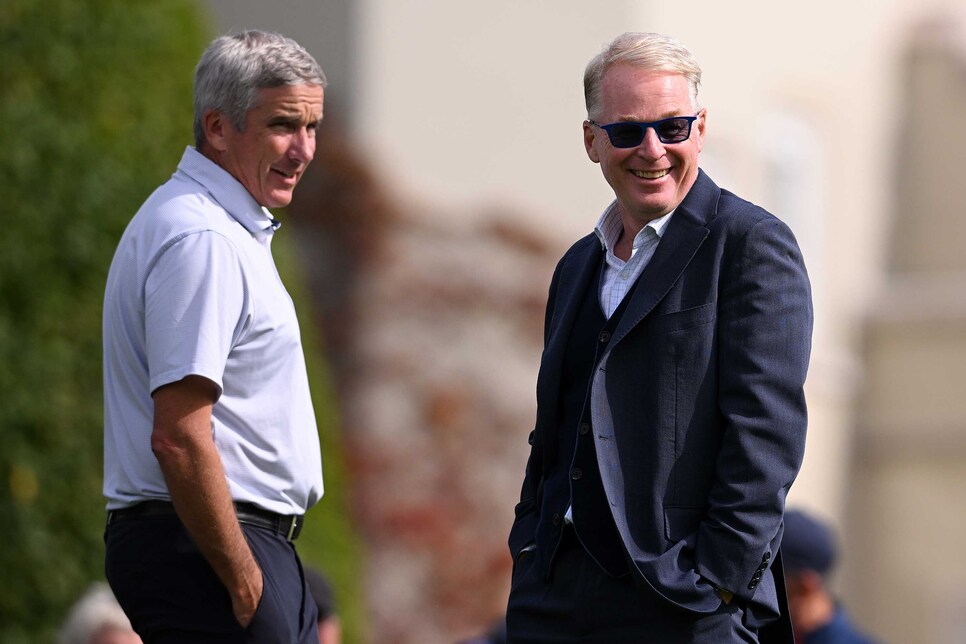 PGA Tour commissioner Jay Monahan with DP World Tour CEO Keith Pelley at last year's BMW PGA Championship.
Ross Kinnaird
Speaking of which, one of the biggest benefits the DPWT will gain from the arbitration victory is the ability to dictate and control any on-going relationship it wishes to have with the LIV players. Another reality: The DPWT is a commercial entity. But money doesn't flow in as many think it does. Its business model is a fraction of that at the PGA Tour. The phrase "feeder tour" is used in a derogatory way, but that is the DPWT's reality. There is no way it can stand toe-to-toe with the PGA Tour. So it can never do anything other than fill a distant second place.
Given that relatively precarious financial status, what happens with regard to any fines or suspensions is a big consideration. Right now, the only certainty is that those who were fined £100,000 and suspended for two events last July are again liable for those punishments. That said, it is hard to see anyone being fined that same amount for every LIV event played. More likely, there will be a negotiated compromise, which means there is a way back for the LIV guys. But only on the DP World Tour's terms.
That is the key phrase moving forward. How tough the DPWT is going to be on those players who chose to leave the Old World circuit and jump into the financially comforting embrace of the Saudi-backed tour is now entirely up to Pelley and his team.
There are three obvious options:
A) Thank you very much for your service guys, but you can't ever play on the DP World Tour again.
B) Carry on as before. Play as much as you want on the DPWT because you enhance our generally weak fields.
C) Something between A and B that allows specific LIV players into specific DPWT events—but only those of our choosing.
The likelihood is that C will win most favor. For all their faults in the too-often sorry affair that has been LIV Golf over the last couple of years, the likes of Ian Poulter, Lee Westwood and Henrik Stenson continue to carry a healthy level of celebrity, especially in their native lands. Put their names and notoriety on any billboard and crowds will inevitably gather.
So the potential benefits to the DPWT are clear. Now that LIV players can't cherry-pick the biggest European events as they did before the arbitration verdict was announced, the DPWT has the ability to dictate terms if and when LIV players are allowed to compete. There is likely to be a commercial reason to welcome back a LIV player to an event in his home country, but again in that scenario it would be under terms dictated by the DPWT.
If players like Poulter and Westwood love the DPWT as much as they say they do, they will compete in smaller events in order to gain entry to the higher-profile tournaments. It might be that a spot at Wentworth comes with a price tag of four more starts in less high-profile events. There is a commercial value to that happening and it will be up to the players committee to endorse it or not. Then again, the tour may take the view that those guys have had their day and now is the time to provide the younger lads with more opportunities. It's all on the table. The tour can create its own scenario.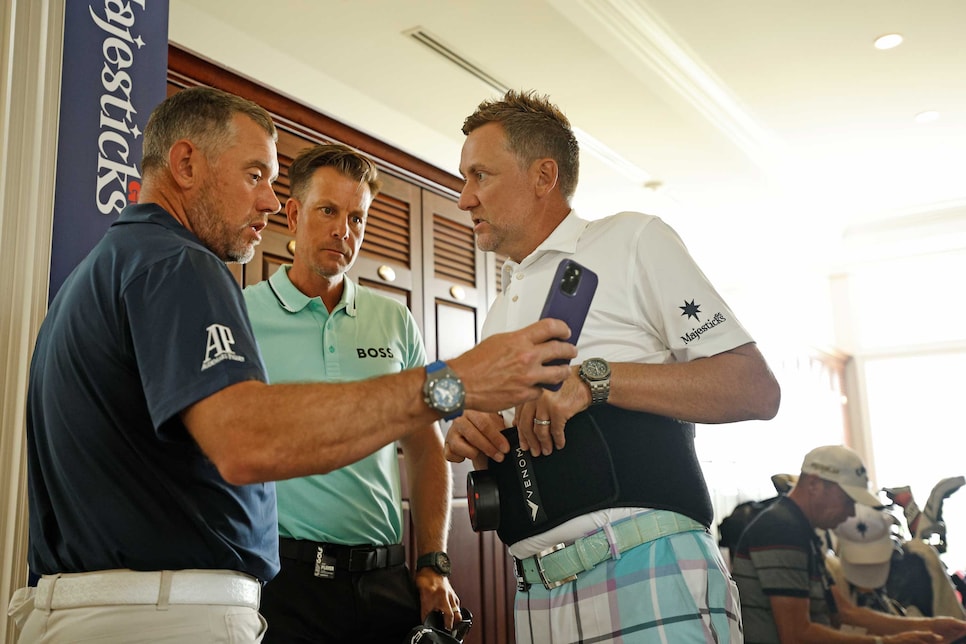 There potentially is a way that LIV golfers such Lee Westwood, Henrik Stenson and Ian Poulter, would still be allowed to compete in DP World Tour events, but they won't be able to cherry-pick which ones in the future.
Jared C. Tilton/LIV Golf
"My feeling is that we could end up with situations where Martin Kaymer tees-up at the BMW International Open in Germany, Poulter and Westwood play in, say, the British Masters and Stenson is allowed into he field in Sweden," says McGinley, a former DPWT board member. "But our biggest events like the BMW PGA Championship at Wentworth will be available to them only if they fulfil certain criteria of our choosing.
"The leverage in any negotiations has shifted with the result of the arbitration," McGinley continues. "Gone are the days when the LIV players could cherry-pick events on the DP World Tour. Now, it is up to Keith Pelley, the tour board and the player's committee as to where and when those guys play—if they play at all, which is clearly an opportunity for the tour."
Of course, even that scenario is far from clear-cut. By way of example, last year's BMW PGA and this year's Abu Dhabi Championship both featured a large number of LIV players attracted by the large prize money payout and correspondingly attractive World Ranking points. All of which meant that Challenge Tour graduates and those on other exemptions were on the outside looking in. In the future though, Pelley, the tournament players committee, and the board will decide how many, if any, LIV players are allowed to compete. Which may not be more than a few. Many will feel a duty of care is due more to promising young players on the way up than to guys who have gone to LIV.
Then again, how being used (and abused?) by the tour in such a way will go down with certain LIV Golf members remains to be seen. Any bad feelings built up over the last couple of years are unlikely to disappear overnight. Asked to respond to the arbitration verdict after competing his opening round at Augusta, the notoriously petulant Sergio Garcia pleaded ignorance, but not in a nice way.
"How can I talk about something I don't know?" snapped the Spaniard. "Obviously I don't look at the news. So I don't know what happened. I'm not going to talk about something without all the information that I need."
Pretty soon, of course, Garcia and his fellow LIV players will know exactly where they stand vis-a-vis the DPWT. And it would seem unlikely they will be happy with everything they hear.