Betting Analysis
Ryder Cup 2021 picks: The 5 Sunday singles bets we absolutely love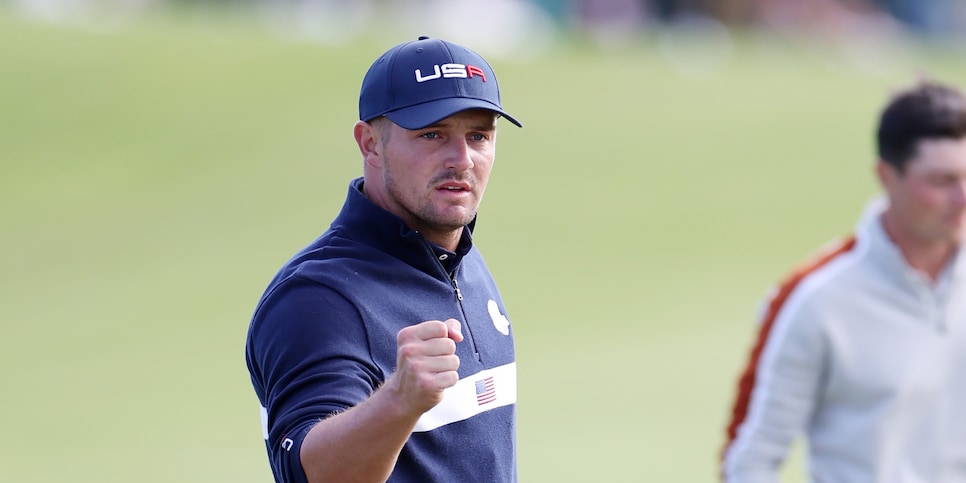 Photo By: Richard Heathcote
The Americans have history on their minds entering Sunday, attempting to open the largest margin of victory by a Ryder Cup side (they'll need eight of a possible 12 points to exceed 18½, achieved twice by Europe in 2004 and 2006 and once by the Americans in 1981). Can they do it? As you might imagine, our bets are heavily on the U.S. side below, but we do like one European competitor at some nice odds.
Ryder Cup 2021 picks, Sunday singles matches (odds courtesy of BetMGM):
Christopher Powers, associate editor: Dustin Johnson over Paul Casey (-145, 3-way) — Not to sound harsh, but, do I really need to explain this? DJ looks like the late summer, early fall 2020 version of himself—and Casey is 0-3-0 and has contributed next to nothing in those three losses outside of one hole-out Saturday morning. Anything less than -200 for DJ here, even in 3-way, is an auto-hammer.
Stephen Hennessey, deputy managing editor: Xander Schauffele over Rory McIlroy (-115, tie no bet) — Rory has a chance to redeem himself in the first slot. But Rory's struggles this week extend further in the Ryder Cup—he's earned only two points in his past nine Ryder Cup matches. That's tough to believe. He's also 0-and-2 in Ryder Cup singles, where he's been first out for Team Europe in 2016 and 2018. Xander is playing some inspired golf and rested the afternoon. This is a ton of value on Xander in a pure fade on Rory.
Powers: Shane Lowry over Patrick Cantlay (+130, tie no bet) — If you're going to bet any Euros tomorrow, Lowry has to be one of them after that performance on Saturday afternoon. Captain Padraig Harrington has to be kicking himself for not rolling him out all four sessions. This event clearly means a hell of a lot to the Irishman, and you can bet if he sees his boy McIlroy get an early lead on Xander Schauffele he'll be even more inspired. Cantlay is a tough matchup, for sure, but if Europe is to have ANY hope they need McIlroy and Lowry to set the tone early.
Powers: Bryson DeChambeau over Sergio Garcia (-110, 3-way) -- This seems like a highly valuable line with the length advantage DeChambeau has. Sergio has had a great week, but Rahm carried him on Saturday evening to the point where Sergio was basically kissing his feet. Without the World No. 1 by his side, he'll have a tough time hanging with the big fella.
Hennessey: Harris English over Lee Westwood (-135, tie no bet) – By the time this match is wrapping up, the outcome of the Ryder Cup will surely be over. Westwood, the 48-year-old, will know his match doesn't matter, so you have to question the motivation he'll have down to the wire. English, though, in his first Ryder Cup singles match, won't let up. And do you trust Westwood's putter? Right now, I'd much rather bet English here in this U.S. romp.