Pairings
Ryder Cup 2021: Bryson plays Sergio and Xander takes on Rory in Sunday's marquee singles matchups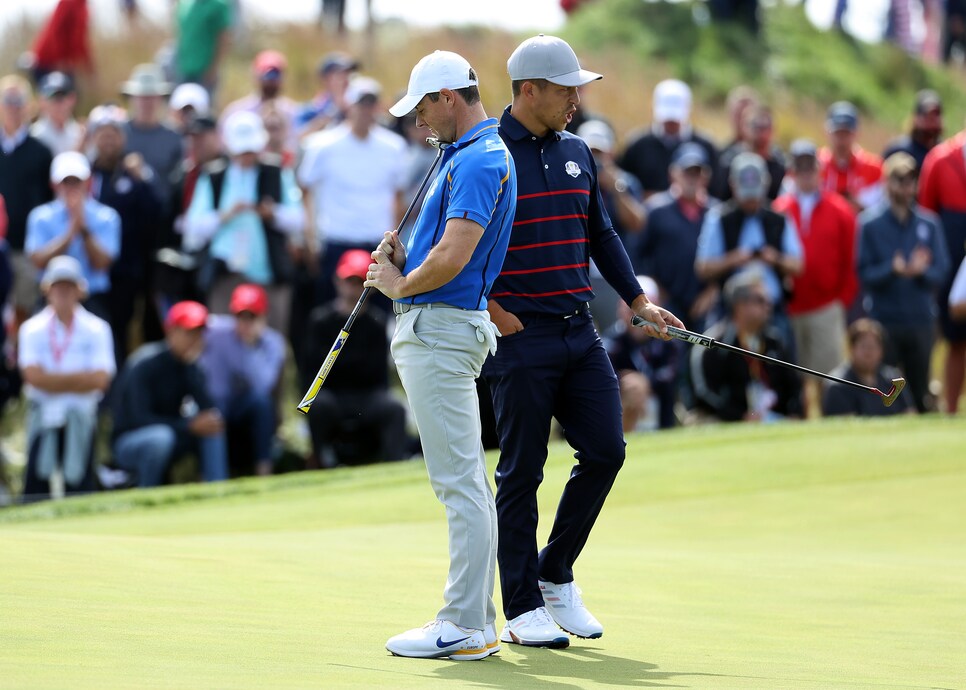 Rory McIlroy and Xander Schauffele will face off in Sunday singles in the Ryder Cup.
Warren Little
HAVEN, Wis. — The outcome of the 43rd Ryder Cup is all but decided. The U.S. has matched its largest lead (11-5) since the exhibition went to 28 total points in 1979, and the Americans will need only 3½ points out of a possible 12 in Sunday singles to win for only the third time in the last 10 meetings.
So, who will be the lucky American to be remembered as the one to clinch it?
The possibilities were already being considered on Saturday night when the singles matchups were released. It's likely that American captain Steve Stricker didn't take the clinch scenario into consideration, but rather whom his European counterpart, Padraig Harrington, would put out early in a bid to delay the Yanks' celebration. And the European chief came through on that, going with Rory McIlroy, Shane Lowry, World No. 1 Jon Rahm and Sergio Garcia in his first four spots.
Stricker had counted heavily on his six first-timers, and he countered with three Ryder Cup rookies in his first four. Xander Schauffele (unbeaten this week at 3-0) will take on McIlroy (who is 0-3), followed by unbeaten Patrick Cantlay (2-0-1) against Lowry (1-1-0), and Scottie Scheffler (1-0-1) versus Rahm, who has notched Europe's most points with 3½.
In what is arguably the marquee matchup in the No. 4 spot, Bryson DeChambeau, who has only played in two four-ball matches, going 1-0-1, faces Sergio Garcia, the Ryder Cup's all-time leading scorer who is unbeaten here at 3-0.
So, in the best-case scenario (Europe's worst-case), the U.S. sweeps the first four matches and DeChambeau is "The Man." Beyond that, at No. 5 is first-timer Collin Morikawa (vs. Viktor Hovland), followed by unbeaten Dustin Johnson (Paul Casey) and Brooks Koepka (Bernd Wiesberger).
The final five for the U.S.: Tony Finau (Ian Poulter), Justin Thomas (Tyrell Hattton), Harris English (Lee Westood), Jordan Spieth (Tommy Fleetwood) and Daniel Berger (Matthew Fitzpatrick).
A look at the matches, with players, their overall singles record, and last singles result:
Xander Schauffele (first time) vs. Rory McIlroy (2-2-1; lost 1 down to Justin Thomas in '18)
A big one to start the proceeding, and the hope is that McIlroy brings something better than he's had all week in what could be a memorable match against the reigning Olympic gold medalist. Schauffele has been an instant success in his first Ryder Cup, going 3-0, while McIlroy has looked utterly listless in scuffling to 0-3.
Scottie Scheffler (first time) vs. Jon Rahm (1-0-0; beat Tiger Woods 2 and 1 in '18)
Rahm has been a beast here in going unbeaten (3-0-1), while Scheffler is coming off an emotional win with DeChambeau in Saturday four-ball. Rahm beat Tiger in Paris. We think he's pretty confident he can handle Scottie.
Bryson DeChambeau (0-1-0 in singles; lost 1 up to Alex Noren in '18) vs. Sergio Garcia (4-4-1; beat Rickie Fowler 2 and 1 in '18)
On paper, this looks like a great matchup between two wildly different personalities and styles. But they've also had two very different weeks, with Bryson playing only twice in four-ball (he's 1-0-1) while Sergio combined with Jon Rahm for three wins. It would seem like this is Sergio's to lose.
Collin Morikawa (first time) vs. Viktor Hovland (first time)
This is beauty between two young stars, though major-winner Morikawa has been far more stellar here, combining three times with Dustin Johnson to win. Can he carry the day against the Norwegian, whose first foray has been a bummer—three losses and a tie.
Dustin Johnson (3-1-0; lost to Ian Poulter 2 down in '18) vs. Paul Casey (1-1-2; halved with Brooks Koepka in '18)
A couple of "old guys" who have had very different weeks. Johnson, 37, is the only American to have played all four matches, and he's won them all. Casey has struggled badly in going winless. Seems like a colossal mismatch at this point.
Brooks Koepka (1-0-1; halved with Paul Casey in '18) vs. Bernd Wiesberger (first time)
Koepka is the only American to have suffered two losses here, while the Austrian is 0-2 in his debut.
Tony Finau (1-0; beat Tommy Fleetwood 6 and 4 in '18) vs. Ian Poulter (5-0-1; beat Dustin Johnson 2 up in '18)
Europe's lion hasn't earned a point this week and puts his unbeaten Ryder Cup singles record on the line against Finau, who made six birdies in 15 holes in Friday's four-ball, but cooled off a bit in a Saturday afternoon loss.
Justin Thomas (1-0-0; beat Rory McIlroy 1 up in '18) vs. Tyrrell Hatton (0-1-0; lost to Patrick Reed 2 and 1 on '18)
JT and Hatton both ended Saturday on high notes with late victories, and this should be a good one between two intense guys.
Harris English (first time) vs. Lee Westwood (3-7-0; beat Ryan Moore 1 up in 2016)
Westwood has looked all of his 48 years this week, going 0-3, and one more match can't look all that enticing against the 32-year-old English. English has only made five birdies over two four-ball rounds, while Westie didn't make his own scores in playing only twice in alternate shot.
Jordan Spieth (0-3-0; lost to Thorbjorn Olesen 5 and 4 in '18) vs. Tommy Fleetwood (0-1-0; lost to Tony Finau 6 and 4 in '18)
Yes, you read that right. Spieth got blown out by Olesen in Paris, and this time he takes on a guy in Fleetwood who seems to have been underused this week in playing only twice. Also, Spieth going next-to-last isn't exactly a prominent spot, with the outcome likely to be decided earlier than this.
Daniel Berger (first time) vs. Matthew Fitzpatrick (0-1-0; lost to Zach Johnson 4 and 3 in 2016)
A fitting matchup of two fine players who are likely the least recognized on either of their teams (though Fitzy may have a step on Wiesberger). This will be a game that everybody just wants to be over so the true celebrating can begin.
MORE RYDER CUP PREVIEW STORIES FROM GOLF DIGEST