News
Rory McIlroy dazzles, Tiger Woods impresses in final Masters tune-up: What you missed this weekend
Welcome to the Dew Sweeper, your one-stop shop to catch up on the weekend action from the golf world. From the professional tours, trending news, social media headlines and upcoming events, here's every golf-related thing you need to know for the morning of March 19.
"What's wrong with Rory?" It was a concern asked with varying sonority the past 10 months, raised as recently as last weekend. And a question that was put to bed at Bay Hill.
Keeping in line with the season's theatric motif, Rory McIlroy birdied five of his final six holes to capture the Arnold Palmer Invitational. Although it's not that he won but how, as McIlroy and his much-maligned short game dropped a handful of long-distance bombs—including a 40-foot chip on the 15th and a 25-foot putt on the final hole—to beat Bryson DeChambeau by three.
"I kept saying the last few weeks that I wasn't that far away and it just takes something to click into place, and something clicked into place with my long game, obviously something clicked into place with my putting as well, and this is the result," said McIlroy, who turned in an eight-under 64. "It's just so nice to see everything come together finally," McIlroy said.
An early-week session with putting guru Brad Faxon paid off, as McIlroy—who entered the API ranked 124th in strokes gained: putting—paced the field with an absurd 10.027 mark. It's McIlroy's first win since East Lake in 2016, a date not lost on observers. For it was that Tour Championship Sunday that the great Palmer passed. There have been numerous tributes to the people's champ since; count Rory's win at the King's event as one of the more fitting.
McIlroy: Time to limit alcohol sales
Lost in Rory's red-figure fury were his poignant comments regarding crowd behavior, or lack thereof. Such conduct has been a trend this year, rearing its ugly head on Saturday as a fan repeatedly yelled Rory's wife's name. Following his round, the four-time major winner asserted drinking is the root of the problem, and it's an issue that warrants addressing.
"I think that they need to limit the alcohol sales on the course, or they need to do something, because every week it seems like guys are complaining about it more and more," McIlroy said. "I know that people want to come and enjoy themselves and whatever, and I'm all for that, but it's, sometimes when the comments get personal and people get a little bit rowdy it can get a little much."
In McIlroy's estimation, this etiquette is a consequence of the Waste Management Open's success, as other tournaments are trying to replicate its raucous environment. Though he's not advocating for dry venues, he's worried the partying is getting out of hand.
"It's obviously a lot of tournaments see how successful Phoenix is and they want to try to replicate that, which is great, it's great for the tournament, it's great for us, but golf is different than a football game and there's etiquette involved and you don't want again like you don't want people to be put off from bringing their kids when people are shouting stuff out. You want people to enjoy themselves, have a good day."
These are not McIlroy's first remarks on crowds this year, noting in Los Angeles that the circus atmosphere surrounding Tiger Woods costs the 42-year-old two shots per tournament.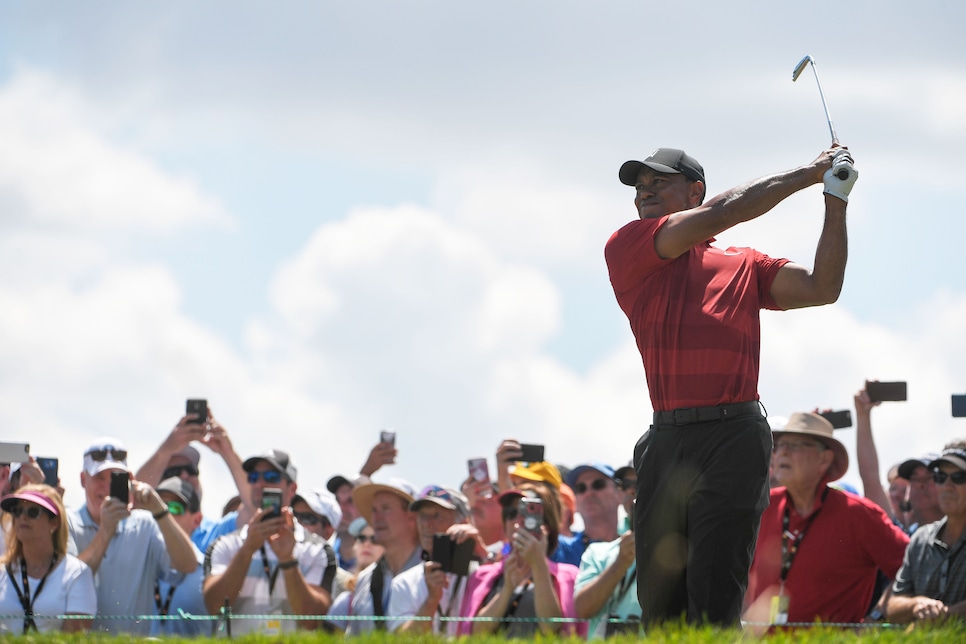 Tiger Woods impresses in final Masters tune-up
On the surface, Tiger's T-5 finish is further evidence in the mounting conviction that this latest comeback is formidable, and just as importantly, far from ephemeral. But, as box scores tend to do, it fails to accentuate the plight and mania at hand. Teeing it up on his 70th hole, Woods—who started his day five behind the leaders—was just one shot back thanks to six birdies on the afternoon.
That he proceeded to blow his drive out-of-bounds, ultimately making bogey to fall out of contention, is besides the point. For the second straight Sunday, Tiger's play gave merit to the hype and attention that surrounds it.
"If you would have given me this opportunity in December and January, I would have taken it in a heartbeat," Woods said. "Everything was an unknown. I didn't know what I was going to feel like, what I was going to do, what swing I was going to make. Especially Torrey Pines, was the rough going to be the same pain I was going to feel like I felt last year? I don't know. But coming through that I've gotten a little better, a little bit sharper and I worked my way up there into the leaderboard back-to-back weeks and had a chance, which is nice."
Woods finishes his Augusta National tune-up with three consecutive top-12 finishes. His return is from a polished product; Woods' driving continues to be the bane of his existence, ranking 71st out of 77 players in strokes gained: off-the-tee. And yet the idea that Tiger can be there on Masters Sunday, battling it out with the game's biggest names for a fifth green jacket, is no longer a pipe dream. If recent results are any indication, it's to be expected.
Bryson's very Bryson-like answer
Bryson DeChambeau, who withdrew from the Valspar Championship with a back injury, found himself in the last group at Bay Hill, ultimately finishing second to McIlroy. Given the turnaround, a reporter asked DeChambeau what had changed within the past week. A simple inquiry, a question most players would answer without much pigment. Not an artist like DeChambeau. He not only replied with color, but created a work of art in the process.
"Well it was the QL and that really got inflamed for me," DeChambeau said. "It was because my quadratus lumborum wasn't working, my iliacus, longissimus thoracis, they were all kind of over working, if you want to get technical on that. But they weren't working very well and I overworked them. Pretty much my lower right back was hurting and I rested it. How about that?"
I could be wrong, but I don't believe Dustin Johnson described his Masters injury in the same fashion.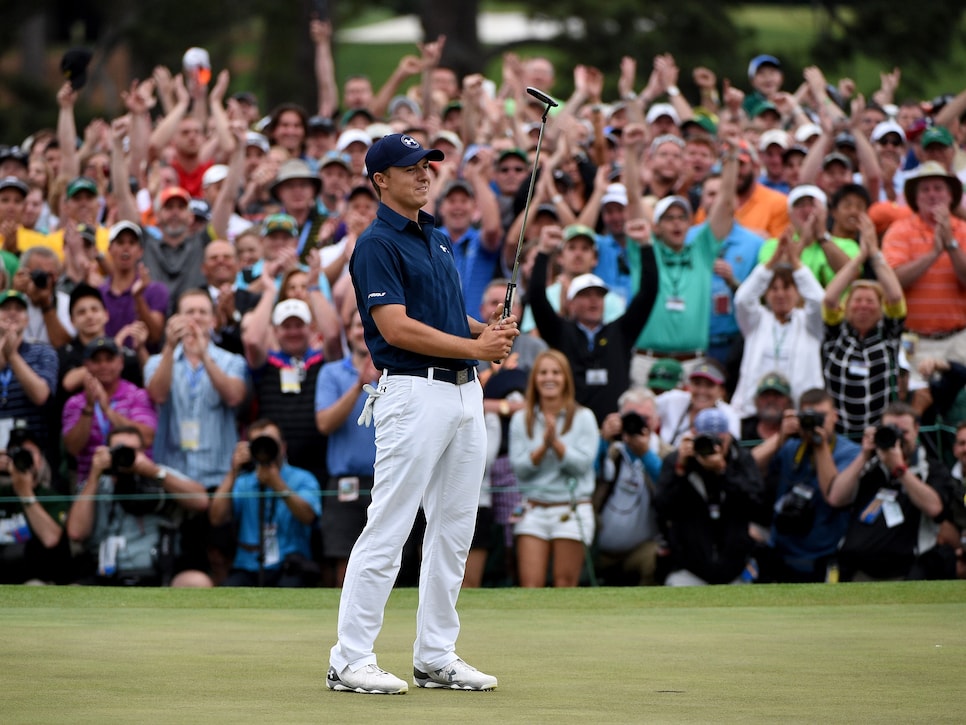 Every Masters, now at your fingertips
Many fans can't get enough of Augusta National, the four days of the Masters failing to satiate their year-round thirst. Luckily for those poor souls, the tournament can now be perpetually consumed.
Augusta National Golf Club has made the last 50 final-round telecasts available for free on the Masters YouTube channel. That means you can watch Tiger Woods' chip-in at the 16th, Larry Mize break Greg Norman's heart, Fuzzy Zoeller steal the show as a rookie, Phil Mickelson's four-inch leap, and Jack Nicklaus re-conjure the roars from yesteryear anytime your heart desires, all with the click of your mouse.
This year's event is still three weeks away, and already boasts a host of storylines. But if those narratives, along with the WGC-Match Play and Houston Open, can't wet your whistle, you now have this treasure chest of Masters magic to keep you satisfied until the Honorary Starters hit their opening tee shots Thursday morning.