News
A highly unscientific, totally premature ranking of 16 storylines for the 2018 Masters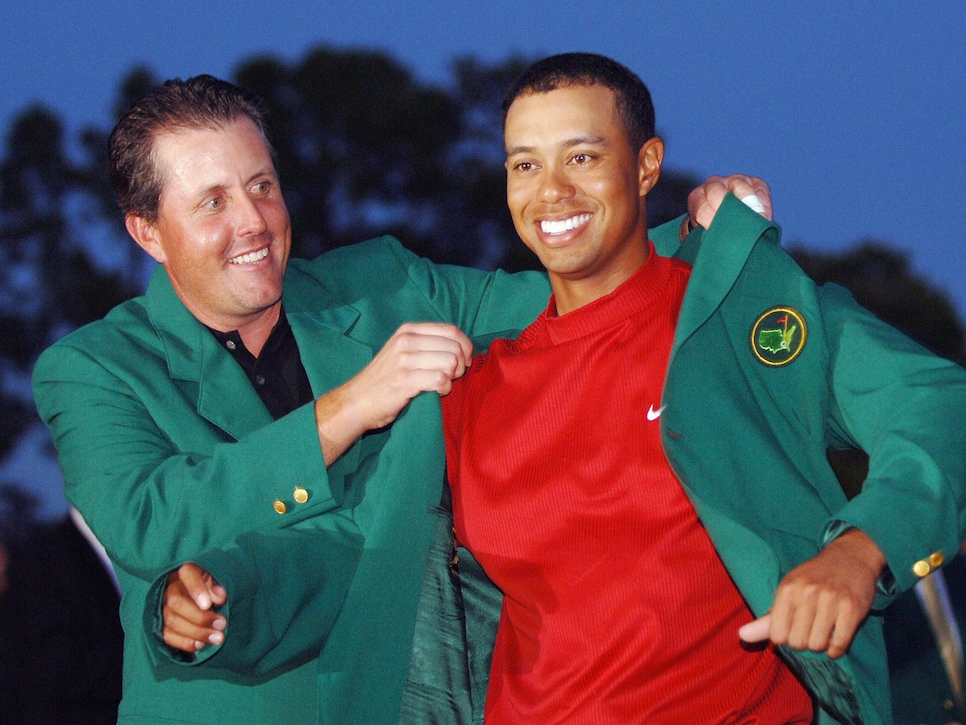 Photo By: ROBERTO SCHMIDT/AFP/Getty Images
There are still three weeks until the 2018 Masters, and as we saw last spring, fate can intervene in sadistic ways between now and Thursday's ceremonial tee shots. Did that stop us from waxing poetic on the slew of narratives heading into Augusta National? Absolutely not. Here is a highly unscientific, totally premature ranking of 16 storylines for the 2018 Masters.
The issue already feels thoroughly masticated. However, because Augusta National has proposed lengthening the fifth hole, with (likely) changes coming to the 13th, expect the matter to surface. We're permitted a lone, precious week to revel in Augusta glory; the distance discussion will be on sport's ledger for the foreseeable future. Shelf the dialogue for another day.
15. Sharma Fever, catch it!
There's an appealing aura that Shubhankar Sharma exudes, with good reason: The kid went from outside the top 500 to earning a special exemption to golf's grandest stage in 11 weeks. His two European Tour wins stoked our curiosity; his mettle at the WGC-Mexico Championship grabbed our attention. With a marksman's precision and an endearing tranquility, Sharma's not a star in the making. He's merely waiting for his turn to shine.
Golf's most unappreciated name is also its hottest, as Justin Rose has logged 12 top-10s in his last 14 events. The 37-year-old has a sneaky-good track record at the Masters, highlighted by runner-up finishes in two of the last three tournaments, and a green jacket following last year's disappointment (a bogey on the 17th, followed by a bogey in the playoff) would be sweet salvation.
13. Bubba Watson, three-time Masters champ
Players with three or more Augusta National wins: Jack Nicklaus, Arnold Palmer, Tiger Woods, Jimmy Demaret, Sam Snead, Gary Player, Nick Faldo, Phil Mickelson. It's a fraternity Bubba Watson could join this spring. There's genuine beauty to Watson's creativity and approach, and his, ahem, "sui generis" nature is a refreshing sight against the cookie-cutter anatomy of the modern pro. He's a divisive soul, no doubt. And the game is better for it.
12. Matsuyama gets his due
Golf can suffer from attention deficit disorder. Case in point: Hideki Matsuyama, who during last August's PGA Championship had a chance at his sixth worldwide win in 10 months but, thanks to a putting slump and early-season injury, has somehow fallen off our collective radar. Yet he remains one of the more riveting characters for the 2018 Masters, not only for his iron prowess (four consecutive years in the top 10 in strokes gained/approach) and Masters record (three consecutive top-11s) but the cultural significance a victory would mean for his homeland, Japan, an obsessive golf country still yearning for its first men's major winner. He doesn't draw the same love in the U.S. as golf's other marquee names, but few players have the chance to see a win resonate outside the sport like Matsuyama.
Photo by Andrew Redington/Getty Images
11. Fill-in-the-blank American young gun wins
Among this pack are Patrick Cantlay, Xander Schauffele, Patrick Reed (yes, still just 27), Tony Finau and Bryson DeChambeau. A captivating cast, each with an engaging story to tell, all with the games to make a serious run at the green jacket.
But, a notion topped by …
10. Fill-in-the-blank Euro star wins
That would be Tommy Fleetwood, Alex Noren, Thomas Pieters, Tyrrell Hatton, Matthew Fitzpatrick, etc. The reason this is above its American counterpart? For the ensuing, non-satiric "Euro Invasion" wave from the British press, very similar to the response after Danny Willett's win in 2016. No, such sentiments weren't seen following Sergio's triumph, but I'm sure that had something to do with the proceedings at Hazeltine the previous fall.
Still, a hypothetical win would give the European contingent three straight Masters victories, a remarkable feat given there was a 16-year void before Willett.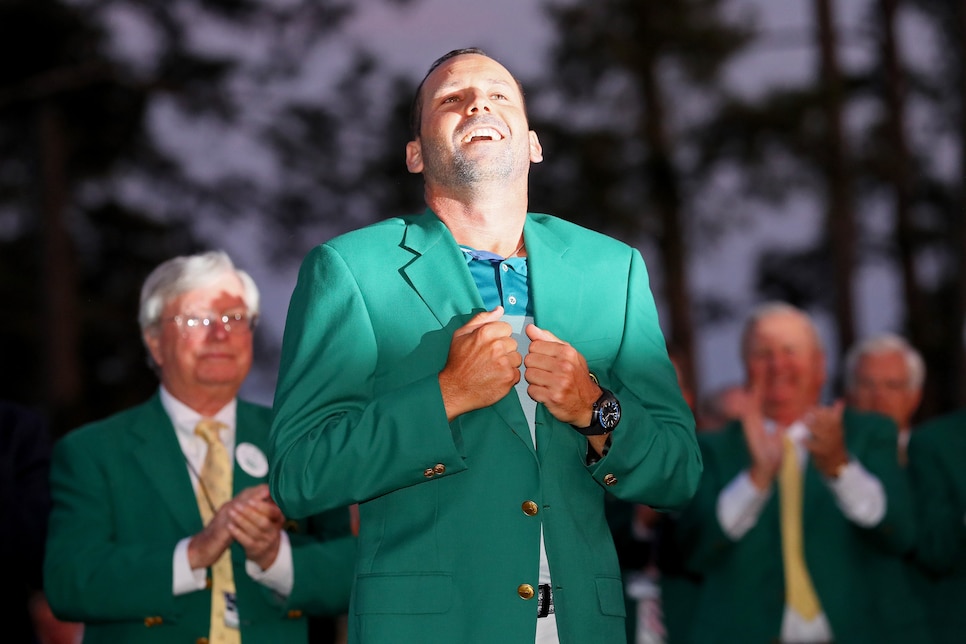 9. Garcia going back-to-back
Only Jack Nicklaus, Nick Faldo and Tiger Woods have repeated as Masters champions. It seems unlikely Sergio would join these ranks; prior to 2017, he had just one top-10 at Augusta in his previous 12 starts. Conversely, as his fellow pros have testified, it's a venue built for Garcia's game. He continues to flourish (two wins and five top-10s in his last nine starts), a possible testament to the new balance in his life. He's no longer a jittery, frenetic ball of energy, already 38 years old … but don't classify the '17 Masters as his magnum opus just yet.
Remember Jason Day, the guy who was No. 1 in the world a year ago? All he's done is kickoff 2018 with three consecutive top-five finishes, highlighted by a win at Torrey Pines. After an assertive two-year run, it's staggering that a lost season has translated to an "Out of sight, out of mind" abandonment towards the 2015 PGA champ. But he's healthy, he's appears right between the ears, and his power and putting dexterity are ingredients for Augusta success. Though the "Best player in the world" conversation currently centers on Dustin Johnson, Jon Rahm, Justin Thomas and Jordan Spieth, a win from Day returns him to the discussion.
7. What does Rickie Fowler want to be?
It's hard not to think that the sport is too hard on Fowler, that many look at him only for what he's not instead of what he's accomplished. He's still in his 20s, has received a substantial amount of under-pressure reps and displayed all the tools needed to win on the biggest stage.
In that same tone … there's a metaphysical crossroads creeping up for Fowler. He's racked up more than 200 appearances on tour; at this point, the training wheels are off. The whispers about his fortitude and closing capacity have become audible, and, at least at the majors, he hasn't responded to what the circumstances dictate. This is not saying he won't get there; plenty of legends hit pay dirt in their 30s. But if he wants to be more than a marketing entity, it's time to start getting it done inside the ropes when it matters most.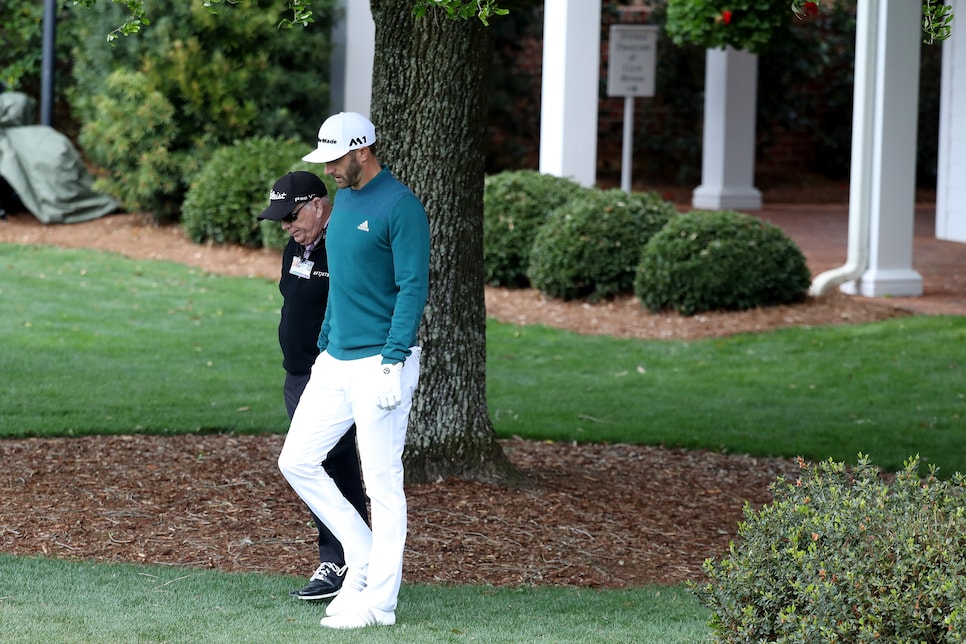 6. DJ returns to the scene of the crime
Dustin Johnson came to Georgia on such a heater last spring—with wins at the Genesis Open, the WGC-Mexico and the WGC-Match Play—that the green jacket had already been awarded before he stepped on property. Unfortunately, a staircase intervened, and Johnson and golf were left with one of the biggest "What if's?" in sports history.
So it's apropos that Johnson returns to Augusta not celebrated but overlooked, a pair of 40-somethings and litany of fledgling prodigies stealing the spotlight. The crazy thing? His play remains supernatural, with a win and four top-10s in five starts this season. His potency and finesse have yielded their share of dividends at Augusta (a T-4 and T-6 in his last two appearances). Perhaps last year's forecast was not wrong, just premature.
5. Rahm earns his breakout
We—fans, media, players—have been liberal with the world "breakout." Using it when a player wins for the first time, or for the first time in five years, or for the first time in five months. While true to extents, it's best applied when one earns their first major. You're no longer just a professional golfer; you are a part of golf's enduring history.
Despite our best wish fulfillment, Jon Rahm did not reach that echelon in 2017. In fact, though he entered each major as one of the favorites, he failed to record a top-25 finish. Which is understandable: he was 22 after all, and sometimes you need to fall off the saddle to figure out how to stay on. However, while he's just a year older, the expectations have vastly increased. That's what happens when you win four times and reach No. 2 in the world.
Rahm has the arsenal—arguably the most well-rounded game in the sport—and inventiveness to tame Augusta, even without a firm mastery of course management (and all that entails) at this nascent phase of his career. He's that talented, a volcano waiting to blow. And when it does, his competitors may be stifling through the ashes for years to come.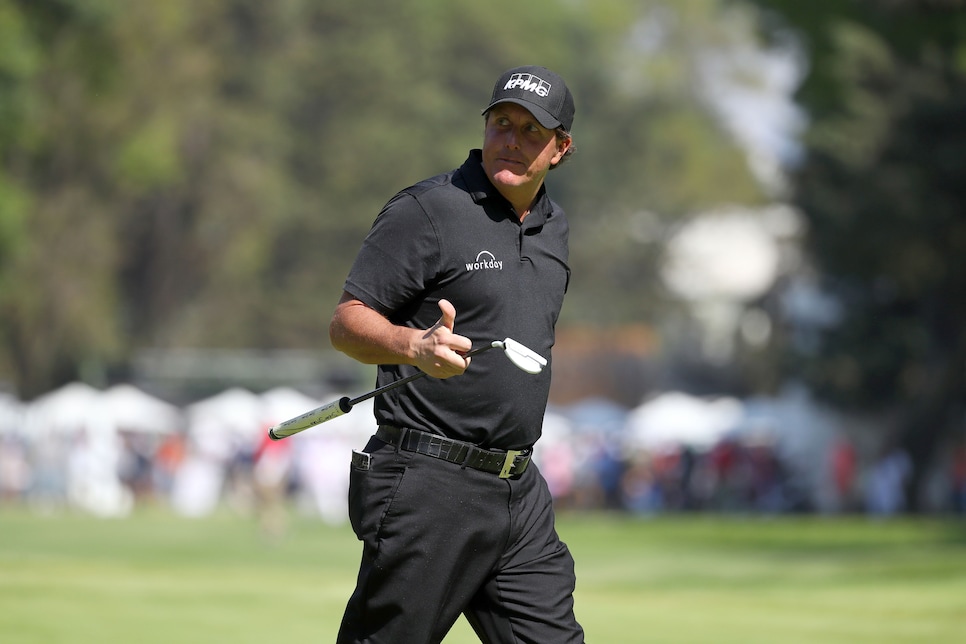 Gregory Shamus/Getty Images
4. Phil's fight against Father Time
Write down, in your estimation, the best 10 golfers of all-time. Odds are, Phil Mickelson's not on the list. It's an exclusion that's, perhaps, justifiable.
But if Mickelson wins the Masters, it will be his fourth green jacket, a feat only matched by Woods and Palmer, and surpassed by Nicklaus. Just eight players would own more majors in the Masters era than Mickelson's six. He's already one of 10 players with 40 or more PGA Tour wins, and a 2018 Masters conquest would make him the oldest winner in Masters history.
Is Phil on your top-10 list now?
There's a chance Mickelson's already used up his bullets; a win and five top-10s in an impressive season, one that would be tough to sustain for any competitor, let alone one nearing 48. As the adage goes, Father Time is undefeated. Then again, Mickelson's never been one to adhere to convention, either.
Following a tour de force performance at the 2016 Tour Championship and Ryder Cup, 2017 was supposed to be the Year of Rory. Instead, it was arguably McIlroy's worst campaign inside the ropes as a professional, as injuries and an equipment change zapped his usual dynamism and vitality. An impressive Euro Tour start should have quelled doubts for 2018, but poor outings in the U.S. have only amplified the questions.
To lack faith in Rory, though, is a miscalculation. If he can alleviate the severe downturns in his putting—or perhaps more importantly, his approaches from 125 yards and in—there's no reason why McIlroy can't be the same awe-inspiring McIlroy from 16 months ago. And there's historical significance in play, too, as he Rory has the chance to become just the sixth player to win the modern career Grand Slam. Better yet, he would be back on pace to become Europe's greatest player of all-time, and could possibly swipe Gary Player's claim as Best International Player ever. Pretty heady stuff.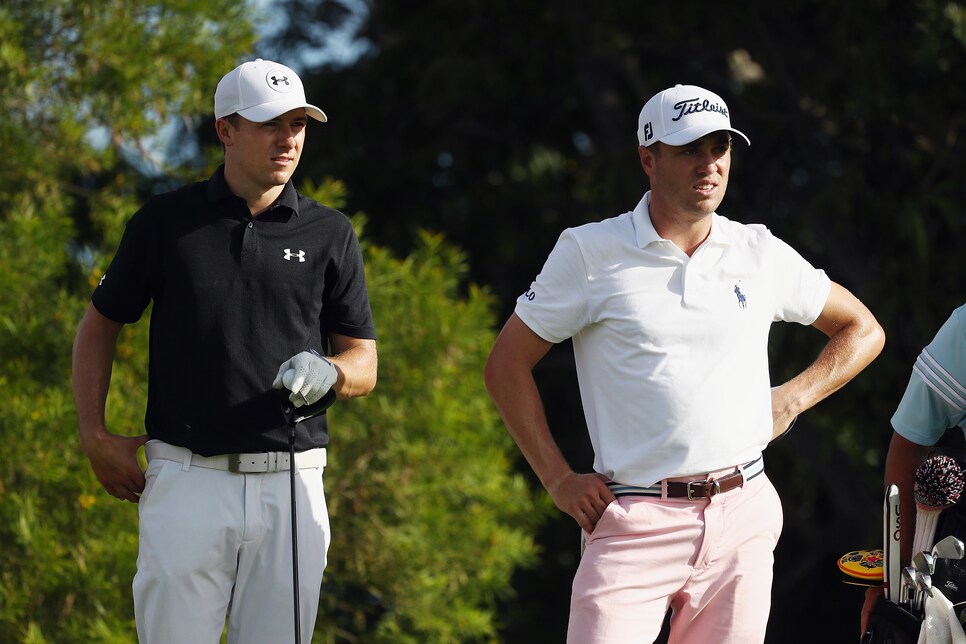 The stakes here are astronomical (or something like that, right? Right!). A large contingent maintains that Justin Thomas—thanks to seven wins, a major and Player of the Year honors—has already matched, if not usurped, Jordan Spieth. Though we are often victims to recency bias, a nonexistent ceiling to Thomas' game—to say nothing of his torrential scoring tears—makes the hype understandable.
On the other end of the spectrum resides a hypothetical Masters win for Spieth. A victory that dunks this entire debate in ice, as evidenced in this (theoretical) résumé comparison:
SPIETH: 4 majors, 15 wins
Sort of makes those "Thomas has lapped Spieth" pronouncements look awfully silly, now, doesn't it? (Right? Right!)
Nevertheless, the framework is in place for a historically consequential rivalry, and the conch is up for grabs. Golf gods help us if these two are trading blows on the back nine on Sunday. It's a storyline that can only be eclipsed by …
It would be too big. Make the '86 Masters seem like your run-of-the-mill, mid-'90s Buick Classic. The most physically daunting comeback since Ben Hogan. Most culturally significant since Muhammad Ali. Most popular since Michael Jordan.
Grown men would weep, orthopedics would see a disconcerting rise in fist-pump related injuries, Monster stock would go through the roof. And it may damn well happen.
Which, of course, means Yuta Ideka will be your 2018 Masters champ.