News
Jason Day is golf's human Yo-Yo. So which direction is he going?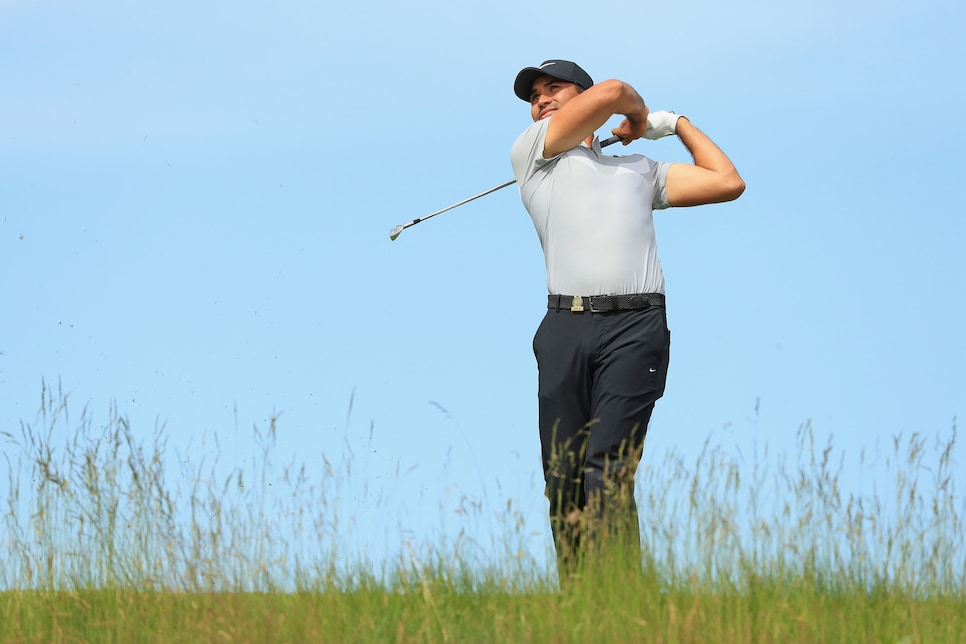 Photo By: Andrew Redington/Getty Images
There's nothing worse than listening to a story about somebody else's fantasy team, but I'm going to tell one anyway because I swear there's a point. I'm a member of the world's greatest PGA Tour fantasy league, and despite having a terrible team last year, the draft lottery royally screwed me and my partner, leaving us with the eighth pick in this year's draft. To me, that was the worst possible slot, because there were seven obvious studs that I felt sure would go before us: Spieth, Thomas, DJ, Rory, Fowler, Day and Matsuyama. I would have been happy with any of them, but it seemed like a guarantee that they'd be gone by the eighth pick.
Six of them were. The odd man out, and the player we drafted, was Jason Day. In a not unrelated story, we are in first place.
So why did a group of golf nuts, including two editors from this very website (I won't name names) look past one of the world's best players, a guy who had been picked first the year before? The answer, I think, is that everyone was ignoring him.
And everyone is still ignoring him, even after he won the Farmers Insurance Open in January and came in second at the AT&T Pebble Beach Pro-Am two weeks later. If you've heard his name at all in the past week, it's because he happens to be paired with a gentleman named Tiger Woods at the Arnold Palmer Invitational. As far as the golf world is concerned, that distinction—"gets to play with Tiger!"–is Day's only current claim to fame.
It's a little strange, especially when you look in the not-too-distant past. Day would have been the toast of the town in 2015 if not for the unbelievable year Spieth put together. Even after the golden boy's phenomenal stretch (Masters/U.S. Open wins and a near miss at getting into the British Open playoff at St. Andrews), Day's first major victory at the PGA at Whistling Straits and two FedEx Cup wins had some hot-takers wondering if Day had a shot at PGA Tour Player of the Year. He didn't, but he followed up that scorching late stretch with a 2016 season good enough to climb to No. 1 in the world, a spot he held for 47 weeks until Dustin Johnson supplanted him in February 2017.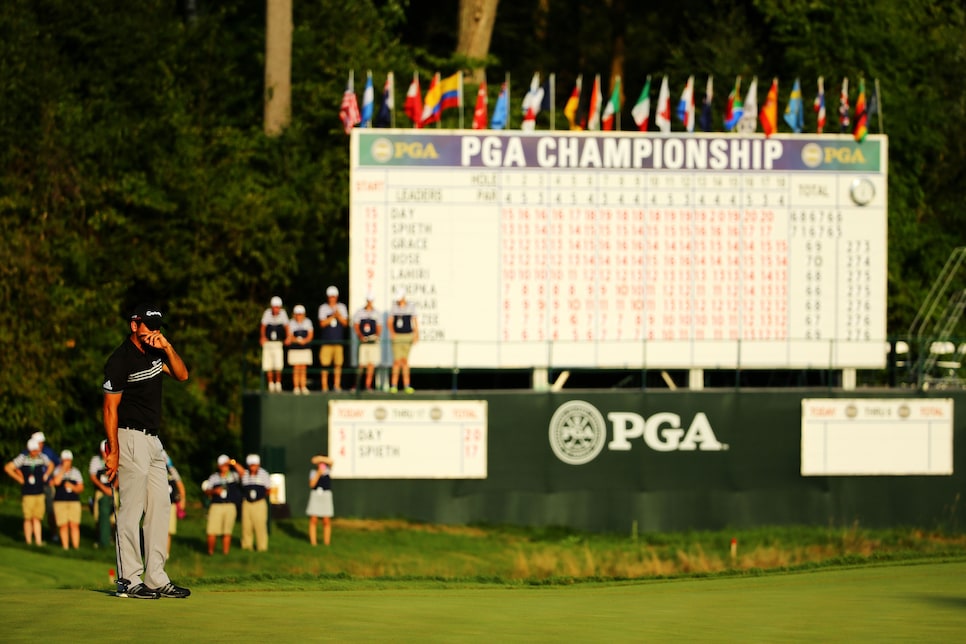 Richard Heathcote/Getty Images
Then … well, then he sort of vanished. By Day's standards, anyway, which are very high standards. He still finished 18th in the FedEx Cup standings in 2017, he still registered a top-10 at the PGA Championship and he still won a ton of money. But he also went winless for the first time in four years, and with only five top-10s and four missed cuts, he wasn't playing like a man who had been ranked No. 1 in the world. He had very good reasons for his lapse—as John Strege wrote here in January. His mother battled lung cancer; his wife, Ellie (who may be the most well-liked person in professional golf), suffered a miscarriage; and Day himself battled lingering back issues. On Wednesday, Tiger spoke of Day's struggled with some well-earned empathy:
"He's had some tough times with his own health, his mom's, obviously what just happened with he and his family, he's had some really tough go's. It's tough to listen to him go through that, and he's a friend of mine and I don't want any of those things to happen to him or his family. But the kid's tough, I mean he can handle a lot. I think he's shown how strong-willed he is."
There were also golf-specific reasons for the 2017 dip, with Day pointing to his weak short game as the biggest culprit. More broadly, though, his relative struggles in 2017 follow a pattern that has defined the 30-year-old's entire career. Call it Jason's Rule: When he is on top of the golf world, it is an excellent bet that he's headed down. And when he's down, and has been forgotten, it's an even better bet that he's on the rise. In other words, Jason Day is the human yo-yo—he's high and he's low, in steady procession, and there's an almost metronomic certainty to the rising and falling action.
When I first interviewed Day in 2014, I was shocked to learn his life story, which can be summed up as one of the most unlikely rags-to-riches journeys golf has ever seen. He came from serious poverty in Australia, discovered golf because of a toy club that his late father salvaged from a town dump and was only able to pursue the sport with any consistency because it's far cheaper to play in his country than ours. I had become used to thinking of golf as a sport of privilege, and hearing about his background was fundamentally shocking to me. Maybe it's that past that explains the variability of his game, or maybe it's just a function of his own internal rhythms, or maybe it's just bad luck. Whatever the case, Day's career has been defined by peaks and valleys.
It was plenty difficult for Day to stay the course during his childhood and his stint at the Kooralbyn sports academy, and it was difficult for him to break on to the PGA Tour, and it was difficult for him to win an event (his first came in 2010). Then it was difficult to win again (2014), and it was difficult to win a major and become World No. 1 (2015, 2016), and it was difficult to sustain that excellence (TBD).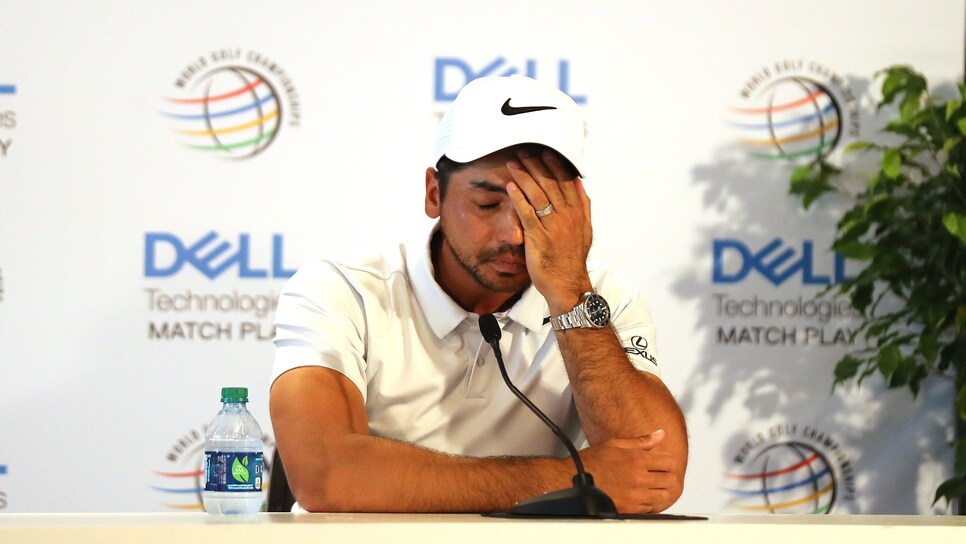 David Cannon/Getty Images
In between all of these accomplishments, there have been fallow periods. In 2012, as a distracted new father, Day had to watch with envy as players like Rory McIlroy assumed the mantle of "next big thing" while he failed to win even minor events. In 2014, after winning the WGC-Accenture Match Play against Victor Dubuission, Day disappeared again with injury and turned moody and introspective as he watched golf on television. And in 2017, he saw his World Ranking fall to 13th as his game and his private life suffered.
In that sense, the fall from the top of the world was predictable. But—to use a terrible yo-yo pun for which I should be blindfolded and shot—if you play out the string on this pattern, it was also predictable that he'd rise again. His win in California was the first sign of that new ascent, and I suspect we're going to see some more fireworks soon. As Tiger said, the one thing you can never question with Day is his toughness and willpower, particularly when he's low. If the next win doesn't come this week alongside Tiger at Bay Hill, watch out for Day at the Match Play next week—he loves the format, so much so that I consider it one of the great tragedies of modern golf that he doesn't get to play in the Ryder Cup (there's an easy argument to be made that from his WGC record alone, he's the greatest match-play golfer of his generation).
Beyond Austin, good health should see him pose a serious threat at the majors, starting with the upcoming Masters, his personal white whale. His success in 2018 is almost preordained, and it aligns with the simple physics unique to Day's career.
What goes down must come up.