The Loop
Rory McIlroy transforms "lost season" into FedEx Cup windfall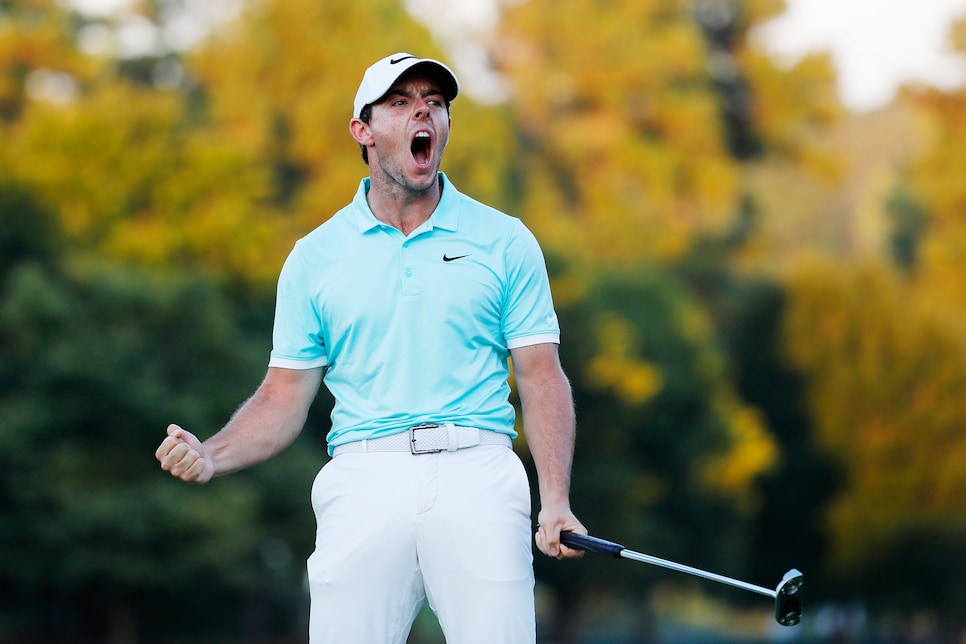 ATLANTA -- Two months ago, Rory McIlroy looked beaten. He failed to make the weekend at Baltusrol, his second missed cut in the last three majors. His putting was such a mess that he altered styles mid-season, only to return to his original grip. He was inconsistent, with strings of birdies undone with a disconcerting amount of high numbers. Some questioned his fortitude, his lack of grinding. McIlroy, deemed golf's golden boy after winning back-to-back majors in 2014, was asked if he feared becoming the sport's "Ringo."
What a difference two months can make.
Weeks after capturing the Deutsche Bank Championship, McIlroy grabbed the 2016 Tour Championship -- as well as the FedEx Cup -- with an instant-classic performance on Sunday at East Lake.
The 27 year old began his round two shots back of Dustin Johnson and Kevin Chappell. Although he was three under through 15 holes, McIlroy faced a three-stroke deficit to Chappell as he teed off on the 16th. A deficit, thanks to a perfectly-timed jarred approach shot, that quickly shrunk to one:
"I knew I needed something to happen," McIlroy said. "I was really just trying -- I said to myself on the 15th tee, if I can finish with three 3s, I'll give myself a chance. I didn't quite think the eagle was going to come as soon as it did.
"But when something like that happens, you have to make the most of it."
It was one of the most dramatic moments in FedEx Cup history. East Lake's nines were flipped this year, as the new back side is more conducive to lower scores. Organizers made the change in hopes of generating more fireworks down the Tour Championship home stretch. Little did the gallery know the drama was just beginning.
Following the eagle, McIlroy parred the 17th and carded birdie on the par-5 18th for a 64. It put him at 12 under for the tournament, tied with Chappell and McIlroy's playing partner, Ryan Moore. After watching Chappell make five on the final hole, the trio returned to the 18th tee box, where McIlroy launched a 357-yard drive, leaving him 211 yards from the hole. As his opponents struggled from the rough, the Northern Irishman smacked his approach within feet, seemingly wrapping up the tournament.
Alas, McIlroy's eagle lipped out.
"I just had to regroup, stay focused, and try to give myself chances in the playoff," McIlroy said of the miss. "Thankfully I stayed patient enough to get it done."
With Moore making four and Chappell taking five again, Moore and McIlroy returned to the 18th. The two both made par, and a trip to the par-3 15th returned similar results. Finally, in the face of a tremendous up-and-down from Moore, McIlroy canned a 15-footer for birdie on the 16th, earning his first Tour Championship victory.
"That ranks up there with just some of my best performances on the golf course regardless of tournament," McIlroy said.
Moreover, thanks to the final-round falter of Johnson, McIlroy also walks away with the FedEx Cup and it's $10 million payday.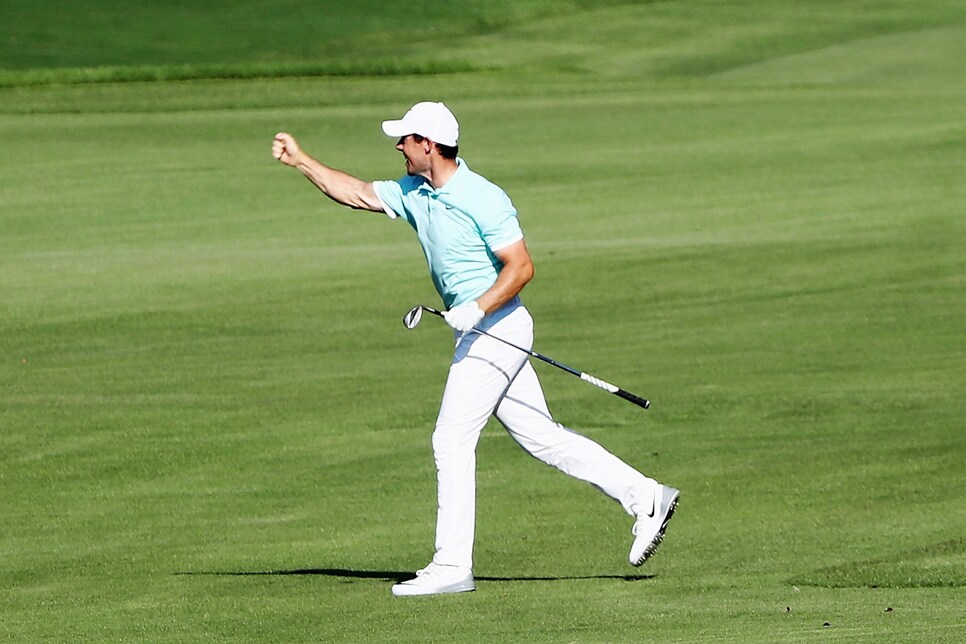 During his dry spell, no one slandered McIlroy's driving ability or iron prowess. It was his short game woes -- specifically, his putting issues and wedge play -- that made onlookers shake their head.
"I think you need weeks (the PGA Championship) like that," McIlroy remarked. "I've always benefited from things like that in my career, from low points. I always feel like from a low point you can work yourself back up, and you can really assess what you need to do."
Those same criticisms re-emerged in the crowd and on social media following the missed eagle putt, and after a less-than-stellar approach on the second playoff hole.
Yet, the tournament stats tell a different story. While McIlroy's power (first in sg: off-the-tee) and iron dexterity (second in greens in regulation and sg: tee-to-green) were on display this week, his flat stick was far from a detriment, ranking in the middle of the pack in most putting figures. He's working with a new coach, and it's producing dividends: in his win at TPC Boston, McIlroy finished seventh in the field in sg: putting.
More importantly, when he desperately needed it on Sunday, his putter came to the rescue with that beautifully-rolled stroke on the fourth playoff hole.
In short, when he's merely adequate on the dance floors, McIlroy has a breath of invincibility rarely seen in this game.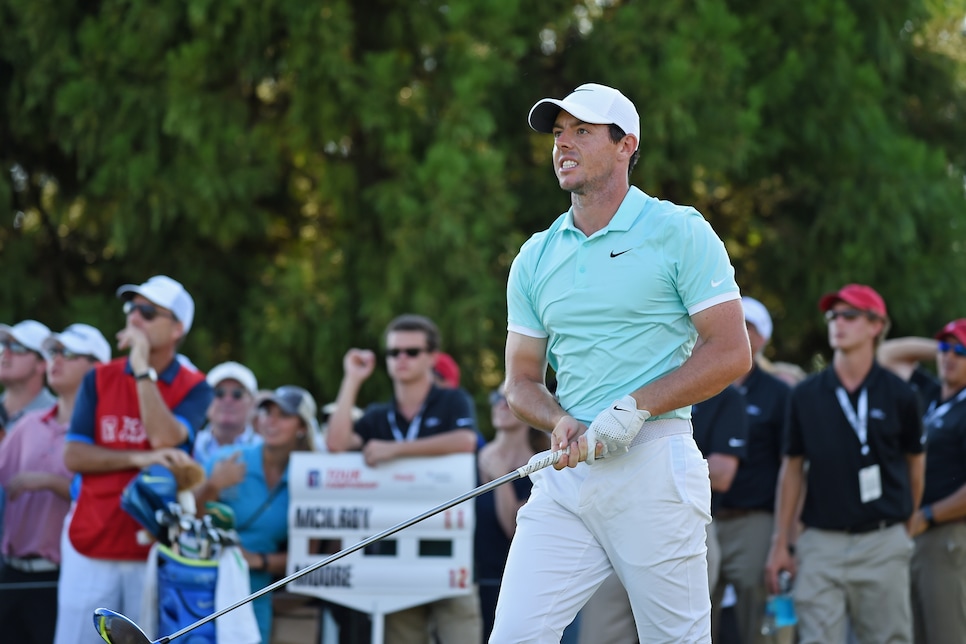 As for the theory that McIlroy is lacking in the temerity department, Sunday's theater proved otherwise.
"I mentally was expecting to have to hole that putt to win," McIlroy said on his second go-around of the 16th. "I never expect my opponents to hit bad shorts or to miss puts. I expect them to sort of do everything. So it didn't faze me."
We'd be remiss in forgetting his par-saving seven-foot putt on the 15th. Given the circumstances, it was just as impressive as the winning stroke to come.
Winner of two of the past three events, McIlroy heads to Hazeltine for the Ryder Cup. It's an event that suits him well; the Europeans have won in each of his three appearances. It's safe to assume he'll arrive in Minnesota with an extra bit of confidence.
"I've obviously never gone into a Ryder Cup with this much excitement coming off the back of something like this," he asserted. "So, yeah, I'm looking forward to it."
But that's next week. For now, McIlroy is enjoying the moment.
"I've made it no secret that it's one of the last things I feel like I had left on my golfing CV, and I made it a big goal of mine especially after the summer had gone, to win it," McIlroy stated after his triumph. "So to be here and to win the FedExCup, especially where I came in in the mid-30s somewhere, to play the way I have in the last few weeks to get it done is very special."
Two months ago, Rory McIlroy looked beaten. Raising the FedEx Cup on Sunday night, he stood unconquered.