News
Golf, rowdy fans and the hard line that needs to be enforced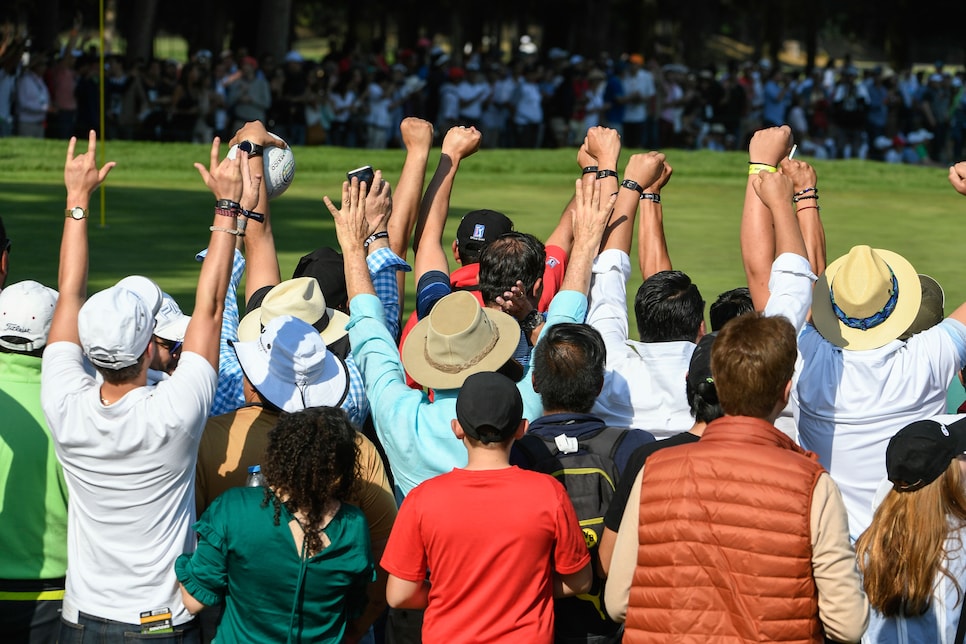 Photo By: Ryan Young/PGA Tour
I am a little upset with Justin Thomas. Not for almost preventing Phil Mickelson from finally ending his 97-tournament dry spell by shooting 62-64 this past weekend in Mexico to come from nowhere and nearly steal the tournament. And not for screaming a profanity when he holed his final putt the previous week to win the Honda Classic—although his notion that he didn't realize it would be picked up on TV was a bit far-fetched.
I know I'm in the minority here. Most people in golf seem to think that Thomas overreacted to the guy who had been yelling at him as he and Luke List walked onto the 16th tee, the fan hoping Thomas' ball would find the water. Maybe the guy was pulling for Tiger Woods. Or John Daly. Or Europe.
Regardless, when he continued by then yelling "get in the bunker!" as soon as Thomas' shot tee shot came off his club, Thomas decided he'd had enough. He pointed at the guy and said, "Enjoy your day buddy, you're gone."
Thomas received a good deal of criticism in the aftermath, many in the media saying he overreacted. Everyone acknowledged the guy was obnoxious, but he hadn't been profane and he hadn't yelled during Thomas's backswing. So it was OK.
Golf is different than other sports because spectators can get up close and personal with the players. It's one of the game's perks and, more often than not, it's a good thing. How many people are there on earth who still tell the story about Arnold Palmer giving them a thumbs up, or making eye-contact, or tousling their kid's hair during a round?
There was only one Palmer, but today's players will often put their hands out for a moving mid-five going from green to tee. And there are quite a few people with autographed golf balls or gloves in their dens they received after being hit by a wayward Tiger Woods or Mickelson golf ball. It's one of the things that makes golf unique.
It's also why obnoxious fans need to be policed. Even though it was only a small percentage, there were moments at the 2016 Ryder Cup at Hazeltine National where fans got completely out-of-hand. The treatment of Danny Willett's family was inexcusable, fans screaming profanities at his parents and his wife because they were upset by a tongue-in-cheek piece written by his brother that week.
At one point, when fans were yelling during European backswings, Jordan Spieth got so upset that Henrik Stenson had to calm him down. There was also the moment on Saturday when Rory McIlroy had a drunken fan taken out because he was a few feet away from him directing beyond-obscene comments at him.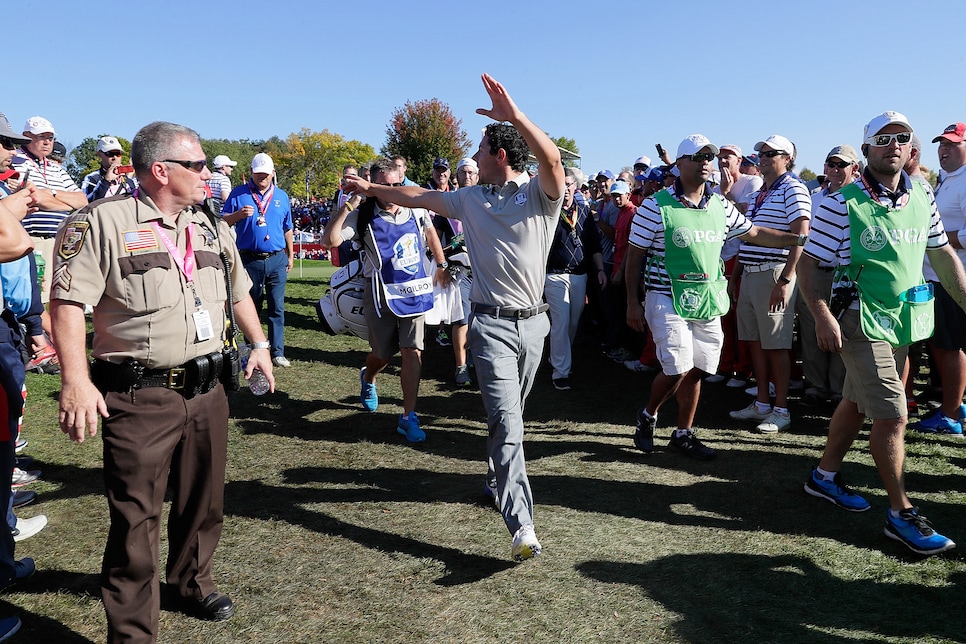 "It wasn't like he was the first," McIlroy said later. "I just happened to be walking right towards him and looked him in the eye. Usually I just put my head down and keep going, but this went too far. If I hadn't had him taken out, I might have gone over the ropes after him. That wouldn't have been good."
"Golf's just different," McIlroy continued. "If you're at a football game and you're up in the stands screaming, no one on the field can hear you. Even in tennis there's space, although one guy yelling at the wrong time can be a problem. But even there, it's not as if he can reach out and touch a player."
For years now, the Ryder Cup has brought out the worst in fans. And, while Americans like to insist that, "it's just as bad in Europe," it isn't. Not that there aren't moments over there but the worst moments—by far—have come in the U.S.
It started with the so-called "War by the Shore" at Kiawah Island in 1991, when all bets were off on fan behavior because the U.S. had to win. It was equally bad in 1999 at The Country Club. I walked on Sunday with the last singles match, Payne Stewart against Colin Montgomerie. The fans were awful all day. Going from the ninth green to the 10th tee, there was one guy—like McIlroy's lout at Hazeltine—who kept calling Montgomerie a word that simply shouldn't be uttered in public. Monty kept going. Trailing the players, I started to turn around to tell the guy to shut up. Before I could say anything, there was a hand on my shoulder.
It was Stewart. "I got this," he said. He pointed to a security person, then at the guy and just said, "Him—out."
When Stewart conceded Montgomerie his final putt on the 18th green—from 25 feet—to give him the match, it was, he said, because of the fans. "We'd won the Cup," Stewart said. "The match didn't matter. And, after what Monty had been through that day, no way was I going to make him putt that."
Yes, the Ryder Cup is the most extreme example, but bad behavior can happen anywhere at anytime.
It's hardly a new phenomenon in golf. When John Daly became a star after unexpectedly winning the PGA Championship in 1991, he brought lots of new people to tournaments—many of whom knew nothing about the sport and only cared about seeing Daly put the ball into orbit so they could yell, "You da man!" or "Get in the hole!" Most of it was pretty innocent, but there were times when it unnerved those playing with Daly. That and the fact that most never waited once Daly had putted out and stampeded to the next tee.
Then came Tiger-mania and more new fans, many of whom cared only what Woods was doing. After all these years, Woods has become mostly immune to it all but those playing with him—as Thomas noted a couple of weeks ago in Los Angeles—can find it distracting.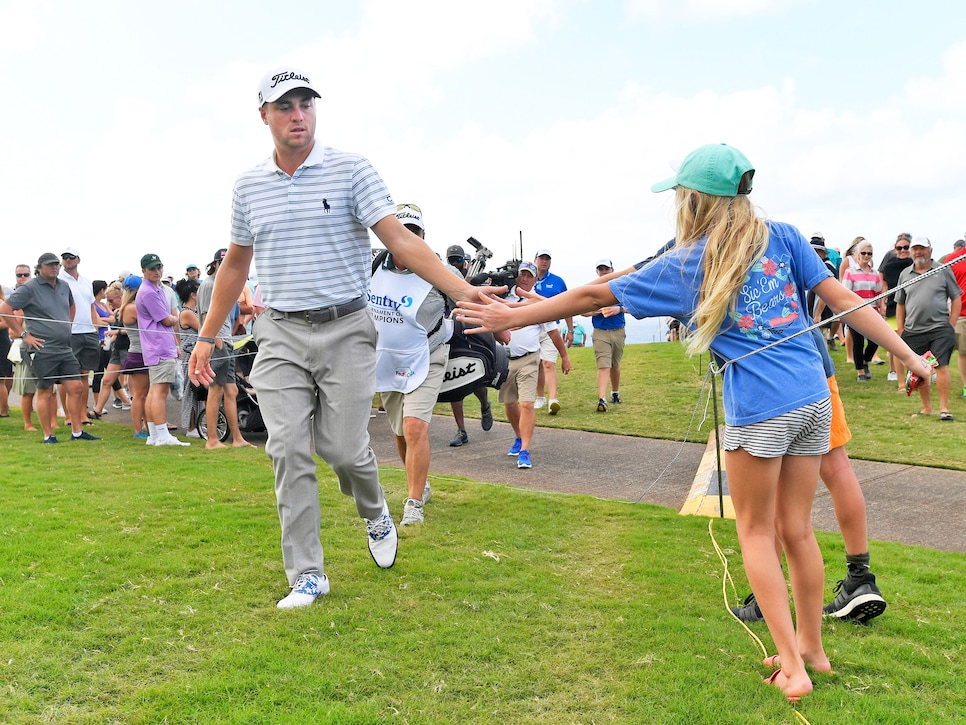 Ninety-nine percent of the difficulty for those playing with Woods are the sheer numbers of people who want to get a look at their hero and really aren't paying attention to what the other players are doing. That's pretty much the price of popularity—collateral damage usually with little harm done.
The dopes like the guy at PGA National last week are the problem. Apparently, as long as you aren't profane, being obnoxious is OK.
Forget, for a second, about the players. What does the father standing nearby tell his kid when he/she asks, "Daddy, why does that man want Justin's ball to go in the sand?" For that matter, what does he say when asked, "Why is that other man yelling, 'get in the hole,' from 500 yards away?"
Beyond that though, there's just no excuse for that sort of behavior. Sure golf's stakeholders want to open up the sport to new fans, some of whom aren't familiar with the game's traditions or general etiquette. There's nothing wrong with this, but at the same time it's incumbent upon the sport to help make sure things don't get out of hand. The party/zoo that is the Waste Management Phoenix Open should be the exception, not the rule. (And even that exception needs to reign things in after some cross-the-line moments earlier this year.)
If you ask me, more players—and officials—should react like Thomas in the heat of the moment at the Honda. There's all sorts of security trailing players on the golf course nowadays; they should be entrusted to remove people who violate the rules of common courtesy. Meanwhile, players shouldn't have to be the policemen. Other fans should step in too—especially at the Ryder Cup—but in all venues. Someone should have told the guy on the 16th tee to shut up and then pointed him out to security.
One of the things the PGA Tour likes to brag about is that golf is a gentleman's game. It's one reason why they refuse to reveal player fines—like the one Thomas got after his profanity that day. They don't want to damage the tour's pristine image. OK, fine. Make your fans live up to that standard, too.
Thomas was absolutely right on Sunday when he had the fan tossed.
His only mistake was apologizing on Monday.