The Loop
Rory McIlroy's walk-off wedge, Bryson DeChambeau's bold photo, and Brooks Koepka puts his nemesis on a dartboard
Welcome to another edition of The Grind where we are going to try to be even more positive than usual this week. Yes, I heard the Golf Twitter complaints about the TaylorMade Driving Relief format and NBC's coverage of the event. And yes, that Bill Murray interview seemed particularly out of place. But I loved Bill giving a random shout-out to Costco, and I loved just about everything else about Sunday. It was LIVE golf, people! For the first time in 66 days! And in addition to the relief it provided golf fans who have been resigned to old tournaments and "Big Break" reruns the past two months, it helped raise more than $5.5 million for COVID-19 relief efforts. Tough to complain too much about that.
Rory McIlroy: The world's best player put on the best performance overall when it came to showing off his golf game and personality. McIlroy was by far the chattiest player in the star-studded foursome, and while the FedEx Cup trash talk may have induced some cringes, at least he was trying. Oh yeah, McIlroy also delivered in dramatic fashion with the winning closest-to-the-pin effort on the final swing of the day:
Also, perhaps learning from the mistake of fellow four-time major champ Brooks Koepka, McIlroy had the good sense to not allow his significant other to give him a quarantine hair cut.
Smart man. Although, if he lived in New York, that might be a different story. I'm starting to get desperate.
Rickie Fowler: It's too bad this guy didn't play during the Skins Game Era. He could have challenged Freddie Couples as the King of the Silly Season. Taking advantage of the light atmosphere—and some local knowledge as a three-time Seminole Pro-Member winner—Rickie ripped off seven birdies to nearly pull off the upset with partner Matthew Wolff. Fowler's back was probably pretty sore when he woke up on Monday morning. And not just from carrying his own bag, if you know what I mean.
Seminole Golf Club: If I'm being totally honest, the historic track making its TV debut didn't come across amazing on TV. But all the architecture geeks were geeking out and they know a lot more about this stuff than I do so I'll defer to them. Plus, Golf Digest put together this sweet video of the place:
And even with SOFTER (Drink!) conditions, this DONALD ROSS (Drink again!) design played tough thanks to its genius GREEN COMPLEXES (Finish the bottle!). Anyway, it was nice finally getting a glimpse of this spot. And I wouldn't mind seeing it in person sometime (Hint, hint).
Matthew Wolff's pop: The 21-year-old was admittedly nervous, but he managed to launch his two best drives when it mattered most, easily winning both long-drive challenges with blasts of 356 and 368 yards.
Wolff made a lot of money for the CDC Foundation with those two drives. He also made a lot of new fans.
Matthew Wolff's Fu Manchu: The kid gets his big break on the big stage and he does this?
A closed U.S. Open: The USGA announced there will be no open qualifying for our national championship, which is the reason why it's called the U.S. Open in the first place. While I understand the decision given the current situation, that doesn't make this any less disappointing. Local and sectional qualifying provide some of the tournament's best stories each year. And not to mention, they have produced some winners through the years, including Lucas Glover (2009), Michael Campbell (2005) and Ken Venturi (1964). On the bright side, if you're a scratch golfer, you can tell everyone this would have been the year you were finally going to qualify.
Greg Norman's ranch: As in, The Shark is selling his expansive and expensive ($40 million!) Colorado property that is so big a river literally runs through it. Here's a photo of the 14,000 square foot lodge on the 12,000-acre property from the listing: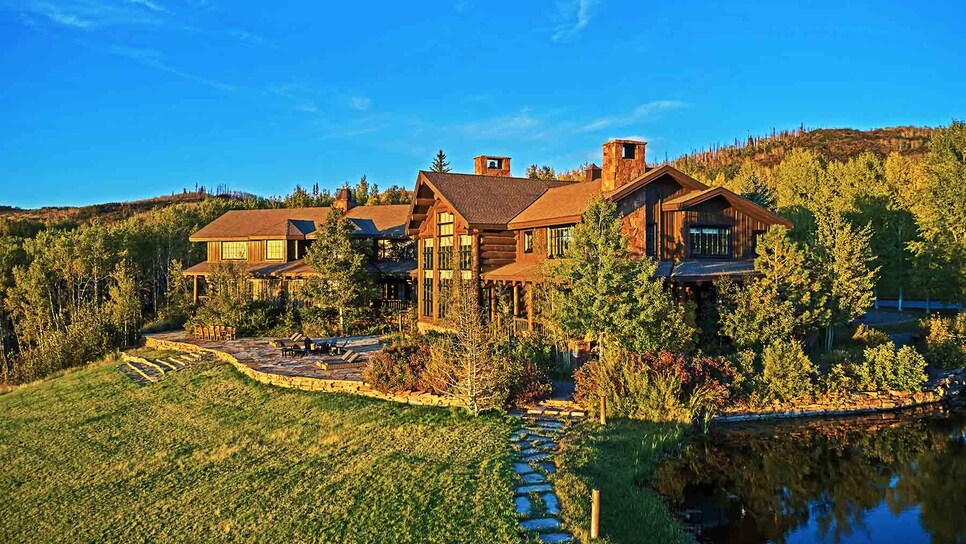 And here's another photo from the listing of Greg and his wife horseback riding through the snow: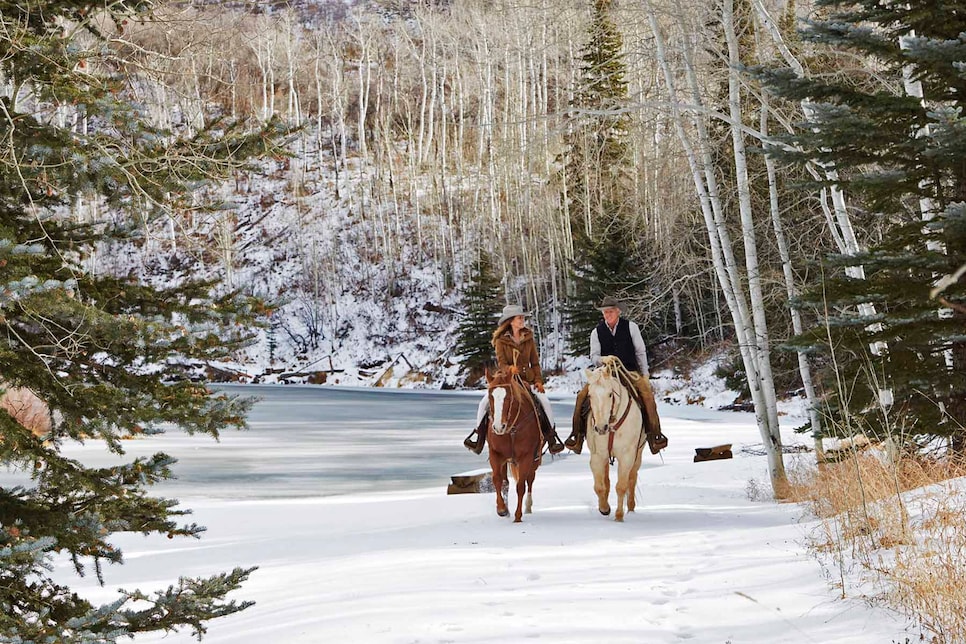 Looks nice, Greg, but I'm just not sure if it's enough space for me.
Another week, another live televised event for charity! This time it's THE MATCH Part II, AKA The Match: Champions for Charity. And it will feature Tiger Woods partnering with Peyton Manning to take on Phil Mickelson and Tom Brady. What a foursome. Oh, and Charles Barkley will be part of the announcing crew. This should be fun.
Random tournament fact: Phil topped Tiger for $9 million in their first made-for-TV matchup in 2018. While even more money is up for grabs this time, it's all going to COVID-19 relief efforts so the guys are going to play nice. "It's his home course, but Tom and I are going to go down there and put it to them," Mickelson told Golfweek. "And we'll make it that every time Tiger shows up at his home course, he'll have a bad memory." Never mind. The gloves are off!
—Phil won't mention beating Tiger the last time: 9 MILLION-to-1 odds
—Phil will show off his throwing arm during the event: Even odds
—Phil will wear shorts to show off those calves: LOCK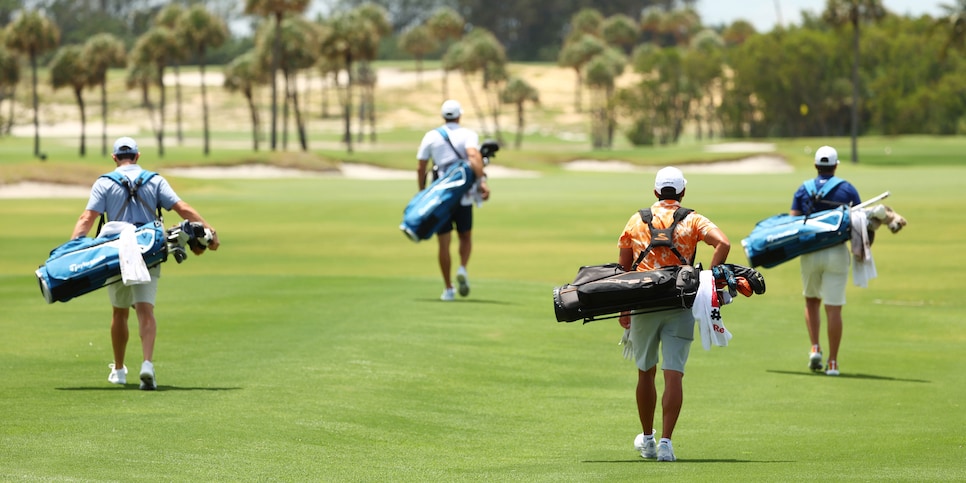 Shorts? Stand bags? What a sight. Pros are just like us! At least, until they put those bags down and start hitting shots.
Brooks Koepka has a dartboard with Brandel Chamblee's photo on it:
THIS WEEK IN TOUR PRO PUBLIC DISPLAYS OF AFFECTION ABS
Beefcake Bryson caused quite the stir with the following photo: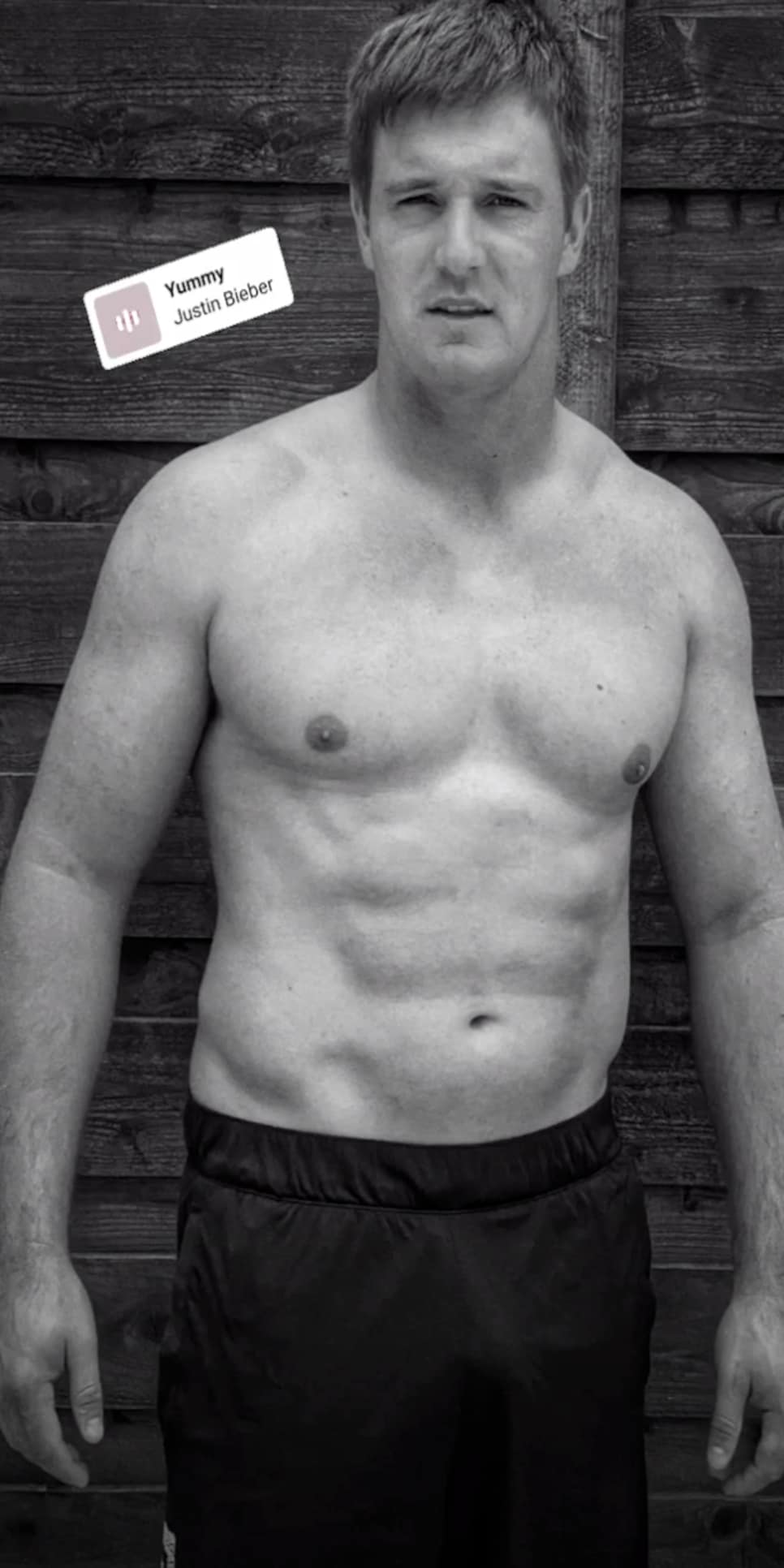 While the full results of his weight-gaining experiment—now up to 230 from 195!—remain to be seen on the course, you gotta admit the guy looks good. OK, well, I'm admitting it. If the PGA Tour does a shirtless calendar to raise money for charity, you should make the cut.
THIS WEEK IN CELEBRITY GOLFERS MICHAEL JORDAN GOLF STORIES
Thanks to colleague Chris Powers for clipping these from the final two episodes of "The Last Dance." Although they are criminally under-liked, he'll probably have the Internet police all over him now. Anyway, MJ took a dig at Larry Bird's golf game after eliminating his team in Game 7 of the 1998 NBA Eastern Conference Finals:
And then after winning the 1998 NBA Finals, his Airness still had golf on his mind:
THIS WEEK IN GOLFERS GOLF MEDIA BEING QUARANTINED
One of my bosses, Ryan Herrington, built this version of the Big House: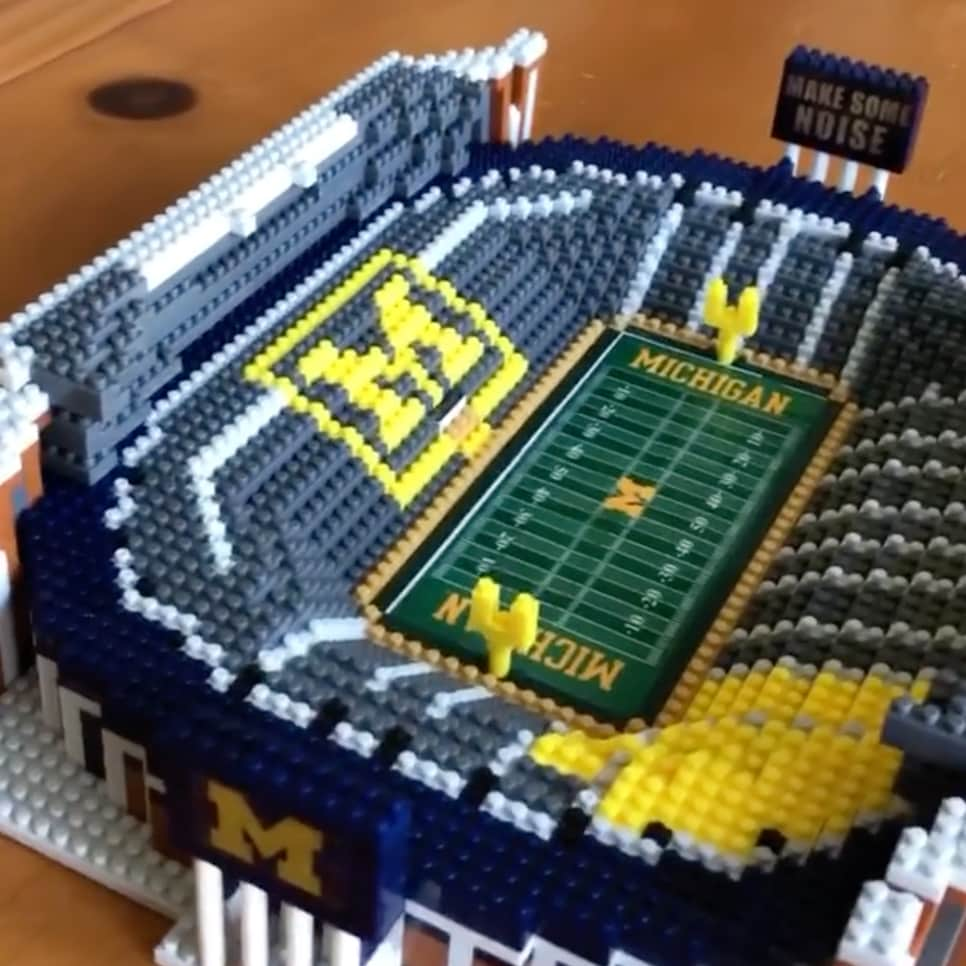 Yes, he went to Michigan. And another one of my bosses, Sam Weinman, adopted a small dog:
At first, it seems like Sam has the clear advantage. But Ryan is going to have a lot easier cleanup, so tough call.
"Hey, DJ, is this a waste bunker?" —Matthew Wolff provided the dagger of the year on Sunday. It was especially impressive considering Wolff was only 11 when that happened to DJ at Whistling Straits during the 2010 PGA.
Sportsbooks said the action on the TaylorMade Driving Relief was similar to a major. It's good to see our country is still filled with degenerates, including a few from the office who shall remain nameless. … Unfortuantely, the NBC broadcast didn't quite reach major-level ratings, but the 2.35 million total audience delivery is nothing to sneeze at. And it gives Tiger/Phil something to shoot for in addition to raising money for charity. … Mike Weir, who recently turned 50, was this week's guest on the Golf Digest Podcast. The 2003 Masters champ sounds ready to take down the geezers on the senior circuit: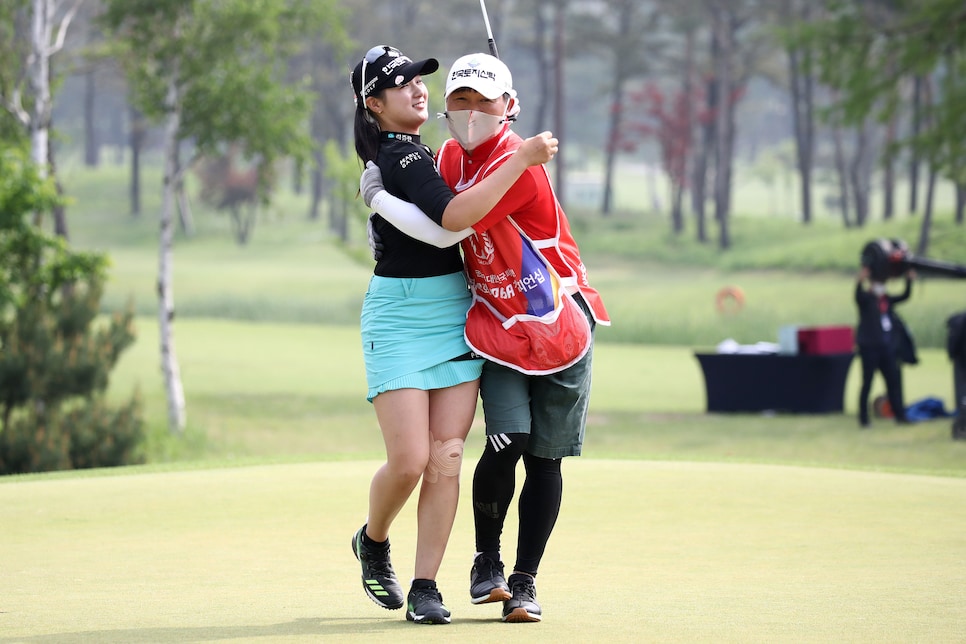 And before you get upset over her hugging her caddie, that's her dad. … And finally, congrats to Golf Digest supervising producer and Grind video teammate Michael Sneeden on making his first eagle: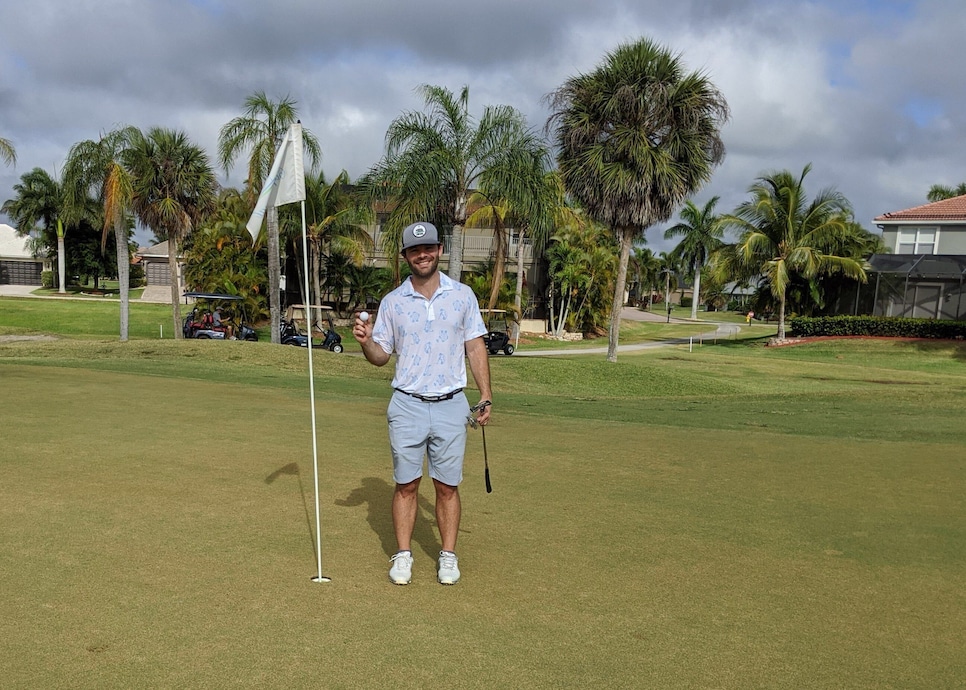 I'm so happy for you, Mike—especially since it wasn't a hole-in-one. Then things would have gotten awkward.
RANDOM QUESTIONS TO PONDER
How many thumbs up will Phil flash on Sunday?
How many people think golf events end with a tape measure now?
What does Bill Murray's Costco shopping list look like?