News
Six takeaways from the TaylorMade Driving Relief charity event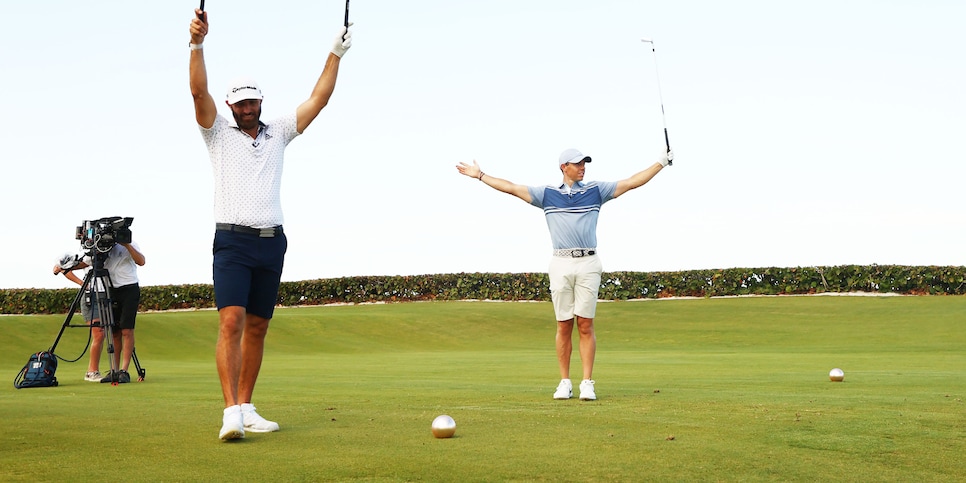 Rory McIlroy and Dustin Johnson react on the 17th tee after winning the closest-to-the-pin playoff at the TaylorMade Driving Relief charity match at Seminole Golf Club.
Mike Ehrmann
On Sunday at Seminole, amid this god forsaken spring of 2020, golf returned. Rory McIlroy, Dustin Johnson, Rickie Fowler and Matthew Wolff congregated—not too close, of course—at one of America's larger-than-life courses for a benevolent stroll, one that raised more than $5.5 million for COVID-19 relief.
From a distance, the foursome competing in the TaylorMade Driving Relief looked unremarkable: four young men carrying their own bags, no fans in sight, fighting off rust and swinging extra hard on downwind tee shots. It was a lowkey affair, devoid of any pretension but also lacking real fireworks. In the end, McIlroy hit his wedge inside Wolff's on the par-3 17th to win the sudden-death, closest-to-the-pin playoff for $1.1 million in skins and the victory. The team of McIlroy/Johnson finished with $1.85 million in skins for American Nurses Foundation, while the Oklahoma State duo of Fowler/Wolff, which led most of the match, won $1.15 million for CDC Foundation.
Here are six takeaways from the first live, televised golf event since the Players Championship was canceled nine weeks ago.
Socially distant golf tournaments are possible
The die-hards who've been watching the Outlaw or Cactus Tour will roll their eyes, but for the vast majority of those watching at home, this was the first look at what a socially distant professional golf tournament. And it looks like … well, a golf tournament.
It doesn't take a rocket scientist (or even Bryson DeChambeau) to understand why golf is uniquely positioned to return before virtually any other sport, and Sunday's action was further evidence that it is distinctly possible to hold a golf tournament while respecting CDC guidelines. The four guys never got too close to each other, never reflexively went to give a high-five and never touched the flagstick (PGA Tour rules official Mark Russell handled that responsibility). They gave each other ample room on the tee boxes and they were mindful of each other on the putting greens. There's risk involved whenever you leave home these days, but this didn't seem particularly dangerous.
Of course, the actual golf part of a golf tournament was never going to be what's tricky about coming back. It's the logistics of staging an event that has 1,100 people on the property, even without fans, and having the protocols (and testing) in place for everyone. But from a pure golf perspective, a corona-responsible golf tournament between the best players in the world is absolutely plausible.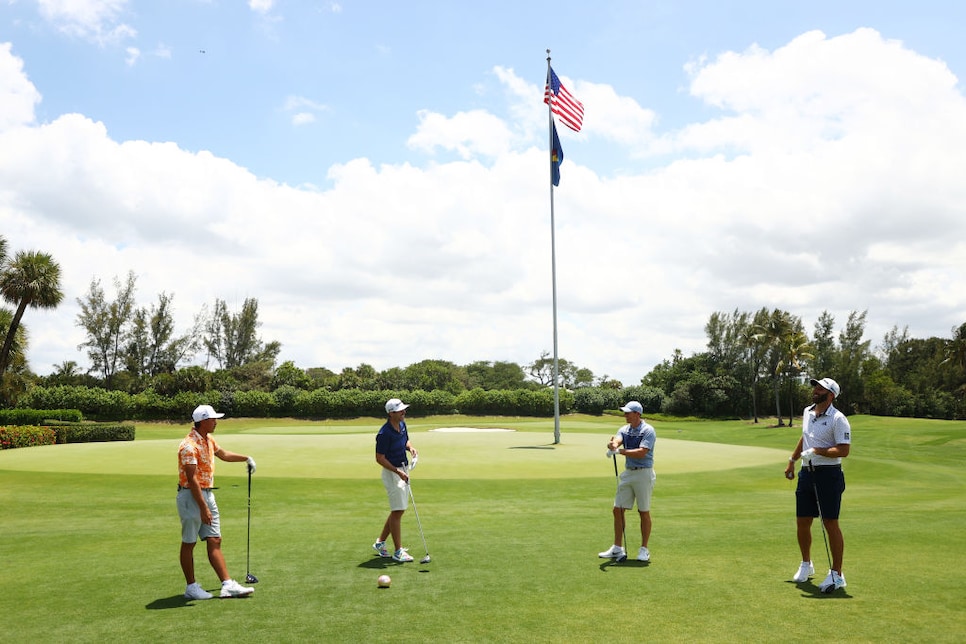 Rickie Fowler, Matthew Wolff, Rory McIlroy and Dustin Johnson await the start of the TaylorMade Driving Relief charity event.
Mike Ehrmann
Even the best players in the world showed more than a little rust
Interestingly enough, a number of Tour pros simply haven't been playing much golf during the forced break. Among those who put the clubs away: McIlroy and Johnson, both of whom only started ramping up their practice routines in the last 10 days or so. McIlroy drove the ball like his usual World No. 1 self, and DJ had his moments, but the two major champions looked more than a little rusty. Johnson, in particular, had a few big misses with the driver and had trouble hitting his lines on the greens all day. The good news for them: The first PGA Tour event back is still more than three weeks away.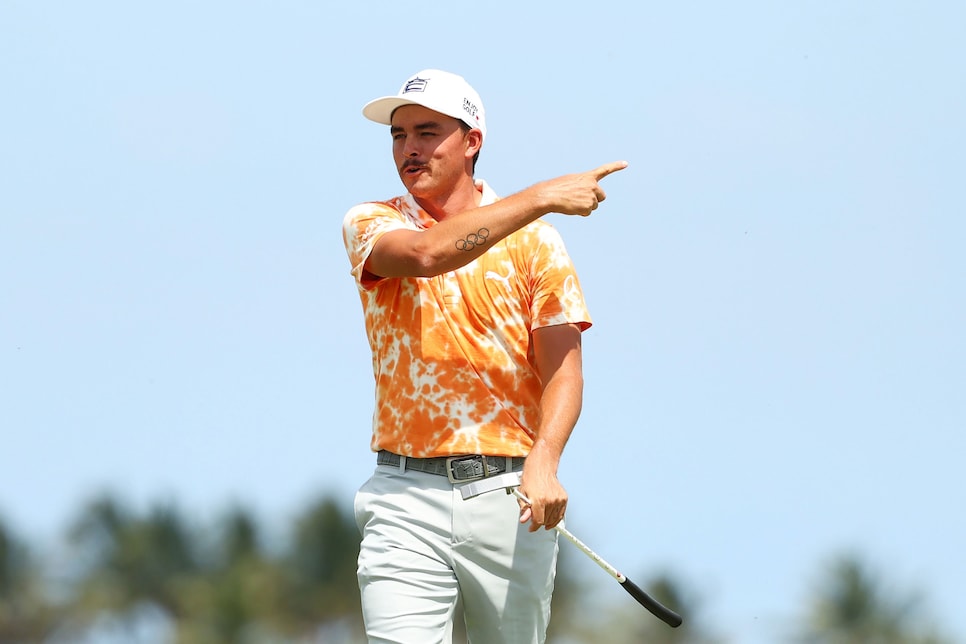 Rickie Fowler reacts on the fifth green during the TaylorMade Driving Relief.
Mike Ehrmann
Arguably the biggest unknown coming into the event was how Seminole, a course built in 1929 and one that's stayed more-or-less authentic to its original design, would hold up against guys who fly their 6-irons 210 yards. Yes, they had wedges into virtually every par 4, and yes, Fowler made seven birdies. (He's a three-time past champion of the fabled Seminole Pro-Member and loves the place). But a disappointingly soft Seminole—it rained all week in Juno Beach, Fla., before Sunday's sunny, breezy conditions—still flashed its teeth plenty of times. Wolff and Johnson were flummoxed by the greens all day, the foursome played the par-5 15th in a combined two over and only one person hit the green with a mid-iron on the par-3 1. In all likelihood, Johnson and Wolff likely would have shot over par had they had to count every shot. Still, in 2020, Donald Ross green complexes can and will frustrate anyone, even players as talented a four-time major winner like McIlroy or a 20-time PGA Tour winner like Johnson.
All four players wore shorts on Sunday. No surprise there. It's May in Florida. It's also no surprise that they all looked perfectly professional doing so, at least to this admittedly biased observer.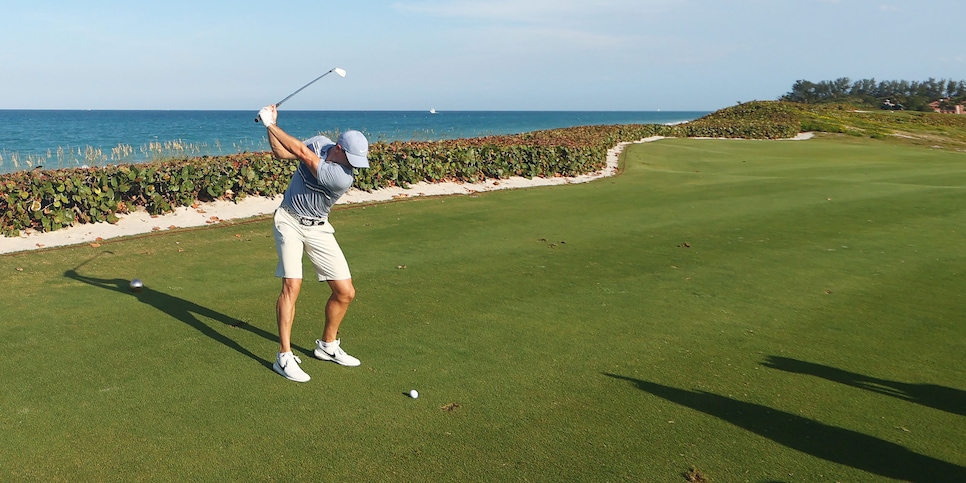 There's just no reason to not let players wear shorts during tournament rounds on the PGA Tour. It's clear they want to—ever since the rule was changed a few years ago to allow pros to wear shorts during practice rounds, the vast majority of them do so when they can. We're in the business of marketing these players as athletes. Athletes wear shorts. Yes, there's the tradition element involved—that pro golfers have always worn pants—and that it might look out of place for a bit seeing guys wearing shorts down the stretch on a Sunday. To that, there's this reply: Everything must evolve. We adapt, or we die.
Wolff took it all like a champ
A common reframe when this foursome was announced a few weeks ago: "Who is Matthew Wolff and how did he get into this game?" Not even a year removed yet from winning the NCAA individual title at Oklahoma State, Wolff didn't have his best stuff all day—he admitted to being a bit nervous playing with his more-accomplished peers—but he showed exactly why TaylorMade put him on this stage. First and foremost, his swing. It's one of those sports things you need to see with your own eyes because any textual description won't properly convey its uniqueness. (Think Jim Furyk meets J.B. Holmes.) And it's freakin' powerful. Wolff flew Rory McIlroy's ball on the long-drive contest on the second hole, cracking one 356 yards … then did the exact same thing at the second long-drive hole, No. 11, busting it 368 yards. He's a tantalizing talent and a young one, having just turned 21 and reminding us of his youth by saying things like "that's sauceeee." Get used to his face—though hopefully not the fu Manchu—because he's going to be around a while.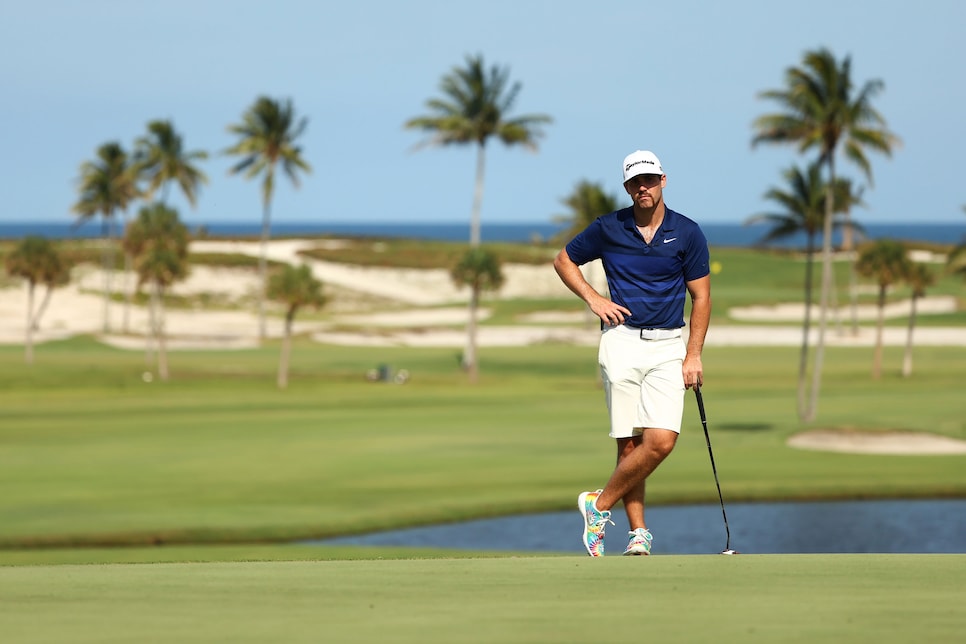 Matthew Wolff looks on from the 11th green at Seminole Golf Club.
Mike Ehrmann
For a gazillion reasons, fans weren't going to be there at Seminole. Yet, boy, do we miss them. A gallery completely changes the atmosphere of any tournament, and after seeing this two-on-two match play out, that there is serious discussion of a Ryder Cup without fans feels increasingly more laughable. Apart from it being weirdly quiet without them, it also creates a void of sorts for the broadcast, which the network then has to fill either with forced banter between players or long-distance interviews with people like Bill Murray and Donald Trump, neither of which left viewers better off.
The next live golf we see will be another fan-less event—the Tiger/Phil/Brady/Manning match—and so will the first four PGA Tour events, but here's to hoping that doesn't last too long. Heck, I even miss MASHED POTATOES guy.