News
"Similar to a major" is how sportsbooks describe the popularity of betting on the TaylorMade skins game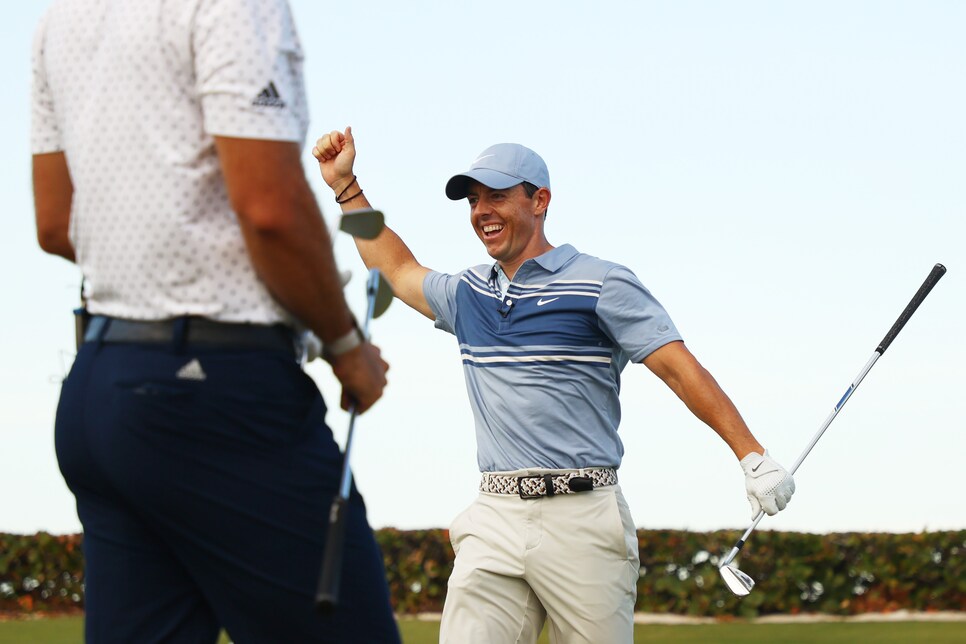 The return of live golf Sunday at Seminole was met with excitement from sports fans yearning for live sports. It appears that gamblers were equally thirsty for action, as the numbers indicate some serious enthusiasm on the ability to wager on the TaylorMade Driving Relief charity event.
DraftKings oddsmaker Johnny Avello tells us that the skins match resulted in the fourth-most amount of money wagered through DraftKings on a golf event, trailing only the Masters, U.S. Open and Open Championship from last year. FanDuel also reported its handle was "approximately double" of what a typical PGA Tour event would bring in. William Hill said Sunday saw its fifth-highest amount of money bet on any golf event through its mobile apps.
Those are major-like numbers. In a format ideally suited for live wagering, with some of the sport's biggest stars, Rory McIlroy/Dustin Johnson narrowly edging out Rickie Fowler/Matthew Wolff on a closest-to-the-pin finisher, it appears that golfers and gamblers alike were enthused about live sports being back.
"When you think about it, with only four players in this match, in one single afternoon rather than over four days, this was really impressive," said Avello, who was the director of the sportsbook at the Wynn Las Vegas casino before taking over as DraftKings' Head of Sportsbook in 2018. "It blew away the numbers that we normally do on a weekly basis.
"Golf is a game that continues to attract people who like to bet, and we continue to expand the offerings."
Live betting as the TaylorMade event went on, through mobile apps in states where that's legal, likely lifted the handle even beyond what anyone expected, with casinos in most states remaining closed due to COVID-19 restrictions, Sportsbooks with mobile betting such as DraftKings, FanDuel, William Hill, Bet365 and others offered live odds as the match went on, with odds on longest drives, closest to the pin, and live hole odds.
The Tiger Woods/Peyton Manning v. Phil Mickelson/Tom Brady match slated for Sunday on Turner Sports will look to capitalize on that momentum in betting on golf, and with the match featuring big-time star power from in and outside golf, the numbers could be equally impressive. William Hill says it expects the volume to be "2 or 3x" of the interest from the TaylorMade match.
"This should be off the charts, I think this will be bigger," Avello said. "I'm expecting this to exceed the numbers from this past weekend, which were remarkable."