The Grind
Rory McIlroy's hot (food) take, Lydia Ko's strategic new move and a PGA Tour Champions blooper for the ages
Welcome to another edition of The Grind, where we are hailing the new No. 1. No, not Rory McIlroy, but Greg Snedeker, who defeated yours truly in the championship match of the season-long Golf Digest Match Play Championship. And this producer and Grind collaborator did it at historic Winged Foot to boot:
Well played, Snedz. Hey, it's tough to beat someone who is related to a FedEx Cup champ. OK, so I'm not sure if that's actually true, but I'm going to roll with it. Now I can only hope that Augusta National gives our event the same respect it does the U.S. Amateur, and extends Masters invites to both finalists. Anyway, here's what else is happening in the world of golf.
Rory McIlroy: On a different course in a different state in a tournament most associated with a different country, McIlroy won the CJ Cup for a second consecutive year to hoist what is definitely not a cup at what has to be the most confusing golf tournament ("The CJ Cup in South Carolina"?) on the planet.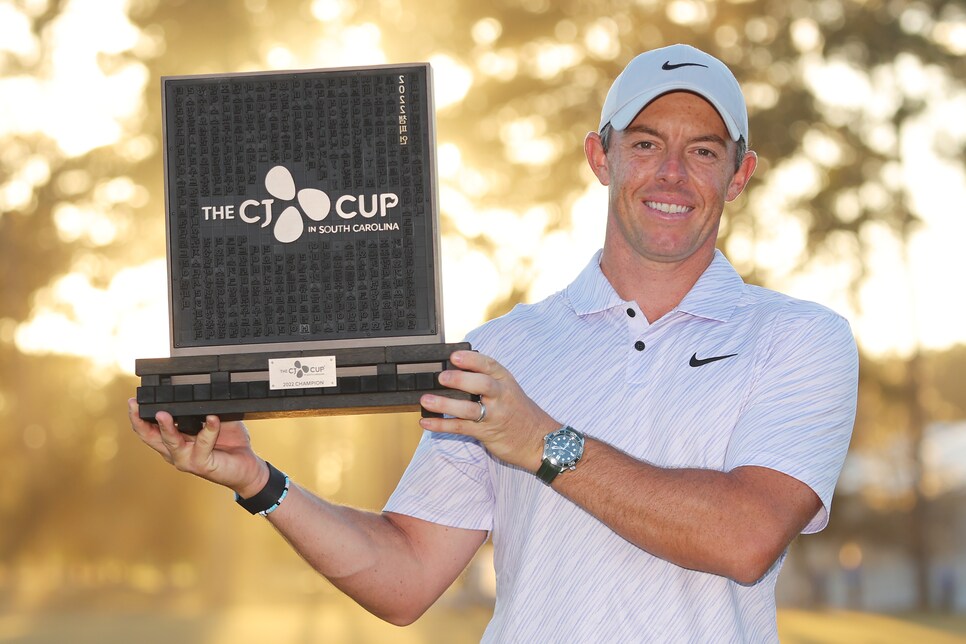 Less confusing is McIlroy moving back to No. 1 in the Official World Golf Ranking for the ninth different time and 107th overall week in his illustrious career. And if you think that doesn't mean anything, just watch this emotional interview he gave after:
What's most impressive is McIlroy's sustained excellence since bursting on the scene and first ascending to the top spot after winning the 2012 Honda Classic. Just look at the rest of the top 10 at that point and what they're up to now:
Golf may be the easiest sport to have a long career, but that doesn't mean it's easy to stay elite. It's possible that even with a major championship drought that's grown to more than eight years that McIlroy is somehow underrated with his 23 PGA Tour titles at age 33. But, c'mon, Rory, go win a fifth major already.
Lydia Ko: The LPGA star got to No. 1 at an even younger age than Rory (17 in 2015), but she hasn't had quite the same staying power. That said, the now 25-year-old seems on her way back to the top spot as well after her 18th career victory at the BMW Ladies Championship.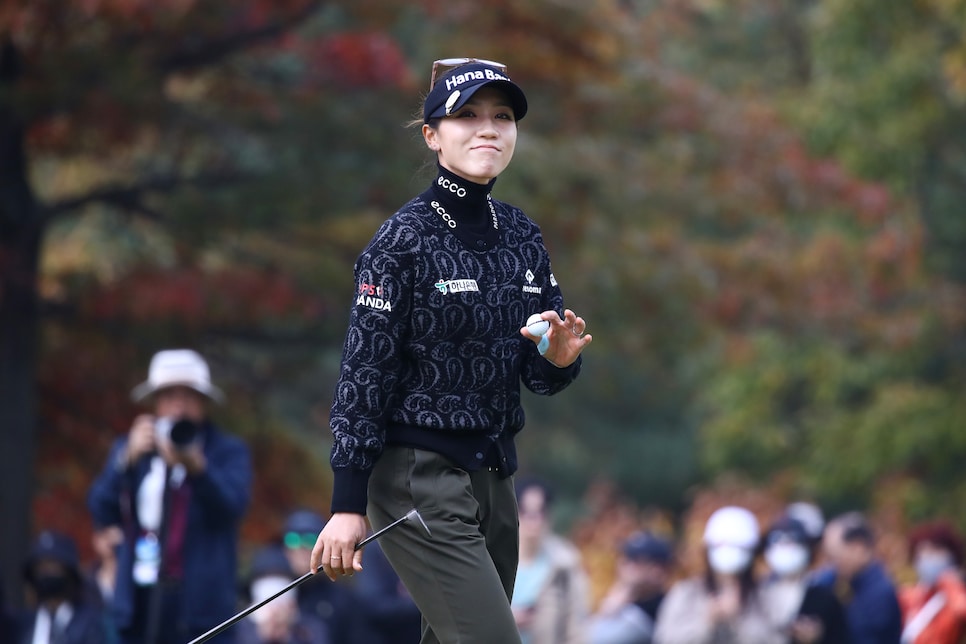 And she got even more fired up than usual during her four-shot win. "I normally don't do fist pumps, and I did a couple of fist pumps in my back nine because I knew how much that every single of those putts would count." Embrace the fist pump, Lydia. If it works for Tiger Woods, well, just do it.
Steven Alker: It's the Hollywood script that keeps getting better. Fourteen months ago, this guy was still having to Monday qualify for PGA Tour Champions events and now he's about to become the official King of the Senior Circuit.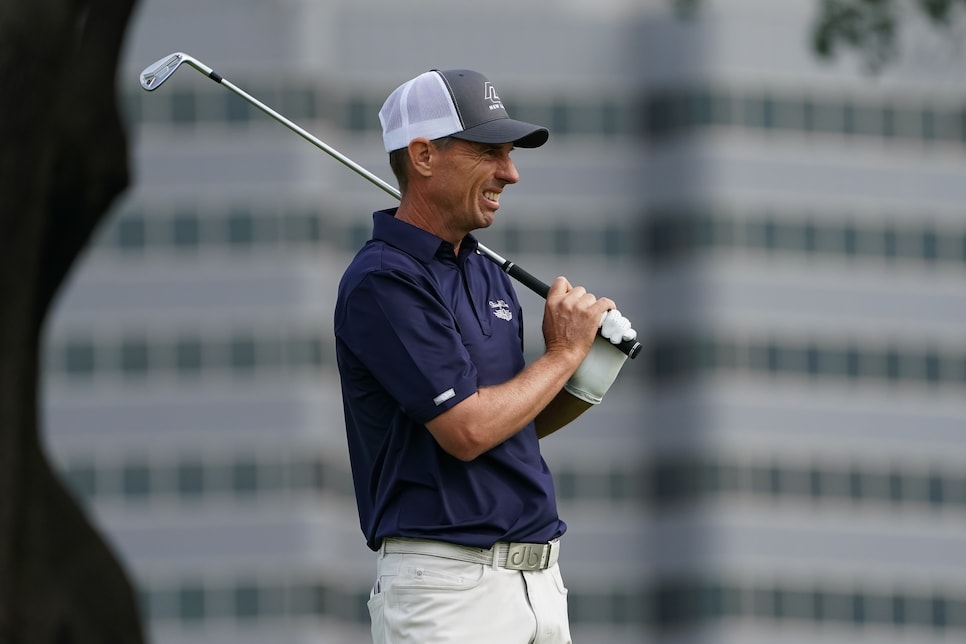 With a fifth win during that span and a fourth of this season at the Dominion Energy Charity Classic, the former journeyman has taken hold of the Schwab Cup Playoffs. But his hold of the actual trophy? Well …
Steven Alker's hands: After his latest win, the 51-year-old New Zealander dropped the glass trophy—and nearly gave a tournament executive a heart attack. Check out the video and possibly the greatest golf screenshot ever:
If Steven goes on to win the Schwab Cup, maybe he should keep his golf glove on at the trophy presentation.
Kurt Kitayama's three-putt: There's no shame in losing to Rory McIlroy by one, but the 29-year-old squandered a golden opportunity of taking down the PGA Tour's golden goose. Especially after driving the par-4 15th hole during the final round, leaving himself a 43-foot eagle try. But then a crushing three-putt coupled with a McIlroy up-and-down for birdie all but ended the tournament.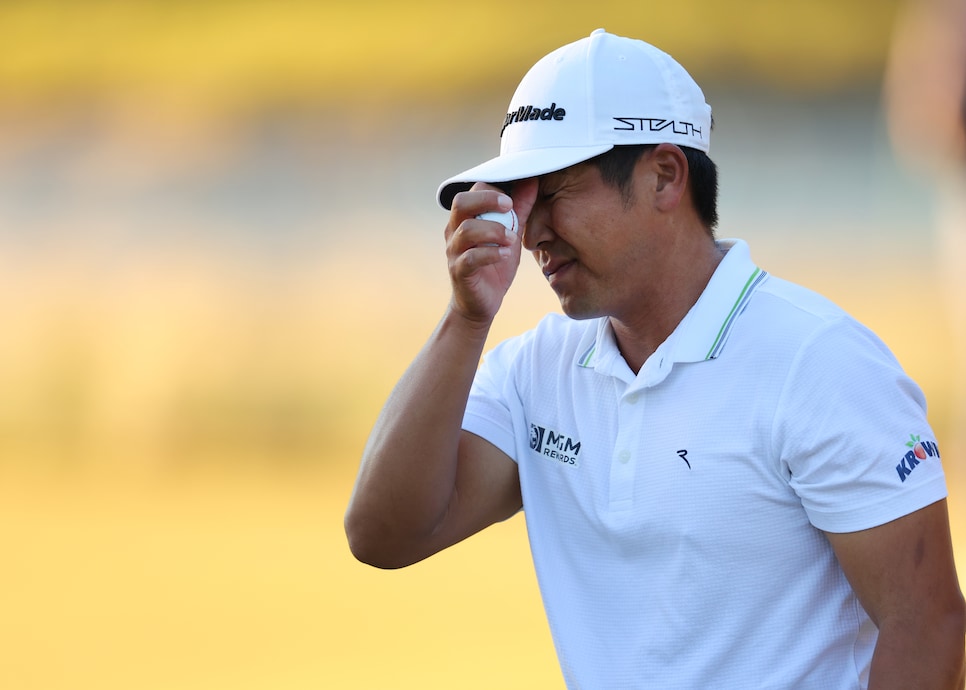 Kitayama settled for a third career PGA Tour runner-up instead of earning his maiden victory. Still, he's managed to make nearly $4 million in the two years since earning his tour card. Not too shabby.
Jordan Spieth's tap-ins: We thought Jordan had gotten past this thanks to some advice from his wife, but apparently, it's still a problem:
Even his own LEGION turned against him! Tough scene. In related news, I will not be betting on Jordan Spieth to win again. Well, until the Masters.
The PGA Tour heads out into the Atlantic Ocean for the Butterfield Bermuda Championship, AKA that one that always has a brutal field. And unfortunately, it also appears to be a brutal weather forecast, meaning it's a particularly good week for LIV Golf to try to make a splash with its season finale at Doral. That event features a $50 million purse with the winning team of four splitting the $16 million first-place prize. What a week to be Pat Perez, huh?
Random tournament fact: When Brian Gay won in Bermuda two years ago, the entire purse was $4 million. Crazy.
RANDOM PROP BETS OF THE WEEK
—Pat Perez would rather be playing in Bermuda this week: 50 MILLION-to-1 odds
—Denny McCarthy will win in Bermuda this week: 14-to-1 odds (Actual odds, favorite!)
—Jordan Spieth won't be backhanding any putts at Augusta National: LOCK
And just like that, some random person solved the problem of golf clubs getting snapped during air travel:
You can practically hear the "REAL MEN OF GENIUS" Bud Light jingle in the background. Now if only someone could solve the airlines losing golf bags.
This has nothing to do with golf, but it might be the most impressive athletic feat I've ever seen:
Get that guy on "America's Got Talent" right away! Actually, I have no idea where this guy is from but if there's some worldwide talent show, get him on there. Heck, get him his own TV show. That is unreal.
VIRAL VIDEO(S) OF THE WEEK (GOLF DIVISION)
What a cool, fun and even touching moment between Rory McIlroy and Tom Kim:
And then the two had another great interaction after Rory won:
You love to see it. And yep, Rory—and Greg Snedeker—have big bullseyes on their backs now.
THIS WEEK IN PUBLIC DISPLAYS OF AFFECTION (NOT INVOLVING TOM KIM)
But the cutest exchange was between Rory and his daughter, Poppy:
Aww. What a player. What a dad. What perspective.
THIS WEEK IN PGA TOUR PROS ARE JUST LIKE US!
How about Shane Lowry accidentally breaking his putter and then driving an hour each way to a PGA Tour Superstore in Bluffton to buy a new one off the rack?
OK so it turns out he was buying a backup for the one that Odyssey already had emergency shipped there. So, tour pros are never really just like us. Still, pretty funny to see a major champ purchasing golf equipment.
"I know he likes fast food, so I asked him Chick-fil-A or Popeye's and he told me he hasn't had Popeye's yet. So I'm like no, you've got to have Popeye's, I think it's better than Chick-fil-A." —Rory McIlroy on what he and Tom Kim talked about on the course. If we're talking only chicken, I agree. But I'm pretty partial to Chick-fil-A's waffle fries. Anyway, you love to see these guys talking about the big issues out there.
Congrats to Na Yeon Choi on her retirement from professional golf—and for making a hole-in-one to win a BMW in her final tournament!
Talk about leaving in style! … Kudos to Alex Noren for becoming the latest golfer to earn $10 million on the PGA Tour without winning. Of course, Pat Perez might do that this year alone on the LIV Tour. … And, finally, congrats to us at our Golf Digest yearly planning meeting at the fantastic Yale Golf Course. After catching a slow foursome not part of our group, I was part of an enjoyable ninesome(!) of colleagues for the final six holes: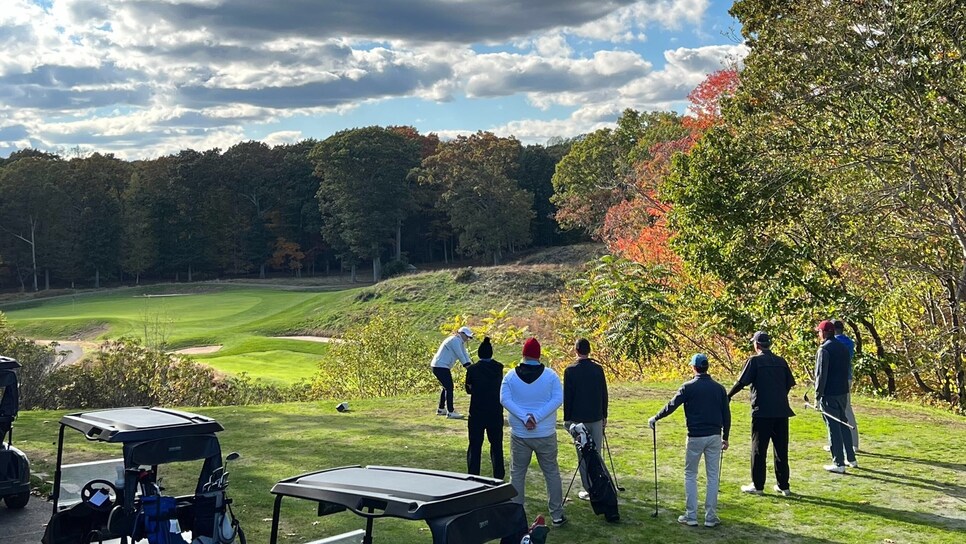 Well, enjoyable except for the fact we somehow waited on every shot for four of those holes! How is that possible?! Anyway, fun day. And yes, we also did some work. Emphasis on some.
RANDOM QUESTIONS TO PONDER
Why do most golfers play so darn slow?
When will Tom Kim get to World No. 1?
When will Tom Kim get to a Popeye's?