Driving off into the sunset
Watch major champ's final career LPGA start become even more memorable with a hole-in-one to win a luxury car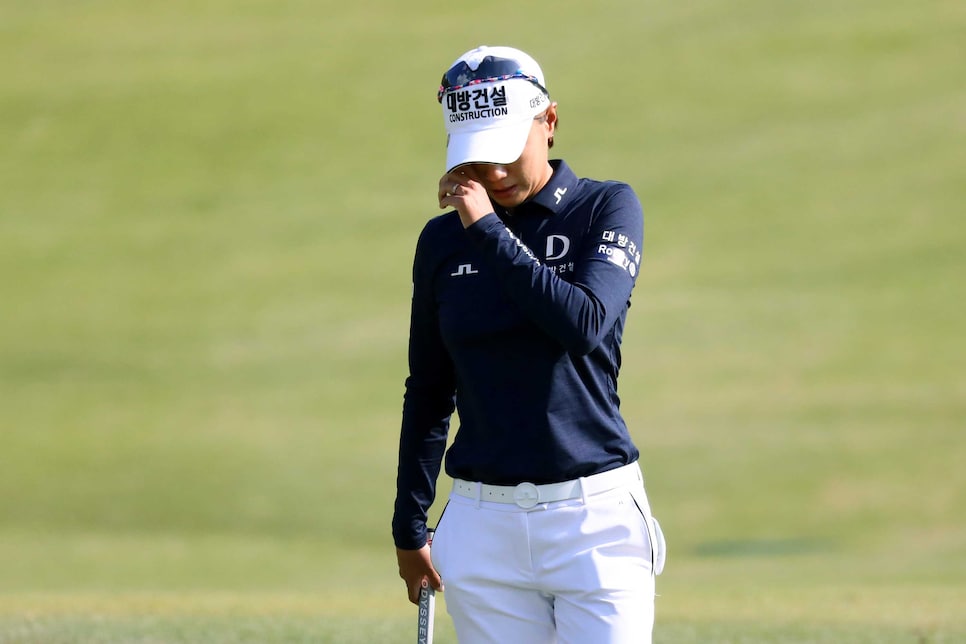 Na Yeon Choi sheds tears after holing out on the ninth green in her final career LPGA event at the BMW Ladies Championship.
Chung Sung-Jun
Na Yeon Choi was never going to forget her final career start on the LPGA Tour. But what the former U.S. Women's Open winner pulled off while saying good-bye at the BMW Ladies Championship in her home country of South Korea will make it all the more memorable.
During the third round on Saturday at Oak Valley Country Club, Choi made a hole-in-one on the par-3 12th and in the process won a BMW X7 as a prize.
"It fell exactly where I wanted it to, and it rolled in exactly as I imagined it," Choi said. "After I hit it, when the ball was flying over, I got goosebumps. I was still skeptical, and then I knew it went in, but I didn't see the ball, but I wanted to double-check and I didn't feel that I could show my emotions immediately. But then I double-checked, and when I was sure, that's when I got goosebumps all over my body, and I was really happy."
The ace propelled Choi to a third-round 69 after entering the weekend five over for the tournament. She followed it up with a Sunday 68 to finish at two under for the week in a tie for 47th place.
"Of course, whenever you ace a hole, you're ecstatic," Choi said. "But at the same time, for me, I think I got kind of emotional because it almost seemed like I was being rewarded for all those years of hard work."
Choi had announced three weeks ago that she would make the BMW Ladies her finale after 15 years playing on the LPGA Tour. She turns 35 on Oct. 28 and is content to move on from a career that was rewarding and frustrating at the same time.
Choi won nine LPGA titles, most notably the 2012 U.S. Women's Open at Blackwolf Run, and reached No. 2 in the Rolex Women's Rankings. She earned nearly $11 million in her career, leaving her 19th on the all-time money list.
"I had been considering it, so I gave myself this season and around midseason, it sort of crystalized into this decision to retire," Choi said of deciding to step away during a pre-tournament press conference at Oak Valley.
"There was no one single moment where I decided this was the time to announce my retirement," she said. "I have been playing for a long time and I really want to start something new as fast as I can, and what that's going to be, I have no idea. But I have no regrets with my career as a golfer, and I'm sure that I'm probably going to end up doing something related to golf, but I'm very excited to start the second chapter."
Inspired as so many young South Korean women were by Se Ri Pak's 1998 U.S. Women's Open triumph—also at Blackwolf Run—Choi turned pro at age 16 in 2004. She played three years on the Korean LPGA Tour before coming to the U.S. in 2008. She struggled at times with back injuries but more so with the loneliness of playing away from home and the struggle in deciding when she needed to separate herself from her parents to lead her own life.
"Looking back on my 18 years," she wrote when announcing her plans to retire earlier this year, "I wish I could have made more friends as I had wanted to. I was busy heading forward without looking around, making the excuse of my not-so-perfect English and being coy.
"Now I'll cheer for all players from afar. I know that they have to go through lonely battles with themselves. Instead of just saying cheer up, I want to tell them, 'Try to be relaxed and thankful. Be more focused on yourself and cherish and love yourself. You are always great players.' "