Payday in South Korea
Here's the prize money payout for each golfer at the 2022 BMW Ladies Championship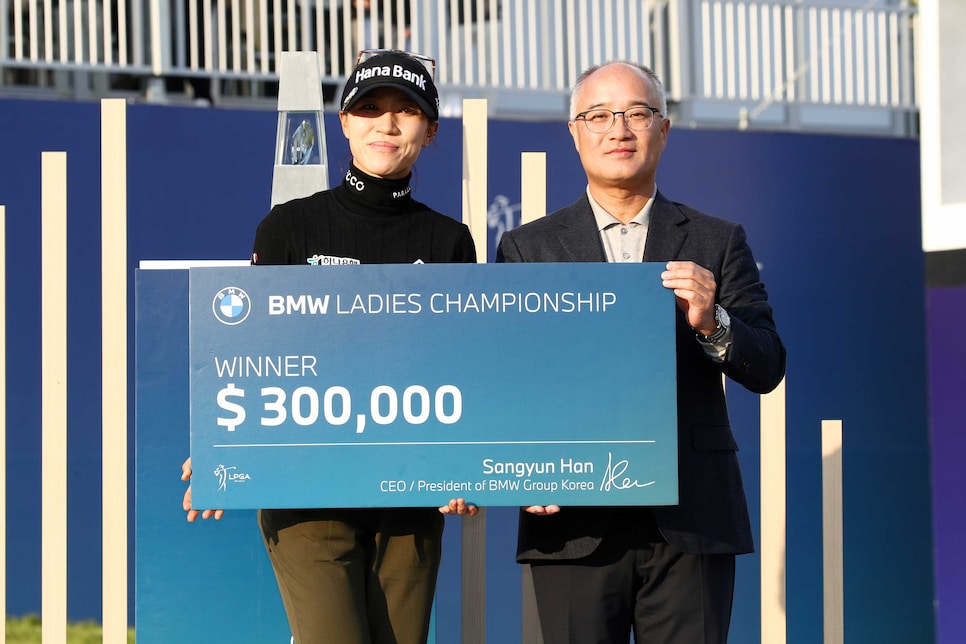 Lydia Ko is presented the winner's check by BMW Group Korea CEO Han Sang-yun after winning the BMW Ladies Championship with a closing 65.
Chung Sung-Jun
Sunday was supposed to be a coronation for Atthaya Thitkul at the BMW Ladies Championship. The 19-year-old from Thailand had a one-shot lead entering the final round at Oak Valley Country Club in Wonju, South Korea, with the chance at not only winning her third LPGA title of 2022 but claim the No. 1 spot in the Rolex Women's Rankings.
Ko's seven-under showing on Sunday was the best score by any player in the field by two shots. Thitkul, meanwhile, struggled to find the form that led to an opening-round 63. Having made two bogeys and a double bogey in her first 54 holes, Thitkul made five bogeys on Sunday en route to a two-over 74 that left her in sixth place when she needed to finish solo fourth or better to pass Jin Young Ko as World No. 1.
With her victory, Lydia Ko—who jumped to No. 1 at age 17 in 2015—claimed her 18th career LPGA title and her second in 2022. She grabbed the first-place prize money payout of $300,000 from a purse of $2 million to increase her yearly earnings to $2,347,062 and her career money to $14,678,016.
"I think this is probably the best I've played, the most consistently I've played," Ko said of her 2022 season, in which she's made the cut in all 20 starts and posted 11 top-five finishes and 13 top-10s. "When I was No. 1, I just had more wins in that season. I don't think I've had as many top 10s. I wanted to finish my season off strong, including this one, with only three events to go. To be able to win this one means a lot, and I think it gives me good motivation for my last couple of events in Florida."
Here's the prize money payouts for the entire field in South Korea:
Win: Lydia Ko, -21, $300,000
2: Andrea Lee, -17, $183,381
T-3: Hye-Jin Choi, -16, $106,256
T-3: Hyo Joo Kim, -16, $106,256
T-3: Lilia Vu, -16, $106,256
6: Atthaya Thitikul, -13, $67,770
7: Ariya Jutanugarn, -12, $56,726
T-8: Yuka Saso, -11, $47,189
T-8: Linn Grant, -11, $47,189
T-10: Danielle Kang, -10, $36,595
T-10: Hannah Green, -10, $36,595
T-10: Alison Lee, -10, $36,595
T-10: Yaeeun Hong, -10, $36,595
T-10: Minsol Kim, -10, Amateur
T-15: Paula Reto, -9, $30,019
T-15: Cheyenne Knight, -9, $30,019
T17: Sei Young Kim, -8, $26,807
T17: Allisen Corpuz, -8, $26,807
T-19: Hinako Shibuno, -7, $21,925
T-19: Eun-Hee Ji, -7, $21,925
T-19: Pauline Roussin, -7, $21,925
T-19: Lizette Salas, -7, $21,925
T-19: A Lim Kim, -7, $21,925
T-19: Wichanee Meechai, -7, $21,925
T-19: Jasmine Suwannapura, -7, $21,925
T-19: Stephanie Kyriacou, -7, $21,925
T-27: Narin An, -6, $17,771
T-27: Gemma Dryburgh, -6, $17,771
T-27: Matilda Castren, -6, $17,771
T-30: Maria Fassi, -5, $14,859
T-30: Sarah Schmelzel, -5, $14,859
T-30: Jodi Ewart Shadoff, -5, $14,859
T-30: Carlota Ciganda, -5, $14,859
T-30: Lauren Coughlin, -5, $14,859
T-30: Chella Choi, -5, $14,859
T-36: Pajaree Anannarukarn, -4, $12,098
T-36: Jennifer Kupcho, -4, $12,098
T-36: Emily Kristine Pedersen, -4, $12,098
T-36: Annie Park, -4, $12,098
T-40: Nanna Koerstz Madsen, -3, $9,653
T-40: Frida Kinhult, -3, $9,653
T-40: Anna Nordqvist, -3, $9,653
T-40: Celine Boutier, -3, $9,653
T-40: Moriya Jutanugarn, -3, $9,653
T-40: Albane Valenzuela, -3, $9,653
T-47: Na Yeon Choi, -2, $7,781
T-47: Haeji Kang, -2, $7,781
T-47: Wei-Ling Hsu, -2, $7,781
T-47: Nasa Hataoka, -2, $7,781
T-51: Yealimi Noh, -1, $6,727
T-51: Minjee Lee, -1, $6,727
T-51: Leona Maguire, -1, $6,727
T-51: Brittany Altomare, -1, $6,727
55: Daniela Darquea, E, $6,225
T-56: Lindsey Weaver-Wright, +1, $5,823
T-56: Emma Talley, +1, $5,823
T-56: Sung Hyun Park, +1, $5,823
T-59: Ashleigh Buhai, +2, $5,020
T-59: Angel Yin, +2, $5,020
T-59: Peiyun Chien, +2, $5,020
T-59: Amy Yang, +2, $5,020
T-59: Pornanong Phatlum, +2, $5,020
T-59: Bronte Law, +2, $5,020
65: Esther Henseleit, +3, $4,619
T-66: Kelly Tan, +4, $4,467
T-66: So Yeon Ryu, +4, $4,467
T-68: Jenny Shin, +5, $4,318
T-68: Hyunjo Yoo, +5, Amateur
70: Jeongeun Lee6, +6, $4,216
71: Jennifer Song, +7, $4,116
72: Stephanie Meadow, +9, $4,017
73: Patty Tavatanakit, +11, $3,967
74: Sophia Schubert, +12, $3,915
75: Mi Hyang Lee, +15, $3,865
76: In Kyung Kim, +16, $3,815
77: Maude-Aimee Leblanc, +20, $3,769
WD: Jin Young Ko, WD, $3,721