The Grind
Rory McIlroy's well-timed Mother's Day win, Dustin Johnson's curious WD, and Bryson's costly travel miscalculation
Welcome to another edition of The Grind, where we're even more jealous of PGA Tour pros on Mother's Day than any other time of the year. Why? Because they actually get to play golf on Mother's Day. As I've learned these past few years, if you're married with children otherwise, don't even think about it. Or, if you do think about it, keep it to yourself. Trust me. Anyway, at least I was still able to watch golf on Sunday and there's a lot to talk about. Let's get to it.
Rory McIlroy: How about that for flicking the switch? McIlroy had fallen to 15th in the World Ranking, his worst spot since 2009, he'd missed two straight stroke-play cuts, was making changes with a new coach, and BAM! Just like that, he's back in the winner's circle for the first time in nearly two years.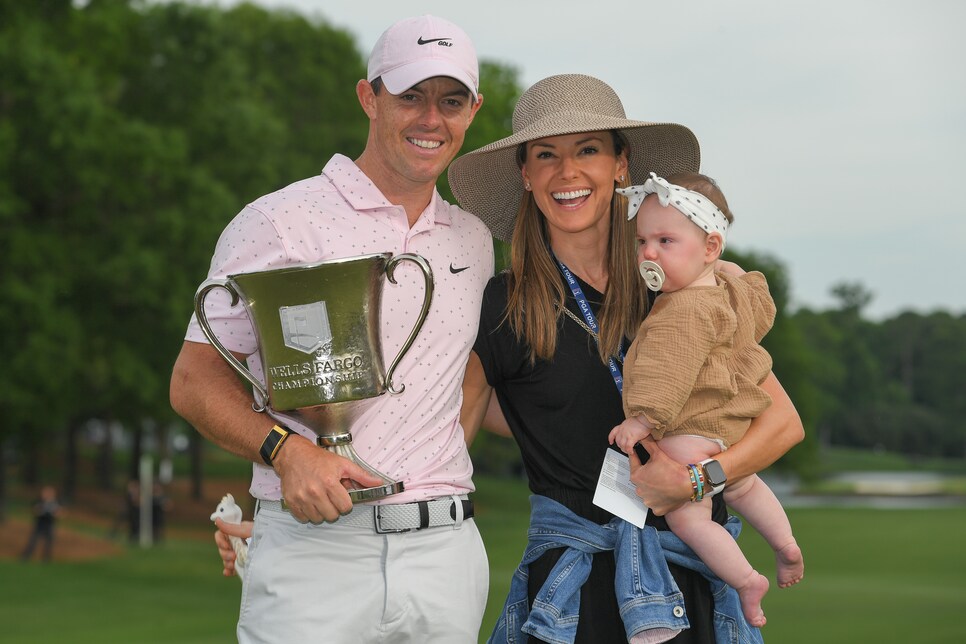 Of course, it helps when you're playing at a course you own. Not technically, but McIlroy is a member and the property even has a bald eagle named after him. And yet he was 20-to-1 to win for a third time at Quail Hollow. There couldn't be a more obvious bet. Sigh. That was a missed gambling opportunity for me, but the timing couldn't be better for Rory with the PGA Championship returning next week to another place where he's had great success, Kiawah. And now we know he can win as a dad! Phew!
Lev Grinberg: Introducing a Florida kid who is young enough to be Rory's son. And this middle schooler just made it through U.S. Open local qualifying:
I was president of my middle school, but I was a total failure compared to this dude. Look for his name. And not to be outdone, 17-year Cameron Tankersly made the cut on the Korn Ferry Tour. The young guns are coming! The (really) young guns are coming!
Garrick Higgo: This guy is practically an old man at 21, but boy, is he on a roll. The South African won for the third time in 27 career starts on the European Tour and this win at the Gran Canaria Lopesan Open was especially stylish since it included a final-round hole-in-one and a six-shot margin of victory. Look out for this former UNLV Runnin' Rebel as well.
Charles Barkley's swing: No, really. This is not a joke. Sir Charles has ditched the hitch (again), and he's flushing it:
Just listen to his confidence! And look at how happy Bo Jackson is for him! Chuck, I'd give you a hug, too, if I could. You've been through a lot. Bo knows!
Rory ditching the draw: On Friday at Quail Hollow, McIlroy declared a change that shocked—and devastated—Golf Twitter: In addition to being a dad, he's now a cut man. Off the tee, that is. Of course, judging by what that move has done for people like Jack, Tiger, Vijay and DJ, it's probably for the best. But RIP to the most majestic shot in golf.
Brad Faxon's list: In what was a perfect "no one: … still no one: … Brad Faxon:" tweet, the eight-time PGA Tour winner revealed a top-10 list of the best putters ever—and promptly got roasted. The biggest complaints? He didn't mention any women, he misspelled the last name of the great Peter Thomson, he didn't include himself, and he put Rory McIlroy on the list instead.
It wasn't great, BUT if he was using that to motivate McIlroy (Faxon is his putting coach), then it was a brilliant move. And if the 59-year-old is still eligible for a Player Impact Program bonus, even savvier.
Crazy DQ: Golf's ridiculous rules struck again at a Monday qualifier. This time, a player got the boot from a tournament for using golf balls from different years. Both were ProV1s, mind you, but they were manufactured at different times. Shout-out to our friend Ryan French for reporting this tough tale:
In other words, every single weekend hacker would probably be DQ'd from his/her club championship if this was followed to the letter of the law. Let's fix this before people start trying to play "gotcha!" during local tournaments.
Stomach bugs: Competitors at this year's Walker Cup at Seminole Golf Club faced an additional challenge with a nasty stomach bug that affected players on both teams. Reigning U.S. Amateur champ Tyler Strafaci had to be scratched from the Saturday singles lineup minutes before his tee time and ended up in the hospital. No word on what caused the issues, but I have it on good authority that neither team dined at Chili's so my favorite chain restaurant is not to blame. In the end, the U.S. wound up winning for the third time in a row. And I'm happy to report Golf Digest's Ryan Herrington avoided getting sick, probably because of the strong digestive system he developed by eating for years in our old office cafeteria.
The PGA Tour heads to Dallas for the AT&T Byron Nelson, AKA, well, that one named after Byron Nelson. It's a tournament struggling to find an identity as it plays musical chairs with venues. After being played at Trinity Forest for two years—where the winning score was 23(!) under both times—the tournament has moved again, this time to TPC Craig Ranch, which, frankly, sounds made up. World No. 1 Dustin Johnson was expected to play before WDing with knee discomfort. The same Dustin Johnson who was doing this just a few days before …
Random tournament fact: A 16-year-old Jordan Spieth made his first PGA Tour start in this event 10 years ago. He finished T-16. Yeah, that kid was going places. Even crazier? He's never done better in his eight starts there since. In any event, Spieth was an absolute phenom. And those young guns we mentioned earlier still have a long road ahead of them.
RANDOM PROP BETS OF THE WEEK
—Jordan Spieth will be as nervous on the first tee this week as he was in 2011: 1 MILLION-to-1 odds
—Rory McIlroy will win next week's PGA Championship: 10-to-1 (actual odds, new favorite)
—Dustin Johnson will play in next week's PGA Championship: LOCK
Rory McIlroy's caddie, Harry Diamond, really had his hands full this week. From making sure Rory got his watch and WHOOP for post-round interviews:
To pushing a stroller—while carrying McIlroy's clubs:
The guy is getting paid well, but if Rory asks him to start lugging around the diaper bag and do mid-round changings, Harry should really ask for a raise.
I'm now scared to take a practice swing anywhere. Thanks.
THIS WEEK IN PUBLIC DISPLAYS OF AFFECTION
The latest sand creation at the Old Course honored Seve Ballesteros on the 10-year anniversary of his death:
THIS WEEK IN PUBLIC DISPLAYS OF AFFECTION EMOTION
The year of the comeback continued on the LPGA as well with Ariya Jutanugarn winning for the first time in nearly three years. What made this victory even more special was it came in her home country of Thailand and she birdied the final hole to win by one—eight years after she made a triple bogey on the same hole to lose by one. Not surprisingly, the two-time major champ who says she was close to walking away from the game got pretty emotional:
Today, redemption is spelled A-R-I-Y-A.
THIS WEEK IN PHIL BEING PHIL
Hopefully, for Joel's sake, there wasn't much on the line other than pride.
THIS WEEK IN BRYSON BEING BRYSON
What a whirlwind for Bryson DeChambeau beginning on Friday night as he flew from Charlotte to his home in Dallas thinking he'd missed the cut … only to find out he had made the cut: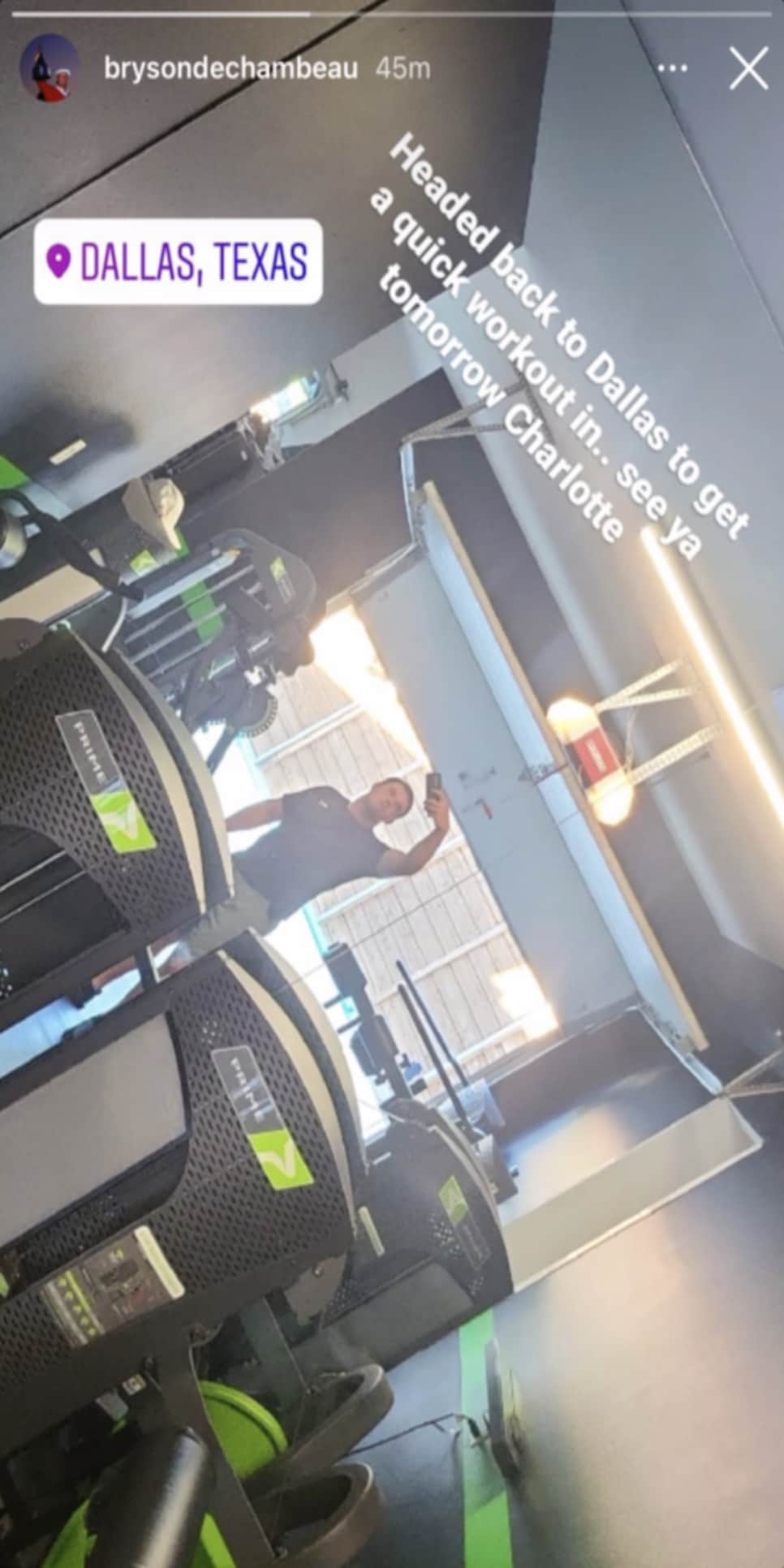 Isn't this guy supposed to be good at calculating things? In any event, the round-trip wound up being worth his while (although not as much when you factor in the extra travel costs) as he shot a pair of 68s after a 2:45 a.m. Saturday flight back for one of the all-time great backdoor top-10s.
"He's not lacking any fire in there right now. Never has." —Rickie Fowler on Tiger Woods' state of mind after watching the Masters at his house. You love to hear it.
Congrats to Amy Bockerstette for becoming the first person with Down syndrome to compete in a collegiate national championship. OK, Gary Woodland, good luck topping that. … Congrats to Alex Cejka on making his first PGA Tour Champions title a major at the Regions Tradition, beating Steve Stricker with a birdie on the first playoff hole. … According to a former mob attorney, Jimmy Hoffa is buried under a Georgia golf course. Good thing this didn't come out sooner or The Irishman would have been more than four hours long. … And, finally, congrats to Golf Digest photo editor and producer of The Grind, Michael Sneeden, on making a hole-in-one. At Bandon Dunes. Must be nice.
I'm pretty sure I'm the only person working at Golf Digest who hasn't been to Bandon and who doesn't have a hole-in-one. Sweet.
RANDOM QUESTIONS TO PONDER
What caused the Walker Cup stomach bug?
What snacks did Tiger serve Rickie?
Why didn't I bet on Rory at Quail Hollow?