Wells Fargo Championship
He's back! Rory McIlroy busts out of 'slump' with his third Wells Fargo victory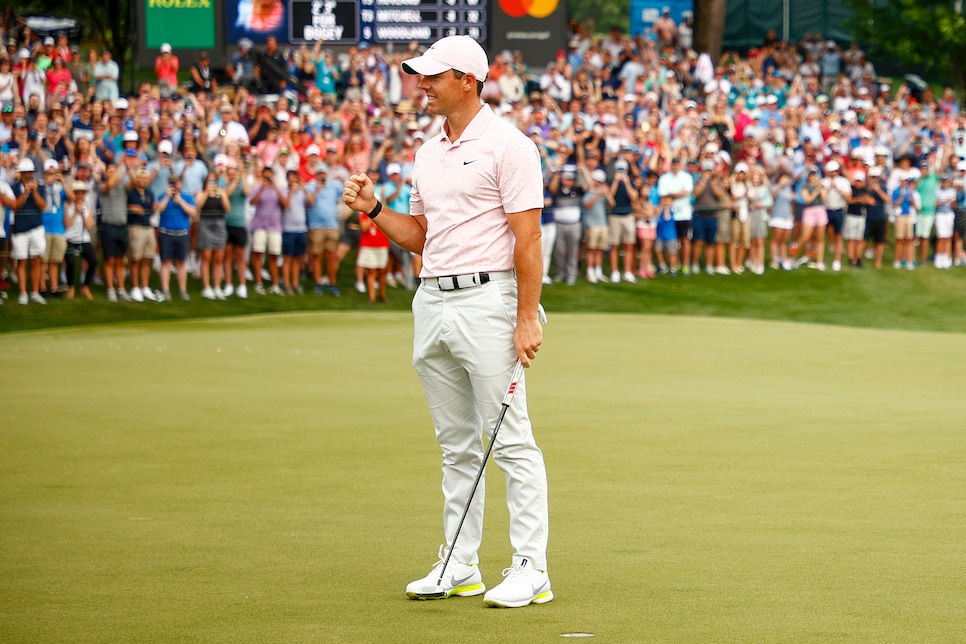 Rory McIlroy celebrates winning on the 18th green during the final round of the 2021 Wells Fargo Championship.
Jared Tilton
CHARLOTTE — In the four weeks since his unceremonious Friday afternoon departure from Augusta National, Rory McIlroy pounded ball after ball on the driving range. Sometimes at Jack Nicklaus' Bears Club, sometimes at Michael Jordan's Grove XXIII, but always on flat ground with a perfect lie. When you're trying to groove swing tweaks, that's what you do.
So, of course, the shot that sealed a slump-busting win was the type you never, ever, ever practice.
McIlroy had one hand on the trophy when he made his worst swing of the day, a pull-hooked 3-wood off the 18th tee at Quail Hollow. His TaylorMade "RORS 22" ball somehow came to rest just above the stream that guards the left side of the hole, inside the hazard line but playable. At least in theory. After examining his options for a solid two minutes—chip it back into the fairway? Play left, onto the hillside?—he settled, with some coaxing from caddie Harry Diamond, on the un-sexy option: taking the drop he was entitled to.
He could stomach the one-shot penalty because he had a two-shot lead over Abraham Ancer, but now he needed to get that damn ball in the hole in three shots or less to avoid a playoff. From 199 yards, navigating a downhill-sidehill lie, water guarding a back-left pin and 72nd-hole pressure coursing through his veins.
This wasn't a shot he learned from longtime coach Michael Bannon, or new coach Pete Cowen, or one that could be dissected by any launch monitor. This was Rory tapping into his generational talent and counting on his preternatural ability to find the center of the clubface.
He did exactly that, launching a mid-iron that sat politely on the right half of the green. From there, two putts for a clinching bogey and a one-over 72, his third victory at Quail Hollow, his first win in 18-plus months and his 19th on the PGA Tour.
And, on Mother's Day, his first "W" as Dad—with his smiling wife and a crying baby on-hand to witness it.
"For it to be Erica's first Mother's Day and for her to be here with Poppy, really, really cool," he said. "It was hard for me not to think of that coming down the last few holes and how cool that would be to see them at the back of the 18th green, but I had more pressing issues at the time, so it was pretty easy to get it out of my head.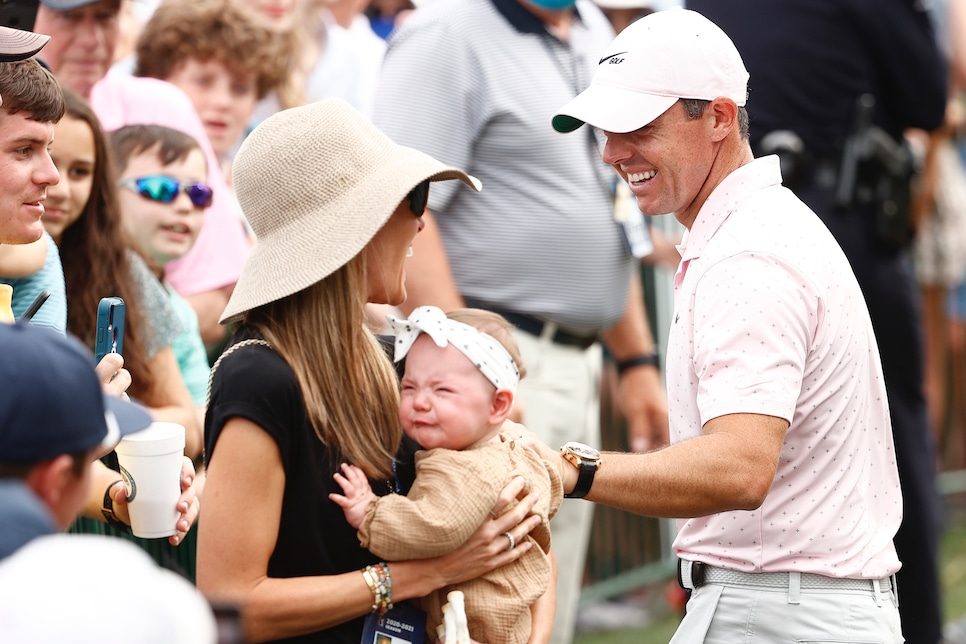 Rory McIlroy celebrates with his wife Erica and daughter Poppy after winning during the final round of the 2021 Wells Fargo Championship.
Maddie Meyer
"Really cool for them to be here and be able to celebrate today."
Team McIlroy hadn't been doing much celebrating recently. Slump is a relative term—but when you've accomplished as much McIlroy has, you don't get the benefit of struggling in anonymity. Rory came into this week with three top-10s in his nine starts this calendar year—but he'd missed his last three cuts, including at the Players and the Masters, and so all the sudden we labeled him with the S-word.
To be fair, he didn't exactly exude confidence coming into this week. McIlroy said Saturday that his goal coming was simply to be in Charlotte on Saturday—which looked dicey. Twice. The first signs of doubt came on Wednesday, when his neck suddenly locked up during a practice session. If he had a morning tee time on Thursday, he probably wouldn't have been able to go. But he didn't have a morning time, and treatment and that magical athletic tape proved the elixir.
McIlroy's first-round one-over 72 seemed to follow the same script we saw at Sawgrass and Augusta: loose misses with the driver and uninspired iron play. He ranked 120th in strokes gained/tee-to-green in that opening round, looking much more like a work-in-progress than a winner-in-waiting.
But the great ones can flip the switch with little warning, and McIlroy revived himself with a 66 on Friday despite a meh putting round. He vowed to commit to a cut with the driver—banishing the sweeping draw that made an all-time great to the bench—and he led the field in strokes gained/approach. Should he stumble upon a hot putter … well, stranger things have happened.
Narrator: he stumbled upon a hot putter.
Don't you love when things work out? McIlroy holed 107 feet of putts for a Friday 68 that got him into the final group. On Sunday, he made a 24-footer for birdie on 7 to take the lead, then massive par-savers on 11 and 13 to keep it. Playing partner Keith Mitchell hung tough, admirably so, before a clunky short-game display doomed his chances.
McIlroy got up and down for a final birdie at the par-5 15th then trusted the fade on the 16th tee, unleashing a 357-yard bomb that set up a comfortable par. He summoned the shot of the day on the ultra-dangerous par-3 17th, turning a baby-draw 7-iron into a left-to-right wind. That one caught Mitchell's eye.
"He flushed it right where he was looking," said Mitchell, who finished in a tie for third at eight under. "And that was pretty important. I thought that was the one that might seal the deal, and it looks like it was the one that sealed the deal."
By the time the final twosome trudged up the hill to the 18th tee, it would be McIlroy, or it would be Ancer, who had polished off a 66 a half-hour earlier. Then came the left miss, and you know what happened just left of that stream.
Still, McIlroy needed to two-putt from 43 feet, far from a sure-thing given the atmosphere surrounding the 18th green—and the amount of time it had been since win No. 18.
"I think when you haven't been in contention for a while, it never feels normal," McIlroy said. "I certainly felt it there on the back nine. There were some tee shots and some shots I just had to stand up and really commit to what I was doing. That's sort of been my mantra, is try to just hit good golf shots until I run out of holes, and that's basically what I tried to do the entire day. Just take good shot after good shot until you get to the end. But it felt —I'm certainly glad that the crowds were back and I'm glad that I was able to get the job done in an atmosphere like that today."
And so Rory McIlroy is back, and the next time we see him, in less than two weeks, will be the PGA Championship at Kiawah—where, nine years ago, he won the PGA Championship by eight.
"It's certainly great timing," he said. "This is obviously a huge confidence boost going in there knowing that my game is closer than it has been. I'll be able to poke holes in everything that I did today. It's certainly far from perfect, but this one is validation that I'm on the right track."
You said something about a slump?