Another Rory run?
Brandel Chamblee gushes over Rory McIlroy's 'lyrical' golf swing—and makes 1 big prediction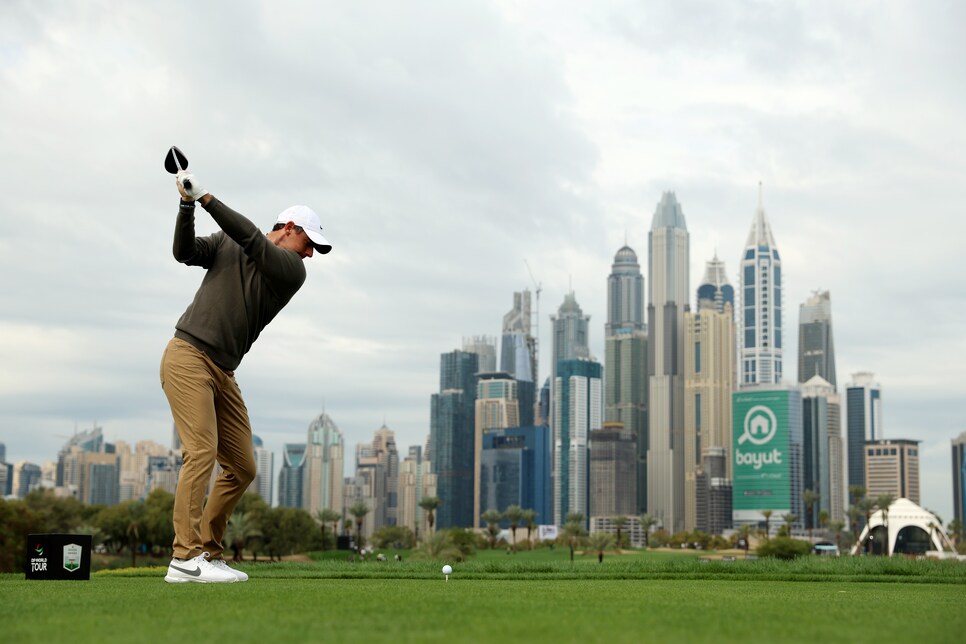 Getting the seal of approval from Golf Channel's Brandel Chamblee, perhaps golf media's most critical analyst, doesn't come easily. Especially if you're Rory McIlroy. Over the years, Chamblee has questioned the four-time major champion's weightlifting routine and putting technique. The petty Twitter feuds between the two are well-documented.
All that is to say, it's worth paying attention when Chamblee goes on a nearly three-minute monologue praising McIlroy's golf swing and offering bullish major prospects, as he did on Thursday on Golf Channel. While the Northern Irishman is in early contention in Dubai this week, Chamblee's assessment of Rory's swing was full of colorful adjectives (see: "lyrical" and "oily"). Check it out:
Though he noted that players may start seeing physiological decline in their 30s, Chamblee believes Rory's fluid swing—like that of Sam Snead and Julius Boros, both of whom had late-career success—will be easier on his body as he ages.
"I look at the sort of lyrical motion he has, the long, smooth transition," the analyst said of McIlroy's move. "I think it's easier on his body. I think he's training very smart. So when you start to think about golf swings that have endured, [there's] no better golf swing than Sam Snead, who was still finishing in the top 10 in majors when he was 60, 61 and 62 years of age."
Not only is Snead tied with Tiger Woods for the most career PGA Tour wins at 82, but he is the oldest winner in tour history, having won the 1965 Greater Greensboro Open when he was 52 years old. Chamblee also sees similarities between Rory's swing and that of Boros, which he called "oily." Boros won the 1968 PGA Championship at age 48 and was the oldest man to have won a major for over 50 years, until Phil Mickelson overtook him at the 2021 PGA.
"When you watch Rory, it's oily in transition for sure. It's powerful and so was Sam Snead's, but it's just sneaky powerful," he said.
As is always the case with Chamblee's signature monologues, he was building towards an overarching thesis—a bold (?) prediction in this case. He cited how Jack Nicklaus won seven of his record 18 majors after turning 33 years old. Rory turned 33 in May 2022, and Chamblee thinks the World No. 1, who is winless in the majors since going back-to-back at the 2014 Open and PGA, may have another similar run left in him.
"I can't help but think that he'll have another two, three major championship run. Two, three, four, who knows," he said.